Vapers Digest September 17th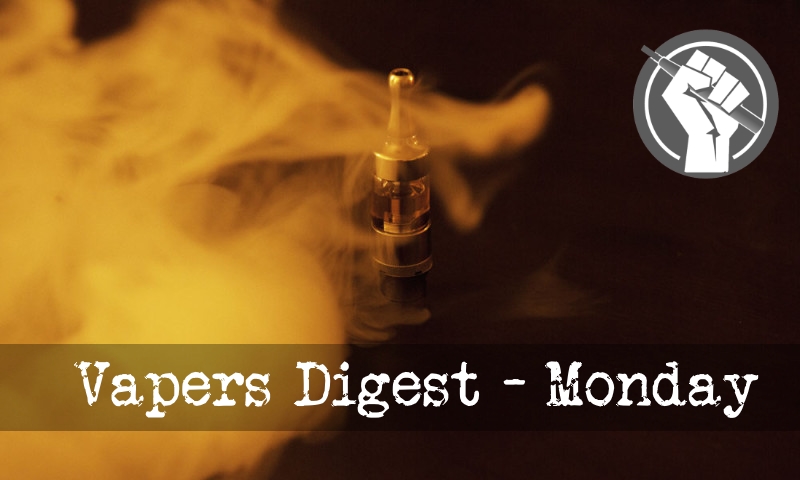 Monday's News at a glance:
Bad news from the FDA, but more experts push to support vaping – Vaping,Vultures and Cars – FDA Fallout – A subtle tobacco control self-contradiction lie – Will the Government Ban E-Cigarettes? – Misguided effort to stop Americans from vaping – TN bans production, sale and use of e-cigarettes – $20 million grant will fund continued research – E-cigarette makers protest stringent rules – FDA Buckles Under Anti-Vaping Pressure – India's vape crusaders – Vaping In The News September 15th – Nicotine Science and Policy Daily Digest
But more experts push to support vaping – Fergus Mason
Last week saw a new low point in relations between vapers and the FDA, with the agency threatening to ban a whole category of devices unless manufacturers take responsibility for what small retailers are doing. An astonishing statement by FDA director Scott Gottlieb puts companies like JUUL Labs in the firing line over sales they have no control over. However, across the Atlantic, health experts in the UK and other European countries continue to press for more sensible regulations on vapour products and an end to misinformation by anti-harm reduction extremists.
Alan Beard
Please bear with me whilst I do a characteristic waffle,before arriving at the nitty gritty and the real purpose of this post

Starting in reverse order with cars and their power plants, some induce a feeling of pleasure whilst others are nonedescript, functional and bland. PreTurbo era, naturally aspirated cars that I have some knowledge of, include a Honda Accord Type R with a 2.2 litre VTEC, BMW M3 3.2litre, Porsche Boxster 3.4 litre S, all of these have wonderful engines with a delicious exhaust note in my opinion, but how does one quantify a subjective opinion into facts….
---

---
Mawsley, Planet of the Vapes
The last 24 hours has seen a flood of criticism for the anti-vape move by Scott Gottlieb and the Food and Drug Administration (FDA). The letters giving 60-day notice for firms to notify it of how they intend to comply and ensure teens can't buy their products saw a massive leap in the value of tobacco company shares as the markets saw this as a huge attack on the tobacco-harm reduction technology.
---
El próximo 19 de septiembre podréis seguir en directo el #THRSummitSpain a través de un resumen simultáneo en esta misma cuenta de Twitter.
Programa del evento: https://t.co/lWN5VbHvTU

— THR Summit Spain (@SpainThr) September 15, 2018
Is there any legal reason this can't be released now? It's important that the public has access to as much information as possible, given @SGottliebFDA's statement that he's willing to risk the health of adult smokers in light of its findings. https://t.co/XluJd9FXyr

— Oliver Kershaw (@ojkershaw) September 17, 2018
---
Carl V. Phillips, Anti-THR Lies
Tobacco controllers contradict themselves all the time. That is the inevitable result of them saying whatever seems expedient at the time, without any concern for whether the evidence supports it, or even even flatly contradicts it. When someone is sociopathic enough to do this (*cough* Trump *cough*), they will not only contradict the evidence, but (unless they have incredible discipline and intelligence, which they do not) also inevitably contradict themselves.
Will fund continued research by Yale Tobacco Center of Regulatory Science
The National Institute of Health (NIH) and the U.S. Food and Drug Administration (FDA) have renewed a $20 million grant for the Yale Tobacco Center of Regulatory Science (TCORS) to continue to investigate the influence of flavors and sweeteners, and other constituents, on the appeal and addictive potential of traditional tobacco products and newer products like e-cigarettes.
---

---
Rich Barlow
For the anti-regulatory Trump administration, it was an ironic full-court regulatory press: last week, the Food and Drug Administration (FDA) gave e-cigarette sellers and makers just 60 days to come up with a plan to curb youth vaping or face a possible ban on their products.

The FDA's sweeping warning to five e-cigarette manufacturers, including Juul Labs, and to 1,100 retailers, among them 7-Eleven, Walgreens, Shell stations, and Circle K, was coupled with 131 fines to vendors who'd sold e-cigs illegally to minors.
To stop Americans from vaping – Elizabeth Wright
From Oct. 1-6, the Eighth session of the Conference of the Parties (COP) to the World Health Organization (WHO) Framework Convention on Tobacco Control (FCTC) will meet in Geneva, Switzerland to discuss, among other things, eliminating illicit trade in tobacco products, tobacco advertising and promotion, and how governments should regulate new harm-reduction products such as electronic nicotine delivery systems (ENDS). The FCTC is the first treaty that was created to respond to the prevalence of smoking around the world.

Dr. Nimeshika Jayachandran
There has been much chatter around the use of e-cigarettes and other electronic nicotine delivery systems (ENDS) – while many users claim that these devices help them quit smoking traditional cigarettes, experts remain divided in their opinion. On Wednesday, the Tamil Nadu government released a statement banning the production, sale, marketing, import, possession or use of any electronic nicotine delivery system, such as e-cigarettes and vapes.
Othel V. Campos
The Philippine E-Cigarette Industry Association said it stands to lose its market share to big pharmaceutical companies and cigarette manufacturers because of stringent regulation.
It said the government's stringent rules requiring e-liquid manufacturers to put up a plant comparable to that of a pharmaceutical company was a deterrent to continue its members' operations.
Brent Stafford, Regulator Watch
Bhanuj Kappal
What sort of tricks do you want to see? I can do smoke rings, the tornado, the waterfall." Without waiting for an answer, Jay Upadhyay runs to switch off the living room fan in his namesake and fellow vaper Jay Kapadia's flat in Mulund, Mumbai. As the blades spin to a stop, the 29-year-old commercial pilot takes a deep drag from his Think Vape DNA 250 "mod"—a battery-powered electronic cigarette (commonly called vape).
Kevin Crowley, Vaping Links
FDA Hands Vaping a Blow, Sends Tobacco a Save ~ FDA Ought to Reconsider Stance on Youth Vaping ~ Scott Gottlieb ~ Vaping, Vultures and Cars ~ Steps to address a non-existent problem ~ All people like better products. Teenagers are people ~ Vapor Technology Association (VTA) Response ~ American Vaping Association (AVA) Response ~ Fontem Ventures respond to FDA statement ~ Tobacco Stocks ~ Survey ~ Hand Check
---
A look back at how things have moved on or otherwise….
Dick Puddlecote
It's almost become a motto of this blog to state that the bans and restrictions imposed by 'public health' and, in particular, tobacco control have nothing whatsoever to do with health.

There have been regular weekly examples of this over the eight plus years that I've been writing here, but New York Times science columnist, John Tierney, has put together the milestone themes in an excellent essay for The Manhattan Institute. Entitled "The Corruption of Public Health", it is a must-read.
New Nicotine Alliance
In August, London Midland, a train company operating out of Birmingham, decided that due to an allegedly large number of customer complaints it would apply its own interpretation to the Railway Bylaws and deem vaping on a train to be an offence. It decided that the best way to go about publicising this change of policy would be by press release, which was picked up by the Birmingham Mail. Unfortunately this decision went badly for them, as you can read on Dick Puddlecote's blog here: 'The Curious Case Of The Criminal Offence That Isn't'
---
Visit Nicotine Science & Policy for more News from around the World

---