Vapers Digest September 14th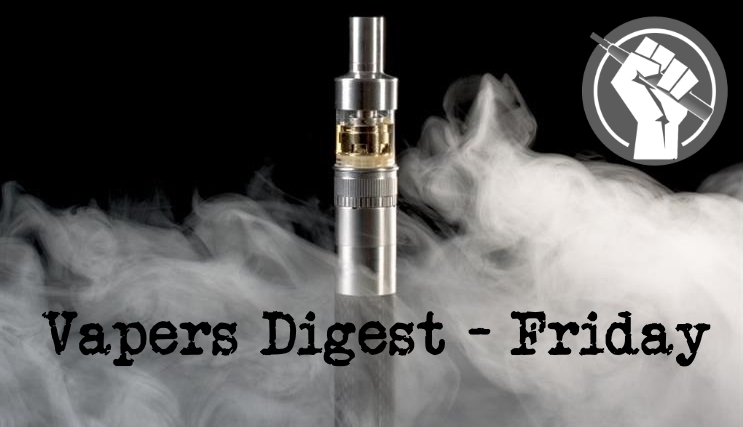 Friday's News at a glance:
Vapers rise 'to more than three million' in Britain – New data shows smokers are getting the message – Steps to address a non-existent problem – All people like better products – Australian University Bans the Ban – JUUL Having To Fight Its Corner – FDA has declared an epidemic of e-cigarette use – Affordable vaping for smokers – Most Americans Think Vaping is as Bad as Smoking – India: 7th State Bans Vapes – Save the E-Cigs – FDA Ought to Reconsider Stance – Fontem Ventures responds to FDA – Threats on Vaping Send Tobacco Stocks Surging – FDA Adopts the Anecdote – Nicotine Science and Policy Daily Digest
BBC
The number of vapers in Great Britain has topped three million for the first time – four times the number in 2012, according to a survey by Action on Smoking and Health.

Most use e-cigarettes because they have quit smoking and 40% are smokers who are trying to give up. The estimations are based on a survey of 12,000 British adults.

But a "worrying" belief that vaping is as bad as smoking still exists, a King's College London analysis found.
Are getting the message – ASH
Findings from a new survey [1] for Action on Smoking and Health (ASH) published today show that GB smokers are getting the message that switching to vaping can improve their health.

YouGov surveyed over 12,000 adults for ASH, with a further analysis by King's College London, estimating that there are now 3.2 million vapers in Great Britain. This compares with an estimated 7.4 million smokers in the UK [2]. Of current GB vapers, over half have quit smoking and 40% are current smokers who are trying to quit.
Paul Barnes, Facts Do Matter
Yesterday demonstrated the effects of a coordinated effort to discredit one of the most disruptive technologies that has several groups within 'public health' worried. Not only for their funding source, which is neither here nor there, but also for the steadily decreasing relevance.

Naturally, the media headlines don't really get to the bottom of the issue:
---

---
Mawsley, Planet of the Vapes
The benefits of success include people wanting to knock you from the podium or stealing the ideas that created the dominant position. JUUL is striving to fight its way through by using a combination of public relations strategies and funding an exceptionally busy collection of legal experts.
"Look at us," the board of JUUL may as well be saying. "We are going to sell people vape products to help them quit vaping."
Teenagers are people. Therefore….
Carl V. Phillips, Anti-THR Lies
So today FDA Commissioner Gottlieb is pumping cigarette company stock prices by threatening to ban flavors in vapor products (or something — not entirely clear), unless the manufacturers magically get teenagers to switch back to smoking instead (or something — not entirely clear). I wanted to address one aspect of this rhetorical game that does not get talked about enough. I doubt there is any serious observer of this space who does not get this, but much of what is said seems to overlook it rather than drilling down to it as it should.
Mawsley, Planet of the Vapes
The University of Newcastle (UON) Australia has announced that it is reversing its whole-campus ban on smoking and vaping. The decision has been made for pragmatic reasons and has caused staunch anti-vape campaigner Simon Chapman to do cartwheels in logic.
The University writes: "UON is dedicated to providing a safe and healthy environment for staff, students and visitors to our campuses. We are proud to support a smoke-free experience."
---
---
Dr Farsalinos
There have been some outstanding developments in the US in the past 2 days concerning e-cigarettes and flavors. The FDA has declared an epidemic of e-cigarette use by adolescents. Therefore, the FDA Commissioner announced that it requires "dramatic action to try to curtail this". What they are looking for right now is to "remove the characterizing flavors from e-cigarette products". According to information from the Chicago Tribune, the FDA has unpublished data showing a 75% increase in e-cigarette use among high school kids compared to 2017.
In poor countries branded 'a human rights issue'
Addressing a 300-strong audience of tobacco and vaping industry representatives, Helen Redmond, an expert in substance use at New York University's Silver School of Social Work, said people in poor countries should not be priced out of nicotine-based products that could potentially help them to quit smoking.

Redmond compared the medicinal qualities of nicotine with cannabis and stressed "the need to get vaping to the poorest, who need it most".
How dynamism and technocracy define the debate over e-cigs
Jacob Grier
Yesterday for Slate I wrote a long article on current regulations surrounding e-cigarettes, their potential for harm reduction, and teen use of Juul and other vapor devices. So naturally this morning the FDA announced major changes to its policies and secretive new data. (In an email to my editor this weekend I'd said, "Let's try to run it soon, just because you never know when the FDA might announce something that would force re-writes." I've been down this road before.) I'll use this post to talk about both my article and the new announcement.
BLACKBURN Rovers have sealed a training wear sponsorship deal with Totally Wicked.

The electronic cigarette business, which was founded in the town will feature their logo on all staff and players' training kits.

The deal between the club and the Stancliffe Street-based business will also see the logo appear around Ewood Park.

Rovers' CEO, Steve Waggott, said: "The club are delighted to welcome Totally Wicked to our growing portfolio of commercial partners.
---

---
Is as Bad as Smoking – Jim McDonald
Most Americans think vaping is as bad for your health as smoking cigarettes, or even worse, according to a new poll. That should come as no surprise to anyone who has watched the campaign to demonize vaping and nicotine explode during this decade.

Key findings of the poll were:
Jim McDonald, Vaping 360
It took less than a week for the Indian state of Tamil Nadu to ban vapor products after the central government urged all states to prohibit them. Tamil Nadu became the seventh Indian state to ban the sales of e-cigarettes.

The ban covers the manufacture, sale, distribution, trade, trade, marketing, import and possession of vaping products, according to the Times of India. The order from the Health and Family Welfare Department took effect immediately.

Katherine Timpf
The Food and Drug Administration is threatening to take electronic cigarettes off the market if manufacturers do not find a way to stop so many teens from using them.

"E-cigs have become an almost ubiquitous — and dangerous — trend among teenagers," FDA commissioner Scott Gottlieb said in a statement. "The disturbing and accelerating trajectory of use we're seeing in youth, and the resulting path to addiction, must end."
Lindsey Stroud
The U.S. Food and Drug Administration (FDA) has a lot of work to do on regulating tobacco and vapor products. A week after a federal court ruling required FDA to issue a schedule for the implementation of graphic warnings on cigarette packaging, FDA officials are cracking down on electronic cigarette manufacturers and retailers.

FDA announced the delivery of more than 1,300 warning letters to retailers (mostly convenience stores), and has "issued letters to the manufacturers of the five top-selling national brands" of electronic cigarettes.
Fontem Ventures strongly believes that e-vapor products like blu and myblu™ are to be used only by adult smokers. Minors should not use any tobacco or nicotine products, and we fully support and advocate for both legislation prohibiting sales of vaping products to minors and the ongoing FDA enforcement action against retailers selling e-vapor and other tobacco products to minors.
Send Tobacco Stocks Surging – AVA
"Thousands of small-business vape shops across America do not engage in irresponsible marketing practices and do not even sell the products being targeted by the FDA with threatening letters. Despite this, Commissioner Gottlieb is threatening to shut down all these businesses unless larger manufacturers unilaterally choose to change their marketing practices. It is absolutely absurd and a perversion of how regulatory agencies are supposed to approach their work.
Leaves much room for improvement – Carrie Wade & Joel Nitzkin
Last July marked the first anniversary of the Food and Drug Administration's Comprehensive Tobacco Plan, intended to weaken the desire for nicotine's most dangerous delivery device: the cigarette. Described as a "multi-year roadmap to better protect youth and help addicted adult smokers quit," the FDA's actions to date indicate, paradoxically, they are moving in the opposite direction of that goal, and instead strengthening the relationship smokers have with cigarettes.
SFATA
Mark it down – September 12, 2018 – today is the day that the U.S. Food and Drug Administration officially abandoned data and science in favor of anecdote and hyperbole as the lodestar of their policy decision making.

Today, the FDA announced a "crackdown" on the "epidemic" of youth use of vapor products. In a press announcement released this morning, the FDA issued a stridently worded justification of enforcement actions against retailers, websites, and manufacturers selling products to minors, or selling/marketing "youth-appealing" products.
Over the 'epidemic' of teen vaping – Andre Picard
The head of the U.S. Food and Drug Administration declared on Wednesday that vaping is an epidemic among teenagers and vowed a severe crackdown on manufacturers and retailers if they don't severely curtail sales to minors.

"The disturbing and accelerating trajectory of use we're seeing in youth, and the resulting path to addiction, must end," Dr. Scott Gottlieb said in a statement.
---
A look back at how things have moved on or otherwise….
Dick Puddlecote
"I say unto you, that likewise joy shall be in heaven over one sinner that repenteth, more than over ninety and nine just persons, which need no repentance." – Luke 15:7

My oh my, how revealing is this?

It was announced today that Philip Morris International – makers of Marlboro cigarettes – were funding a new initiative.

NEW YORK – Ushering in a bold, billion-dollar, far-reaching new effort to end smoking across the globe, the Foundation for a Smoke-Free World will be formally launched in New York City on September 13 at 9:30am EDT. ..
And the Erosion of Liberty – Simon Thurlow
Last year, my local authority – Swansea City Council – made national headlines when they decided to designate Caswell Bay (one of numerous award-winning beaches to be found on the Gower Peninsular) as a smoke-free beach. Whether it was successful or not I have no idea as I have not visited that particular beach this year and typically the Welsh weather throughout the summer months was not exactly conducive to enjoying a day at the beach.
---
Visit Nicotine Science & Policy for more News from around the World

---