Vapers Digest 14th September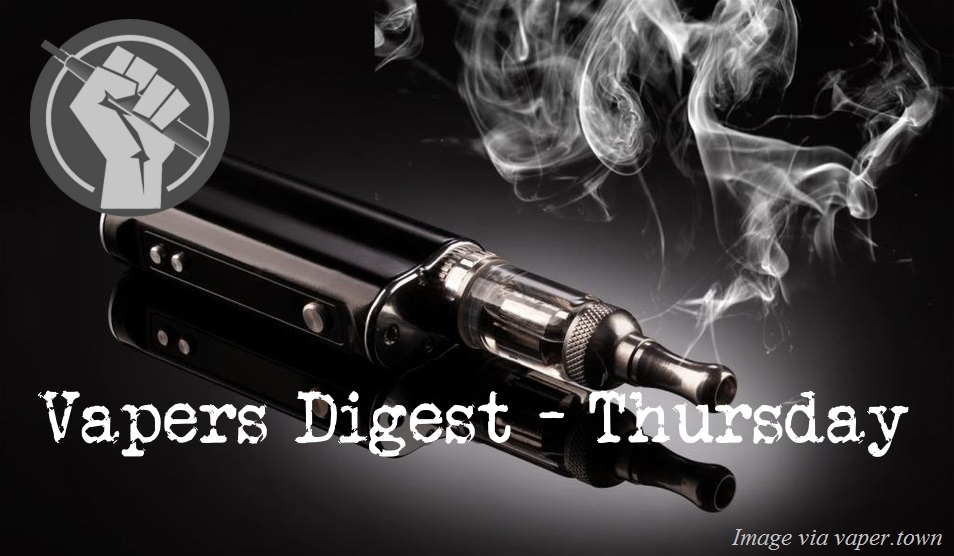 Thursday's News at a glance:
Sinner, Keep Sinning – We Need The Cash – Prodnoses, Fussbots and the Erosion of Liberty – IBVTA writes to the CEO of the Association of British Insurers – Studying Twitter – The Corruption of Public Health – VAPEXPO arrives in Barcelona – Robert West discusses vaping and smoking – Consultation on E-cigarette Advertising – E-cigarette company's appeal bid – Why is Phillip Morris spending $1 billion – Resolution of recurrent tonsillitis – Senate Inquiry rejects legislation – Heat Not Burn – Nicotine Science and Policy Daily Digest
Dick Puddlecote
"I say unto you, that likewise joy shall be in heaven over one sinner that repenteth, more than over ninety and nine just persons, which need no repentance." – Luke 15:7

My oh my, how revealing is this?

It was announced today that Philip Morris International – makers of Marlboro cigarettes – were funding a new initiative.

NEW YORK – Ushering in a bold, billion-dollar, far-reaching new effort to end smoking across the globe, the Foundation for a Smoke-Free World will be formally launched in New York City on September 13 at 9:30am EDT. ..
And the Erosion of Liberty – Simon Thurlow
Last year, my local authority – Swansea City Council – made national headlines when they decided to designate Caswell Bay (one of numerous award-winning beaches to be found on the Gower Peninsular) as a smoke-free beach. Whether it was successful or not I have no idea as I have not visited that particular beach this year and typically the Welsh weather throughout the summer months was not exactly conducive to enjoying a day at the beach.
---

---
Association of British Insurers – IBVTA
Following press coverage regarding the fact that vapers are still considered smokers for the purposes of life insurance, IBVTA has written the following letter to the CEO of the Association of British Insurers.

Dear Mr Evans,

We are writing with regard to the practice of insurance companies classifying vapers as smokers for life insurance purposes….
Mawsley, Planet of the Vapes
A number of extreme American libertarian and right-wing news websites have fumed over the news that a scientist has been given almost $200,000 of public money to study vaping on Twitter. While it may be an odd use of cash, studying mentions of ecigs on Twitter is not new to the lead author or the academic research community.
For the regulation of vaping products – Canada
The Government of Canada introduced Bill S-5 to the Senate on November 22, 2016. This proposed act will amend the Tobacco Act, Non- smokers' Health Act and other pertinent acts once adopted.

Based on this proposed act, Health Canada now wants to establish a first set of measures to regulate vaping products.
---
---
Simon Rosselat – Vaping Post
After the success of Vapexpo France that began in Bordeaux in 2014 and was followed by several others in Paris and other French cities, now this show crosses the borders and comes to Spain ! For the first time abroad, Vapexpo will gather together professional visitors as well as passionate vapers in the beautiful city of Barcelona
John Tierney
The tobacco industry faces an unprecedented threat. Since a new rival, the electronic cigarette, emerged in 2010, the smoking rate in America has plummeted, especially among young people. The e-cigarette delivers nicotine in vapor without the hundreds of toxins and dozens of carcinogens in cigarette smoke, eliminating at least 95 percent of the harm of smoking, according to England's national health agency, which endorsed its use after extensive studies.
---

---
CAP and BCAP are consulting on changes to their Codes to remove the current prohibition on health claims being made for e-cigarettes. This proposal follows the results of a call for evidence last year in which a majority of respondents argued that improvements in products and the positive view taken by many public health stakeholders about e-cigarettes' relative safety compared with smoked tobacco warranted the removal of the prohibition.
Shepherd and Wedderburn LLP
CCHG Limited t/a Vaporized v Vapouriz Limited is an appeal of a decision by a hearing officer (the HO) at the UK Intellectual Property Office. This decision marks the first appeal made to the Court of Session, indeed to any Scottish court, of an HO's decision under the Trade Mark Act 1994 (the TMA 1994). This is quite different to the position in England where a number of such appeals have been brought before the English courts. Ultimately, Lady Wolffe upheld the HO's decision in full.
Jim McDonald, Vaping 360
Why is PMI doing this? What do they hope to get from it? Gigantic corporations don't generally spend this much money on public relations efforts. The FSFW claims that the cigarette giant will have no input into what it does.

"Importantly, the grant terms, bylaws, and non-profit status of the Foundation preclude PMI or other tobacco industry representatives from involvement in Foundation governance, or from having any influence over the Foundation's funding decisions, strategy, or activities," says the press release
Among teenagers, BBC 'You and Yours' 13/09/17
Thanks as always to @dnglos for the YouTubage
Joanna Astrid Miler, Peter Hajek
As this is a never-smoker, the improvements cannot be attributed to smoking cessation. One possible explanation is that the improvement was due to antimicrobial properties of propylene glycol. The hypothesis could be tested by a trial of zero-nicotine e-cigarettes in patients with recurrent bacterial throat infection.
Dr Colin Mendelsohn
The result is disappointing, but not unexpected given that all government health departments, the TGA (Therapeutics Goods Administration), the National Health and Medical Research Council, public health organisations (Cancer Council, Heart Foundation, Public Health Association) and all medical organisations (such as the AMA, the Royal Australian College of Physicians, the Thoracic Society are opposed (except the RANZCP).
FDA Should Fight Lung Cancer, Not Smokers
Brian Fojtik – HuffPost
New Food and Drug Administration (FDA) Director Dr. Scott Gottlieb has been a breath of fresh air at the agency. Both Gottlieb and Center for Tobacco Products (CTP) Director Mitch Zeller have demonstrated in their words, that they understand that it's not nicotine or even tobacco that causes nearly half a million Americans to die prematurely every year, but the byproducts of burning tobacco from a lit cigarette.
---
A look back at how things have moved on or otherwise….
Dave Dorn, The Sun Also Rises
While I really do like that we have had two very good news stories today, I'm still a tad frustrated, and here's why. I'm going to assume you've read this study and this editorial – if you haven't, you need to.

To me, they're indicative of the "We told you so" moment, and that is, frankly, fabulous. But I'll tell you what unnerved me when I read it. It dawned on me, as I ran through the study, that this was very, very "ecigs as NRT" based. And I do not like that at all…
Jamie Hartmann-Boyce – The Guardian
Earlier this year, Michael Gove claimed Britain's had enough of experts. Now I don't agree with Gove on much, but when it comes to e-cigarettes, he may have a point. We're bombarded with stories about these products, but most just add to the confusion, with perceptions of vaping risks rising year on year. Just recently the Sun informed us that experts are saying "e-cigs are just as bad for your heart as smoking fags", but read a couple lines down and you'll find other experts reasserting the claim that e-cigarettes are 95% safer than tobacco. So which is it? Why can't the scientists agree? And will they ever?
---
Visit Nicotine Science & Policy for more News from around the World

---