Vapers Digest 15th September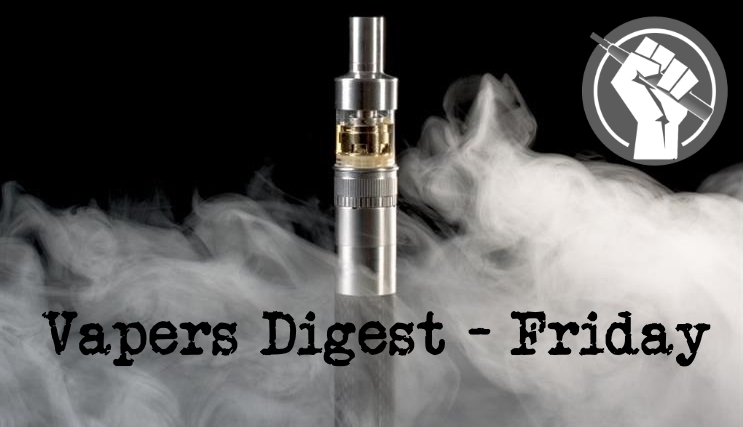 Friday's News at a glance:
It's Not About Health: A Potted History – London Midland Vaping Policy Revisited – Health Claims in Ecig Ads – FDA issues revised final guidance  – IBVTA joins forces with leading trade bodies – Man Bites Dog – AMA gets in a tangle on harm reduction – 75 Percent Wholesale Tax on E-Cigarettes – E-cigarettes given comparable treatment – Nicotine Science and Policy Daily Digest
Dick Puddlecote
It's almost become a motto of this blog to state that the bans and restrictions imposed by 'public health' and, in particular, tobacco control have nothing whatsoever to do with health.

There have been regular weekly examples of this over the eight plus years that I've been writing here, but New York Times science columnist, John Tierney, has put together the milestone themes in an excellent essay for The Manhattan Institute. Entitled "The Corruption of Public Health", it is a must-read.
New Nicotine Alliance
In August, London Midland, a train company operating out of Birmingham, decided that due to an allegedly large number of customer complaints it would apply its own interpretation to the Railway Bylaws and deem vaping on a train to be an offence. It decided that the best way to go about publicising this change of policy would be by press release, which was picked up by the Birmingham Mail. Unfortunately this decision went badly for them, as you can read on Dick Puddlecote's blog here: 'The Curious Case Of The Criminal Offence That Isn't'
---

---
Mawsley, Planet of the Vapes
The Committee of Advertising Practice (CAP) and the Broadcast Committee of Advertising Practice (BCAP) are holding a consultation on removing the current ban on electronic cigarette advertisers making health claims. It is a progressive, world-leading move and we encourage all vapers to contribute their opinions
Michael Felberbaum
"Requiring tobacco manufacturers to register with the FDA and submit information about the products they sell is vital to effectively implementing our tobacco authorities to protect public health. At the same time, we must also aim to make the regulatory process more transparent, efficient and predictable for industry," said FDA Commissioner Scott Gottlieb, M.D. "Our aim is to strike a balance between fostering product innovation that could offer consumers lower-risk alternatives to combusting tobacco, while providing a solid regulatory foundation for our oversight of these new products. With our comprehensive approach to the regulation of nicotine, we're seeking to dramatically reduce tobacco-related disease and death."
---
---
To call for retention of CE marking
We have all got used to the fact that if a product bears the CE mark, that it is safe. The reason for this assumption is that goods with CE marking demonstrate that they meet relevant and strict EU standards. This marking brings benefit to all in the supply chain and most notably, the consumer.

IBVTA have joined forces with many leading trade associations, including techUK, to argue the case for retaining CE marking by outlining its benefits and how it helps to ensure smooth trade across Europe.
Richard Edelman
I could not believe my eyes yesterday morning when I saw that the Foundation for a Smoke-Free World had been launched with the goal of eliminating smoking — with a commitment of $80 million per year for 12 years by Philip Morris International, a leading tobacco company. The Foundation will be headed by Dr. Derek Yach, who was the primary architect of the World Health Organization's Framework Convention on Tobacco Control.
---

---
Dr Colin Mendelsohn
The Australian Medical Association (AMA) is to be commended for its recent position statement on substance use which includes harm-minimisation strategies and a compassionate attitude to drug users.
However, curiously, this enlightened approach does not apply to its policy statement on the most harmful substance use of all, tobacco smoking.
Eric Boehm, Reason
Amid a bevy of proposed tax increases, Connecticut Gov. Dannel Malloy has called for a new 75 percent wholesale tax on electronic cigarettes and other vaping products—part of an effort to close a $3.5 billion deficit. As you might expect, vape shop owners are not happy with the idea.

"Just do the math," Christine Mazzotta, who owns three vape shops in Connecticut, told the Hardford Courant. "A tax that high is simply going to push business out of Connecticut. It's going to close stores."
Jonathon Naylor, The Reminder
Electronic cigarettes will more or less get the tobacco treatment in Manitoba.

Effective Oct. 1, e-cigarettes and vapour products may not be used in most enclosed public spaces in the province. The law also bars the sale of these products to minors.
Do not recommend e-cigarettes for smoking cessation
"Given the popularity of e-cigarettes among U.S. adults and the large number of smokers who visit a health care professional, there has been support for physicians to recommend e-cigarettes to patients as smoking cessation aids," Samuel Ofei-Dodoo, PhD, MPA, MA, from the department of family and community medicine at the University of Kansas School of Medicine, and colleagues wrote.
---
A look back at how things have moved on or otherwise….
Terry Barnes – Catallaxy Files
Having read The Cat's excellent submission to the New Zealand government's public consultations on its plans to legalise nicotine-containing E-cigarettes, I can say that the battle of logic and rationality with the flat-earthers who dominate policy thinking in Australia and New Zealand is well and truly joined.

In a space that is dominated by ad hominem slurs, fear-mongering and blatant evidence-denial and cherry-picking from those opposing the early adoption of vaping, the calm, rational policy case for the early adoption of disruptive harm reduction e-cigarette technology is finally making progress Down Under, as it long has in the UK and Europe.
Jacob Sullum – Forbes
Three years ago, Thomas Frieden, director of the U.S. Centers for Disease Control and Prevention (CDC), warned that "many kids are starting out with e-cigarettes and then going on to smoke conventional cigarettes." That fear is one of the main justifications for the CDC's hostility toward vaping and the Food and Drug Administration's onerous new e-cigarette regulations, which are expected to cripple the industry.

Yet there is no evidence that Frieden's claim is true and considerable evidence that it's not…
---
Visit Nicotine Science & Policy for more News from around the World

---