Vapers Digest 18th September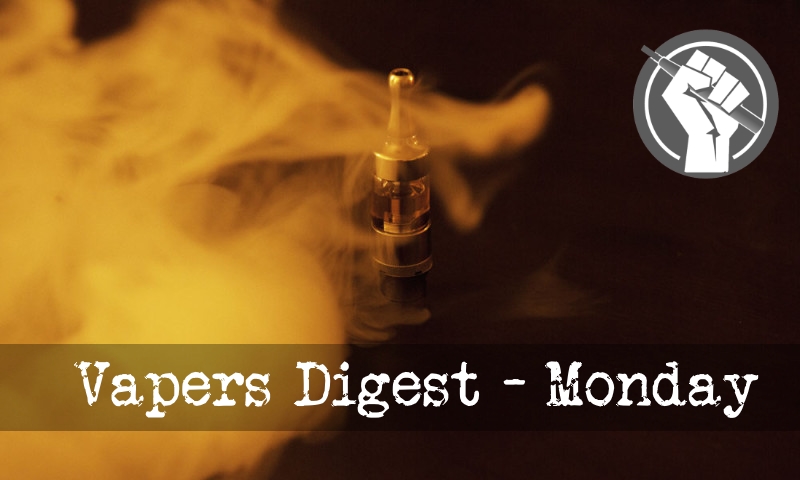 Monday's News at a glance:
Glantz's 'expanding tobacco epidemic' – City regulators throw out new vape age limit ban – What is Tobacco Harm Reduction? – Researchers judge air quality in vapers' homes – Scientists on why banning e-cigarettes in India is an epic mistake – Self-regulation key to success – A Case for Nicotine Use – Canada's response to vaping 'puzzling' – Nicotine e-cigarettes a 'solution' to help smokers – A round of applause – Vaping In The News ~ September 10th ~ 16th – Solid foundation, or castle made of sand? – Nicotine Science and Policy Daily Digest
Christopher Snowdon, Velvet Glove Iron Fist
From Stan Glantz's wacky blog…

More evidence that the US permissive policy environment for e-cigs is expanding the tobacco epidemic
Hong-Jun Cho, Lauren Dutra, and I recently published "Differences in adolescent e-cigarette and cigarette prevalence in two policy environments: South Korea and the United States" in Nicotine and Tobacco Research. This paper compares changes in e-cigarette and cigarette use in South Korea and the United States between 2011 and 2015.
Fergus Mason, Vaping Post
The local council of a Minnesota city have blocked the latest attempt to raise the purchase age for vapour products, as well as tobacco, to 21. Lawmakers in Detroit Lakes dismissed a bill that would have enacted the spreading "Tobacco 21" rules in the city, stating that there was no point in imposing the ban at a local level.

Less positively, a prominent European health conference has focused on vaping – and produced a lot of bad science in the process. At least two papers at the European Respiratory Society's annual congress made alarmist claims based on very poor (or no) evidence.
Harry Shapiro
No guesses as to the big story of the moment – the announcement that PMI are funding a Foundation for a Smoke-Free World to the tune of $80 million annually over the next twelve years. The interim president is Dr Derek Yach, former WHO director for noncommunicable diseases and mental health where he led the development of the Framework Convention on Tobacco Control. Eyebrows have shot skywards at this appointment leading to inevitable claims that Dr Yach has been won over to the Dark Side.
---

---
Carl V. Phillips, Anti-THR Lies
In response to a couple of recent requests and my schooling of FDA in a recent Twitter thread, it seems time for me to again write a primer on the meaning of tobacco harm reduction (THR). Rather than return to a previous version I have written, I am doing this from scratch. This seems best given the evolution of my thinking and changing circumstances.
ASAP Society
Scientists in California have revealed the fact there were no difference between vapers and non vapers homes when it comes to airborne particulate matter. Good news for vaping industry. Scientists from the San Diego State University conducted the particular research and the National Heart, Lung, and Blood institute funded the research.

The research included experimenting with 300 families having one smoker and one young child below the age of 14 years. The researchers installed two particle monitors in two separate locations of the house. The researchers let the monitors scan the air in the houses for about 3 months. The air was scanned for particles between 0.5 micrometers and 2.5 micrometers.
---
---
In India is an epic mistake – Diane Caruana
Last year two scientists, R.N. Sharan of the Department of Biochemistry, North-Eastern Hill University (NEHU), and M. Siddiqi, Chairman of Cancer Foundation of India wrote a letter to the Union Health and Family Welfare Minister J.P. Nadda, urging him to consider policies that facilitate smoking cessation by providing smokers with safe and regulated tobacco alternatives.
Philippine Daily Inquirer
Self-regulation, adherence to high manufacturing standards and quality of imported products are key factors in the success of the e-cigarette industry in the Philippines, representatives of the Philippine vaping community told their counterparts in India
---

---
Artur Gorokh
Cornell can be a lot of work. Hard pressed to make more out of finite waking hours, we use all means available to boost productivity. That can be good study practices, an exercise routine, or neurochemical enhancement, the latter being especially seductive for its magic-like effortlessness. Sadly, there are few effective substances one can safely use, and when coffee fails to deliver, some choose to go to sleep, and others resort to not-so-safe amphetamines. But what about nicotine?
Monique Scotti
The CEO of one of the world's largest tobacco companies says he's puzzled by the Canadian government's refusal to implement a separate set of regulations around products that contain tobacco but don't burn it.

In an interview with The West Block's Vassy Kapelos, André Calantzopoulos said Philip Morris International hopes to achieve a smoke-free future by pushing its newer vaping and e-cigarette products on the international market.
Adam Holmes – Bendigo Advertiser
WHEN it comes to allowing nicotine in e-cigarettes, Alastair Hyde struggles to understand what the fuss is about. "We have a solution to help smokers quit – it's right here," he said.

"The science is pretty clear that it's safe." Mr Hyde runs Vape Anarchy on Lyttleton Terrace in Bendigo, selling e-cigarettes and accessories.

He claims many of his customers use them to quit the smokes, but there's only one thing missing from them – nicotine.
For 6 world class doctors – Matt Rowland
Have you ever noticed that the bad things that we read about vaping online tend to get so much more attention than the good? When some Australian research team posts some bogus report suggesting that e-cigs increase the risks of baby asthma, the story goes viral in a matter of hours. But when someone like Dr. Michael Siegel shows public support for vaping, his comments are often ignored by the mainstream media. The only doctor who seems to get any airtime is Dr. Drew Pinsky of MTV fame.
Kevin Crowley, Vaping Links
Vaping Is Not A Crime ~ Sinner, Keep Sinning – We Need The Cash ~ Philip Morris Pledges $1 BILLION ~ Australia ~ Nicotine ~ E-cigarette use and associated changes in population smoking cessation ~ Resolution of recurrent tonsillitis in a non-smoker who became a vaper ~ The Corruption of Public Health ~ FDA Revised Guidance ~ It's Not About Health ~ Mice
---
A look back at how things have moved on or otherwise….
MIT Brickman
I have not added to this blog for awhile – primarily because I felt that I had expressed everything that could be said about vaping as a significantly safer way to obtain nicotine compared to combustible cigarettes. I have covered how vaping saved my life, why it needs to be hailed as the greatest public health advancement in history (based on the sheer numbers of lives that it can potentially save), how the vaping industry itself has been its own worst enemy, and why governments are so averse to allowing any solutions that their own self-important ranks didn't create.
Simon Clark – Taking Liberties
You wait ages for a film about vaping then three come along at once. I've written at length about the documentary A Billion Lives. Last night however I discovered there are at least two more movies about e-cigarettes in the pipeline. One is still in production (I think), the other is about to be released online.

Promoted with the slogan 'Let's make cigarette history', Vape Wave is described thus:
Carl V. Phillips – Anti-THR Lies
Fairly often (e.g., in the previous post) I make reference to the concept that extraordinary claims require extraordinary evidence. That is, if something seems extremely unlikely based on a great deal of accumulated knowledge or an understanding about how the world works, and you wish to claim it is true, you really need to have done some tight work. It is a good principle in science.
---
Visit Nicotine Science & Policy for more News from around the World

---