In the News September 16th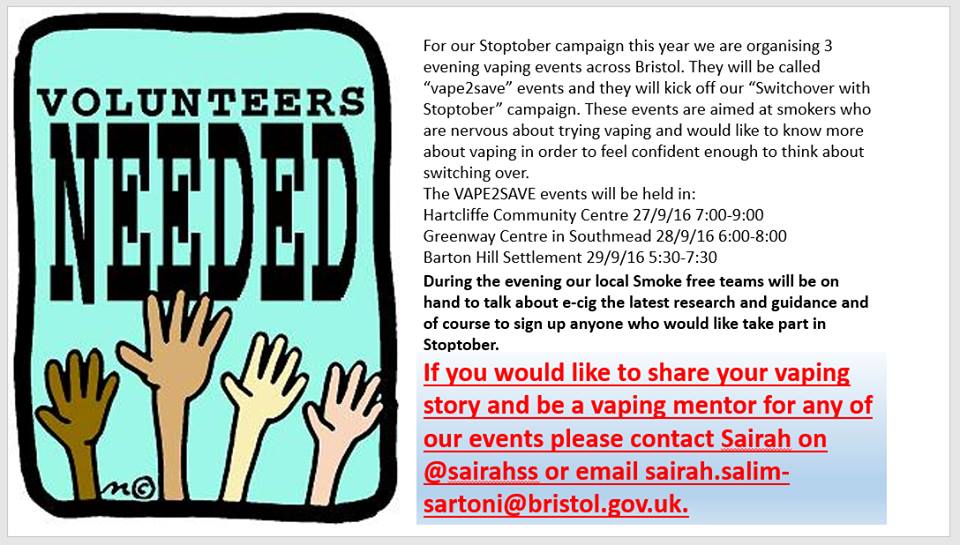 Fridays News at a glance:
Vaping is safer than money – Are we approaching peak vape? – Extraordinary claims – Media: stop with alarmist vaping headlines – FDA panel votes to remove serious warning from Pfizer's smoking cessation pill – Skull and bones "Toxic" pictogram no longer mandatory – Doccie cuts through tobacco propaganda smokescreen – A Billion Lives on South Africa's #1 News Station – More smokers are able to quit, study – Nicotine Science and Policy Daily Digest – Friday, 16 September 2016
MIT Brickman
I have not added to this blog for awhile – primarily because I felt that I had expressed everything that could be said about vaping as a significantly safer way to obtain nicotine compared to combustible cigarettes. I have covered how vaping saved my life, why it needs to be hailed as the greatest public health advancement in history (based on the sheer numbers of lives that it can potentially save), how the vaping industry itself has been its own worst enemy, and why governments are so averse to allowing any solutions that their own self-important ranks didn't create.
Simon Clark – Taking Liberties
You wait ages for a film about vaping then three come along at once. I've written at length about the documentary A Billion Lives. Last night however I discovered there are at least two more movies about e-cigarettes in the pipeline. One is still in production (I think), the other is about to be released online.

Promoted with the slogan 'Let's make cigarette history', Vape Wave is described thus:
---

---
Carl V. Phillips – Anti-THR Lies
Fairly often (e.g., in the previous post) I make reference to the concept that extraordinary claims require extraordinary evidence. That is, if something seems extremely unlikely based on a great deal of accumulated knowledge or an understanding about how the world works, and you wish to claim it is true, you really need to have done some tight work. It is a good principle in science.
---
Volunteers Needed…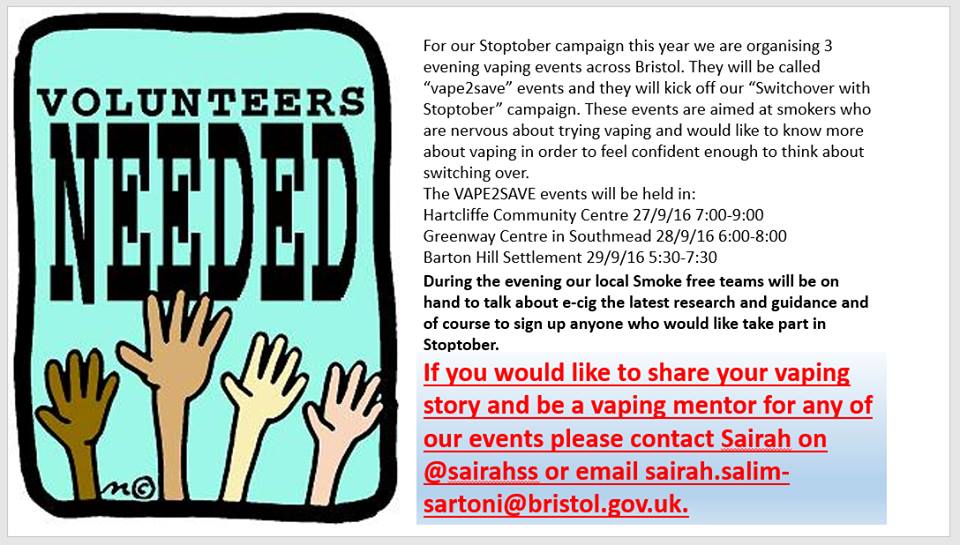 You can contact Sairah on Twitter: @sairahss Or by E-Mail 
---
Sheshtyn Paola
Associate Professor Colin Mendelsohn, a tobacco treatment specialist associated with the School of Public Health at the University of NSW, has issued a scathing attack on media outlets for their reportage of medical studies.

He calls out the headline, 'Vaping from electronic cigarettes could be as bad for the heart as tobacco', which was from an article published by the Daily Mail (UK) and syndicated across a range of Australian news services.
From Pfizer's smoking cessation pill – Ed Silverman
Pfizer won a crucial battle in its quest to widen the market for its Chantix smoking cessation pill late Wednesday when a federal advisory panel recommended that a serious warning about neuropsychiatric side effects should be removed from the product labeling.

The recommendation followed a two-year effort by the drug maker to remove a so-called Black Box warning — the most serious type of health alert — that indicated Chantix could cause patients to experience such side effects as suicidal thoughts and hostility.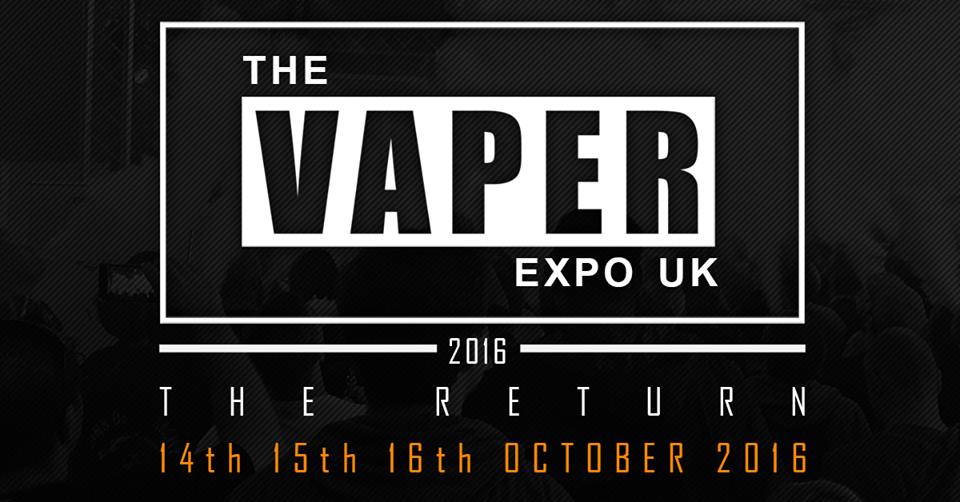 Julien Sellier – Vaping Post
Matter of debate, the skull and crossed bones pictogram symbolizing acute toxicity is no longer required on e-liquid bottles in France after an update issued last July by the Directorate-General for Competition, Consumer Affairs and Prevention of Fraud (DGCCRF)
Katharine Child
What if you knew of a way to save a billion people's lives but kept it quiet?  This is what American filmmaker Aaron Biebert suggests doctors, scientists, drug companies and governments are doing by refusing to market and promote e-cigarettes.

His award-winning documentary, A Billion Lives, screens at the Jozi Film Festival this weekend. The film, which took a year to produce, argues that e-cigarettes help people quit smoking.
Karen Kaplan – LA Times
The more that vaping takes hold in England, the better the odds that smokers there will succeed in their attempts to stop using regular cigarettes.

These parallel trends, reported Wednesday in the BMJ medical journal, don't prove that electronic cigarettes help smokers kick the habit. But that possibility is looking more and more likely, experts said.

Smoking prevalence in the United Kingdom fell significantly from 2014 to 2015, and that's a sign that something over there is working, according to an editorial that accompanies the study.
At center of vaping controversy – Hayleigh Colombo
An Indiana lawmaker who voted two years in a row for legislation that put one private company in control of who could manufacture e-liquid for sale in Indiana has now gone to work for a division of that firm.

Rep. Alan Morrison, R-Terre Haute, said he sees no conflict of interest in taking a job with a division of Mulhaupt's, the Lafayette firm that is at the center of the controversial law regulating the vaping industry.
---
A look back at how things have moved on or otherwise…
Compiled by Robert Innes @BrainyFurball
Joint statement on e-cigarettes by Public Health England and other UK public health organisations.
We all agree that e-cigarettes are significantly less harmful than smoking. One in 2 lifelong smokers dies from their addiction. All of the evidence suggests that the health risks posed by e-cigarettes are relatively small by comparison but we must continue to study the long term effects.

And yet, millions of smokers have the impression that e-cigarettes are at least as harmful as tobacco and we have a responsibility to provide clear information on the facts as we know them to be. It is our duty to provide reassurance for the 1.1 million e-cigarette users who have completely stopped smoking to prevent their relapse….
John Britton in the BMJ…
McKee and Capewell are concerned that many smokers use electronic cigarettes alongside smoking ('dual use') rather than quitting completely. Their position is at odds with NICE guidance on tobacco harm reduction (PH45[1]) which encourages dual use not because cutting down on smoking reduces hazard (it doesn't) but because people who do so are more likely to quit…
"We should not forget what is important here. We know that smoking is the number one killer in England and we have a public health responsibility to provide smokers with the information and the tools to help them quit smoking completely and forever,"
After recently cementing its status as the highest-taxed cigarette city in the United States, lawmakers in Chicago are now targeting products used as a healthier alternative to traditional tobacco. Reeling from declining tobacco revenues and faced with a massive budget hole as a result of overspending and lack of local reform, some Democrats have decided to go after e-cigarettes with a new massive tax hike….
---
Visit Nicotine Science & Policy for more News from around the World

---