Vapers Digest September 12th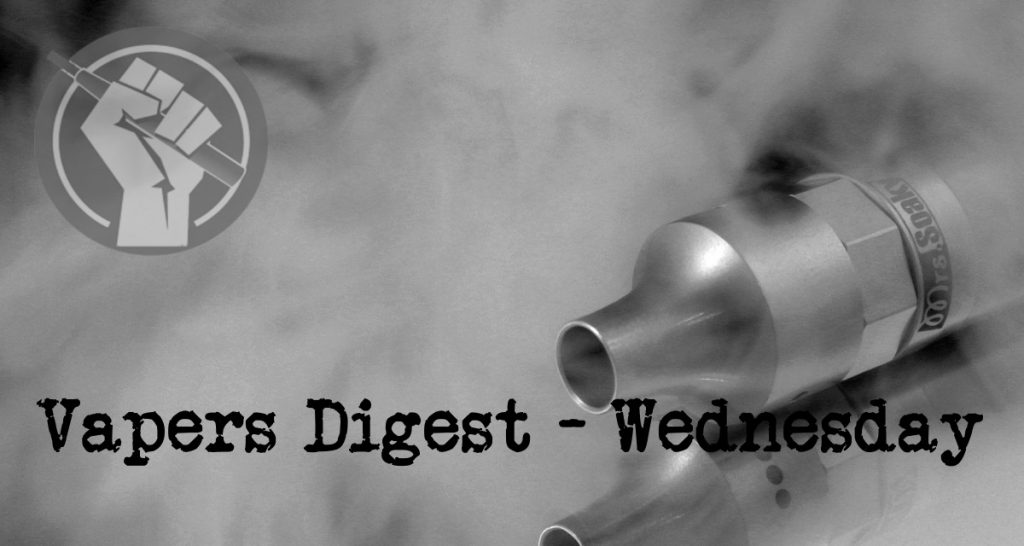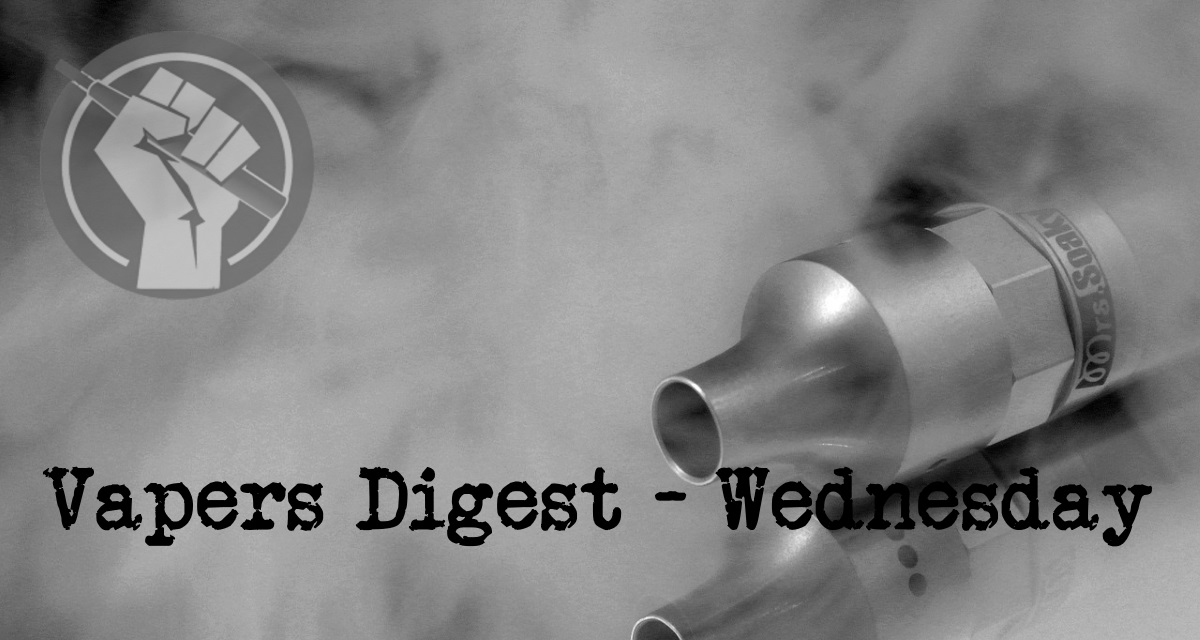 Wednesday's News at a glance:
Harry's Blog #69: No Fire, No Smoke ~ FDA takes new steps to address epidemic ~ Statement from FDA Commissioner Scott Gottlieb ~ Do Tax Increases On Tobacco Hurt The Poor? ~ What will it take to give our policy-makers to backbone to have some common sense on e-cigs? ~ Birmingham Goes Into BAT ~ University Hospitals Bristol Ignores Government ~ E-cigarettes have a proven track record of harm reduction. ~ Yet Another Smoking Alternative Isn't Better for You Than Cigarettes ~ Why vaping needs to spearhead your big health kick right now ~ Administering the Mark of Cain: Secrecy and Exclusion in the FCTC Implementation ~ Potential deaths averted in USA ~ Edinburgh vaping firm will supply prisoners with e-cigarettes ~ They Made A Simple Change To Vaping Batteries ~ Tamil Nadu bans e-cigarettes
the Global State of Tobacco Harm Reduction 2018 (GSTHR)
Harry Shapiro, Nicotine Policy
Yes, it's nearly here folks, now safely in the hands of the printer is the very first global report covering all aspects of tobacco harm reduction. GSTHR will be launched in Geneva on 2nd October to coincide with the start of the Conference of the Parties to the Framework Convention on Tobacco Control (FCTC). It will be downloadable from a new website where you will also find executive summaries in several languages. The website is being engineered to be interactive and regularly updated with information about legislation, what's happening with tobacco harm reduction in every country, and much more.
of youth e-cigarette use, including a historic action against more than 1,300 retailers and 5 major manufacturers for their roles perpetuating youth access
Scott Gottlieb, FDA
The U.S. Food and Drug Administration today announced a series of critical and historic enforcement actions related to the sale and marketing of e-cigarettes to kids. In the largest coordinated enforcement effort in the FDA's history, the agency issued more than 1,300 warning letters and civil money penalty complaints (fines) to retailers who illegally sold JUUL and other e-cigarette products to minors during a nationwide, undercover blitz of brick-and-mortar and online stores this summer. As a result of these violations of the law – and other indications that e-cigarette use among youth has hit epidemic proportions – FDA Commissioner Scott Gottlieb, M.D., signaled that the agency intends to take new and significant steps to address this challenge in a speech at the agency's headquarters.
on new steps to address epidemic of youth e-cigarette use
Scott Gottlieb, FDA
More than a year ago, the FDA unveiled a broad policy to reduce the death and disease caused by smoking. Smoking remains the number one preventable cause of death in America, killing nearly half a million people a year. If we aren't successful in more sharply reducing the rate of addiction to tobacco, then we'll continue to see this needless death and disease. FDA's new legal authorities to regulate tobacco ‒ as part of the Tobacco Control Act ‒ empowered us to alter this trajectory.

We saw an opening to push a generational shift in the deadly course caused by tobacco. And we've seized it.
Joseph Magero, Medium
Does raising taxes on cigarettes and tobacco actually give governments in Africa the extra money they predict every year, and reduce the number of smokers in the region? Increases in tobacco taxes are widely regarded as a highly effective strategy for reducing tobacco use and its consequences. This strategy is effective and can lead to significant improvements in public health,but does an increase in the tobacco excise tax place an unjustified economic burden on the poor?
---

---
to have some common sense on e-cigs?
Ben Brennan, The Advertiser
WHERE there's smoke, there's a politician stuck between a rock and a hard place. Old habits die hard, but so do smokers, and the debate around e-cigarettes long ago fell victim to Australian politics' addiction to banning anything new out of sheer reflex. And so it was when e-cigarettes were first born. And so it seems it will be again now that the new South Australian parliament prepares for a new debate on laws around vaping.
Mawsley, Planet Of The Vapes
British American Tobacco (BAT) has attempted to win public health contracts on the back of obtaining one in the city of Birmingham, in a move branded as "a disgrace". Health campaigners obtained emails under the Freedom of Information (FOI) Act and reveals BAT's seedy attempt to then curry favour with further councils.
Mawsley, Planet Of The Vapes
University Hospitals Bristol (UHB) has announced its intention to push ahead with a total vape ban at the beginning of next year. The stated intention comes just days after Norman Lamb presented the Science and Technology Committee's report to Parliament, and called for the "risk-proportionate regulation of e-cigarettes".
---
---
It's difficult to say who's been more addicted to Juul this summer: the teens whose use of the popular e-cigarette has been the subject of countless articles, or the reporters who write them. The sleek device is an easy target for scare stories: It's colorful, flavorful, and discreet enough to hide from parents and teachers. Health authorities worry that Juul is bringing glamour back to nicotine, as exemplified by extremely 2018 headlines such as "Malia Obama puffing her Juul is summer goals."
Anna Edney, Bloomberg
British American Tobacco Plc hasn't produced adequate data to show its Camel smokeless tobacco pouches are a less risky alternative to cigarettes, according to U.S. regulators, a sign the company may face hurdles as it attempts to develop less-harmful products.

Although Camel Snus have lower levels of some potentially harmful chemicals compared with cigarettes, they contain higher amounts of arsenic, cadmium and nicotine, said Food and Drug Administration staff in a briefing document posted online on Tuesday. Those levels "may result in increased user exposures to carcinogens and other toxicants that may subsequently increase the risk for cancer, heart disease and reproductive or developmental effects," FDA staff said.
John Saunders

, London Loves Business
The fact of the matter is that vaping is something that has become hugely popular in recent times. People are more health conscious nowadays, and there seems to be a movement away from unhealthy habits like smoking. So you need to make sure you are thinking about how you can kick the habit, cut down, and try to become smoke-free eventually in your life.

The problem is, this can be harder than you might imagine. It's important to ensure that you do what you can to stop smoking as much as possible. One of the best ways to go about doing this would seem to be vaping.
---

---
Gregory F. Jacob, Fordham International Law Journal (PDF)
The process for negotiating and implementing the Framework Convention on Tobacco Control ("FCTC"), the world's first public health treaty and the first adopted under the auspices of the World Health Organization ("WHO"), has been characterized by novel features of secrecy and exclusion that cannot be reconciled with accepted norms of international lawmaking . The FCTC 's stated objective is to progressively reduce tobacco consumption "by

providing a framework for tobacco control measures to be implemented by the Parties at the national, regional, and international levels."
by replacing cigarettes with e-cigarettes
BMJ, Tobacco Control
Introduction US tobacco control policies to reduce cigarette use have been effective, but their impact has been relatively slow. This study considers a strategy of switching cigarette smokers to e-cigarette use ('vaping') in the USA to accelerate tobacco control progress.

Methods A Status Quo Scenario, developed to project smoking rates and health outcomes in the absence of vaping, is compared with Substitution models, whereby cigarette use is largely replaced by vaping over a 10-year period. We test an Optimistic and a Pessimistic Scenario, differing in terms of the relative harms of e-cigarettes compared with cigarettes and the impact on overall initiation, cessation and switching. Projected mortality outcomes by age and sex under the Status Quo and E-Cigarette Substitution Scenarios are compared from 2016 to 2100 to determine public health impacts.

Findings Compared with the Status Quo, replacement of cigarette by e-cigarette use over a 10-year period yields 6.6 million fewer premature deaths with 86.7 million fewer life years lost in the Optimistic Scenario. Under the Pessimistic Scenario, 1.6 million premature deaths are averted with 20.8 million fewer life years lost. The largest gains are among younger cohorts, with a 0.5 gain in average life expectancy projected for the age 15 years cohort in 2016.

JAC Vapour is one of the only independent companies outside of China to design and create mainstream vaping devices for people who want to give up smoking. The SPS Smoke Free Prisons initiative goes live at the end of November and the company has been working closely with the SPS and its smoke free team to design products that meet the specific requirements of prisoners and the service.
And What Happens Next Will Amaze You
Jimmy Hafrey, ChurnMag
We've all heard plenty of horror stories about a vaporizer going haywire and exploding in someone's face. While this does happen and is obviously scary, the amount that we hear about it isn't indicative of the rate at which it actually happens. As a result, legislators across the country have made moves that could seriously jeopardize the harm reduction value of vaping, including harsh taxes and even outright bans. What's worse is that these changes have done little to reduce the risk of battery failures, as the vast majority of incidents are a direct result of poor battery safety.
---

---
Shanmughasundaram J, The Times Of India
The Tamil Nadu government has passed an order banning the sale of e-cigarettes (electronic nicotine delivery system or ENDS with immediate effect.

The health and family welfare department passed a government order (GO), dated September 3, banning with immediate effect.

The government has banned manufacture, sale, distribution,trade, trade, marketing, import and possession of the electronic nicotine delivery systems.
---
---
Visit Nicotine Science & Policy for more News from around the World

---