Vapers Digest September 10th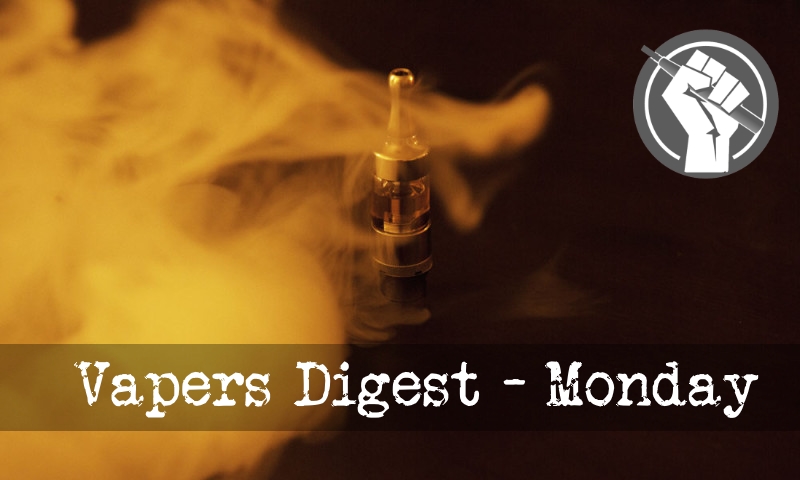 Monday's News at a glance:
NCSCT Update Prompts Call for Vaping in Bars – Perspectives on E-Cigarettes – Vaping Plays a Role in Young Adults' Low Smoking Rate – Call to license e-cigarettes – Health groups slay vaping with faint praise – Flavours key to switching, study finds – Canada May Just Tell the Truth About Vaping – Bahrain subjects e-liquid to excise tax – Tobacco kills, but nicotine is a lifesaver – Asian Vapers unite to share voice – Experts condemn government's decision to ban e-cigarettes – Health department to monitor use of e-cigarettes – New electronic cigarette law set to go into effect – Nicotine Science and Policy Daily Digest
Mawsley, Planet of the Vapes
The National Centre for Smoking Cessation and Training (NCSCT) has been a longstanding supporter of vaping and its use for reducing the harm of smoking tobacco. The site now contains many resources to help employers and businesses encourage smokers to switch to ecigs. Louise Ross would like to see this in all bars.
The NCSCT was established to support the delivery of smoking cessation services, and to support the NHS and Local Authorities to deliver effective evidence-based tobacco control programmes. It has produced training and assessment programmes for stop smoking practitioners and other health care professionals.
Of Staff at UK Stop Smoking Services – Diane Caruana
The study which was published on BMC's Harm Reduction Journal last month, investigated perspectives on the use of e-cigarettes for smoking cessation, by staff offering cessation interventions at Stop Smoking Services across England. The researchers interviewed 25 cessation services staff, including advisors, managers and commissioners, from eight different cessation centres in the South-West of England, UK.
In Young Adults' Low Smoking Rate – Brad Rodu
The anti-tobacco Truth Initiative tweeted that the smoking rate among young adults (18-24 year old) in the U.S. is "just 10.4%," based on the 2017 National Health Interview Survey (NHIS) (here).

But the Initiative didn't tell the whole tobacco "truth."  Using the same NHIS data, I prepared the chart at left which confirms that smoking is way down among young adults, continuing a decline I reported previously (here).
---

---
Fergus Mason
A new study from the UK has confirmed that e-cigarettes are far more effective at helping smokers quit than traditional remedies like nicotine patches and gum. It's also confirmed what vapers have been saying for years – that flavours play a large role in vaping's effectiveness. It isn't all good news, though, with the US media continuing to spread misinformation about alleged risks of vaping and frivolous lawsuits blaming the industry for accidents caused by careless battery handling.
About Vaping – Jim McDonald
Canada passed a law earlier this year that prevents manufacturers and sellers of vaping products from making any unauthorized health statements about e-cigarettes, including claims that vaping is safer or healthier than smoking. Now the government is about to take action to specify what can be said by vapor businesses.

The Tobacco and Vaping Products Act (TVPA) is the first vapor products legislation passed by the national government of Canada. The law makes selling nicotine-containing vapes legal. Before the TVPA, the Canadian vapor market existed in a legal gray area.
Rob Owen
Addressing chairman of the Science and Technology Committee, which put the report together, Norman Lamb, Mr Smith said: "I note that here in this report, it says that medically licensed e-cigarettes could assist smoking cessation efforts by making it easier for medical professionals to recommend them as a stop smoking treatment for patients. I think that's really good.
---
---
Robert Sklaroff and Stephen Gambescia
To paraphrase Shakespeare's Julius Caesar, highly respected health groups have come to bury vaping, not to praise this recognized harm-reduction tool that helps people stop smoking combustible cigarettes.

By ignoring overwhelming evidence of the benefits of ENDS (Electronic Nicotine Delivery Systems), this abrogation of the health groups' responsibility to maximize public health is peculiar, indeed, particularly when recognizing that the United Kingdom is calling for a change in national policy after acknowledging that vaping is an important tool for smoking cessation.
The new Control of Tobacco Products and Electronic Delivery Systems Bill loses the opportunity to provide the millions of South African cigarette smokers with clear, unambiguous risk differentiation between tobacco and nicotine.

Tobacco kills, but nicotine-based vaping products (e-cigarettes) can be a lifesaver. It is important for government to understand and communicate the difference accurately and responsibly to our citizens.
---

---
Philip Gambaccini
The Kingdom of Bahrain has introduced an excise tax on nicotine containing liquid used in electronic cigarettes and e-shisha. The tax was implemented with little prior discussion in July when Customs authorities informed vape shop owners that their imported liquids could not be cleared before the tax was paid.

The move comes after the Finance authorities classified e-liquids as tobacco and thus, subject to excise tax.  Bahrain is one of three Gulf States along with Saudi Arabia and the United Arab Emirates to levy excise on tobacco products. The rate is 100% of the pre-tax price, which means an effective rate of 50% of the retail selling price.
Manila Standard Business
Peter Paul Dator from The Vapers Philippines, Dimas Jeremia from Indonesian Vapers Associations, Asa Saligupta from Ends Cigarette Smoke Thailand and Azrul Hafriz Bin Zainudin from Malaysian Organization of Vape Entity made the announcement during a panel discussion on "Alternative Tobacco Products Regulations:The Role of the Consumers" which was hosted by the Institute for Democracy and Economic Affairs on the same day.

To ban e-cigarettes
New Delhi: Condemning the government's decision to ban e-cigarettes in the absence of scientific evidence, experts said the move is regressive. In a statement on Thursday, the Association of Vapers India (AVI) — an organisation that represents e-cigarettes — said the government has failed to offer an alternative to tobacco cigarettes known to cause many diseases, including cancer and lung disease.
With several reports indicating that a ban on e-cigarettes is likely to be imposed anytime soon in Tamil Nadu, the Trichy district health department has started taking steps to ensure the possession and usage of electronic delivery system (ENDS) is monitored and curbed effectively as soon as a government order is passed regarding it.
During the 2018 Maryland General Assembly Session, a new law was passed which makes changes to statutes currently in effect related to tobacco and Electronic Nicotine Delivery Systems (ENDS). Also called electronic cigarettes, e-cigarettes, vaping devices, or vape pens, ENDS are battery-powered devices used to smoke or "vape" a flavored solution.
Electronic cigarettes are now on equal footing with traditional cigarettes when it comes to regulation in the city.

The Oak Creek Common Council Sept. 4 approved an ordinance to repeal and recreate the portion of the city's municipal code on smoking regulations. This change was designed to update the code to include changes in the smoking industry, such as e-cigarettes into the overall age and location regulations already in place.
Weeks after shelving a proposal to increase the minimum age for buying cigarettes in town, Wauconda trustees are cracking down on people who use vaping devices.

"These devices (are) a nuisance in public places," Trustee Adam Schlick said.
---
A look back at how things have moved on or otherwise….
IVVA & IBVTA
This week, IVVA along with the Independent British Vape Trade Association (IBVTA) wrote a letter to Ryanair regarding the changes to their cabin baggage policy.

The wording of the policy change would have meant that vapers travelling on a Ryanair flight would not be permitted to bring their device with them in their cabin baggage.

We are pleased to see that the wording of the policy has now changed, with "electronic cigarettes" removed from the section listing prohibited items. The policy now reads :
James Dunworth
The report also outraged a group of scientists and anti-smoking campaigners, Professor Polosa of the University of Catania, Dr Russell from the Centre for Substance Use Research, Dr Nitzkin, Chair of the Tobacco Control Task Force of the American Association of Public Health Physicians, and Professor Konstantinos, research fellow at the Onassis Cardiac Surgery Center in Athens, Greece.

This lead them to the unusual step of releasing a paper analysing the report – with some shocking conclusions.

We caught up with Riccardo Polosa to learn more…
---
Visit Nicotine Science & Policy for more News from around the World

---