Vapers Digest September 7th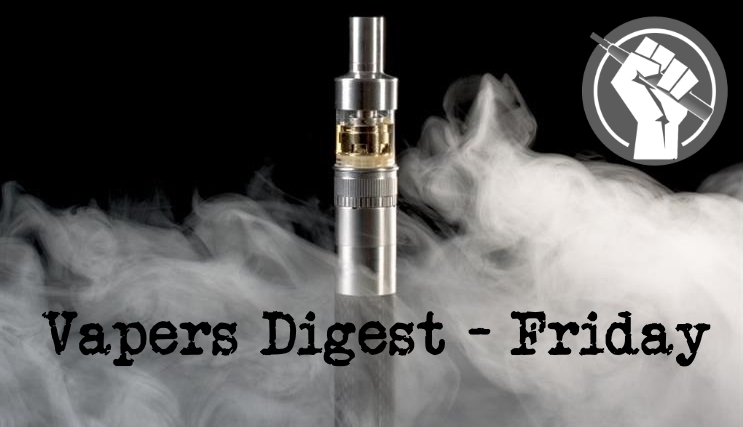 Friday's News at a glance:
Bates Addresses The WHO ~ It's time to stop tarring e-cigarettes and tobacco with the same brush ~ Can Vaping Help Reverse COPD Harm? ~ House of Commons Science and Technology ~ The EU Crusade Against Vaping ~ UAE Looking At Ecigs ~ Five Years On And The EU Has Learned Nothing ~ Six months of inaction… and waiting: it's time to legalise vaping! ~ Ex-Smokers Who Quit Vaping Are Likely to Relapse Back to Smoking ~ Don't send vapers to use smoking shelters, MPs suggest ~ North American Vapor Alliance (NAVA) ~ Very low nicotine cigarette study yields mixed results
Mawsley, Planet Of The Vapes
The World Health Organisation (WHO) is hosting the Framework Convention on Tobacco Control (FCTC) convention at the beginning of October in Switzerland. Its progress report on "electronic nicotine delivery systems (ENDS)" makes for grim reading. This, and a report funded by Mike Bloomberg, has prompted Clive Bates to partner up with other advocates and write to the Director General, asking for balance and common sense with vape regulations.
Norman Lamb, The Times
You might have seen some huffing and puffing over the Science and Technology Committee supposedly recommending that e-cigarettes should be allowed on public transport.

Yesterday, I made a statement to the House of Commons about our recent report on e-cigarettes to clarify what we actually said. The evidence is clear: e-cigarettes are significantly less harmful to a smoker's health than conventional cigarettes.
Jim McDonald, Vaping 360
Vaping can help reverse some of the harm caused by smoking in people suffering from chronic obstructive pulmonary disease (COPD). That's the finding of a new study published in the International Journal of Chronic Obstructive Pulmonary Disease.

The research found that smokers with COPD who used e-cigarettes showed consistently improved overall health and physical activity, and respiratory infections and other effects of COPD were reduced. They also showed that vaping did not worsen the patients' lung health.
---

---
Committee Statement on E-cigarettes 06/09/18
Paul Barnes, Facts Do Matter
As both Snowdon and Puddlecote reported today, the EU – along with 167 other signatories to the WHO FCTC – are set to travel to Geneva for the Conference Of the Parties session 8 (COP8), whereby they'll completely ignore the founding principles of the Protocol – as I discussed recently.

As with any gathering of the soulless anti-smoking extremists, there's always going to be something that is a step too far. In this case, it is all about the "depiction of tobacco use in the arts".
---
---
Mawsley, Planet Of The Vapes
The United Arab Emirates (UAE) banned all electronic cigarette products, yet tobacco cigarettes remain legal and openly on sale. The decision was supported by a plethora of doctors making ridiculous statements, but the situation could be about to change as authorities revisit the subject to look at new evidence.

The Emirates Authority for Standardisation and Metrology (Esma) has announced that it is reviewing studies to see if the ban on vape products should be lifted
Dick Puddlecote
Today Snowdon reported that the EU is set to travel to COP8 in Geneva and demand that vaping be treated exactly the same as smoking for advertising purposes.

In fact, more than that, it will demand that even scenes in films portraying smoking and vaping should be classed as advertising.

In preparation for the event, various documents have been circling the global anti-smoking community to get a consensus on what to ban next. The depiction of tobacco use in the arts is one candidate. You can read the WHO's proposal here.
Admin, Legalise Vaping
It's been six months since a federal parliamentary report looking into e-cigarettes and personal vaporisers in Australia has been handed down and since then the government has done nothing, according to the grassroots organisation Legalise Vaping Australia.

Brian Marlow, Campaign Director for Legalise Vaping Australia, said: "The federal parliamentary committee handed down its report six months ago, and the federal government – consumed by in-fighting and self-interest – has done nothing about it."
---

---
Diane Caruana, Vaping Post
A recent longitudinal study of 3868 regular vapers, has indicated that smokers who switch to vaping are likely to quit smoking, and that e-cigarette users who are former smokers, are likely to revert back to smoking upon quitting the devices.

The study was conducted by the Institute of Global Health, Faculty of Medicine at the University of Geneva in Switzerland, and published in the journal Nicotine and Tobacco Research.

The researcher used an online survey of 3868 regular vapers, to assess the change in vaping and smoking behaviours over time. The majority of the respondents were former smokers, at 77%, and daily e-cigarette users, at 89%.

BBC News
Vapers trying to quit cigarettes should not be made to use smoking shelters, MPs have heard. Organisations should consider having a separate vaping room or area instead, a debate on the science and technology committee's e-cigarettes report heard. Putting vapers and smokers together had been likened to "an alcoholic being put in a pub situation and expected to refrain", SNP MP Carol Monaghan said.

About 2.9 million people in the UK are currently using e-cigarettes.

It is estimated that 470,000 people are using them as an aid to stop smoking.
Digital Journal
The American E-Liquid Manufacturing Standards Association (AEMSA) and the Canadian Vaping Association (CVA) Announce the Formation of the North American Vapor Alliance (NAVA)

AEMSA President Scott Eley and CVA President Shaun Casey announced today that their respective organizations will join forces in an ad hoc Alliance based on shared principles to promote a professional standards-based regulatory system for vapor products and retailers based on strong industry input for presentation to the e-vapor regulatory agencies on both sides of the US-Canadian border.
Richard Craver, Winston-Salem Journal
A study on very-low-nicotine cigarettes released last week found smokers benefit more from an immediate, rather than gradual, reduction when it comes to risk exposure.

However, the overall results were mixed, the researchers found.

Smokers who experienced the immediate nicotine reduction levels "had lower toxicant exposure over time, smoked fewer cigarettes per day, had greater reduction in dependence, and more cigarette-free days."

However, the study also found immediate nicotine reduction "caused greater withdrawal symptoms, greater use of non-study cigarettes and higher dropout rates."
---
A look back at how things have moved on or otherwise….
Jim McDonald, Vaping 360
Researchers say that nicotine could be valuable in combating a condition known as late-life depression.

Some older people with late-life depression (LLD) do not fully respond to antidepressant medication, and the authors of a new study say that "nicotinic acetylcholine receptor (nAChR) agonists" (including nicotine) may work as therapy for these individuals.
Hafidz Baharom
While the rest of the pro and anti-tobacco movements are arguing over whether or not to reintroduce packs of 10 cigarettes, could we perhaps ask where is the government in terms of the regulations for e-cigarettes?

It has been a year with no update thus far on this matter, and perhaps, it is time to revisit the topic of harm reduction when it comes to nicotine consumption.
---
Visit Nicotine Science & Policy for more News from around the World

---