Vapers Digest September 5th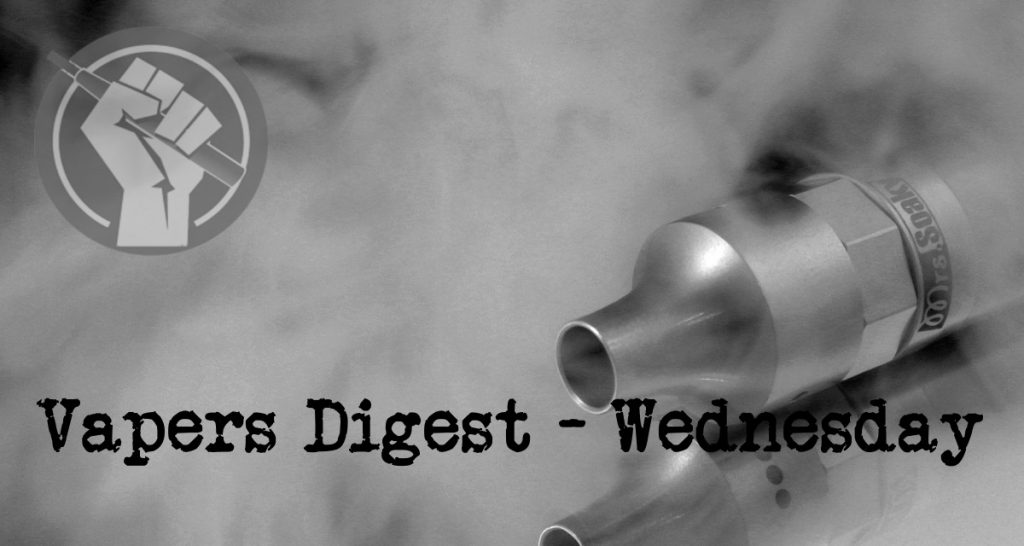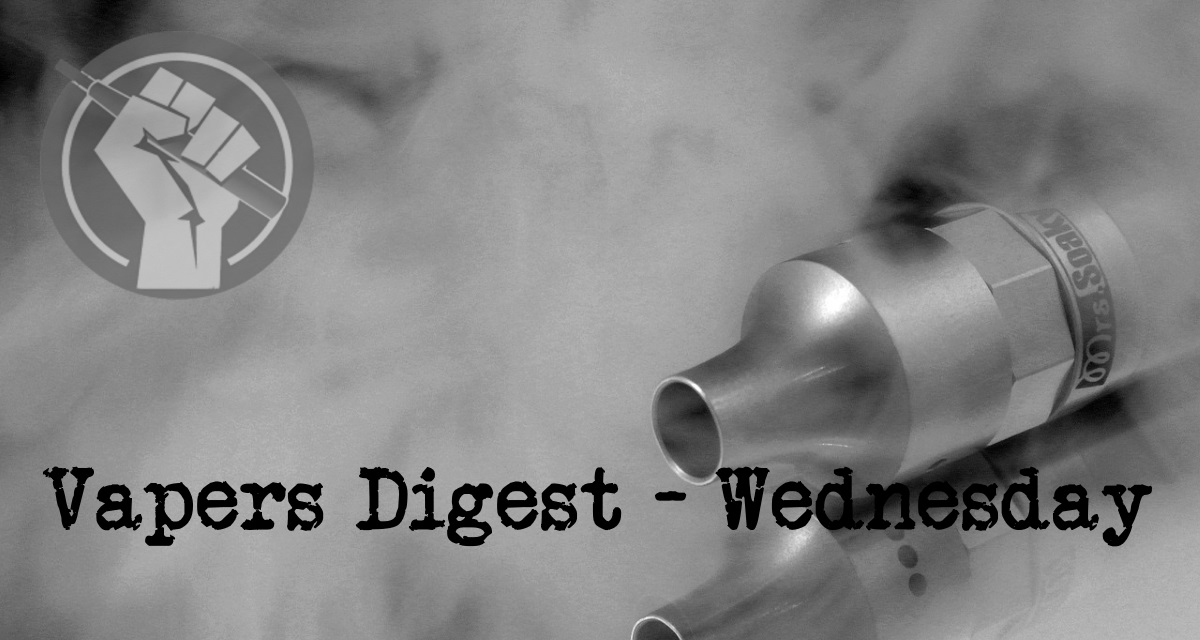 Wednesday's News at a glance:
Is Barnsley The Doziest Council In The Country? – The EU throws vapers under the bus again – That Mask Keeps Slipping – Letter to WHO's DG against prohibition – Wales Ignores Harm Reduction For Pregnancies – Advice for GPs – Why Doesn't India Ban Cigarettes – Will the UAE Reverse Its Vape Ban? – JUUL Will Sell Low-Nic Version in Israel – EU Scientific Advisory Mechanism – Illegal 'mega-raffle' run by vaping shops shut down – FDAs Orwellian Editing of Nicotine and Flavoring History – Nicotine Science and Policy Daily Digest
Dick Puddlecote
Let's leave aside for a moment the vile manipulation of children here – completely oblivious to how it must make kids with parents who smoke feel to see their loved ones treated like that – and look at what Barnsley is actually doing. Because, as is quite obvious, it's fuck all to do with the kids, and not really anything to do with health either.
Christopher Snowdon, Velvet Glove Iron Fist
The WHO's Framework Convention on Tobacco Control (FCTC) is holding its biennial conference in Geneva next month. It is the eighth 'Conference of the Parties', hence it is known as COP8.

In preparation for the event, various documents have been circling the global anti-smoking community to get a consensus on what to ban next. The depiction of tobacco use in the arts is one candidate. You can read the WHO's proposal here.
Dick Puddlecote
Remember that smoking ban which was about protecting bar workers? Oh yeah, and the plain packaging of cigarette packets which was solely about making sure kids don't start smoking?

It wasn't about bullying smokers, heaven forbid! No, you were free to make your own choices, they just wanted to safeguard the kiddies and put a welcoming arm around poor put-upon bar staff.
---

---
Clive Bates, The Counterfactual
We've sent a letter to WHO and the FCTC secretariat in advance of FCTC COP-8 (1-6 October, Geneva) – protesting about WHO's inclination towards prohibition and excessive regulation of alternative nicotine delivery systems (ANDS).  For background, see papers on vaping (FCTC/COP/8/10) and heated tobacco products and others (FCTC/COP/8/8).

The letter by David Abrams, Ray Niaura, David Sweanor and me is available in PDF form with all footnotes here – and the text is reproduced without notes below.
Of Nicotine and Flavoring History – The "Lone Wolf"
On Sunday, May 11, 2014 I wrote "Nicotine – Not Addictive" where I linked to an FDA web page linked at "http://www.fda.gov/forconsumers/consumerupdates/ucm345087.htm"

From the link I wrote (yes, I copied the text from the original link):

The FDA says here, regarding its approved patches and gums, that "although any nicotine-containing product is potentially addictive, decades of research and use have shown that NRT products sold OTC do not appear to have significant potential for abuse or dependence."

Periodically I go back and check the links.
---
---
Mawsley, Planet of the Vapes
Welsh mums-to-be are being told about the dangers of smoking and given advice on quitting, by a public health specialist midwife at Neath Port Talbot Hospital (NPTH). Unfortunately for these women, the advice glosses over everything we've learnt about vaping and harm reduction over the last ten years – concentrating on the methods that fail so many smokers.
Mawsley, Planet of the Vapes
The Royal College of General Practitioners (RCGP) has joined the Royal College of Physicians (RCP) in supporting vaping. Linda Bauld, chair in Behavioural Research for Cancer Prevention at Cancer Research UK (CRUK), co-presents a video for general practitioners (GPs) aimed at giving them clear facts to inform their discussions with patients.
Linda Bauld co-presents the video with Dr Richard Roope, the RCGP's Clinical Champion for Cancer. Bauld describes the video, the "new podcast on e-cigarettes is for Primary Care Professionals. In it they discuss "vaping for smoking cessation," in order to support the RCGP ecig position statement.
Jim McDonald, Vaping 360
After sales of the standard five percent-nicotine JUUL were banned by the government of Israel, the popular American vape will be sold there in a reduced-nicotine version. The Israeli Health Ministry claims the high-nicotine JUUL is a threat to public health.

JUUL Labs is challenging the government's decision in court. On Aug. 25, the Israeli Supreme Court rejected JUUL Labs' request for a temporary injunction to prevent the ban from being implemented. While the lawsuit is being heard, the California-based company will continue sales in Israel using the lower-nicotine JUUL version sold in the U.K.
---

---
Why Doesn't India Ban Cigarettes – Diane Caruana
Following the advisory issued last week by India's health ministry, saying that e-cigarettes should be banned, advocates for harm reduction alternatives are questioning why if so concerned with tobacco addiction, doesn't the health ministry just ban cigarettes, instead of picking on the safer alternatives.

In 2017, the Union Health Ministry of India formed a working group to assess the effect of e-cigarettes on local vapers, in an attempt to find out whether a ban is necessary…
Jim McDonald, Vaping 360
While the most powerful countries in the region have banned vaping, at least one Persian Gulf country may change its stance on vapes. The United Arab Emirates (UAE) has begun an assessment of its ban on e-cigarettes and heat-not-burn tobacco products.

A government agency known as the Emirates Authority for Standardisation and Metrology (ESMA) is reviewing the country's vapor products prohibition, according to UAE news site The National. There is no word on how long the review will take, or what the outcome may be.

'Substantially Less Harmful,' Urges Deregulation
While the federal government considers increased regulation for electronic cigarettes, the United Kingdom is moving in the opposite direction, calling for a change in national policy that sees e-cigarettes as an important tool for smoking cessation.

A report released by the Science and Technology Committee in Parliament last month found e-cigarettes "substantially less harmful" than conventional cigarettes. The report recommends relaxing regulation so that approval of e-cigarettes can be "streamlined" and asks policymakers to reconsider allowing their use in public places.
Could adjust tobacco directive to reality – JTI
The next European Commission should enhance its collaboration with the EU's Scientific Advisory Mechanism (SAM), which would provide bias-free consultancy and eventually adjust the Tobacco Product Directive to the reality, JTI's Ramunas Macius said in an interview with EURACTIV.com.
Esther Han
A national online "mega-raffle" run by a group of about 66 electronic cigarette businesses has been shut down by NSW authorities because it breached state laws.

The group "Aussie Vape Vendors" was raising funds for Australian Tobacco Harm Reduction Association (ATHRA), a charity lobbying for the legalisation of e-cigarettes containing nicotine, which had been "actively seeking donations" ahead of a campaign to coincide with the rise in the tobacco excise on September 1.
Can Help Beat NCDs – Joseph Magero
Since this week we are discussing NCDs , I thought it would be an awesome global opportunity to talk to each other, to leaders, to media, to crowds, to the world about what works well and what needs to change to ensure a transition from commitment to tangible actions that not only yield reportable improvements in NCD targets and outcomes, but result in the improvement of health and lives of all people in all places.
---
A look back at how things have moved on or otherwise….
The Washington Free Beacon
On the lakefront a few miles west of downtown sit the only two ugly buildings in the city. There's the factory, a white whale without windows that appears to have been designed by a blind Soviet commissar suffering from depression. Next-door is a 400,000-square-foot building that spurned the region's rich quarries in favor of tinted glass—the kind paparazzi-weary celebrities use when they want to be spotted by paparazzi—that give the wooden structural supports a maroon tint. Every architectural mistake has an explanation behind it, and Phillip Morris International's headquarters is no different. The building, the flacks say, represents the company's commitment to transparency. They may have wasted $120 million building this hideous metaphor, but this hideous metaphor may well save the tobacco industry—and the lives of a couple hundred million smokers.

They call it "The Cube."
Diane Caruana, VapingPost
Despite having the most expensive cigarette prices in the world, as of yesterday the 1st of September, Australia increased cigarette prices by a further $2.70 a pack

Tobacco tax on cigarettes has just risen by 13%, from 62 cents to 70 cents per cigarette, which equates to a packet of cigarettes which previously cost $32.50, now costing $35.20. Additionally, excise duty on other tobacco products has been raised by 17% from $771.60 to $901.39 per kilogram.

"That's a $2.70 price hike that will make poor, addicted smokers worse off," said Liberal Democrats Senator David Leyonhjelm. "The government bans the sale of e cigarettes that contain nicotine, even though these are 95 per cent less harmful than cigarettes. The extortionate taxation of tobacco, combined with the ban on e-cigarettes and plain packaging rules, have generated a booming black market in untaxed, unregulated tobacco run by organised crime. This supports the pushing of drugs and illegal guns," he added.
via Kate Bryans and Sue Heimchen
Ryanair changed their terms and conditions on August 10, 2017 and banned e-cig transport on their planes even in cabin baggage! Up to that date it was allowed to bring them of course only in cabin baggage like all batteries, now for some unknown reason they forbid to carry e-cigs. Item 8.9.1 has the details.
---
Visit Nicotine Science & Policy for more News from around the World

---