Vapers Digest September 3rd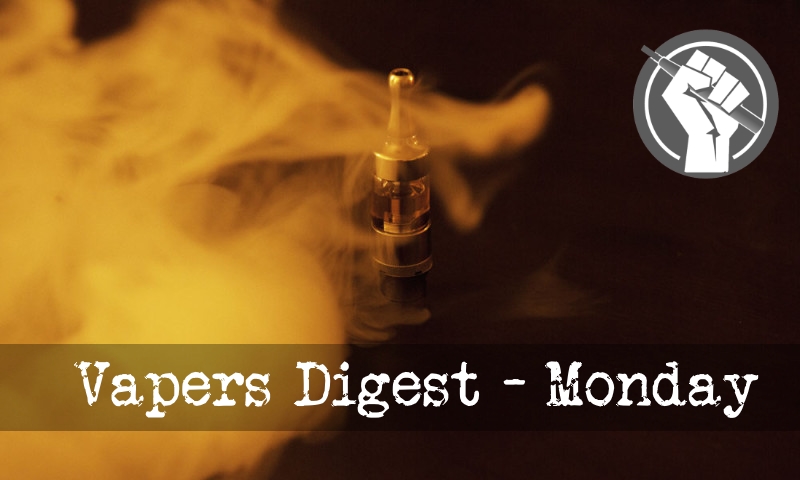 Monday's News at a glance:
NNA newsletter August 2018 – Glantz strikes again, but good news on switching for COPD patients – Anonymous Lancet Editorial – Tobacco Company Stock Price Climbs – Let's try to get our criticisms right, shall we? – Federal Plan on Tobacco Harm Reduction Needs Improvement – UAE considering lifting ban on e-cigs – Most vapers are not 'dual users' – ATHRA's independence reaffirmed – Time to lift it – Vaping offers real promise – AVI says will move court – Inspection of 59 "Vape Shops" – Does the FDA have the willpower to quit cigarettes? – Vaping In The News – September 1st – Nicotine Science and Policy Daily Digest
New Nicotine Alliance
It may be holiday time, but there was no rest for the NNA in a very busy month. Here are just some of the things we got up to in August.

The biggest news of the month came on the 17th with the much-awaited release of the Science and Technology Committee's report on e-cigarettes. It advocated a more mature debate about harm reduction products and made a plethora of welcome recommendations on regulations, advertising restrictions and future NHS policies, as well as calling for measures to drive a better public perception of use in mental health facilities and in public places.
But good news on switching for COPD patients
Fergus Mason, Vaping Post
The media picked up on a new anti-vaping paper from San Francisco last week, but advocates quickly pointed out that it's junk science based on a complete failure to properly analyse the data. The paper, largely the work of Stan Glantz, failed to ask a simple and obvious question – but that didn't stop journalists lapping it up. However another paper, written by real experts, found that switching to vaping brings major benefits for patients with a serious lung condition. COPD sufferers who switched saw medical problems fall by around half – with no compensating harm caused by vaping.
---

---
Mawsley, Planet of the Vapes
Martin McKee didn't take kindly to being ignored by The UK Government Science and Technology Committee. He made a joint written submission with David Bareham, a physiotherapist, but experts roundly debunked his overblown claims. Smarting from this and humiliation on Channel 4 News, an anonymous editorial in The Lancet has his fingerprints all over it.
After Vape Ban Announcement – Jim McDonald
The value of the country's largest cigarette manufacturer jumped after the Indian health ministry advised state health departments to ban vapor products Tuesday. The central government of India owns one-third of ITC Ltd., formerly known as India Tobacco Company.

Clearly, tobacco investors approve of the government's move to eliminate the disruptive threat e-cigarettes pose to the established cigarette market. ITC's stock price leaped more than two percent the day after the announcement, according to the Economic Times.
---
---
Carl V. Phillips, Anti-THR Lies
Sigh. We are supposed to be the honest and scientific ones in the tobacco wars. But we won't be if we are not, well, scientific. Case in point are the criticisms of the recent paper with Glantz's name on it that has been erroneously said to suggest that vaping doubles the risk of heart attack.

Incidentally, the meaningless statistic in the paper is a RR of 1.8, which is not double. Also, when the paper was originally written as a student class project (not by science students, mind you, but by medical students), that statistic was 1.4. That was when Glantz heard about it…
Federal Plan on Tobacco Harm Reduction Needs Improvement
The Food and Drug Administration has failed to approve a single reduced-harm nicotine product in the past year, despite unveiling a new "roadmap" in July 2017 that emphasized the role such products can play a reducing tobacco-related illness. That lapse does a huge disservice to millions of smokers who could benefit from switching from cigarettes to a far less harmful product.
Nick Webster
The UAE could be set to lift its ban on e-cigarettes and other similar products, it has been revealed.

Authorities have begun a preliminary project to assess whether electronic nicotine devices should be allowed to be used legally in the country.

Currently, e-cigarettes are banned in the Emirates due to concerns over their impact on user health.
---

---
ATHRA
Anti-vaping advocates often argue that most vapers also smoke at the same time (dual use) and therefore vaping has no health benefits. However, research from a number of countries shows this is not the case.

While completely giving up smoking is always the preferred goal, a temporary period of smoking and vaping is common as a stepping stone to quitting smoking and in itself leads to health improvements.
The co-founder of the Australian Tobacco Harm Reduction Association (ATHRA), which wants the ban on vaping nicotine lifted, was recently accused of hiding financial ties with e-cigarette companies Nicopharm and Nicovape.

Both companies were listed as "foundation sponsors" on the association's website before they were abruptly taken down in mid-May, along with their company logos.

Tobacco Reporter
As the European Union (EU) legal apparatus awakens from its summer holiday slumber, snus enthusiasts are tuning in for news from Luxembourg. This fall, the European Court of Justice (ECJ) is expected to rule on the legality of the trading bloc's longtime ban on snus. If the court decides against the law, it could have profound implications not only for snus but also for the overall cause of tobacco harm reduction.
NDARC Symposium
NDARC is delighted to host internationally renowned smoking cessation researcher and medical practitioner, Professor Hayden McRobbie at the NDARC Annual Symposium on Mon, 8 October 2018 at UNSW Sydney.

Hayden McRobbie is Professor in Public Health Interventions at the Wolfson Institute of Preventive Medicine, Queen Mary University of London (QMUL); and clinical advisor to the New Zealand (NZ) Ministry of Health on Tobacco Control issues.
Press Trust of India
An organisation representing e-cigarette users in India has said it will move court against Centre's advisory to states asking them to not allow the manufacture, sale and advertisement of e-cigarettes and other Electronic Nicotine Delivery Systems (ENDS).

Association of Vapers India has accused the Centre of protecting the tobacco industry, and said India has joined countries like North Korea, Turkmenistan, Saudi Arabia, Bhutan and the UAE in banning e-cigarettes following the advisory.
---
A poem describing the fight that harm reductionists are engaging with against the establishment – Robert Innes
---
In 2009, the Food and Drug Administration (FDA) was given the authority to regulate the manufacture, marketing, and distribution of tobacco products (1). Effective August 2016, this authority was extended to all tobacco products, including electronic cigarettes (e-cigarettes) (2). Section 704(a)(1) of the Food, Drug, and Cosmetic Act gives FDA authority to conduct investigations and inspections of manufacturers (i.e., any person who manufactures, fabricates, assembles, processes, or labels a tobacco product or imports a finished tobacco product for sale or distribution in the United States) to ensure compliance with applicable federal requirements
Clint Flanagan
As a primary care physician, I see patients every day who smoke and suffer from chronic illnesses that result. Without question, the first course of treatment for these patients is counseling on smoking cessation. We work hard with patients to get them to quit. For a multitude of reasons, however, many patients just cannot or will not stop smoking cigarettes — even with proper counseling, prescription nicotine replacement therapy or other methods — some of my patients just can't or won't quit.
Kevin Crowley, Vaping Links
Electronic Cigarette Use May Reverse the Harm ~ Vaping Cancer, Heart Disease Risk Overstated By Recent Research ~ More than 10 million in US use e-cigarettes ~ Imagine this ~ Slight Teen Vaping Increase Reality of Tobacco 21 ~ What happened to the war on smoking? ~ Inspection of 59 "Vape Shops" ~ Does vaping really cause heart attacks? ~ Juul Joins Vapor Technology Association (VTA)
---
A look back at how things have moved on or otherwise….
While gateway theory gets another nail in its coffin
Fergus Mason, Vaping Post
A vaper in the USA is demanding damages from his local vape shop after an exploding battery burned his leg. Meanwhile a Manhattan advertising executive has released an irresponsible fake vaping ad. However there's better news from the UK, with a new study yet again finding that the controversial "gateway effect" from vaping to smoking still doesn't exist.
Mawsley, Planet of the Vapes
Restrictions on what could be stated in electronic cigarette advertising, and where that advertising could be placed, were meant to give clarity on the issue – albeit one devoid of logic and counter-intuitive to the notion of harm reduction. In its latest statement on the matter, The Advertising Standards Authority (ASA) admits that the law is "still a legal minefield".
Punishes low income smokers who cannot quit – Dr Colin Mendelsohn
Today's tobacco tax increase will make cigarettes even more expensive, causing financial pain for many low-income smokers who are unable to quit. The tax on tobacco in Australia has almost tripled since 2010 and is helping to fill government coffers. However, it may now be doing more harm than good to the most disadvantaged members of the community.
---
Visit Nicotine Science & Policy for more News from around the World

---