Vapers Digest August 31st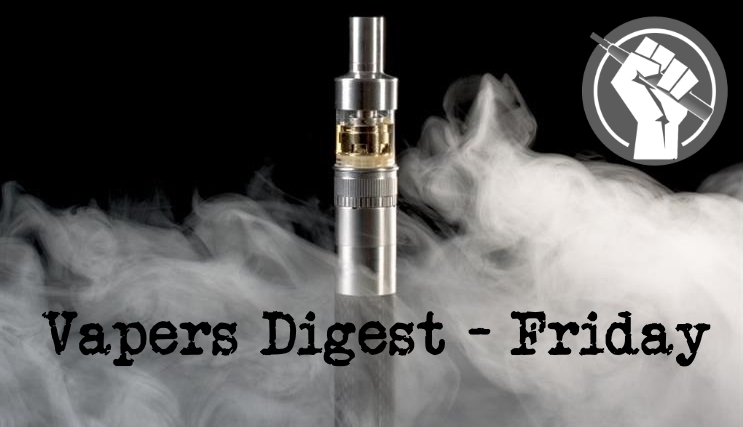 Friday's News at a glance:
The Value Of Free Vapes For Smokers – Slight Teen Vaping Increase – One in Five Novice Vapers – JUUL Will Launch Sales in Canada – Who is using e-cigarettes? – Smoking rates among youth declining – Should vapers be charged the same premium as smokers? –  Vaping in mental health units – What happened to the war on smoking?  – Towards greater acceptance of e-cigarettes – ATHRA in strong disagreement – Vape shops call for change to e-cig ban – No easy access for e-cigarettes in Callaway – Nicotine Science and Policy Daily Digest
Mawsley, Planet of the Vapes
The team led by Neil McKeganey, at The Centre for Substance Use Research (CSUR), has produced a study, which suggests there are strong benefits to smoking cessation services providing smokers with e-cigarettes at "zero or minimal costs for at least a short period of time."

For McKeganey's team, the problem is clear: "Despite rates of smoking uptake declining in the western world, tobacco smoking still continues to kill more people, cause more disease, and contribute more to social inequalities in high-income countries than any other preventable factor."
And A Continued Smoking Decline in 2017 – Brad Rodu
Despite the rhetoric, there is no "Juul epidemic" among high school students.

The purported epidemic has been widely cited in the media.  Just last week, an article in theNew England Journal of Medicine (here) asserted that "use of these products is rampant among young people."  The authors based their claim on "Media stories about Juul … [that] highlight anecdotal reports from students, parents, teachers, and school superintendents."
---

---
Buying Their First E-Cig in a Vape Shop Are Smoking Abstinent after 6 Months
Background: E-cigarette use is rising with the majority of vapers purchasing their e-cigarettes in vape shops. We investigated the smoking/vaping trajectories and quit-smoking success rates of smokers deciding to start vaping for the first time and buying their e-cigarette in brick-and-mortar vape shops in Flanders. Methods: Participants filled out questionnaires assessing smoking/vaping behaviour at three moments (intake, after three and six months) and smoking status was biochemically verified using eCO measurements
Jim McDonald, Vaping 360
JUUL Labs announced the move Thursday. According to a press release, the small pod vape with the huge nicotine punch will be sold in vape shops and on the company's Canadian e-commerce site Juul.ca, but also in convenience stores.

C-store e-cigarette sales are a new phenomenon in Canada, since nicotine-containing vapes have been technically illegal until recently. Parliament passed a law to regulate and allow sales of vapes earlier this year. The tobacco industry is entering the new market too, and many observers are curious to see if JUUL overwhelms the Big Tobacco competition as they have for the last year in the U.S.
---
---
American Heart Association Tobacco Regulation and Addiction Center
New research estimates that 4.5 percent of adults in the U.S. currently use e-cigarettes. That equates to more than 10.8 million e-cigarette users, most of them —  51.2 percent — under the age of 35 and about 60 percent are men. Those data come from an analysis of national self-reported health behaviors.

Additionally, e-cigarette use was higher among people who were lesbian, gay, bisexual or transgender, as well as in the unemployed and those with cardiovascular disease, asthma and cancer. It was even higher in those with chronic obstructive pulmonary disease and depression.
Cameron Clark
As a result of a concerted effort by the UK government, as well as advances within the technology sector and changing social trends, e-cigarette use (or vaping) is becoming increasingly common among UK smokers, with the Office of National Statistics (ONS) estimating that almost 6% of the UK population were using e-cigarettes in 2017.

With this figure expected to grow over the coming years, underwriters will increasingly have to adapt to changing smoking behaviours, as well as increasing demand from consumers for more nuanced cover to better reflect their lifestyle choices.
Dr Richard Roope and Professor Linda Bauld
Skip Murray
There was a time everyone believed smoking was safe. Then along came the Royal College of
Physicians proclamation that it wasn't and the war on smoking was born. What happened to the war
on smoking and why aren't the declining numbers of smokers being celebrated?

Between government funded (taxpayer) health departments and nonprofit health / tobacco control
organizations, it is mind boggling the millions of dollars that are spent on tobacco control in this
country. Where does the money come from? Some states use a small portion of the Master
Settlement Agreement (MSA) payments.
Ella Rhodes
A government committee has recommended easing regulation on e-cigarettes to better harness them as a means of stopping smoking. Backed up in part by evidence from psychologists, the Science and Technology Committee's report has been released against a background of confusion about the risks the devices pose, whether they may lead children and young people to take up smoking, and whether they could be dangerous to bystanders.
---

---
Chris Longhurst
A senior mental health nurse is backing a call to lift bans on e-cigarettes in mental health units.

The RCN's mental health forum chair was speaking after MPs urged mental health trusts in England to allow service users to vape on their premises.

A House of Commons science and technology committee report said it is unacceptable that one third of mental health trusts still ban vaping on their premises.
In countries that allow vaping – AVI
An organisation representing e-cigarette users in India today questioned the Union Health Ministry's advisory to states to not allow manufacture, sale and advertisement of e-cigarettes and other Electronic Nicotine Delivery Systems (ENDS), saying smoking rates among youth are declining in countries that have allowed vaping.

Association of Vapers India (AVI) asked why the government is not banning tobacco cigarettes if it is so concerned about nicotine.
Australian Tobacco Harm Reduction Association
Andrew Forrest's Minderoo Foundation is campaigning to reduce youth smoking rates and is to be commended for that.

However, in an interview with Alan Jones on 2GB yesterday 30 August 2018, it became clear that Mr Forrest has been misinformed on a number of issues.

ATHRA welcomes the opportunity to discuss these issues with him personally. Mr Forrest has publicly asked to see the science.

Ben Jordan
E-cig store owners in Milwaukee are calling the city's ban on vaping a double standard. They believe it isn't fair considering people are allowed to smoke tobacco at hookah and cigar bars.

The alderman who sponsored the e-cig ban said he had plans to also go after hookah bars like as well. He found out the city can't regulate tobacco like e-cigarettes.
Gail Levy
In June, members of the group Students Working Against Tobacco (SWAT), brought up the accessibility of tobacco products, specifically e-cigarettes.

"They can't just be accessible, they can't be. They call it self-serve, you can't just walk up and pick something up and check it out," said Mayor Henderson.

Tuesday, Callaway commissioners amended the city's tobacco placement law.
Mawsley, Planet of the Vapes
This week sees India attacking heat-not-burn (HNB). Israel places a ban on JUUL; the ban will be contested in court. Hysterical nonsense emanates from anti-vape Doctors Leventhal and Barrington-Trimis. The USA implements tariffs on Chinese vape products but ecig are going to be given to Scottish prisoners.
---
A look back at how things have moved on or otherwise….
Christopher Snowdon, Velvet Glove Iron Fist
Philip Morris (PMI) are in the process of rolling out their heat-not-burn product IQOS around the world. The company has famously said that it wants to stop selling cigarettes once it has converted existing smokers to the reduced-harm device. On Tuesday they announced that three million smokers have already switched, mostly in Asia…
Dick Puddlecote
As I have written a couple of times recently, the FDA's announcement that they are viewing very low nicotine cigarettes (VLNCs) as a possible policy tool is extremely sinister.

Tobacco controllers have been banging on about this over the pond for quite some time now and, I repeat, it's daft and nothing but a rent-seeking scam…
FDA's Decision To Reduce Nicotine – Kevin Crowley
When Dr. Gottleib, head of the Food and Drug Administration (FDA) made the announcement to reduce nicotine and keep tobacco burning, health criminal organizations immediately applauded the plan to continue tobacco use.

Speculation over future profits is keeping some barely contained in their excitement.
Paul Barnes, Facts Do Matter
A quick glance at the PubMed abstract piqued my (slightly addled) science brain.  I've written about the very low nicotine cigarette debacle before, and that (at the time) Ms Cramer of RSPH had given a talk at the E-Cigarette Summit (2015) on the idea of "de-nicotinised" e-cigs and how, by some miracle, that led to fewer cigarettes being smoked but more vaping (the ol' self-titration theory being proven once again).
---
Visit Nicotine Science & Policy for more News from around the World

---