Vapers Digest August 28th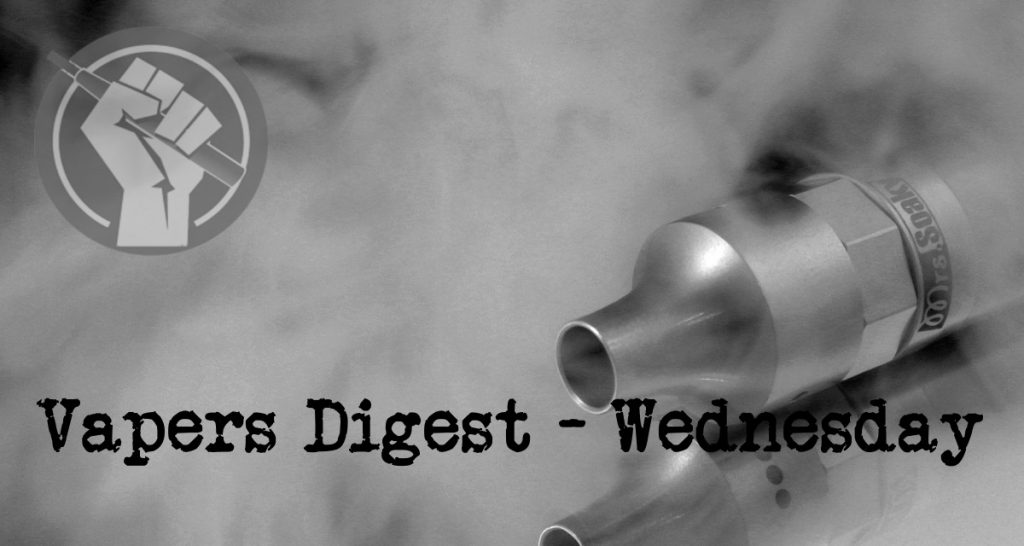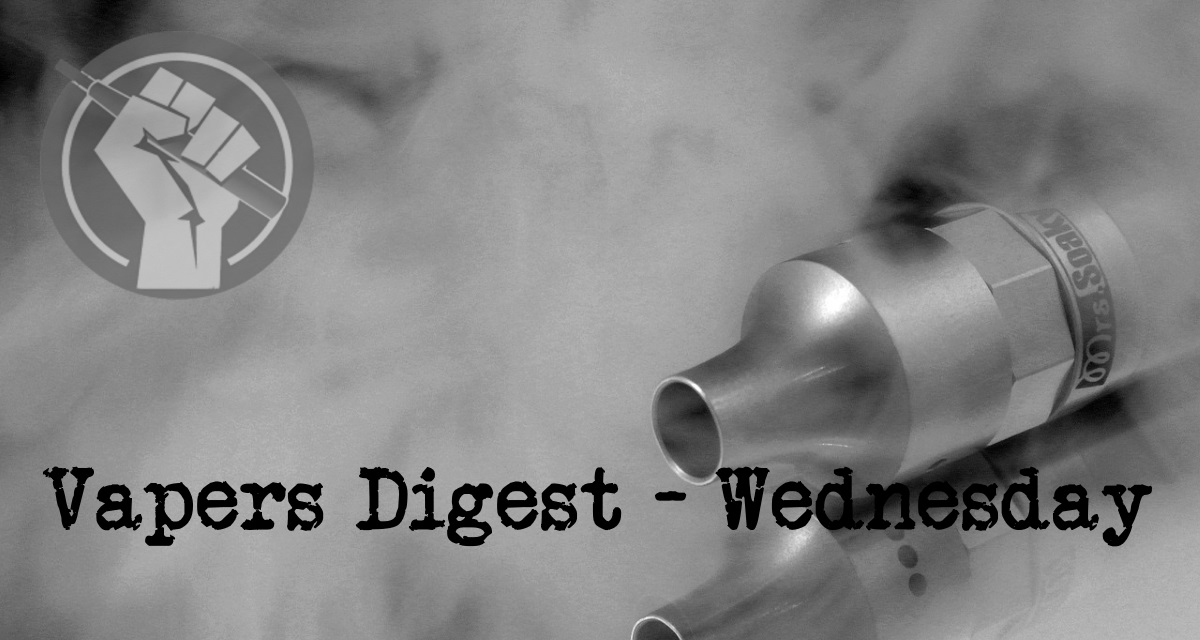 Wednesday's News at a glance:
Electronic Cigarette Use May Reverse the Harm ~ Vaping Cancer, Heart Disease Risk Overstated ~ Coroner says stroke, not vaping, took life of Delta teen ~ Consumers' response to central advisory on banning ENDS ~ India Tells Its States to Ban Vapes ~  India's health ministry calls for halting sales of e-cigarettes, smoking devices ~ Forbidden smoke ~ ATHRA rejects claims of 'secret' vaping donations ~ Prisoners to be offered free vaping kits ~ Don't let fearmongering guide vaping debate ~ E-cigarette tariffs are a threat to public health ~ Intellectual Property Issues ~ How does dual use of e-cigarettes and conventional cigarettes change over time? ~ Monitoring the Rapidly Changing Landscape of E-Cigarettes ~ Prevalence and Distribution of E-Cigarette Use Among U.S. Adults
Resulting From Tobacco Smoking in COPD Patients, Even in the Long Term
Riccardo Polosa, University of Catania , PR Newswire
A new study that was recently published in the International Journal of Chronic Obstructive Pulmonary Disease, led by Riccardo Polosa, MD, PhD (Department of Clinical and Experimental Medicine of the University of Catania, Italy), suggests that electronic cigarette (EC) use may reverse some of the harm resulting from tobacco smoking in patients with chronic obstructive pulmonary disease (COPD). Furthermore, EC use may ameliorate objective and subjective COPD outcomes, which may persist in the long term.
CASAA, CASAA.ORG
Two recent study findings that were released to the media this month are just wild speculation, and possibly intentional misrepresentation, according to analysis by The Consumer Advocates for Smoke-free Alternatives Association (CASAA).

In an as-yet-to-be-published (or peer reviewed) preliminary study, researchers looked at the saliva of just 5 vapers, testing for the presence of carcinogenic chemicals. Researchers found increased levels of formaldehyde, acrolein and methylglyoxal. They reportedly found "increased DNA damage" in the mouths of 4 of the participants.
, Global News CA
---

---
, Vape India
The Union ministry of health and family welfare released an advisory on August 28, 2018, asking all states to prohibit sale of Electronic Nicotine Delivery System (ENDS) or e-cigarettes. The advisory is pursuant to a Delhi high court directive to the Centre on outlining the measures it is taking to regulate ENDS. However, perhaps realising it has no legal provision to act, it has chosen to take the backdoor route of pushing bad policy through an advisory, without seeking any inputs from stakeholders. This is our response to the statements and claims made in the advisory, which is both bad in science and law.
 Vaping360 Team, Vaping 360
The central government of India is advising state governments to ban vapes, based on questionable scientific reasoning. And because the national government has jurisdiction over imported products, the move may be a de facto ban on products coming from outside the country.

The "Advisory on Electronic Nicotine Delivery Systems" was sent Tuesday by the Ministry of Health & Family Welfare to the health departments of all 29 states. It was signed by health undersecretary T. Chinsum Naula.
---
If @JUULvapor seriously supports raising the tobacco age to 21, why did they join an organization (as a Platinum Board member) that is hailing the veto of the Illinois #Tobacco21 bill as a "Vapor Victory"? https://t.co/86jAgwFUmZ

— Campaign for Tobacco-Free Kids (@TobaccoFreeKids) August 27, 2018
---
Colin,  Australian Tobacco Harm Reduction Association (ATHRA)
A Fairfax Media report last weekend claimed the Australian Tobacco Harm Reduction Association (ATHRA), a registered charity, was hiding ties with Nicopharm, a provider of liquid nicotine, and Nicovape, a maker of e-cigarettes.

Dr Colin Mendelsohn, who founded ATHRA with GP Dr Joe Kosterich and two other doctors in October 2017, said the group had never disguised the fact that the two commercial companies had donated money "to help us get off the ground".

"We have been very transparent," Dr Mendelsohn told The Medical Republic.  "We did announce that we were taking donations from vendors."
---

---
, BBC News
Prisoners who smoke are to be offered free vaping kits as Scotland's jails prepare to go tobacco-free this autumn.

The initiative, which will cost about £200,000, is part of a programme to support inmates give up smoking.

Plans to ban tobacco in prison were announced last year amid growing concern about the health risks of passive smoking.

Vaping kits will be issued from the start of November, before the ban comes into force at the end of the month.

, USA Today
The number of teens who reported using tobacco products declined from 4.5 million to 3.6 million from 2011 to 2017, according to the Centers for Disease Control and Prevention. Last year, youth use of e-cigarettes fell from its peak in 2015. You might think that health activists and their allies in the press would be celebrating this reality. You would be wrong.

Many activists have chosen to simply ignore the large declines in tobacco and e-cigarette use, pointing instead to the availability of flavored e-cigarette products and the rise of independent competitors to Big Tobacco like Juul.
Guy Bentley, The Hill
Fifteen years ago, a Chinese pharmacist sparked a global innovation race to end smoking by inventing a safer, more appealing way for smokers to get the nicotine they desire without the smoke that may kill them–the modern day e-cigarette.

Thousands of companies are now creating jobs and wealth competing to make quitting cigarettes easier, cheaper and more enjoyable. But smokers trying to switch to vaping face a host of obstacles.
---

---
Mawsley, Planet Of The Vapes
A row is brewing over the use of the terms "Millions", "VG" and the use of a confectionery company's intellectual property (IP). It follows on the heels of IVG[tm] Liquids, the eliquid company concerned, issuing 'cease and desist' letters to other people over abuse of its own trademarks.

Phil Busardo, a vape Youtuber, attacked Cloud Candy in 2015. Irate at the marketing of liquids that could be seen as using child sweet products or cartoons, he said: "The time to change isn't 'when the rules come out', the time to change is NOW!"
Professor Peter Hajek, Queen Mary, University Of London
If you are interested in taking part please call: 0207 882 5722 (lines are open Monday-Friday, 9-5pm)
Or click the link to email us: health-research@qmul.ac.uk

Thank you for your interest in this new study looking to follow up people who both smoke and vape, to learn about how this 'dual use' develops over time. This study is one of the first of its kind, and your participation could make a difference to our understanding of e-cigarettes and their use.

The study is run by the Health and Lifestyle Research Unit at Wolfson Institute of Preventive Medicine, Queen Mary University of London.
Nancy A. Rigotti, MD, Annals of Internal Medicine
E-cigarettes appeared in the United States less than a decade ago as alternatives to conventional cigarettes. These devices gained popularity so rapidly that by 2014, the verb vape—to describe inhaling e-cigarette vapor—was the Oxford English Dictionary's new word of the year (1). Despite their name, e-cigarettes are fundamentally different from conventional cigarettes that burn tobacco and produce smoke. Instead, e-cigarettes are nicotine delivery devices that heat a liquid containing nicotine, solvents, and usually flavorings, producing an aerosol that users inhale (1).
Behavioral Risk Factor Surveillance System, 2016
Multiple authors, Annals of Internal Medicine
Background:

Contemporary data on the prevalence of e-cigarette use in the United States are limited.

Objective:

To report the prevalence and distribution of current e-cigarette use among U.S. adults in 2016.

Setting:

Behavioral Risk Factor Surveillance System, 2016.

Participants:

Adults aged 18 years and older.
---
Visit Nicotine Science & Policy for more News from around the World

---