Vapers Digest August 24th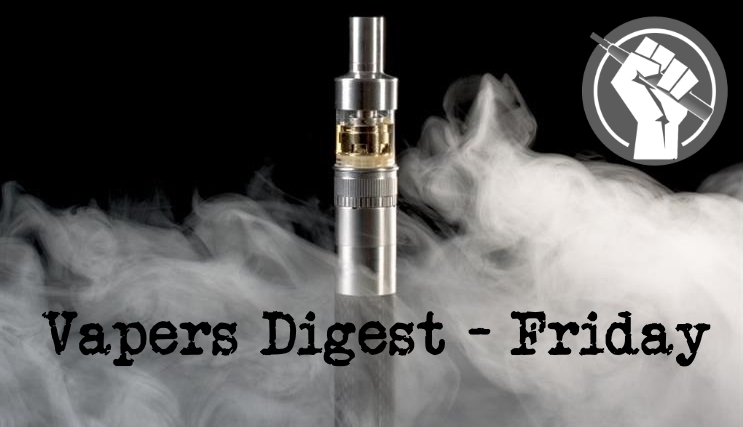 Friday's News at a glance:
The Bullshit Asymmetry Principle – Heart Foundation misinterprets results – Researchers Fall Short – Tariffs On Chinese Vape Products Begin – Israel's Health Ministry Bans the Juul – Juul e-cigarette to sue over Israel ban – Vape Tax Dropped: Official – Bricks and Mortar Boom Saving The High Street – Glantz Heart "Research" Published – Dr. Tom Frieden Arrested – A forward-thinking response to old challenges – Fairview passes smoking ban – Nicotine Science and Policy Daily Digest
Harry Shapiro, Nicotine Science and Policy
This week the MPs on the House of Commons Select Committee on Science and Technology released their favourable report on e-cigarettes. UK Channel 4 News brought together Deborah Arnott, Director of Action on Smoking and Health and Professor Martin McKee from the London School of Hygiene and Tropical Medicine.

Now looking at that line-up, the average viewer would expect the campaigner to rail against the report, accuse MPs of being 'nobbled' by Big Tobacco and generally attack any idea that e-cigarettes could by any measure be described as 'a good thing'. Whereas the expectation would be that the academic would be the sane voice of balanced, evidence-based reason.
ATHRA
The Heart Foundation has misinterpreted the findings of a recent study which claims that daily vaping doubles the risk of having a heart attack. The Heart Foundation's Chief Medical Adviser Professor Gary Jennings has claimed on radio that this study adds weight to the other evidence showing that e-cigarettes are harmful. In fact, the study shows no such thing.

The flawed study was published today in the American Journal of Preventive Medicine by well known anti-vaping advocate, Stan Glantz. The media release accompanying the study can be found here.
---

---
Examining Effects of Vapor Exposure in Lungs
CASAA
In a recent study published online Aug. 13 in the BMJ journal Thorax, hoping to discover what happens when e-liquid evaporates and enters the lungs, researchers attempted to recreate vaping using common respiratory suction "traps" and collected the resulting condensation. Using unflavored eliquid both with and without nicotine to conduct the experiment.

They used alveolar macrophage cells (protective cells that fight and eat up debris such as bacteria, dust particles and allergens) from the lungs of eight, healthy non-smokers and grew them in petri dishes, then dosed a third with the raw e-cigarette liquids, and another third with different strengths of the collected vape condensate with or without nicotine. A control group of cells was left untreated.
Jim McDonald, Vaping 360
American vapers and the industry that provides their vaping gear are being squeezed on multiple fronts. In addition to the daily news stories featuring politicians demonizing JUUL, and impending FDA restrictions on e-liquid flavors, now the Trump administration is imposing tariffs on Chinese vapor products.

The first round of tariffs on vapor products takes effect today, imposing a 25 percent tax on all shipments from China of e-cigarettes, mods, batteries, and similar devices.
---
---
Earlier this month, renowned e-cigarette manufacturer Juul Labs Inc, announced that it was launching a new device with an inbuilt Bluetooth system that is able to detect users' age. The redesigned Juul, was to be launched in some Western European countries and Israel and was initially designed to be able to track former smokers' nicotine intake.

However, a statement by Israel's Health Ministry said that the Juul device will be banned, as it contains nicotine at a concentration higher than 20 milligrams per milliliter and poses "a grave risk to public health".
Times of Israel
The manufacturers of the recently banned Juul e-cigarettes petitioned Israel's High Court on Thursday asking it to force the government to reconsider its decision.

Prime Minister Benjamin Netanyahu on Tuesday signed a warrant barring the import and sale of the US e-cigarettes at the recommendation of Health Ministry officials, due to the extremely high levels of nicotine in the product which poses "a grave danger to public health."
---

---
Mawsley, Planet of the Vapes
The UK Government Treasury Department floated plans to impose a 'sin tax' on vaping. The idea met with widespread condemnation and, following last week's Science and Technology Committee report, has now been officially shelved. This comes as good news to the nation's 2.9 million vapers and harm reduction campaigners.
Mawsley, Planet of the Vapes
Research being plugged by Philip Morris Limited (PMI), conducted on its behalf by the Centre for Economic and Business Research (CEBR), reveals what vapers have been seeing with their own eyes – there has been a thirtyfold increase in the number of brick and mortar vape stores across the country. Keen to get into this market, PMI say that this will help save the high street from declining sales and footfall.
Mawsley, Planet of the Vapes
Stanton Glantz continues to push his evidence-free agenda with the publication of a rehashed study attempting to link vaping with heart attacks. Having been roundly debunked when it was unpublished and presented as a poster, it is now published without taking on board any of the criticism of the study's failings.

Arrested on sexual misconduct allegations
Former director of the Centers for Disease Control and Prevention Dr. Tom Frieden was arrested for inappropriately touching a woman, according to the New York City Police Department.

The alleged incident happened on Oct. 20, 2017 inside Frieden's Brooklyn residence, where a 55-year-old female acquaintance said he groped her rear, the NYPD said.
In the past, the usual approach for most smokers willing to quit used to be the use of alternatives such as nicotine gum, nicotine patches, inhalers, tablets, among others, mainly as medical aids. Perhaps, due to the limited efficacy of such alternatives, interest and conversation around tobacco health reduction have, over time, intensified among global health authorities and other stakeholders.
If you are visiting a Fairview city park or stopping off to conduct business at city hall, put your cigarettes away.

The Fairview City Commission has passed an ordinance banning smoking on city-owned property or inside city-owned buildings.

The ban includes the smoking of cigarettes, pipes, cigars, tobacco and any other plant. It also bans the use of e-cigarettes and other similar items.
Divided on the issue, Wauconda officials are shelving a plan to increase the minimum age for buying cigarettes, e-cigarettes and related products to 21 from 18.

Trustees are going to wait to see if Gov. Bruce Rauner signs legislation that would make 21 the minimum age for buying tobacco products statewide. The General Assembly approved that legislation this spring.
---
A look back at how things have moved on or otherwise….
..and nicotine gum – Christopher Snowdon
This represents a new narrative opening up. The story now is that Nicotine Replacement Therapies (NRT – gums, patches, etc.) are not very effective and this somehow the fault of the tobacco industry, rather than the pharmaceutical industry.

Stanton Glantz – for it is he – jumped the shark a long time ago so I am reluctant to say that this is a turning point for him. Nevertheless, this is quite a pivot. Not only does he say that NRT doesn't work, he says that it keeps people smoking.
for a proportionate regulatory regime continues
From the outset, IBVTA made it clear that we did not support the TPD, indeed many IBVTA members had spent a great deal of time and money fighting the TPD over a number of years. However, in April 2016, when IBVTA launched, the TPD was a reality. The challenge for us therefore was not fighting the TPD, but credibly influencing its implementation in the UK.
---
Visit Nicotine Science & Policy for more News from around the World

---