Vapers Digest August 22nd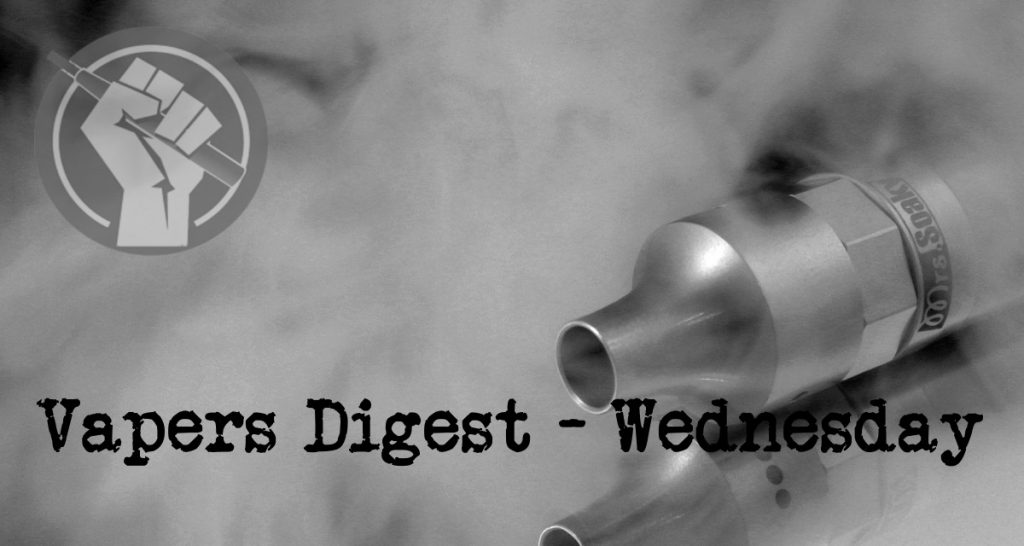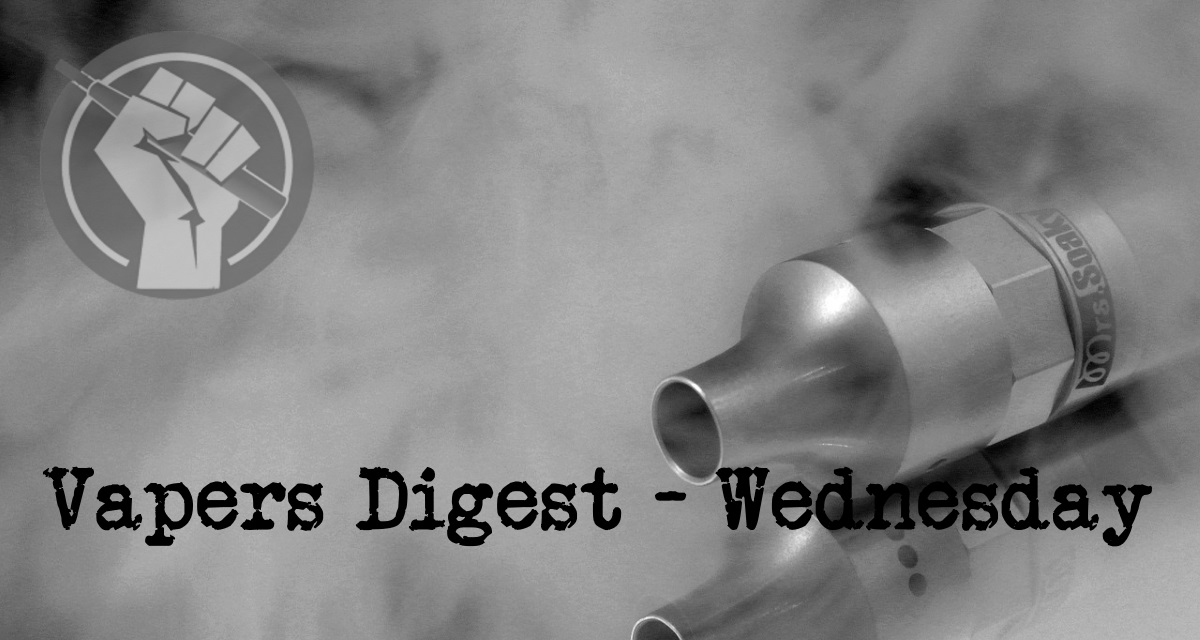 Wednesday's News at a glance:
VAPE TAX CANNED ~ Farsalinos Flags Formaldehyde Team's Failings ~ The Philippines Passes a Resolution Recommending E-Cigs ~ HC raps Centre for delaying implementation of rules on e-cigarettes ~ Delhi HC hearing on August 21 ~ Israel bans Juul e-cigarettes citing 'grave' public health risk ~ The Daily Mail Fails ~ Latest STS Figures ~ Messages on Cigarette Packs Advising Smokers to Switch to Alternatives ~ FDA Tobacco Center Exaggerates Number of Youth Tobacco Users ~ FDA, Congress should not block critical alternatives to smoking ~ Enhanced Fly Sense™ Vaping Detector ~ Letters: 'Unbalanced' reporting of e-cigarette debate ~ Springfield To Outlaw Vaping ~ Government to regulate vaping
, The Sun
To the delight of Britain's 2.9 million E-cig users the Exchequer Secretary Robert Jenrick wrote to industry figures to pledge: "we have no current plans to introduce a new tax on vaping products."
Mawsley, Planet Of The Vapes
A 2016 study by Andrey Khlystov and Vera Samburova prompted The Sun to write that it had been proven "E-cigs can kill". The work drew widespread condemnation for its poor methodology and the probability that the pair had measured dry-burning and not normal vaping conditions. Farsalinos failed to replicate the findings in that and similar studies, and disgruntled pair took to the letters section of Food and Chemical Toxicology journal.
, Vaping Post
The lawmakers refer to the success obtained in the UK following the endorsement of e-cigarettes as cessation tools, and mentioned the renowned reports by Public Health England (PHE) and the Royal College of Physicians (RCP), which indicate that vaping is at least 95% safer than smoking.

"E-cigarettes offer an alternative. It is based on the idea of harm reduction: we can help smokers to switch from cigarettes to products that reduce the risks of smoking."

HR 1885.

HR 1885 refers to the renowned reports by Public Health England (PHE) and the Royal College of Physicians (RCP), which indicate that vaping is at least 95% safer than smoking.
---

---
The court has asked the Centre to file an affidavit in two weeks outlining the measures it is taking or going to take on e-cigs and the timeframe for action. The matter will next be heard on September 7.

The court has forced the central government to act. The Centre has so far not shown urgency – it sat on the recommendations of three advisory panels for two years, and sent a junior counsel for the hearing. With the HC hauling it up, the Centre will finally have to declare its intent on the issue as it has so far not committed to either regulating or banning these devices, even in its affidavit filed in this case.
Israel on Tuesday outlawed the import and sale of e-cigarettes made by Silicon Valley startup Juul Labs, citing public health concerns given their nicotine content. A statement by Israel's Health Ministry said the Juul device was banned because it contains nicotine at a concentration higher than 20 milligrams per millilitre and poses "a grave risk to public health."

---
---
Mawsley, Planet Of The Vapes
In yesterday's Daily Mail, between the grammatical errors and false content, an article attempted to break out. Natalie Rahhal claims to be a health reporter for the paper, but there was precious little evidence of her ability to dissect and understand science. But, as vapers are acutely aware, reporting the truth about electronic cigarettes couldn't be further from The Mail's agenda.
Mawsley, Planet Of The Vapes
Robert West, Emma Beard and Jamie Brown produce the Smoking Toolkit Study. The team from University College London (UCL) oversee monthly household surveys of representative samples of approximately 1800 adults. The data is the most comprehensive on-going survey available in England. Successful smoking quit attempts have risen, but the numbers vaping has flat-lined.
, Vaping Post
Last week on the 17th of August, the Commons Science and Technology Committee released a report containing several evidence-based policy proposals for e-cigarettes. These proposals are aimed at tackling the current misconceptions about the devices, and positively transform the way vaping is viewed by businesses, institutions and the public alike.

Inserts inside cigarette packs had been banned under strict laws introduced in 2016 by the Government, but in this report the Committee argues that the ban should be overturned to advertise the use of e-cigarettes for smoking cessation.
---

---
Brad Rodu, Tobacco Truth
The FDA Center for Tobacco Products published an inaccurate graphic in June (the "Most Used Tobacco Products in 2017" Venn diagram here) and tweeted it on August 8 (here), asserting that 2.1 million U.S. middle and high school students in 2017 were current (past 30-days) users of e-cigarettes, 1.4 million were current cigarette smokers, and 1.3 million were current cigar smokers. The graphic, which mischaracterized data from the 2017 National Youth Tobacco Survey, would lead most to believe that nearly 5 million youth used the three products. That conclusion would be grossly off the mark.
, The Washington Times
Millions of cigarette smokers want to quit but are unable to.

The good news is, based on significant research, there are new and less harmful nicotine delivery products, such as e-cigarettes, which could help them give up tobacco and its health dangers.

The bad news is Congress and the Food and Drug Administration are denying them access to these products.

PRWEB
Derek Peterson, CEO of Soter Technologies, announced today that a significantly enhanced model of its innovative, patent-pending Fly Sense detection system is now available. This product is the most advanced vaping detection sensor and notification service available on the market today. Soter Technologies, a nationally respected technology developer and provider of distinctive safety solutions for schools and the commercial market, first introduced Fly Sense in August 2017. New and enhanced features for Fly Sense 2.5 include new state-of-the-art vape sensor technology, a mobile app, status indicator LEDs, alert scheduling features to make monitoring and response easier, and robust analytics based on incident alert history.
, The Northern Echo
The journalistic obsession with bad news may make some sense when applied to readers of the Sun or Mail who appear to treat their readers as mindless morons but one would not expect the same approach to be applied to Echo customers.

For instance your report includes two quotations from Professor John Britton of Nottingham University but his most important observation for some mysterious reason has been omitted.
---

---
Paul Tuthill, WAMC
Officials in the third-largest city in Massachusetts are set to put restrictions on where e-cigarettes can be used.

The City Council in Springfield is scheduled to take a final vote Monday to enact an ordinance outlawing e-cigarette use, or vaping as it is known, anywhere tobacco smoking is currently prohibited. City Councilor Mike Fenton introduced the proposed ordinance earlier this year.
Ripeka Timutimu

, Māori Television
Associate Minister of Health Jenny Salesa says vaping has been an effective tool for adult smokers to quit and the government is drafting legislation to regulate it.

"We know from scientific evidence that vaping products are significantly less harmful than tobacco it should be regulated in a different way."

But Dame Tariana Turia, a former Māori party MP and architect of the Smokefree Aotearoa 2025 policy, is questioning the government's move to support vaping as a quit smoking initiative.
---
Visit Nicotine Science & Policy for more News from around the World

---