Vapers Digest 1st September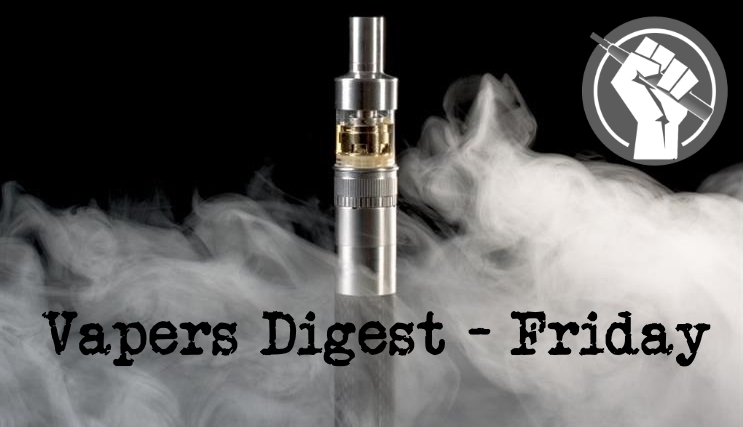 Friday's News at a glance:
US man sues over battery explosion, while gateway theory gets another nail in its coffin – Advertising Confusion – Tobacco tax rise punishes low income smokers who cannot quit – More Evidence Suggests E-Cigarettes Help Some Smokers Quit – Frequency of e-cigarette use may be key to quitting smoking – A New Term – Feds Don't Want You To Know About Safer Tobacco Products – De Blasio's Anti-Tobacco Jihad Continues – Nicotine Science and Policy Daily Digest
While gateway theory gets another nail in its coffin
Fergus Mason, Vaping Post
A vaper in the USA is demanding damages from his local vape shop after an exploding battery burned his leg. Meanwhile a Manhattan advertising executive has released an irresponsible fake vaping ad. However there's better news from the UK, with a new study yet again finding that the controversial "gateway effect" from vaping to smoking still doesn't exist.
Mawsley, Planet of the Vapes
Restrictions on what could be stated in electronic cigarette advertising, and where that advertising could be placed, were meant to give clarity on the issue – albeit one devoid of logic and counter-intuitive to the notion of harm reduction. In its latest statement on the matter, The Advertising Standards Authority (ASA) admits that the law is "still a legal minefield".
---

---
Punishes low income smokers who cannot quit – Dr Colin Mendelsohn
Today's tobacco tax increase will make cigarettes even more expensive, causing financial pain for many low-income smokers who are unable to quit. The tax on tobacco in Australia has almost tripled since 2010 and is helping to fill government coffers. However, it may now be doing more harm than good to the most disadvantaged members of the community.
---
---
E-Cigarettes Help Some Smokers Quit
Tara Haelle – Forbes
Since the arrival of e-cigarettes, debates have raged in public health and research circles about their value and risks. Can they actually help people stop smoking for good? How much harm can they cause? How does that harm compare to the harm from smoking tobacco cigarettes? Do e-cigarettes increase the risk that kids will start smoking? A cherry-picker could find studies to support any position on any of these questions, but it takes time for enough researchers to conduct enough high-quality studies that a consensus can emerge…
May be key to quitting smoking – The Pharmaceutical Journal
Using e-cigarettes frequently does help smokers break the habit, according to a US study involving more than 24,500 people who currently smoke or have recently quit.

It is the largest sample of smokers studied to date and the researchers say the findings help to unpick some of the mixed messages about whether or not e-cigarettes have benefit in quit attempts.
---

---
Dave Cross, Stealth Vape
So, maybe you're a smoker who has stumbled across this website while researching your options? This can be your new term; it can be the moment you step up from Primary to Big Kid School. But if you're already a vaper, this doesn't have to exclude you, there's plenty of scope to broaden your fun.
About Safer Tobacco Products – Jasmin Guénette
Nicotine is addictive, and smoking cigarettes can be harmful to your health. So far, I'm not telling you anything you don't already know. But what if there were safer ways of delivering nicotine to those who want it?

In fact, as you may also know, by all accounts, there are safer nicotine delivery methods. They're not entirely without risk, but as far as we can tell, they are much safer than conventional cigarettes.
Andrew Stuttaford
The single most important thing to note about Bassett is that she is an ex-smoker. She may or may not have found it difficult to give up smoking (we'll have to trust her on that), but she wanted to give it up and she did give it up. She made the choice for herself. Well done! De Blasio's patronizing, bullying and intrusive new laws are a statement that, in his view, Bassett is a cut above many of her fellow citizens. She was able to decide for herself what others—those weaklings— cannot be trusted to do:
---
A look back at how things have moved on or otherwise….
Yes, ASH Scotland (and others) I'm talking about YOU! – Dave Dorn
Right. I get why organisations like to have daily or weekly bulletins rounding up news and promotions around their special interests. According to all the marketers, this is how you engage with supporters and get them to keep coming back to your website, so when you need to call them to action, or fleece a few bob from their pockets, they're likely to be logging in.

Big business does it a lot. Apparently "Big Org" is now cottoning on…
Urgently Requires Regulation – Dick Puddlecote
In my entry at the Tobacco Tactics website, there is a section entitled"Denigrating Health Professionals". As you can imagine, I am extremely proud of this, so much so that it features prominently in my Twitter banner.

You see, this is because they fully deserve the abuse for the extensive catalogue of lies they have told over the years. It's a shame that my page hasn't been updated since 2012, but I sometimes think that could be because others are starting to see that I'm right. Simon Chapman, for example, is now viewed by even some of his own 'public health' colleagues as a dangerous crank and spreader of blatantly false bullshit.
Dave Dorn – The Sun Also Rises
I've been taken by Linda Bauld's metaphor of the little Dutch boy. Here's what I think we need…

We all know the mythic story of the little Dutch boy, don't we? Long story short, he spotted a leak in a dam wall, shoved his finger in it, and then the big folks came along and sorted the potentially disastrous leak out properly, permanently and for ever by doing the right kind of building-y things…
Madeline Grant – IEA
'Excuse me, Miss, but you can't smoke that in here', is a phrase I've grown accustomed to hearing. I've been told off for vaping all over the place. In a rowdy beer-garden, on the train, even at a football match.

Recently I got a ticking off for smoking – a real cigarette on this occasion – by a mother on a public beach telling me that there were children nearby, and second-hand smoke kills.
---
Visit Nicotine Science & Policy for more News from around the World

---