Vapers Digest 4th September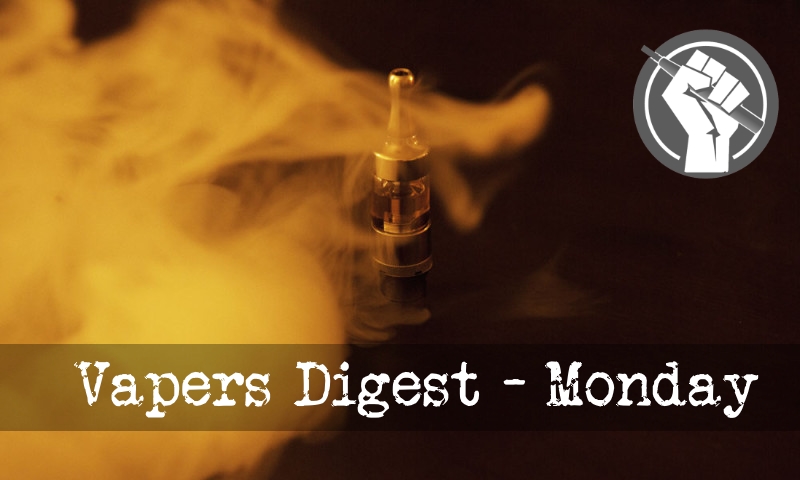 Monday's News at a glance:
Send ASH to prison – The War on Nicotine begins – 'Smoke-free' campus announcement sparks outrage – University of Limerick students fuming – A replication study under verified realistic use – Final Nail in the Coffin of the NEJM Formaldehyde Study – The 2017 Global E-Cigarette Lithium Battery Market Report – E-cigarette ban can result in adverse consequences – Five Pawns leads Texas disaster relief – Vaping In The News – August 27th – September 2nd – Nicotine Science and Policy Daily Digest
Christopher Snowdon, Velvet Glove Iron Fist
There is no better way of predicting the future than listening to what Action on Smoking and Health (ASH) have to say and preparing for the exact opposite. Whether they are claiming that high taxes don't cause smuggling, or that smoking bans are good for pubs, or that it makes economic sense for shopkeepers to stop selling cigarettes, the truth can invariably be found by turning their statements at an angle of 180 degrees.

So when prison officers saw this in 2015, they should have been reaching for the tear gas…
Carl V. Phillips, Anti-THR Lies
It has become a habit of many e-cigarette defenders to refer to recent chapters of the War on Tobacco as a war on nicotine, in part because they do not like their favored product being called a tobacco product. As for that motivation, yawn, whatever. But as for the statement, it was simply wrong.

The war on smoking in the USA morphed into a war on tobacco, which basically meant lumping in approximately-harmless smokeless tobacco with the not unreasonable original target of the war…
---

---
Sparks outrage – Amy Molloy
The University of Limerick has announced its plans for a smoke-free campus – and the news has left some students fuming.
UL president Dr Desmond Fitzgerald said the smoke ban will also include the implementation of vape-free zones.
The smoke-free areas will be all around the campus within the coming months, with some expected to be introduced next month.

Anne Sheridan
THE students' union at the University of Limerick has said that the move to become a smoke-free campus was by the president's office and that it has had "little control over the rollout of the initiative."

The announcement by UL president Dr Desmond Fitzgerald has provoked anger in some quarters that it plans to implement smoke-free and vape-free zones.

"While the plan was discussed with the SU over the summer, ultimately we had little control over the rollout of the initiative," read a statement from UL students' union.
---
---
E-cigarettes emit very high formaldehyde levels only in conditions that are aversive to users:
Konstantinos E. Farsalinos
In 2015, a study identified 5–15-fold higher levels of formaldehyde emissions from an old-generation e-cigarette working at 5.0 V compared to tobacco cigarettes. We set to replicate this study using the same e-cigarette equipment and e-liquid, while checking for the generation of dry puffs.
Of the NEJM Formaldehyde Study – Lee Johnson
The New England Journal of Medicine formaldehyde study made a lot of headlines. Dire warnings that the cancer risk from vaping is bigger than the corresponding risk from smoking completely misread the study, which in itself was based on a rank misunderstanding of how vapers vape. The research was widely criticized, but the criticism was originally quite easy to brush off as armchair speculation.
This market research report offers a thorough understanding of these leading players and their market share. Asia Pacific is currently considered the main player in the industry, followed by Europe. The latter is expected to take over and attain a higher market growth during the forecast period.

According to the report, the major industry players are EVE Energy, Innokin Technology Inc, Haze Technologies, Aspire, Dr. Dabber Inc, AtmosRx, Shenzhen Mxjo Technology, Shenzhen Smoore Technology Limited, Tesla Ecig Group and Joyetech.
---

---
Banning e-cigarettes may deprive Indian smokers of a substantially less harmful alternative, which can be against public health and can result in adverse consequences, experts have warned.

Some states in India, including Jammu and Kashmir, Karnataka, Punjab, Maharashtra and Kerala, have prohibited sales of e-cigarettes, while tobacco cigarettes remain legal.
Greg Conley, AVA
The American Vaping Association (AVA) is pleased to submit our comments regarding the modified risk
tobacco product applications (MRTP) for iQOS and its associated varieties of Marlboro Heatsticks
presently pending before the FDA. The AVA is a nonprofit organization that advocates for regulatory and
legislative policies that recognize the harm reduction benefits of vapor products and other reduced-risk
alternatives to combustible cigarettes…
Jim McDonald, Vaping 360
California e-liquid manufacturer Five Pawns is leading an effort to provide some help to the residents of Southeast Texas. According to company CEO Rodney Jerabek, the pioneer premium juice maker has filled a large truck with donated supplies, and they're leaving for Houston on Sept. 5.
Kevin Crowley, Vaping Links
What Trump's FDA director gets wrong ~ First Clinical Evidence of Unharmed Myocardial Function in Vapers ~ Data-Driven Meta-Analysis E-cigs cause less smoking ~ BrandFire ~ New York City ~ Tobacco 21 ~ Youth ~ Seattle Smokers ~ Ruth Malone ~ Puff-N-Stuff – Nicotine ~ American Vaping Association
---
A look back at how things have moved on or otherwise….
Dick Puddlecote – Vapers in Power
Vapers in Power had a blast at Vapefest and really enjoyed meeting everyone who made it to our marquee, before it blew away! As with Vapefest 2015 the ViP tent hosted speakers and we were delighted that Dick Puddlecote could make it this year too. For those who missed his epic talk, here are his notes- and it's almost as entertaining to read as it was to watch.
Tim Worstall – Adam Smith Institute
The latest piece of medical hysteria about vaping has arrived – with the finding that the consumption of a stimulant restricts the aorta. This apparently is sufficient to mean that vaping should be banned, or at least restricted, and therefore many more people should die from smoking:
---
Visit Nicotine Science & Policy for more News from around the World

---