In the News September 1st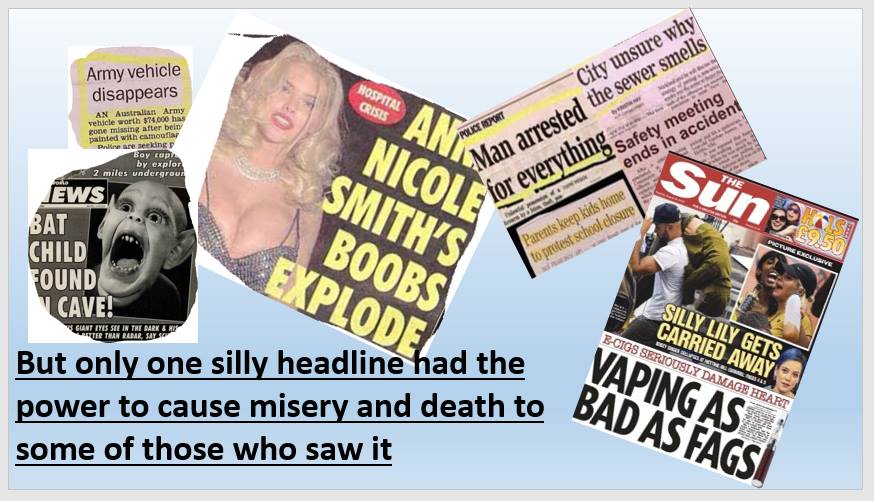 Thursdays News at a glance:
On the curation of information – Tobacco Control Is Like The Wild West, Urgently Requires Regulation – Time for REAL action – It's my party and I'll vape if I want to – The Efficacy of Vaping Survey – IBVTA writes to politicians – East Lancashire firm rubbishes claims – Vaping firms, casino company have surprising ties – Media reports on vaping are highly misleading – Nicotine Science and Policy Daily Digest – Thursday, 1 September 2016
Yes, ASH Scotland (and others) I'm talking about YOU! – Dave Dorn
Right. I get why organisations like to have daily or weekly bulletins rounding up news and promotions around their special interests. According to all the marketers, this is how you engage with supporters and get them to keep coming back to your website, so when you need to call them to action, or fleece a few bob from their pockets, they're likely to be logging in.

Big business does it a lot. Apparently "Big Org" is now cottoning on…
Urgently Requires Regulation – Dick Puddlecote
In my entry at the Tobacco Tactics website, there is a section entitled"Denigrating Health Professionals". As you can imagine, I am extremely proud of this, so much so that it features prominently in my Twitter banner.

You see, this is because they fully deserve the abuse for the extensive catalogue of lies they have told over the years. It's a shame that my page hasn't been updated since 2012, but I sometimes think that could be because others are starting to see that I'm right. Simon Chapman, for example, is now viewed by even some of his own 'public health' colleagues as a dangerous crank and spreader of blatantly false bullshit.
Dave Dorn – The Sun Also Rises
I've been taken by Linda Bauld's metaphor of the little Dutch boy. Here's what I think we need…

We all know the mythic story of the little Dutch boy, don't we? Long story short, he spotted a leak in a dam wall, shoved his finger in it, and then the big folks came along and sorted the potentially disastrous leak out properly, permanently and for ever by doing the right kind of building-y things…
Madeline Grant – IEA
'Excuse me, Miss, but you can't smoke that in here', is a phrase I've grown accustomed to hearing. I've been told off for vaping all over the place. In a rowdy beer-garden, on the train, even at a football match.

Recently I got a ticking off for smoking – a real cigarette on this occasion – by a mother on a public beach telling me that there were children nearby, and second-hand smoke kills.
---

---
Stealth Vape
We are conducting a survey looking at how well vaping has worked as a quit tool for vapers. There are 30 brief questions that will only take a couple of minutes to complete and all replies will remain anonymous. Please click on the link and feel free to share it on social media and with friends. We are only looking at people who used to smoke and now vape. The results will be shared in a future blog post and ought to make very interesting reading.
Regarding inaccurate coverage of vaping in the media
Tuesday's newspapers contained a number of stories stating that vaping is as dangerous as smoking. The Sun newspaper even ran this as the main headline on its front page. The stories and the headlines that accompanied them were of course without foundation.

In response IBVTA wrote to every newspaper and media outlet that covered the story, whether at a local or national level.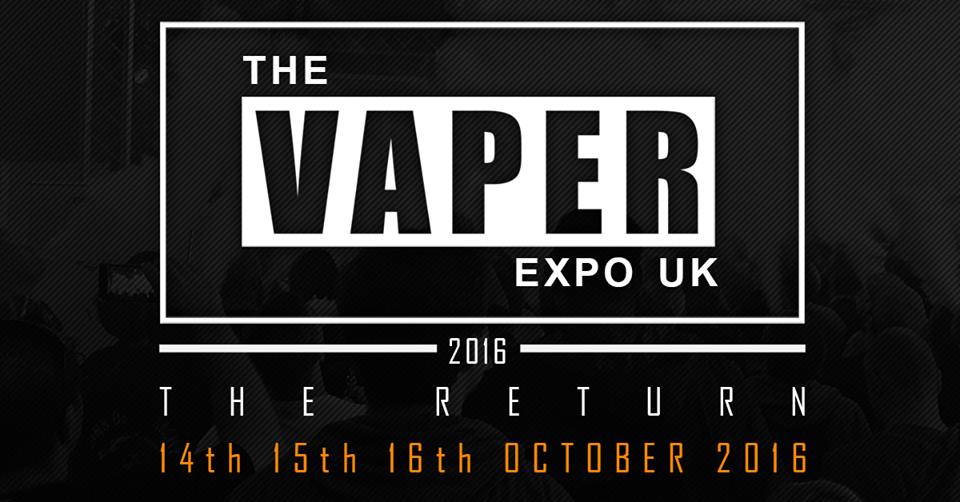 AN East Lancashire vaping business has rejected a study which concludes that electronic cigarettes could be as bad for the heart as smoking the real thing.

Researchers said vaping could damage the aorta in a similar way to smoking and they would not encourage using such devices.
Have surprising ties – IBJ
Centaur Gaming isn't a licensed player in the e-liquid industry that produces the "juice" used in electronic cigarettes in Indiana.

But Centaur, which owns the state's two racinos, is connected to half of the e-liquid companies that have beenlicensed under a controversial law that is now being probed by the FBI.

In the last few days, many major media outlets have reported that new scientific evidence shows vaping is as bad for the heart as smoking. Strikingly similar headlines were published just a few months ago regarding a different e-cigarette study.

This is at odds with current recommendations from Public Health England (PHE) and the NHS, which explicitly encourage smokers to try e-cigarettes as a pathway to quitting.
Response to stories suggesting that vaping is as bad for the heart as cigarettes
Professor Peter Hajek
"The study is reporting on a well-known short-term effect of nicotine – stiffening of arteries – that accompanies all types of stimulation. The same effect is generated by watching a thriller or a football match or sitting an exam. Drinking a cup of coffee actually produces a larger response of much longer duration. The key heart health risks of smoking are not caused by nicotine but by other chemicals in tobacco smoke that are not present in e-cigarette vapour."
Caused man to be twice the drink drive limit – Belfast Live
A man said he was "shocked" at the rejection of his court claim that alcohol in an e-cigarette caused a police breathalyser machine to show he was almost twice the drink drive limit.

Aaron Galbraith – a 35-year-old chef – was instead convicted of drink driving which occurred as he left a friend home from the cinema – his second such offence – and on Thursday he was banned from the road for three years and fined £300.
---
A look back at how things have moved on or otherwise…
Compiled by Robert Innes @BrainyFurball
Ann McNeill, Leonie S Brose, Robert Calder, Sara C Hitchman, Peter Hajek, Hayden McRobbie – The Lancet
The Lancet Editorial criticises our Public Health England commissioned evidence update report on the basis of perceived flaws in one of the 185 references we used, ignoring the rest of our 111 page document, which addresses population effects of e-cigarette use, regulations, attitudes as well as concerns over its safety. The Editorial focuses on the estimate of risk reduction and protests strongly against the media reassuring smokers that switching to e-cigarettes provides substantial health benefits, but it provides no data to counter our estimate, nor any reason as to why The Lancet believes that the message smokers can benefit from switching to vaping is an undesirable one….
Tom Pruen – ECITA
An editorial in the Lancet, identifies that 3 (out of 11) contributors to a single point of research had previously been paid as consultants by various parts of the e-cig industry (and most would have been paid at some point by the pharmaceutical industry).

The Lancet rather bizarrely considers that this "raises serious questions not only about the conclusions of the PHE report, but also about the quality of the agency's peer review process"
Michael Siegel – The Rest of the Story
The rest of the story is that most of these seven claims are false, all are misleading, all seven points actually demonstrate the public health value of e-cigarettes, and all seven arguments are taken almost verbatim from the propaganda being disseminated by colleagues of mine in the anti-smoking movement, demonstrating that theircampaign of deception regarding e-cigarettes is working….
---
Visit Nicotine Science & Policy for more News from around the World

---