In the News 1st September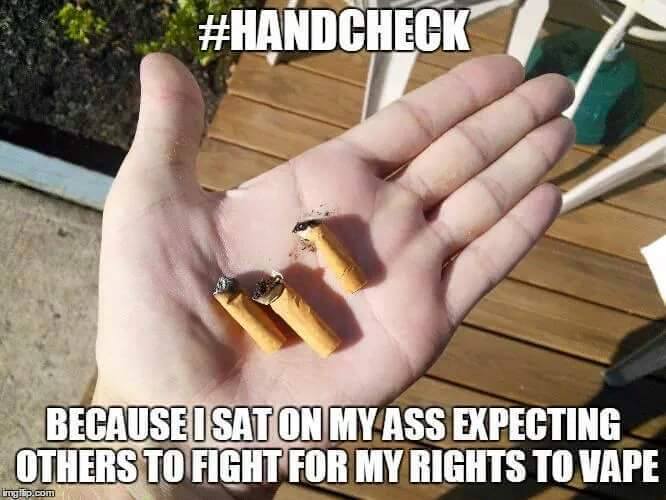 Tuesdays News at a glance:
The Excrement of Science – 95% Backlash – The comparative risk of e-cigarettes — numbers, nonsense, and innumeracy – College Students Know E-cigarettes Aren't Tobacco, Their Professors Are More Confused – Report from the Global Forum on Nicotine 2015 – Scottish Parliament Presentations – More on the ecig advocates' descent toward junk science – E-cigarettes: the need for clear communication on relative risks – A British Lesson on Vaping for the CDC – 4 Reasons This Article About E-Cigarettes Is Bad – Anti-Smoking Groups' Campaign of Deception is Working – Nicotine Science and Policy – Daily Digest
Rolygate – E-Cigarette Politics
An analysis of the first two sentences of an article in a medical journal:

Commentary "Electronic Cigarettes", and the psychobiogical problems of continued nicotine dependency in E-cigarette 'vapers'.
http://journal.frontiersin.org/article/10.3389/fpsyt.2015.00123/full
Starting with the title: there appears to be a typo – a missing "on" after Commentary, or a colon perhaps. Then, getting past the first couple of words, a fleeting acquaintance with the topic would reveal that vapers routinely reduce their nicotine consumption as the final smoking event recedes in time….
Mawsley – POTV
Fans of Isaac Newton know that his Third Law states that 'for every action there is an equal and opposite re-action'. Therefore it should have been expected the Public Health England report affirming that vaping is 95% safer than smoking would set the wheels of the opposition in motion. Now the media are reporting The Lancet as saying the figure of 95% is bogus and based on "extraordinarily flimsy foundation". So what should the public believe…..?
Numbers, nonsense, and innumeracy – Carl V. Phillips
There have been a spate of claims about the comparative risk of e-cigarettes compared to smoking, triggered by the recent Public Health England (PHE) report which was published under a headline claiming that e-cigarettes are 95% less hazardous than smoking. My previous mentions of this are here and here. The 95% claim has led to criticisms and attempts at clarification, every single one of which, as far as I can tell, is wrong….
Their Professors Are More Confused – Science 2.0
As college students have made their way back to campus this month, many also return to the habits, some good, some bad, that dorm-life promotes. A new survey finds that adults under 25, including high school graduates and college students, are more likely to rate hookah and e-cigarettes as safer than cigarettes, when compared to 25 to 34-year-olds, according to a paper in Health Education & Behavior….
Report from the Global Forum on Nicotine 2015 -Dr Attila Danko NNA(AU)
I say 5 incredible days because we had the opportunity to arrive early and leave late, and meet with the organisers and other conference goers over all 5 days. We met with the world's most important leaders, advocates and scientists within the revolutionary movement of tobacco harm reduction, (THR) and not only briefly, but over long dinners and drinks and chats far into the night. We were sleep deprived, but didn't feel it….!
---
Andy Morrison(NNA) and Linda Bauld (CR-UK,NICE) starts 06:30 in
---
Carl V. Phillips – Anti-THR Lies
There is a cliché about certain types of institutional crimes, that it is not the act itself but the cover-up that causes the real trouble. The erroneous headline claim in the recent Public Health England (PHE) paper, that e-cigarette use is 95% less harmful than smoking, would generate nothing more than a fleeting rebuttal and represent nothing more than footnote to the history were it not for the equivalent of that cover-up….
Ann McNeill, Leonie S Brose, Robert Calder, Sara C Hitchman, Peter Hajek, Hayden McRobbie – The Lancet
The Lancet Editorial criticises our Public Health England commissioned evidence update report on the basis of perceived flaws in one of the 185 references we used, ignoring the rest of our 111 page document, which addresses population effects of e-cigarette use, regulations, attitudes as well as concerns over its safety. The Editorial focuses on the estimate of risk reduction and protests strongly against the media reassuring smokers that switching to e-cigarettes provides substantial health benefits, but it provides no data to counter our estimate, nor any reason as to why The Lancet believes that the message smokers can benefit from switching to vaping is an undesirable one….
Tom Pruen – ECITA
An editorial in the Lancet, identifies that 3 (out of 11) contributors to a single point of research had previously been paid as consultants by various parts of the e-cig industry (and most would have been paid at some point by the pharmaceutical industry).

The Lancet rather bizarrely considers that this "raises serious questions not only about the conclusions of the PHE report, but also about the quality of the agency's peer review process"
Jacob Sullum – Reason
American e-cigarette alarmists frequently argue that vaping is "renormalizing" smoking, luring nonsmokers into nicotine addiction, or serving as a "gateway" to smoking. The PHE report finds little or no evidence to support those claims….
Jacob Sullum – Reason
Michael Siegel highlights an egregiously misleading Inquisitr piece about electronic cigarettes that parrots the talking points of anti-smoking activists and public health officials who irrationally view these products with fear and loathing. Dieter Holger's public disservice article nicely illustrates the evasions, rhetorical tricks, and outright lies frequently employed by e-cigarette alarmists….
Michael Siegel – The rest of the Story
The rest of the story is that most of these seven claims are false, all are misleading, all seven points actually demonstrate the public health value of e-cigarettes, and all seven arguments are taken almost verbatim from the propaganda being disseminated by colleagues of mine in the anti-smoking movement, demonstrating that their campaign of deception regarding e-cigarettes is working….
Evidence, Accountability, Transparency
This is the third conference in the series and will again be held at the Marriott Hotel, in Warsaw, on Friday 17th and Saturday 18th June 2016.

We invite politicians, regulators, academics and researchers, public health professionals, consumers and advocates with an interest in nicotine and its uses to join us for two days packed with quality content….
Gil Ross – ACSH
A widely-publicized article in yesterday's Washington Post entitled "What's in all that vaping smoke?" asserts that flavorings in e-cig vapor may contain toxic chemicals. I highlight "vapor" because there is no smoke involved in vaping, thus rendering the title misleading as it equates combustible cigarette smoke with the much safer e-cigarette vapor.
The Heartland Institute:
In an editorial calling for regulations which would put obstacles in front of adults who seek to quit smoking by switching to e-cigarettes, The Sun's editorial board relies on a powerfully debunked innuendo and preposterous logic ("Teens and e-cigarettes," Aug. 23).