Vaping Digest October 30th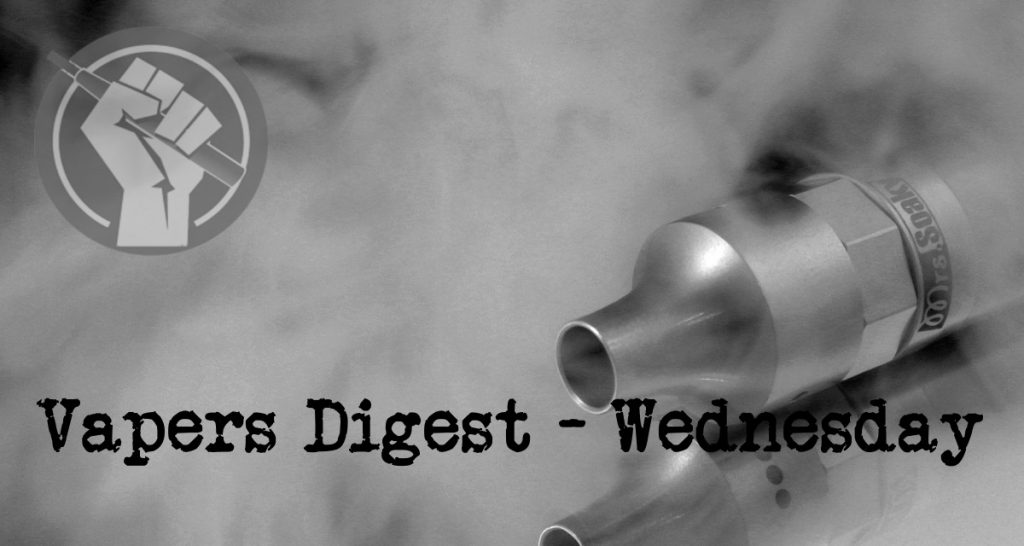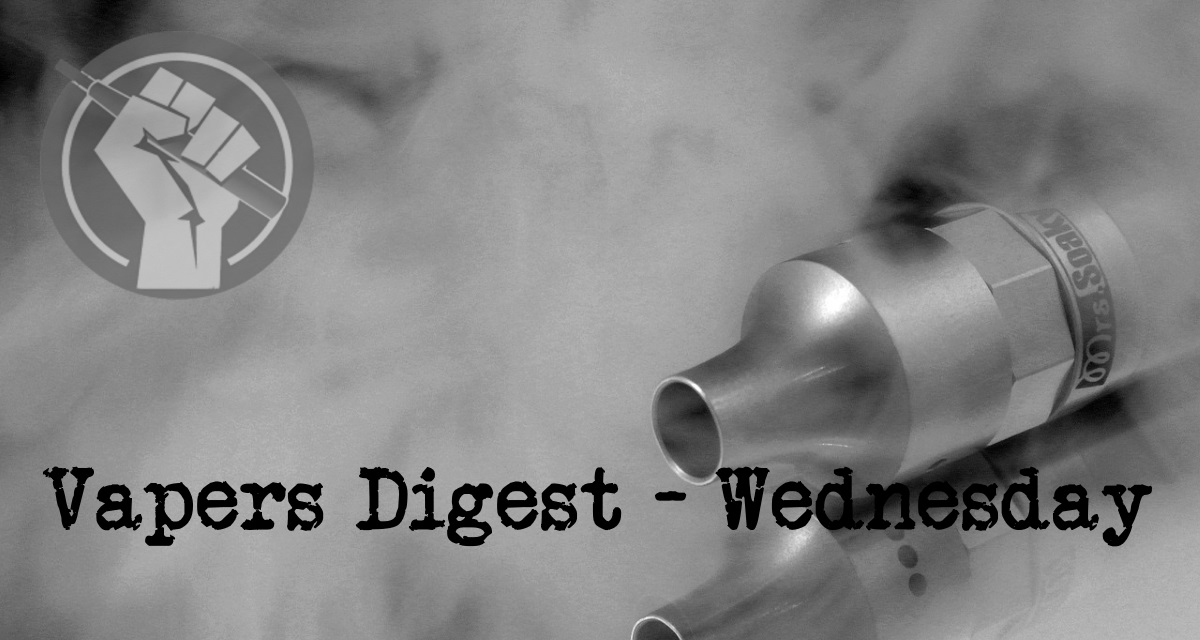 Wednesday's News at a glance:
RCP advice on vaping following reported cases of deaths and lung disease in the US ~ Vaping and lung disease in the US: PHE's advice ~ CDC Update: 1,604 Lung Injuries, 34 Dead, 0 Answers ~ Helen's Seasonal Horror Show ~ ATHRA's Video Campaign ~ Life Insurance Woes For Vapers ~ U.S. Military's Misbegotten Message to Troops: Cigarettes Are Safer Than Vape Products ~ The Accidental Quitter & Why They Are Important ~ A Fight Over Vaping "Bots" Is Blazing While E-Cigarette Bans Loom ~ Anti-Vaping Propaganda in Schools Undermines Critical Thinking and Spreads Dangerous Misinformation ~ As other state officials warn of vaping dangers, Iowa AG defends vaping products for adults ~ Utah Health Dept. says THC vaping likely cause of lung illnesses; statement made same day judge eases restrictions on sale of flavored e-cigarettes ~ Truth About Vaping – Episode 3 "The Simple Truth"
Royal College of Physicians
Following reported deaths and disease in the US linked to vaping, there has been considerable public concern about the safety of vaping products and whether or not it is safe to continue vaping in the UK. RCP restates its position on vaping following these reports.

This briefing note outlines the current situation in the US, describes why the US is different to the UK, including the different products available and the different regulatory situation, the UK evidence so far and our continuing advice to current smokers that vaping is still far less harmful than smoking tobacco.
Public Health Matters, gov.uk
Since mid-September, headlines around the world have warned about an outbreak of serious lung disease across the US, said to be associated with vaping. As of October 22, 1,604 cases have been reported to the Center for Disease Control (CDC) from 49 US states, including 34 deaths.

The US has an estimated 9 million e-cigarette users in the country, but weekly updates on the CDC website make it clear that the group of people affected is very specific. The outbreak appears to be largely among young men: 70% of patients are male and the average age is 24. Almost half (46%) are under 21.
Jim McDonald, Vaping 360
The outbreak of lung injuries apparently caused by vaping may be leveling off or even declining, according to the Centers for Disease Control and Prevention (CDC). And while the federal agency is finally assigning "most" of the blame to black market THC products, it continues to use the nicotine vaping term "e-cigarettes" to describe the products causing harm.
---

---
THREE from Dave Cross, Planet Of The Vapes:
Dr Helen Stokes-Lampard is the outgoing chair of the Royal College of General Practitioners' (RCGP) council. In 2016, she is reported as having wanted vaping to be placed "under medical control". It provoked robust debate but, three years later, she is claiming she was "trolled" by people pretending to be doctors and members of the public.
The Australian Tobacco Harm Reduction Association (ATHRA) is a registered health promotion charity established to reduce the harm from tobacco smoking in Australia. It says that vaping is under serious threat and has issued a call for vapers down under to add their stories to a new online video campaign.
Planet of the Vapes has been covering the shift in the insurance industry since 2015. During this time, it was noticed that strong resistance to treating vaping differently to smoking finally started to soften – and bespoke policies for vapers sprang into life by 2018. Thanks to the hysterical coverage of THC-related deaths, the sector has returned to its original hostile stance.
---
---
Dr. Brad Rodu, Tobacco Truth
With regard to tobacco products, the U.S. Department of Defense isn't serving the health interests of those who serve.

AndrewThommo, THE THR BLOG
People in tobacco control often repeat the mantra to the effect "to be successful, you have to want to quit smoking". While this is very true of the clinical (unpleasant & mostly ineffective) smoking cessation medications they have relied on for years, or the even less pleasurable and effective route of 'cold turkey', pleasurable alternatives like vaping turn that logic on its head. Here is the result of a poll asking current vapers how much they intended to quit, when first trying vaping.
---

---
As President Donald Trump and Congress weigh e-cigarette bans amid an outbreak of deadly lung injuries, a fight has erupted over whether vaping supporters online are real people — or bots funded by an industry under attack.

The fight was sparked by a controversial report released two weeks ago by the Public Good Projects, a public health nonprofit. Its analysis — which looked at 1,288,378 tweets related to e-cigarettes or tobacco sent between Feb. 1 and June 1 — concluded that nearly 80% were likely generated by bots, or automated accounts, "posing as passionate pro-vaping individuals." The findings have been called into question by experts skeptical about its methodology.

and Spreads Dangerous Misinformation
Jacob Sullom, Reason
In response to the "epidemic" of underage e-cigarette use, public schools are deploying the tried-and-true method of lying to children about the hazards of drug use, because how could that possibly backfire? A misinformation sheet about vaping, published by the Florida-based Nemours Foundation and distributed to eighth-graders at my daughter's school in Dallas, illustrates this approach, making scary claims that can easily be debunked by anyone with an internet connection.
As states respond to an outbreak of vaping-related illnesses around the country, one statewide official in Iowa is cautioning against over-regulating the use of e-cigarette products.

Iowa Attorney General Tom Miller wrote to federal officials this month to say that banning commercial vaping products for adults would harm public health. His warning came as federal public officials were still investigating the cause of the sometimes-fatal illnesses.
statement made same day judge eases restrictions on sale of flavored e-cigarettes
Patrick Benedict, Gephardt Daily
The Utah Department of Health has released a statement saying vaping products containing THC are the likely cause of vaping-related lung injuries being seen in Utah and across the U.S.

"Nearly everyone who has become sick in Utah has reported vaping THC cartridges prior to becoming ill," the UDOH reported Monday. "The Utah Department of Health recommends you immediately stop vaping THC cartridges while we continue to investigate this outbreak."
---
A look back at how things have moved on or otherwise….
And The Profit Motive – Dick Puddlecote
It's taken me a few days to get round to writing this but there was a BAT Investor Day held in London last week that threw up a small, but vital, nugget of information.

Wells Fargo Securities circulated a summary of the event via email and described the presentation on next generation products (NGPs) as "the highlight". It spoke of how the global NGP category is likely to reach £30bn by 2020 and how both BAT and PMI expect NGPs will represent 30% of their revenue by 2030.
Challenges and opportunities – Clive Bates
In a July 28 announcement, Dr. Scott Gottlieb, recently appointed as the 23rd commissioner of the U.S. Food and Drug Administration (FDA), committed his agency to introduce a new guiding philosophy for the regulation of tobacco and nicotine. The associated news release set out the agency's desire for a "new comprehensive plan for tobacco and nicotine regulation" and for an "approach [that] places nicotine, and the issue of addiction, at the center of the agency's tobacco regulation efforts."
---
Visit Nicotine Science & Policy for more News from around the World

---