Vaping Digest November 1st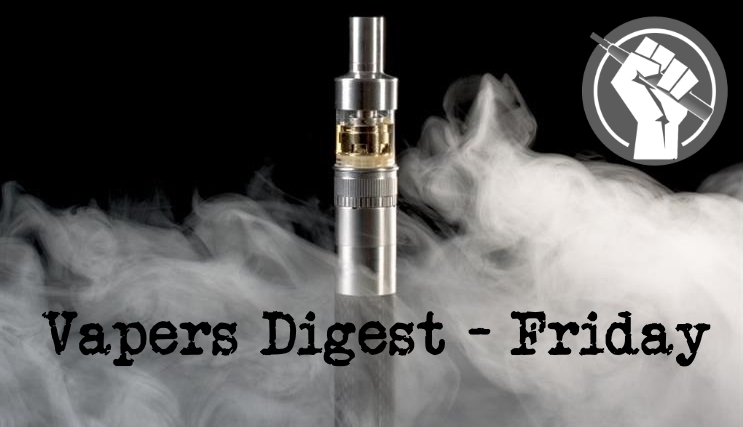 Friday's News at a glance:
Vapers urgently needed for video testimonials for new campaign – China Bans Online Sales of E-Cigarettes – It is all so predictable – Vape Stores Are The Third Most Popular Retail Sector – The Big Shutdown – ETHRA Denounces Finland – Snus Steps Forward – Talking Turkey – Public Attitudes Worsen – Massachusetts Vaping Product Ban Has Already Caused Severe Harm – Send vape fears up in smoke – Lung Injuries Overwhelmingly Involve Black-Market THC – Smoke and mirrors – Iowa attorney general still supports e-cigarettes – HPHCs in JUUL system aerosol emissions significantly less – Nicotine Science and Policy Daily Digest
For video testimonials for new campaign – ATHRA
ATHRA urgently needs to find several Sydney-based vapers to tell their story in a video for a new campaign. We are ready to film the testimonials next week, all on one day from 7-9 November (exact date to be confirmed).

Vaping is facing a very uncertain future in Australia and must be protected. The current panic in the US about vaping-related lung injury, the 'youth epidemic' and flavours is threatening to spread to Australia and undermine the huge potential for vaping to improve public health.
Rachel Chang and Lisa Du – Bloomberg
China has banned online sales of e-cigarettes in the latest blow for the nascent vaping industry, which has come under intensifying scrutiny around the globe.

All websites and apps selling e-cigarettes should be shut down and all online marketing campaigns halted, according to a statement by the State Tobacco Monopoly Administration and State Administration for Market Regulation on Friday. The measures are aimed at protecting adolescents from vaping, it said.
---

---
HeadRambles
I have been idly watching the Vaping Wars for a while now. Twitter is alight with people frantically trying to stem the tide of anti-vaping rhetoric which started with the deaths in the States. Quite frankly I am amused at the whole affair because it was so predictable.

When electrofags first came into prominence, Vapers were very quick to jump on the anti-smoker bandwagon. Think of all the lives that will be saved [a billion?!] they screamed. Electrofags are the answer to dirty filthy cigarettes they roared. They hoped that they could ally themselves with the anti-smokers to drive people off cigarettes onto electrofags. However they should have realised there was something wrong when the anti-smokers gave them a very tepid welcome at best.
---
---
Are The Third Most Popular Retail Sector – Diane Caruana
According to a London-based financier, as the British high street keeps evolving, independant vape stores are the third most popular retail sector, with 1,176 new outlets launching during the last three years.

A report by 365 Business Finance, has indicated that barbers, beauty salons, vape stores, cafes and tearooms, along with restaurants and bars have been the fastest growing retail sectors in the UK over the past three years. The local data company has found that these retailers have consistently experienced the highest number of net store openings, with 1,176 new vape outlets, in 2016, 2017 and 2018.

Five from Dave Cross, Planet of the Vapes
Ten years ago, experts were predicting the end of the American newspaper giants, the mining industry and a curtailment to car part manufacturing. These experts hadn't heard the bells ringing for the vape sector because it had barely begun. Now, something that created tens of thousands of jobs and contributed millions to the economy (projected to reach $16.5 billion by 2024 at one point), is being forced to take a journey across the River Styx. The U.S. vape industry is being put to the sword.

In the 17th Century, the great and the good of the United States hunted out women and men in order to murder them in inventive ways. The Salem witchcraft trial tried a woman for her "mesmeric mental powers" as late as the 19th Century.
The European Tobacco Harm Reduction Advocates (ETHRA) organisation recently warned of an article in the Tobacco Control Journal by Eeva Ollila, a Finnish public health advocate, that urges the EU to change its policy towards vaping products in the Tobacco Products Directive (TPD).

ETHRA is a collection of European consumer groups, set up to promote discussion and the exchange of information and potential actions to reduce exposure to tobacco-related harm.

In her article, Ollila, who works for the Cancer Society of Finland, rejoiced in the fact that Finland doesn't support tobacco harm reduction: "The aim of Finnish tobacco policy is to end the use of tobacco and other nicotine-containing products by 2030.
Snus has a very low profile outside of Sweden and Norway (where it has helped to drive down the rates of smoking and smoking-related cancers). This could be set to change with the outstanding news that the American Food and Drug Administration has recognised snus as an a less harmful alternative to cigarettes.

In 2016, Viscount Ridley wrote [link]: "One country is fast heading towards achieving the end-game result. According to Swedish government figures, only 6% of Sweden's young men regularly smoked in 2015. The only plausible explanation for this extreme outlier is that 25% of Swedish men use 'snus', a sort of tobacco tea-bag pressed against the gums – and do so instead of smoking."
---
Of the Science and Technology Committee and the Government Response
Thanks as always to @dnglos for the YouTubage
---
Turkish President Tayyip Erdogan has made some bizarre statements, but his recent one about vaping and tobacco harm reduction takes the biscuit – as he advises people wanting to quit smoking to drink more tea. This begins to make sense when one factors in Turkey's Top 10 position as one of the largest global cigarette manufacturers.

President Erdogan apparently claims that he recently instructed his Trade Minister to never allow any vape products into the country – something that will only add to the confusion experienced by the millions of tourists planning on visiting Turkey.
The Kaiser Family Foundation is an American organisation concerned about U.S. health issues the nation's role in global health policy. It has released a report where it claims over half of the American public would now support an eliquid flavour ban and that 1 in 5 non-smoking teens now use flavoured ecigs.

Clearly biased at the outset, its findings are still troubling for tobacco harm reduction advocates. The authors write: "With more than 1,000 lung injuries and two dozen deaths nationally associated with vaping and e-cigarettes, a new KFF poll finds a narrow majority (52%) of the public supports a ban on the sale of fruit- and other flavoured e-cigarettes, while 44% oppose it."
---

---
Vaping Ban Has Already Caused Severe Harm as Vapers Migrate to Smoking in Large Numbers
Michael Siegel, The Rest Of The Story
Sales data reported by PiperJaffray for the four weeks ending October 20 (when the Massachusetts emergency ban was in effect for 25 of the 28 days) and the four previous weeks (mostly before the ban went into effect) were compared to sales data for the previous year. The PiperJaffray analysis revealed that there has been a substantial shift from vaping to smoking in the state. This indicates that as I predicted, ex-smokers in Massachusetts who were reliant on e-cigarettes to stay smoke-free are now returning to smoking in large numbers.
Overwhelmingly Involve Black-Market THC Products, but It's Still Warning People to Avoid E-Cigarettes
Jacob Sullum, Reason
According to numbers updated today, 1,888 cases of vaping-related lung injuries, including 37 deaths, have been reported to the Centers for Disease Control and Prevention (CDC) as of October 29. The CDC is now referring to these acute respiratory illnesses as cases of "e-cigarette, or vaping, product use associated lung injury (EVALI)," which is not only cumbersome but also misleading. While the term
e-cigarette typically refers to legal vaping devices, such as Juul, that deliver nicotine, the vast majority of the lung injuries have been linked to black-market cannabis products.
Matt Kilcoyne, Adam Smith Institute
A new paper from the neoliberal think tank the Adam Smith Institute says if the UK Government wants to achieve its aim of a smoke-free generation by 2030 it will need a liberal approach to safer alternatives.

Recent concerns about the safety of vaping from the USA are nothing to worry about for UK users. However, a new report by the Adam Smith Institute argues that Britain is at risk of a similar moral panic on vaping as seen over the pond this summer.

Earlier this year, a cluster of people developed severe and sudden lung injuries after e-cigarette use and several deaths have been linked to this. Following these reports, the U.S Centre for Disease Control's response discouraging the sale and use of e-cigarettes spread a moral panic without scientific basis.

Michael Cummins
Anyone paying attention should have realized, from the get-go, that the established e-cigarette industry had nothing to do with the recent outbreak of severe lung injuries. Millions of Americans have used FDA-regulated nicotine vapor products for over a decade without incident. Why would these products suddenly be injuring people? And why were fresh-lunged kids the primary victims, rather than grizzled old ex-cigarette smokers?

Sometimes, the media fail to ask such obvious questions. (Recall the widespread acceptance of Jussie Smollett's absurd attack story last winter.) So it was hardly a surprise when many outlets immediately implicated "vaping," generally, for the lung ailments.
Despite vaping illnesses, anti-tobacco legacy – Michaela Ramm
Iowa's Attorney General, who helped lead the charge against tobacco companies more than two decades ago, believes e-cigarettes could help further disrupt the industry and save lives.

Even in light of vaping-related illnesses around the country, Tom Miller told The Gazette this week he still believes products from e-cigarette manufacturers can help individuals quit tobacco — but should be kept out of the hands of teens and young adults.

"We should do everything we can to keep kids from e-cigarettes without keeping adult smokers away from e-cigarettes," Miller said on Monday.
Five laboratory studies on the chemical emission profile of the JUUL system were presented at the recent 2019 Joint Conference of the Cooperation Centre for Scientific Research Relative to Tobacco Annual Smoke Science and Product Technology (Coresta) Study Groups in Hamburg, Germany.

Two of the five studies examined whether the vapor emissions of the JUUL system caused cytotoxicity or cell death, and the extent to which JUUL aerosol produces volatile organic compounds (VOCs) and harmful and potentially harmful constituents (HPHCs), compared to cigarettes.
---
A look back at how things have moved on or otherwise….
Jim McDonald, Vaping 360
The FDA seems dead set on restricting the vapor industry very soon. The agency gave JUUL Labs and the four major tobacco companies that also sell vapor products 60 days to submit plans to eliminate sales to teenagers. That 60-day deadline expires soon after next week's elections.

Now a group of influential academics and tobacco control and public health experts is trying to convince the agency to slow down and consider the risks of hasty regulation.
Vlae Kershner

, Seeking Alpha
Altria faces a potential business crisis because of a competitor's booming vaping product.

The restrictions it imposed on itself last week, if adopted as regulations by the FDA, would greatly disrupt JUUL's business.

There are three possible ways for Altria to get back in the driver's seat.
Larisa Casillas, NBC Montana
A recent decision to ban indoor vaping in public places in Gallatin County may be challenged in court.

Ron Marshall, the owner of Freedom Vapes in Bozeman, says he's found emails exchanged among Gallatin County health officials he claims show health officials worked to change images and information to put vaping and vapers in the worst light possible.
---
Visit Nicotine Science & Policy for more News from around the World

---