Vaping Digest November 4th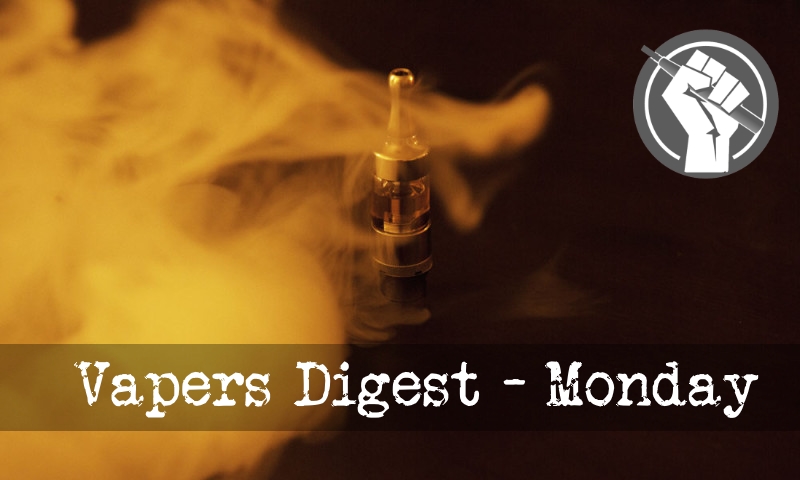 Monday's News at a glance:
Cannabis Vape Apocalypse: The Impact on Vape Businesses… – The US vaping flavour ban: twenty things you should know – Vaping In The News – November 2nd – U.S. Forces Ban – PHE Offers Clarity – Reports Say White House Will Ban Flavors Next Week – CDC and State Health Departments are Wrong – Study finds teen vaping probably doesn't lead to smoking – Vaping saves lives, so let us resist the temptation to panic over e-cigarettes – We need sensible vaping policies not emotional bans – UK Parliament continues to strongly endorse vaping – Australian Health Ministers misinformed – Nicotine Science and Policy Daily Digest
The Impact on Vape Businesses… – James Dunworth
Times are difficult for the vape sector. Since people started experiencing severe respiratory illnesses in the USA after using illegal, mostly THC cartridges, we've seen an avalanche of negative headlines. As a result, vape businesses are reporting a fall in sales, which particularly seems to be affecting starter kits and business catering to new and casual vapers.

The impact in the US has been huge. Vape shops are shutting down across the country, and one US vape manufacturer told me that he'd seen shops sales fall as much as 50%, distributor sales fall 70% and manufacturing sales fall 80% as shops sell through inventory.
Twenty things you should know – Clive Bates
American vapers and vaping businesses will shortly enter a period of chaos and existentially threatening regulation. First will be a ban on almost all flavours – everything except tobacco flavour and possibly menthol and mint. That is likely to shut down nearly every vape shop and e-liquid company that isn't part of a tobacco company. Then by 12 May next year, any surviving vaping companies and will have to comply with the hugely burdensome, opaque and unpredictable pre-market tobacco application process. Going into 2020, the industry will be in crisis and vapers and smokers will be in danger of losing one of the most important innovations of the century.
Read More from Michael Siegel:-
Kevin Crowley, Vaping Links
The Big Shutdown ~ The vaping study ~ Truth About Vaping – Episode 3 "The Simple Truth" ~ A Billion Lives ~ Big NICOTINE ~ Vape Ban Could Swing Election Against Trump ~ The Real Nightmare This Halloween ~ #VapeRallyDC2019
---

---
Dave Cross, Planet of the Vapes
A seventeen-year-old can join the American military with a parent's permission. At eighteen, they can sign up to defend their country and possibly die in action. Of course, they won't be able to take the far riskier decision to switch from smoking to vaping though as the combined brains of the U.S. Military have decided that's far too risky.

Navy Exchange is a retail store chain offering goods and services to active military, retirees, and certain civilians on Navy installations in the USA, overseas, and aboard ships. The Army & Air Force Exchange Service (AAFES) is the retailer on Army and Air Force bases around the world.
Dave Cross, Planet of the Vapes
Professor John Newton, Director of Health Improvement for Public Health England (PHE), has offered clarity and reassurance on the subject of vaping and lung disease in the United States. Although the Centres for Disease Control (CDC) has recently updated its position on THC products, it still advises everyone not to vape.

The CDC is currently warning people about "a multistate outbreak of Salmonella Dublin infections in ground beef" [link]. Unlike with vaping [link], it is not calling this a meat-related problem or advising the general public to avoid eating any meat.
---
---
Jim McDonald, Vaping 360
The Trump administration is ready to ban all flavored vaping products except tobacco and menthol, Axios reported late today. The news was a shock to vaping advocates, because the White House Office of Management and Budget has barely begun its meetings with stakeholders.

Axios reporter Jonathan Swan added on Twitter that President Trump met with administration officials—including Health and Human Services Sec. Alex Azar, a proponent of the ban—Thursday to discuss the policy.
Are Wrong to Inform the Public that Some Case Patients Used Only Nicotine E-Liquids
Michael Siegel, The Rest Of The Story
Because the CDC and state health departments have deliberately been conflating the respiratory disease outbreak with the general problem of youth vaping, they have not been clear in communicating the scientific evidence regarding the type of products that are most likely causing the outbreak. Because of the confusion they have created, a large number of state officials, health practitioners, and media outlets have been incorrectly reporting that a substantial proportion of the outbreak case patients used only nicotine-containing e-cigarettes.

So let us resist the temptation to panic over e-cigarettes – Mark Pawsey
Over recent weeks, there have been many headlines about several deaths and respiratory illnesses in the US linked to e-cigarettes.

First, it is absolutely right that public health authorities are investigating these events with the seriousness that they deserve.

However, for the 3.6m smokers in the UK who have successfully quit smoking completely by switching to vaping – or at least substantially reduced their cigarette use – as well as for the millions of smokers thinking about switching, it's also important that we understand the true causes of these tragic incidents, rather than jump to inaccurate conclusions.
---
---
EurekAlert
A new study in Nicotine & Tobacco Research, published by Oxford University Press, suggests that adolescent e-cigarette users are more similar to conventional cigarette smokers than they are to non-tobacco users in terms of demographics and behavioral characteristics. While many public health advocates have suggested that vaping may lead to cigarette smoking, this new research suggests that cigarette smoking may be entirely attributable to adolescents' pre-existing propensity to smoke, rather than their use of electronic cigarettes (e-cigarettes).
---

---
Not emotional bans – Julie A. Casimiro, Mike Runshe, and Dino Barcarri
The idea of our children getting addicted to any substance is a nightmare to most adults and parents. And unfortunately, nicotine has been hooking our children since tobacco products have been in use. This fact is why we understand the reactions to nicotine's latest delivery method, vaping, and the fear that our children are being put in mortal danger for using these products.

There is just one problem though – vaping has also helped countless adults quit a far more scientifically proven dangerous and deadly habit – combustible tobacco products such as cigarettes.

To strongly endorse vaping – ATHRA
The UK Parliament has strongly supported the role of vaping as an effective aid for quitting smoking in a debate this week.

Support for vaping was unanimous in the debate, which recognised that vaping is twice as effective as nicotine replacement therapy, is considerably safer than smoking, is not a gateway for young people to smoking and should be promoted widely to help smokers quit.

The position taken is in stark contrast to the misinformed views of the Australian federal and state health ministers in their recent COAG report

We strongly advise Australian MPs and health officials to read the hansard here.
On vaping nicotine – ATHRA
The Australian federal and state health ministers have shown their intention to continue to persecute vaping, at this week's Council of Australian Governments (COAG) meeting. This is an ominous sign for Australian vapers.

The COAG Health Council released a Communique stating:

"Ministers expressed deep concern at emerging evidence of serious health risks associated with e-cigarettes and the international evidence of e-cigarette uptake by non-smokers and, in particular, by young people. They reaffirmed their commitment to maintain existing restrictions on nicotine vaping products. Ministers agreed to immediately refer the safety of non-nicotine vaping and e-cigarettes to Chief Medical Officers for urgent review to report back to Health Ministers."

Health Minister Greg Hunt repeated these concerns in an interview yesterday saying: 'there is deep concern that these (e-cigarettes) are both an on-ramp for young people to smoking and that they are also potentially dangerous to young people directly'
---
A look back at how things have moved on or otherwise….
Paul Barnes, Facts Do Matter
As is the norm, things have been super-hectic here at Facts Towers so I have, unfortunately, missed an awful lot of stuff going on. I've also been absent from social media; mostly for good reason – it bloody annoys me.

Those of you that remember, The Freedom Association published some very interesting information about the various local authorities and their current smoking/vaping policies. Most of the councils are backwards looking, ignoramuses. However, one council, in particular, has taken things too far.
Take heavy handed action against smokers and vapers – Robert Innes
It is ironic, is it not, that the recent #COP8 meeting of The World Health Organisation Framework Convention for Tobacco Control should result in a flurry of accusations that members of the vaping community were using 'violent' language and tactics in their approach to vaping advocacy. This being an example: "But the problem we're facing is that the interference from tobacco giants in public health efforts is becoming increasingly vicious in that they are now using the tools and language of tobacco control advocates to push their dangerous agenda".
---
Visit Nicotine Science & Policy for more News from around the World

---