Vapers Digest 18th March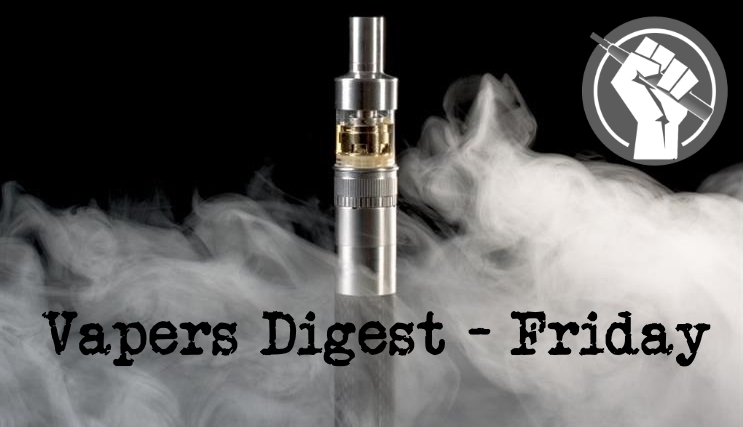 Friday's News at a glance:
Can vapers trust Big Tobacco? – Blackpool MPs new call to tackle smoking – China Set to Prohibit Sales – Smokers Rush to Stock Flavored E-cigs – Ideological Aversion to Harm Reduction – Despite Bloomberg's Billions Fooling You – NHS Still Failing on VBA Training – 82 Million Vapers – Oz Must Embrace Vaping – Findings From Scottish Prisons – Don't Ban Synthetic Nicotine – FDA Has 120 Days to Regulate Synthetic Nicotine – Who Will Be the First Person To Go to Prison? – US Smoking Hits Record Lows – Protected by the SRNT Bubble – Vape Keeps Beating the Odds – Let's be scientific, not ideological – Vaping flavour bans – South Africa flirts with e-cig tax – Tobacco harm reduction critical – Four Basic Consumer Rights Not Respected – COP9: Philanthropic Funding or Manipulation? – Vaping Advocates Launch Series – Nicotine Science and Policy Daily Digest
An Interview with Derek Yach – James Dunworth
In the tobacco control world, it's hard to find a more controversial figure than Derek Yach.

After starting his career fighting both South African tobacco companies over smoking and a white apartheid government for the health of black South Africans, Derek Yach went on to become one of the main architects of the WHO tobacco treaty. He later received flack for joining PepsiCo at a time in the belief that health could often be better served by working with problem companies instead of against them. While continuing, obviously, to sell Pepsi, the company ditched trans fats, cut some unhealthy lines and invested in new, healthier products.

The most controversial move for this anti-tobacco warrior was accepting a position to set up and run the Foundation for a Smoke Free World (FSFW) – a foundation funded by Philip Morris International, the maker of Marlboro cigarettes.
To improve residents' health – Tim Gavell
Blackpool North and Cleveleys MP Paul Maynard and Blackpool South MP Scott Benton said that smoking is one of the biggest factors behind the town's problems when it comes to health issues.

They said coronavirus had thrown Blackpool's health inequality into sharp relief and it must be tackled as part of the Government's levelling up agenda.

In a joint statement they said that, whether someone is born in Blackpool, Bristol or Bradford, should have no bearing on how long they live. Their education, their background and their upbringing should not impact their health outcomes. But it does.
---

---
Jim McDonald
The Chinese government has issued a revised draft of its vaping products standards that includes a ban on domestic sales of products containing non-tobacco flavors. The flavor rules, if finalized, will take effect May 1, along with stringent licensing requirements for manufacturers.

Public comments are being accepted on the new rules until March 17, but the decision to ban flavors will probably stick. The draft rules were cheered by the Campaign for Tobacco-Free Kids, which claimed a flavor ban "is the right move to protect Chinese kids from these addictive products."
Before China Bans Them – Zhang Wanqing
While many Shanghai residents shopped for groceries and other essentials, fearing a snap COVID-19 community lockdown, Wu battled the rain on Thursday afternoon to stock something he considers more important: grape-flavored e-cigarette pods.

Wu, who only gave his last name for privacy reasons, told Sixth Tone that he didn't want to take any chances before China's new regulation on e-cigarettes goes into effect on May 1. Last week, the country's Tobacco Monopoly Administration announced it would "prohibit the sale of flavored e-cigarettes, other than tobacco flavors, and e-cigarettes to which users can add their own atomized substances."
---
Sweden: as government proposals to ban flavours advance several campaigns have been launched to prevent the ban. Consumers are being urged to get involved and save #vape flavourshttps://t.co/NgUlKXlJVx

— European Tobacco Harm Reduction Advocates (@europethra) March 16, 2022
Real public health at work 👇 while clueless bureaucrats at @FDAtobacco throttle suppliers with absurd demands that bear no relation to US reality:
1. 30-40 million smokers
2. all vapes are vastly safer than smoking
3. vapes divert teens away from cigarettes
4. flavours help https://t.co/1zjk70Jhy5

— Clive Bates (@Clive_Bates) March 17, 2022
---
Ronald W. Dworkin
Putting a patient under general anesthesia is a dangerous business. Waking a patient up from anesthesia is an ugly one. After I turn off the gas the patient typically thrashes and writhes like a sinner in Hell. Yet such resistance has never bothered me. I don't want good and submissive patients. On the contrary, I want patients with the will to live. Passivity while waking up from anesthesia usually means a complication of some kind.

Anesthesiologists are unusual in this regard. Most physicians prefer patients who are submissive, pleasantly civil, and who do as they are told. This is probably why the medical profession has traditionally resisted a public health approach called "harm reduction."
Harm Reduction Mustn't Only Be Applied to America's Opioid Epidemic
Lindsey Stroud – Townhall.com
In his State of the Union (SOTU) Address, President Joe Biden addressed the decades-long opioid epidemic. In doing so, he became only the second president to outline some type of plan to combat deaths from overdoses. Over 100,000 Americans died from overdoses between April 2020 and 2021.

More importantly, Biden acknowledged a vital key to tackling the crisis: harm reduction. He remarked that the United States must increase "funding for prevention, treatment, harm reduction and recovery." Harm reduction is vital for addressing the opioid epidemic, but it also must be applied to an ever more deadly epidemic: smoking.

Five from Dave Cross, Planet of the Vapes
The NHS is still failing to deliver adequate smoking cessation advice training, and deliver that advice to patients, according to the British Thoracic Society (BTS) and Action on Smoking and Health (ASH). A new audit has found that less than 45% of smokers admitted to hospital receive smoking cessation guidance. Planet of the Vapes has been reporting on related concerns since 2019.

ASH chief executive Deborah Arnott said: "No one should give up on giving up. Every time someone tries to stop smoking, they are a step closer to success. Like anything worth doing it can take practice to stop smoking – but there is lots of help out there.
The latest research from the Global State of Tobacco Harm Reduction (GSTHR) estimates there are now 82 million vapers worldwide. Released on National No Smoking Day, the GSTHR project, from Knowledge•Action•Change (K•A•C), a UK public health agency, reports that the new total for 2021 represents a 20% increase on the figure for 2020 (68 million) and shows the popularity of vaping is growing rapidly around the world.

Each year, there are eight million smoking-related deaths worldwide, of whom 110,000 people are in the UK. Vaping offers a significantly safer alternative for the 1.1 billion people around the world who continue to smoke.
Australia must use vaping tools in its smoking strategy demands the Coalition of Asia Pacific Tobacco Harm Reduction Advocates (CAPHRA). The consumer group says that Australia is lagging well behind many other countries in the Asia Pacific region when it comes to successfully tackling smoking using electronic cigarettes.

CAPHRA's observation comes as Australia's Department of Health seeks feedback on its Draft National Smoking Strategy 2022 – 2030, with public submissions closing on 24 March.
A qualitative interview study with prison staff by a team from the Universities of Stirling, Edinburgh, and Glasgow, has published its findings. The team, that includes Professor Linda Bauld, believe there is little known about the use of ecigs in prisons and even less from the prison officer's perspective.

They write: "There is very limited evidence on e-cigarette use in prisons, with no studies reporting on the perspectives of staff working in prisons where vaping is permitted among people in custody, thus limiting understandings of its perceived benefits and risks in this distinct setting."
Many American e-liquid manufacturers recently announced their intention to switch from nicotine made from tobacco leaves to synthetic nicotine. The USA (and Europe) immediately looked to put bans in place. The World Vapers' Alliance and American consumer group CASAA contend that such bans will significantly harm consumers who want to quit smoking.

Congress in the USA passed the omnibus budget bill last week, introducing provisions that give the Food and Drug Administration authority to regulate synthetic nicotine products as a tobacco product.
---

---
Synthetic Nicotine. That's Impossible – Alex Norcia
On March 15, tobacco controllers gathered at a hotel in Baltimore for an annual conference hosted by the Society for Research on Nicotine and Tobacco (SRNT), the preeminent scientific society in the field. This year, the board decided to bar the industry from presenting research, in a move some notable scholars and academics have criticized as a suppression of science. But the meeting still seemed well-attended. Mitch Zeller, the departing director of the Food and Drug Administration's Center for Tobacco Products (CTP), gave perhaps his last public speech in that role. At one point, he reportedly looked down at his watch, signaling a clock would soon start ticking.
What Will Regulators Make of It? – Alex Norcia
Smoking in the United States has declined to the lowest percentage rate in more than half a century, according to the Centers for Disease Control and Prevention (CDC). In 2020, 12.5 percent of the adult population, still well over 30 million people, were current cigarette smokers.

In an article published on March 17 in the CDC's Morbidity and Mortality Weekly Report, the agency found that adult use of all "tobacco products"—a category that includes vapes in federal terminology⁠—dropped from 20.8 percent in 2019 (50.6 million people) to 19 percent (47.1 million people).
To Plan Counterproductive Nicotine Law – Maria Chaplia
Earlier this month, Iceland's Office of Health Promotion and Science launched a consultation on a draft law on nicotine products. If passed, the law will introduce age limits for nicotine consumption, ban e-cigarette flavors perceived to appeal to children, and stipulate a permissible maximum nicotine concentration.

Nobody is arguing that children should take up nicotine products, and introducing age restrictions for pouches and gums, among others, is sensible. The current minimum age for buying vapes in Iceland is 18. The proposed bill intends to introduce the same limit for other nicotine products.
GFN•TV is part of Global Forum on Nicotine.
For Selling Flavored Tobacco or E-Cigarettes? – Jacob Grier
Sometime in the not-too-distant future, if it hasn't happened already, the first American will likely be sentenced to prison for selling flavored tobacco or e-cigarettes.

It might happen in Massachusetts, where state attorney general Maura Healey announced charges last year against New Hampshire resident Samuel Habib, accused of running "a large-scale illegal marijuana, tobacco, and flavored vaping product distribution operation." The charge of tax evasion, stemming in part from his sale of flavored e-cigarettes that are banned in Massachusetts, carries a sentence of up to five years in prison.
Dr. Patricia Nez Henderson Feels "Threatened" and "Not Safe" by Debate
American Vaping Association
This week, the Society for Research on Nicotine & Tobacco (SRNT) kicked off its annual conference in Baltimore, Maryland. After going virtual for last year's conference because of COVID-19, this marked a return to in-person events for the membership-based organization. However, not all past attendees were welcomed to attend this year's festivities.

For more than 15 years, scientists and researchers employed by "commercial tobacco product" manufacturers had been permitted to attend and present at SRNT meetings (although internal policy did not allow them to serve in leadership positions).
@ProfKevinFenton thank you for your wonderful presentation at #SRNT2022.

As a PhD student in the states I often feel isolated because of my strong belief that e-cigarettes represent a public health opportunity.

Thank you for your commitment to improving the lives of others

— Jaron Hoani King (@JH_King5) March 17, 2022

A public health disaster in the making – Michael Landl
Millions of smokers have quit smoking thanks to vaping, and flavours have been an essential element of this incredible success. While it is estimated that already more than 80 million people worldwide are vaping – a 95% less harmful alternative to smoking – the regulatory burden on these products is intensifying.

One of the most debated issues around vaping is the regulation of flavours. Flavours are one of three main ingredients in an E-Liquid and they vary massively. Consumers can chose from desserts to tobacco, fruit to menthol.
Anne Baye Ericksen
The National Association of Convenience Stores (NACS), in conjunction with several other retail associations, has called on the federal agency to release the list so c-stores can be in compliance by pulling the MDO products. At the moment, the FDA cites confidential commercial information concerns as reason for not disclosing the information. Rather, it recommends retailers confer with manufacturers for their MDO specifics.

"The FDA's repeated bungling of vaping product regulation has made it incredibly difficult for industry transformation to be anything more than a tagline," said Gregory Conley, president of the American Vaping Association.
CAPHRA
Keen for more countries to adopt progressive regulations around vaping, Tobacco Harm Reduction (THR) advocates will come together over the next two months to brainstorm, download and debate the best ways to advance safer nicotine products globally.

"Advocates from around the world have been asking for seminars on the nuts and bolts of advocacy, what is effective, where to find information, and how to get the message across. This new online series will address a real need out there," says Nancy Loucas, Executive Coordinator for the Coalition of Asia Pacific Tobacco Harm Reduction Advocates
Kurt Yeo
On Monday, 14 March 2021 I submitted an opinion piece to the Citizen Editor of the Daily Maverick in response to an Op-Ed published by their platform on 10 March 2022. After several email exchanges and rather odd and unsatisfactory suggestions made by the editorial team, my opinion and therefore my views on the matter were rejected for publications. Response to a request as to why the piece was rejected is still pending.

Here is my response to the original piece, which I feel needs to be said.
Which could set back the fight against smoking
Public consultations recently closed on plans to impose an excise tax on e-cigarettes in South Africa, and the suggested policy proposals have already proven controversial. In particular, the South African government intends to introduce a new excise tax on e-cigarettes, applying the duty to both non-nicotine and nicotine solutions used in these devices. Thanks to piggybacking on existing policy guidelines related to other excisable products, users may expect to pay duties ranging from ZAR 33.60 to ZAR 346.00 per item, depending on the nicotine content and size of different products, an amount which could even be higher than the excise tax on a pack of cigarettes.
If smoking-related disease is reduced in Africa – Michael Simire
The second edition of Africa Tobacco Harm Reduction forum was held last month in Nairobi, Kenya. Convened by Campaign for Safer Alternatives in collaboration with Africa Harm Reduction Alliance, the forum provided a platform to engage, challenge and exchange ideas, where pivotal issues on ending smoking in Africa.

The conference, which was attended by over 50 delegates from across Africa as well as international medical experts, heard that the current approach of governments in Africa is not working.
Not Respected by the Anti-THR Lobby – Africa Harm Reduction Alliance
On 15 March 1962, Former US President John F. Kennedy delivered a landmark address to the US Congress outlining his vision of a consumer rights movement. This vision catalysed the formation of Consumers International, the world confederation for consumer rights groups, which brings together over 200 member organisations in more than 100 countries. Collectively, they defined eight basic consumer rights, which have been incorporated into the internationally accepted UN Guidelines for Consumer Protection
Or Manipulation?
The Ninth Session of the Conference of the Parties (COP) to the World Health Organization's Framework Convention on Tobacco Control (WHO FCTC) stayed true to form, keeping out the very industry that should be most involved. For the first time, accredited media – with no ties to the tobacco industry, of course – were allowed to attend the open sessions at COP9, joining delegates from 161 out of 182 FCTC party countries. Aside from the usual tobacco industry bashing expected from a COP meeting, the following are a few interesting happenings worth noting from the six-day virtual event.
At the first post-Brexit hurdle on novel tobacco – Freddie Dawson
One of the major talking points during the pre-Brexit referendum debate was the potential for the UK to go its own way on policy, departing from EU positions it did not like. Tobacco policy was often used as a primary area where this could happen.

In fact, in its recent Brexit opportunities report the UK government continued to highlight tobacco as a major policy area where the UK could benefit from leaving the EU and carving its own path. But at the first major challenge, the UK appears to have balked worse than a horse at its final Olympics pentathlon.
Lurking in the detail of CDC vaping report – Barnaby Page
Another year, another National Youth Tobacco Survey (NYTS), and another outpouring of not unreasonable complaints from tobacco harm reduction advocates that the Centers for Disease Control and Prevention (CDC) makes the data deliberately difficult to unpick – in effect, forcing readers to follow the CDC's narrative rather than allowing us to draw our own conclusions.

There is some truth in this, whether it's deliberate or not, and the headline conclusions of the CDC are not surprising: tobacco products remain a menace to America's kids, e-cigarettes particularly, flavoured ones most of all.
To Tobacco-Specific Nitrosamines and Minor Tobacco Alkaloids in Users of Various Tobacco/Nicotine Products
Gerhard Scherer, Max Scherer, Janina Mütze, Tobias Hauke, and Nikola Pluym
Tobacco-specific nitrosamines (TSNAs), in particular, the human carcinogens 4-(methylnitrosamino)-1-(3-pyridyl)-1-butanone (NNK) and N′-nitrosonornicotine (NNN), are important toxicants in tobacco and also (as contaminants) in nicotine products. In a clinical study comprising a period of 74 h under confinement, we investigated the exposure to NNK, NNN, N′-nitrosoanabasine (NAB), and N′-nitrosoanatabine (NAT) as well as to the minor tobacco alkaloids anabasine (AB) and anatabine (AT) by measuring suitable biomarkers in habitual users of combustible cigarettes (CCs), electronic cigarettes (ECs), heated tobacco products (HTPs), oral tobacco (OT), and nicotine replacement therapy products (NRTs).
---
A look back at how things have moved on or otherwise….
INNCO
In 2020, The International Union Against Tuberculosis and Lung Disease (The Union), a Bloomberg partner for 'The Initiative to reduce tobacco use', published its fourth position statement on e-cigarettes. In it, The Union called for a blanket ban on all electronic nicotine delivery systems (ENDS) and heated tobacco products (HTPs) in low- and middle-income countries (LMICs).
Center of Excellence for the acceleration of Harm Reduction, CoEHER
A new study in Nicotine & Tobacco Research, published by Oxford University Press, finds that the use of high-strength nicotine e-cigarettes can help adults with schizophrenia spectrum disorders quit smoking.

Smoking prevalence among people with mental disorders is about two to four times higher than in the general population. People with schizophrenia spectrum disorders smokes more heavily and is more dependent on tobacco cigarette than those without mental illness.
---
Visit Nicotine Science & Policy for more News from around the World

---