Vapers Digest 17th March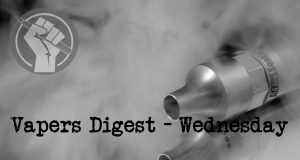 Wednesday's News at a glance:
---
Alex Norcia, Filter Magazine
n May 27, 2020, the International Union Against Tuberculosis and Lung Disease published a statement in anticipation of World No Tobacco Day: Low- and middle-income countries (LMICs) should prohibit vapes and heated tobacco products (HTPs). Borrowing COVID-era vernacular, the press release said that "in an abundance of caution, the sale of these products should be banned in LMICs."
Brad Rodu, Tobacco Truth
In an article published on March 4, Bloomberg reporter Tiffany Kary quotes from a February 25 letter sent to the FDA from Paige Magness, tobacco manufacturer Altria's senior vice president for regulatory affairs.

Per the article, "Altria asked the FDA to tackle misperceptions about nicotine as part of a proposed $100 million advertising campaign to reduce the harm caused by tobacco…three-fourths of U.S. adults incorrectly believe[e] nicotine causes cancer, Altria said in the communication, citing government research."
---

---
No serious submission will be rejected.

Your words about how harm reduction has changed your life funny, sad, academic have value.

Send submissions to harmreduction2021@gmail.com

— #sonoflibertyradio (@nachtnoir) March 15, 2021
---
TWO from Dave Cross, Planet Of The Vapes
Trade body the UK Vaping Industry Association (UKVIA) has set out its vision for the post-Brexit government's position on vaping. Launched today, "Blueprint for Better Regulation" presents a bold vision for the sector's future and a key test of the Government's regulatory independence post-Brexit.
The International Network of Nicotine Consumer Organisations (INNCO) has released a detailed response to The Union's call for a blanket vape ban in all low- and middle-income countries. INNCO represents consumer advocacy organisations across six continents, The Union represents the opinions of one rich billionaire.
---
Jim McDonald, Vaping 360
American vapers are familiar with Michael Bloomberg and his support for bans of flavored vaping products. But Bloomberg and the tobacco control organizations he funds are even more active in other parts of the world, especially in countries willing to sacrifice their own autonomy in exchange for public health funding.
---
, Financial Post
If Health Canada has its way, this year vaping will be dealt three knockout blows that will see, not just the end of the business as we know it, but an increase in smoking-related deaths nation-wide. Ottawa is recalibrating the delicate equilibrium between harm reduction and youth use of nicotine. It plans to introduce a mandatory limit on nicotine concentration in e-cigarettes and to ban most flavours. Maximum permissible content is currently at 66 milligrams per millilitre; the new limit will be 20. Eventually, we will see strike three: excise taxes.
Tobacco Reporter
The Preventing Online Sales of E-Cigarettes to Children (PACT) Act has forced many companies to discontinue U.S. online sales and even cease operations altogether. Among the most recent vape shops to announce the end of their business are Elevated Vaping in Houston, Texas, and the Vape Spot in Los Angeles, California.
Dr. Eric Crampton, Newsroom
The Ministry of Health is not evil. But even when the Ministry is trying to do good, it still has a hard time getting things right, argues Dr Eric Crampton from business-funded thinktank NZ Initiative

In the classic Simpsons' episode "The Old Man and the Lisa", young environmentalist Lisa Simpson finally convinced the rather evil Mr Burns of the merits of recycling.

Of course, it did not go well.

And it reminds me, just a little, of the Ministry of Health's conversion to supporting vaping as a way of reducing smoking. Like Burns, the government took on the message but utterly missed the point.
The Independent BD
A total of 153 members of parliament in Bangladesh in an unprecedented letter to the prime minister last week asked for a ban on vape, also known as e-cigarette, products.

A trader working in vape business says this is a surprising move and appears not well informed.

"My immediate reaction was that of surprise. Why write such a letter for banning vape when biri, cigarette and other tobacco products are legal? Those are more harmful than vaping," said Schumann Zaman, president of Vape Importers and Traders Association of Bangladesh (VITAB).
Rich Duprey, The Motley Fool
Four years ago, Philip Morris International (NYSE:PM) declared it would pursue a "smoke-free future" in which one day it will be a cigarette-less company. Although critics dismissed the claim as a smokescreen, the global tobacco giant continues proving its sincerity in the attempt.

Last month, Philip Morris told analysts at its investor day conference that by 2025, more than half of its total revenue will come from smoke-free products, well ahead of its previous guidance. That puts the tobacco company on a path to no longer being a cigarette manufacturer sooner than many believed possible, so investors need to consider the implications for its achieving that goal.
---

---
An In-Depth Look at the Facts and the Arguments
Lee Johnson – Blacknote
Youth smoking is something that basically everybody – vaping advocates and detractors alike – wants to stop, and so gateway claims are used to justify placing restrictions on e-cigarettes. Even if vaping isn't that bad, the argument goes, if it leads to smoking then we need to stop youth from vaping however we can.
Paul Barnes, Facts Do Matter
Regular readers will of course remember fondly that the EU held another "public consultation" recently, with the closing date of last month. This so-called public consultation was all about the taxation of manufactured tobacco products. Of course, being the EU and with the shiny new Tobacco Products Directive it just had to include the humble e-cigarette, despite (of course) neither the devices themselves, nor the liquid refills containing any actual manufactured tobacco at all – natch.

The final results are in, and as usual there's a few talking points.
---
Visit Nicotine Science & Policy for more News from around the World

---