Vapers Digest 19th March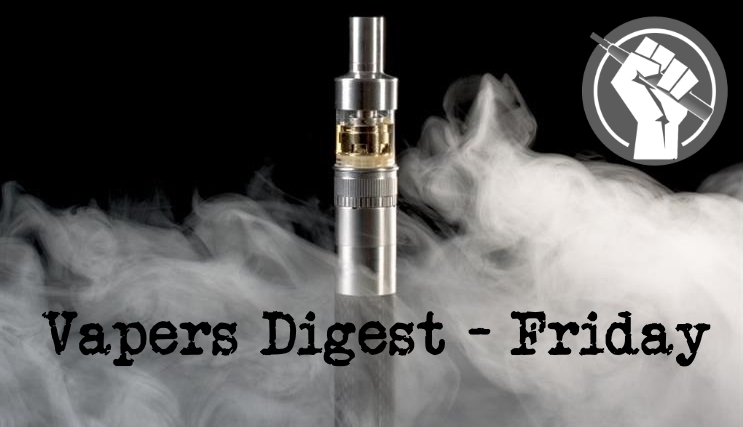 Friday's News at a glance:
Keep on vaping – E-Cigarettes vs. Tobacco And What Anti-Vapers Are Getting Wrong – Vaping's image problem in the EU – Teen Smoking Decreases as Vaping Increases – Senate Confirms Xavier Becerra – WVA Writes To EU Ministers of Heath – Ex-Ministers Back The Blueprint – PuffBar Circumvents Ban – Healthier Vision – Two Studies Affirm the Importance of Flavours – Questions in Parliament – Canada's Proposed Nicotine Cap – Uplift Public Health Perspectives And Harm Reduction – Bloomberg's misguided push to outlaw vaping – Who Speaks For Smokers? – Regional Petition Implores WHO to Respect Consumer Rights – Vaping Businesses Targeted By Criminals – Vitamin E Acetate is not Soluble in Nicotine E-liquids – Thai Government Should Reexamine E-Cigarette Ban – FDA admits getting over $150,000 from anti-tobacco NGO – Nicotine Science and Policy Daily Digest
Christopher Snowdon, Velvet Glove Iron Fist
A new study from the UK provides yet more evidence that vaping helps people quit smoking. It found that smokers who used a disposable e-cigarette were three times more likely to quit and people who used a refillable e-cigarette were five times more likely to quit.

Two of the authors have commented to the press to underline the significance of their findings.

The evidence keeps piling up – and that makes anti-vaping dinosaur Stanton Glantz angry. In a classic piece of cherry-picking, he has focused on the ineffectiveness of occasional vaping to shore up his flanks.
What Anti-Vapers Are Getting Wrong – Steve Forbes
With the Covid-19 scourge receding, you can expect that various pressure groups and public health officials will renew their wrongful war against e-cigarettes.

For example, e-cigarettes are not the equivalent of tobacco cigarettes. They contain no tobacco! And they are 95% safer than regular smokes.

As British health officials have recognized, vaping is a highly effective way for people to give up cigarette smoking, thereby saving numerous lives.

Contrary to what anti-vapers posit, e-cigarettes are not a gateway for teenagers to move on to tobacco. Teenage smoking has plummeted over the years.
---

---
Christopher Snowdon
A recently published Eurobarometer survey reveals widespread ignorance about e-cigarettes. Most people do not smoke or vape and therefore have little reason to educate themselves about these products, but it is nevertheless troubling that public understanding has gone backwards in recent years.

The survey shows that among those who have little or no experience with vaping, only 20 per cent think e-cigarettes and heated tobacco products help smokers quit. Seventy per cent think they do not.
As Vaping Increases – Diane Caruana
Led by Rafael Meza, an associate professor of epidemiology and global health at the University of Michigan in Ann Arbor, the research team analyzed nationwide data on tobacco product use among 8th, 10th and 12th-graders from 1991 to 2019.

The compiled data indicated that daily smoking rates among 12th-grade boys rose by 4.9% a year between 1991 and 1998, but fell by 8% a year between 1998 and 2006, and by 1.6% from 2006 to 2012. Moreover, there was a 17% annual decline between 2012 and 2019, with overall, daily smoking among 12th-graders dropping to about 2% by 2019. This positive pattern was consistent amongst boys and girls in all grades and for both black and white teens.
---
---
As HHS Secretary – Jim McDonald
President Biden's choice to lead the Department of Health and Human Services (HHS) clinched Senate approval today by a single vote, 50-49. Becerra, the current state attorney general of California, received just one Republican vote, and no Democrats voted against him.

As HHS secretary, Becerra will oversee three agencies whose actions impact vaping: the Food and Drug Administration (FDA), Centers for Disease Control and Prevention (CDC), and the National Institutes of Health (NIH). Also under Becerra's purview is the massive Centers for Medicare and Medicaid Services (CMS), which manages most of the country's public healthcare programs. The HHS has a $1 trillion annual budget, the largest of any cabinet department.

Six from Dave Cross, Planet of the Vapes
The World Vapers' Alliance (WVA) has written to the European Union's Ministers of Heath about their "misguided and dangerous policy". The ministers are set to discuss the European Commission's Beating Cancer Plan prior to meeting with the Commission. The Plan signals a dangerous path towards a much harsher legislative environment based on fallacies and ignorance.

The Commission is the EU's unelected executive arm, responsible for drawing up proposals for legislation and implementing decisions made by the Parliament and Council.
Yesterday, the UK Vaping Industry Association (UKVIA) unveiled its landmark package of recommendations to Government, aimed at maximising the public health benefits of vaping and bolstering ambitions for a 'Smokefree 2030'. The document(1), A Blueprint for Better Regulation, urges the Government to use its post-Brexit independence to become a world leader in harm reduction.

The UK's Tobacco and Related Products Regulations (TRPR) are currently being reviewed(2), with a crucial consultation due to close on 19th March. The resulting decisions made by Government are set to shape public health and smoking cessation policy for years to come.
The American Food and Drug Administration (FDA) wrote to Cool Clouds Distribution Inc., seen as the sole importer and vendor of disposable PuffBar vapes, instructing it to remove all its products from sale. Shortly afterwards, visitors to Cool Clouds' website were greeted with a message saying all US sales had ceased. Now it's back, believing it has discovered a loophole to exploit in the regulations.

"Today," wrote the FDA last year, "the U.S. Food and Drug Administration issued warning letters notifying ten companies, including Cool Clouds Distribution Inc. (doing business as Puff Bar), to remove their flavored disposable e-cigarettes and youth-appealing e-liquid products from the market because they do not have the required premarket authorization."
Researchers at the Federal University of Paraiba in Brazil investigated "the isolated effects of nicotine on visual processing, namely contrast processing." Using nicotine gum in non-smokers, the study team found that "nicotine, in small doses, can have a potential therapeutic use for those populations with low vision". The findings add to the developing body of evidence that nicotine is not the demon it is frequently portrayed to be.

Thiago Fernandes, Natalia Almeida, Gabriella Silva and Natanael Santos published their findings(1) in the journal Brain Imaging Behaviour. They write: "The effects of nicotine on visual processing are still underreported. More specifically, only three studies have investigated the relationship between nicotine gum administration and visual processing."
Flavoured eliquids are under attack in America and Europe, and everywhere else that Michael Bloomberg can exert influence. One recent study finds that restricting choice will end badly as flavours are the primary driver of success. Another published paper from independent researchers published recently agrees that vapers prefer flavours other than tobacco.

Erna Krüsemann, National Institute for Public Health and the Environment in the Netherlands, worked with a Dutch team, including Loes van Tiel, Jeroen Pennings, Wim Vaessen, Kees de Graaf, Reinskje Talhout and Sanne Boesveldt, to produce a paper published in the journal Chemical Senses.
Lee Anderson, the Conservative MP for Ashfield, asked about trends in nicotine product use and how evidence will be weighted in the current legislative review. Alex Cunningham, Labour MP for Stockton North, expressed his concern about vape stores being forced to close. Finally, Sir Charles Walker, Conservative MP for Broxbourne, focussed on heated tobacco products.

Lee Anderson asked the Secretary of State for Health and Social Care what comparative assessment has been made of the trends in the consumption of vaping products, heated tobacco products, and tobacco.
---

---
Alex Norcia
Canada looked set to embrace tobacco harm reduction, similar to the United Kingdom. At least until July 2019, when a research paper by a group of high-profile public health scholars in the United States, the UK and Canada appeared in the BMJ, a medical journal published by the trade union of the British Medical Association.

The authors concluded that, in Canada as in the US, there was an increase in youth vaping between 2017 and 2018.

It was the typical tale. However, the researchers also determined that in Canada, unlike in the US, there had also been a significant uptick in youth smoking—lending credence to an often-debunked and challenged theory of a "gateway" from vapes to combustible cigarettes.
And Harm Reduction
Dr Alex Wodak AM spoke at an event in Hobart last night Uplift: Public Health Perspectives on Harm Reduction  at the Longhouse Hobart (6 Evans Street, Hobart) on the future of public health in Tasmania, particularly in relation to innovative ways to reducing Tasmania's consistently high smoking rates.

For more see http://progressivepublichealth.com.au/
To outlaw vaping in developing nations – Yaël Ossowski
Since the fallout from the effects of the COVID-19 pandemic, there has been a renewed focus on improving global health, and that's been a welcome sign.

A study produced by the American Centers for Disease Control and Prevention (CDC) found that nearly three-quarters of hospitalized COVID patients were either obese or overweight. At the same time across the European Union, health ministries have put more resources into keeping their populations healthy, using education and incentive programs to encourage children and youth to exercise, eat healthy foods, and more.
Rights 4 Vapers
Today the Government of Canada released its 2020 Canadian Tobacco and Nicotine Survey. The results show that while the attention of regulators, politicians and the anti-nicotine activists has been on creating a manufactured vaping 'epidemic', older Canadians continue to smoke and look to vaping as a means of quitting.

"What we are seeing is a problem with health equity. All Canadians deserve the same support and access to health services. This is not currently the case for smokers. They are forgotten because in the minds of most regulators, smokers bring on their own problems with their dirty habit," said Maria Papaioannoy, spokesperson for Rights4Vapers. "If there was true health equity in Canada, our governments would be pushing for more access to vapour products, more information about vaping, and more empathy for smokers who use vapour products to quit."

To Respect Consumer Rights – CAPHRA
"We urge WHO to provide guidance based on sound scientific facts, methodologies and principles," the Coalition of Asia Pacific Tobacco Harm Reduction Advocates (CAPHRA) and other consumer advocacy groups said in the Right2Switch petition which would be launched during the 2021 Voices4Vape webinar on March 21 at 1 p.m. to 3 p.m. (HKT). The petition can be viewed at change.org/v4v-petition.

Nancy Loucas, Executive Coordinator of CAPHRA, said the petition would be launched ahead of the next biennial meeting of the WHO Framework Convention of Tobacco Control (WHO FCTC) in November 2021 to propose new guidelines on combating smoking.
As New Regulations Take Effect
The Matamata Vape Crew store was robbed this week as thieves stole thousands of dollars of vaping products, and caused a considerable amount of damage.

Vape Crew is one of New Zealand's leading vape shops with eight stores nationally, selling top quality devices and premier kiwi made e-liquids.

This robbery took place just after midnight and was filmed by CCTV. The criminals were apprehended shortly after the burglary took place.
Tobacco Regulatory Science Group
Objectives: The emergence of electronic cigarette and vaping associated lung injury (EVALI) has ignited a nationwide discussion on the safety of electronic cigarettes (e-cigs). Although an official cause has not yet been announced, studies of products and biological samples from EVALI patients suggest vitamin E acetate may play a causal role in EVALI. This project sought to confirm whether or not vitamin E acetate can mix with nicotine e-liquids.

Methods: Nicotine e-liquid formulations were created: 0.3 and 3.0% free-base nicotine or nicotine benzoate salt in either 100% PG, 100% VG, or equal parts PG/VG along with nicotine-free solvents. Each formulation was assayed for vitamin E acetate solubility at 10% and 1% wt/wt.
John Oyston
Corinne Day
Over the last two decades, the landscape of tobacco products has changed with the introduction of electronic cigarettes (e-cigarettes) and other non-combustible tobacco products. In part, the impetus for the development of these products was to offer alternatives to combustible cigarettes that mitigate the health consequences of smoking.

According to news reports, the Thai government continues to pursue its goal of reducing the country's smoking rate to less than 14 percent by 2027. But it is also grappling with scrutiny around the effectiveness of its anti-smoking campaigns and the rise of consumer movements pushing for changes to e-cigarette regulations globally.
From anti-tobacco NGO to regulate vapes
Top officials of the Food and Drug Administration, which is in charge of drafting the regulations on e-cigarettes and heated tobacco products, confirmed in a congressional investigation on Tuesday that they solicited and received money from a foreign anti-tobacco organization funded by Bloomberg Philanthropies, the charity of American billionaire Michael Bloomberg.

FDA director-general Rolando Enrique Domingo told the House Committee on Good Government and Public Accountability chaired by Rep. Michael Edgar Aglipay that the regulatory agency applied for and received a grant of $150,430 from the International Union Against Tuberculosis and Lung Disease (The Union) in 2016 mainly to hire "job order" employees who would draft the tobacco control policies of the agency.
---
A look back at how things have moved on or otherwise….
Carrie Wade, RStreet
In their 2018 report on the health effects of e-cigarettes, the National Academies of Science, Engineering and Medicine (NASEM) conclude that: "completely substituting e-cigarettes for combustible tobacco cigarettes reduces users' exposure to numerous toxicants and carcinogens present in combustible tobacco cigarettes," and that "there is substantial evidence that completely switching from regular use of combustible tobacco cigarettes to e-cigarettes results in reduced short-term adverse health outcomes in several organ systems." Indeed, both the NASEM and Public Health England—two of the world's leading public health bodies—agree that e-cigarettes can be beneficial to smokers who completely switch.
Lion Shahab, E
mma Beard,
Jamie Brown, BMJ
Abstract

Introduction This study assessed whether initiating e-cigarette use increases the uptake of cigarette smoking in US adolescents compared with behavioural and synthetic controls.
EurekAlert
The observed 'gateway' effect of e-cigarette use among teens is "likely to be small," with only a tiny proportion of experimental vapers going on to smoke regular cigarettes, suggests research published online in the journal Tobacco Control.

If anything, young vapers are less likely to go on to smoke regular cigarettes than their peers who try out other tobacco products first, the findings indicate.
---
Visit Nicotine Science & Policy for more News from around the World

---