Vaping Digest March 18th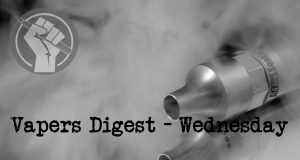 Wednesday's News at a glance:
Examining the trajectory from dual use to harm reduction ~ Association of initial e-cigarette and other tobacco product use with subsequent cigarette smoking in adolescents ~ Observed 'gateway' effect of e-cigarettes among teens 'likely to be small' ~ Does e-cigarette experimentation increase the transition to daily smoking among young ever-smokers in France? ~ A Scientist Persuaded Italy to Exempt Vape Shops From COVID-19 Lockdown ~ Cash For Insta Lies ~ Parliament ~ IBVTA Issues COVID-19 Advice ~ IBVTA writes to Business and Public Health Ministers ~ Conference Report – Vaping and E-Cigarette Regulation in Canada ~ There Are Anti-Vaping P.S.A.s on YouTube. There's a Lot More Vaping ~ The raging debate on e-cigarettes; is Africa missing out? ~ New Monitoring the Future data released ~ Group calls for reasonable 'e-cig' rules ~ Florida's On the Verge of Banning E-Cigarette Flavors at the Worst Possible Time 
Carrie Wade, RStreet
In their 2018 report on the health effects of e-cigarettes, the National Academies of Science, Engineering and Medicine (NASEM) conclude that: "completely substituting e-cigarettes for combustible tobacco cigarettes reduces users' exposure to numerous toxicants and carcinogens present in combustible tobacco cigarettes," and that "there is substantial evidence that completely switching from regular use of combustible tobacco cigarettes to e-cigarettes results in reduced short-term adverse health outcomes in several organ systems." Indeed, both the NASEM and Public Health England—two of the world's leading public health bodies—agree that e-cigarettes can be beneficial to smokers who completely switch.
Lion Shahab, E
mma Beard,
Jamie Brown, BMJ
Abstract

Introduction This study assessed whether initiating e-cigarette use increases the uptake of cigarette smoking in US adolescents compared with behavioural and synthetic controls.
EurekAlert
The observed 'gateway' effect of e-cigarette use among teens is "likely to be small," with only a tiny proportion of experimental vapers going on to smoke regular cigarettes, suggests research published online in the journal Tobacco Control.

If anything, young vapers are less likely to go on to smoke regular cigarettes than their peers who try out other tobacco products first, the findings indicate.
ScienceDirect
---
Helen Redmond, Filter Magazine
Italy has seen the worst outbreak of COVID-19 outside of China, after cases first appeared in the Lombardy region but quickly spread to other regions. At publication time, the country had almost 28,000 confirmed cases and over 2,100 deaths. The Italian national healthcare infrastructure is under enormous strain because of the number of people who need intensive care.
---

---
THREE from Dave Cross, Planet Of The Vapes
We Are Women Online is an American marketing agency specialising in putting out "the best content possible". They are seeking social media 'influencers' to spread lies about vaping and tobacco harm reduction. Three anti-vape messages in a six week period will earn the influencers $250.
Viscount Ridley is concerned about the World Health Organization's position on India banning vaping, Alex Sobel asked about the Taskforce for Lung Health's five year plan, and an Early Day Motion was tabled on the subject of No Smoking Day.
The Independent Vape Trade Association (IBVTA) has issued advice to the vape industry following the latest government guidance. It includes recommendations for personal hygiene and how to treat customers, demonstrations, and what to do if the stores are partnering a local Stop Smoking service.
---
Independent British Vape Trade Association
The IBVTA recognises that these are uncertain times for many businesses. We have listened to the concerns of our members about the effects of the coronavirus outbreak on our sector, and we have taken action.

Today, we have written to the Public Health Minister, Jo Churchill MP. Copies of the letter have been sent to relevant government office holders, as well as politicians and public health and vaping stakeholders in England, Wales, Scotland and Northern Ireland.
---
C. D. Howe Institute
Experts in both the public and private sectors met at a C.D. Howe Institute conference in Ottawa to discuss the recent outbreak of vaping-related illnesses and approaches to the regulation of e-cigarette and vaping products in Canada.
Presenters and participants explored how to balance the possible health risks posed by vaping and e-cigarette products and the benefits of smoking cessation through practical approaches to regulation.
Regulations and possible taxation of vaping products should be designed to balance the objectives of encouraging adult smokers to switch to vaping products as a healthier form of nicotine delivery, and making vaping products inaccessible and unattractive to young people.
---
, New York Times Magazine
The YouTube video shows two young men sitting in front of a computer screen, enthralled by what they're watching and pausing, periodically, to marvel at it. They stare as a demonlike character — it resembles something from the costumed metal band Gwar — screams and tries to shred on its guitar. The backdrop behind it shuffles through a series of apocalyptic images: a swirling orange inferno, a black-and-white mushroom cloud, a bunch of explosions. An oil refinery belches smoke as the monster holds a microphone close to his face: "Tons of corrupt filth we keep tossin'," it belts out, "sending Earth to hell in a pod-shaped coffin."
---
On one hand, cigarette manufacturers offer these alternatives as less risky, scientifically cleared substitutes with potential to cut well-documented health effects of consuming tobacco and nicotine. On the other hand, anti-tobacco activists favour a campaign that advocates for total cessation. According to the World Health Organization (WHO), the safest approach is to use neither conventional nor e-cigarettes.
---
---
, KPC News
Each year, the National Institute of Health's Monitoring the Future survey measures drug and alcohol use and related attitudes among students in grades 8, 10 and 12 nationwide. Some of the 2019 results are as follows.
---

---
Manila Standard Business
A local vaping group called on the government to adopt a reasonable, risk-proportionate and realistic regulatory framework for e-cigarettes to help reduce serious sickness and premature death among millions of cigarette smokers in the Philippines.
Guy Bentley, Reason Foundation
All aspects of life are being affected by the COVID-19 pandemic. At this time of crisis, it's critical that governors and state legislatures avoid taking actions that could conceivably make the situation worse.

Unfortunately, Florida is on the brink of doing precisely that.
---
A look back at how things have moved on or otherwise…
To boost memory in older adults
It turns out nicotine patches can do more than just control your nicotine cravings. According to a recent study, nicotine can help improve memory loss in older adults with mild cognitive impairment.

The study looked at individuals with mild cognitive impairment (MCI), the stage between normal aging and dementia when others notice that an individual is developing mild memory or thinking problems. Many older adults with MCI go on to develop Alzheimer's disease.
The Tobacco Control Movement is Committing Public Health Malpractice
The Rest of the Story, Michael Siegel
My colleagues and I in the tobacco control movement have based our entire careers on the principle that it is wrong to lie to the public. The bulk of our campaign against Big Tobacco was based on the contention that the cigarette companies lied to the public about the health risks of smoking. Numerous lawsuits were filed against Big Tobacco, seeking damages based on the claim that the companies are responsible because they misrepresented the health effects of their products, thus preventing smokers from making an informed choice.
---
Visit Nicotine Science & Policy for more News from around the World

---