Vaping Digest 20th March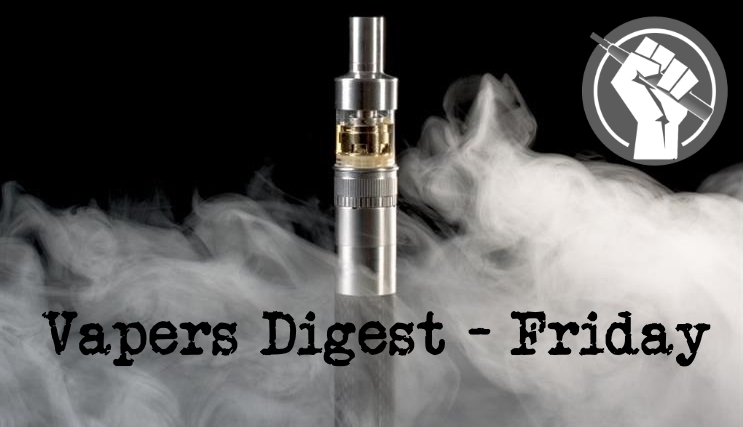 Friday's News at a glance:
Coronavirus & Vaping: An Update – Vaping industry urges government to keep vape shops open – expert reaction to study on gateway effect of e-cigarettes – Young vapers less likely to smoke – Vaping has a protective effect – Foundation's COVID-19 Advice – Town Hall Ignorance – Foundation Presents The Global State of Smoking – Estonia And Alternative Products – Kiwi Regulation Rush Is Unfair – 'Vaping is not smoking' – JUUL Tricks Its Customers – Vaping and E-Cig Regulation in Canada – Domestic Inspections – Nicotine Science and Policy Daily Digest
James Dunworth, Ashtray Blog
As Coronavirus continues to impact life across the UK (and, indeed, the world), we thought you might appreciate an update from a vaping perspective.

There's rumours to quash, vape hygiene to consider and the need to think about the continued supply of vape products. Let's get started.

Will vape shops be shut in a lockdown? Maybe not… What's going to happen to vape shops?

We can look to the continent for some clues. In Spain most shops are closed, but tobacconists are open, and these do sell some vaping equipment. Meanwhile Italy initially closed vape shops, which lead to protests from Professor Polosa:
To keep vape shops open during coronavirus crisis
The UK Vaping Industry Association (UKVIA) is today calling on the government to keep vape stores open across the country, rather than forcing them to close as part of any intensification of its coronavirus containment strategy. Closing vapes stores, the industry argues, would be a potentially counterproductive move that could place a further strain on the already overstretched National Health Service.

In an open letter to Nadhim Zahawi, parliamentary under-secretary of state at the Department for Business, Energy and Industrial Strategy, UKVIA cites the experience of Italy, the country in Europe hit hardest by Coronavirus so far and where the government reversed its decision to close vape stores as part of its containment programme.
---

---
To study on gateway effect of e-cigarettes
A study, published in the journal Tobacco Control, reports on the gateway effects of e-cigarette use.

Prof John Britton, Director of the UK Centre for Tobacco & Alcohol Studies and Consultant in Respiratory Medicine, University of Nottingham, said:

"These findings confirm an earlier analysis1 of the US National Youth Tobacco Survey indicating that most American young people who use e-cigarettes tried cigarettes before vaping, suggesting that vaping is for them a rational health choice rather than a dangerous gateway into smoking.
Regular cigarettes than their peers – Dr. Ananya Mandal
A new study has found that youngsters who use e-cigarettes are less likely to use cigarettes in the future compared to those who use other tobacco products. The researchers called this the "gateway effect" – moving on the full-fledged smoking and say it is small among those who use e-cigarettes to start with.

The study titled, "Association of initial e-cigarette and other tobacco product use with subsequent cigarette smoking in adolescents: a cross-sectional, matched control study," was published in the latest issue of the journal Tobacco Control.
---
---
In REDUCING teen smoking, new study – ATHRA
New research has found that the overall effect of youth vaping is to lead more adolescents AWAY FROM regular smoking than towards smoking ie that vaping has a net effect as a gateway OUT OF smoking. The study by leading  UK researchers analysed data from the 2014-2017 US National Youth Tobacco Survey and was published today in the journal Tobacco Control.

The study found that only 1% of teens who used an e-cigarette first became *established smokers. They were 85% less likely to go on to be established smokers than those who smoked first (OR 0.15 CI 0.12-0.18). They were also less much likely to become established smokers than similar, matched teens who had not tried vaping (OR 0.76 CI 0.62-0.93).
"People like me who advocate vaping do not recommend vaping to non-smokers. It is specifically a device to be used as an aid to quit smoking," said Dr Mithun Alamgir, a harm reduction advocate, who is a professor and the Head at the Department of Community Medicine at Enam Medical College.

But at the same time, said Dr Alamgir, it is important to understand the differences. "Vaping is not smoking. It does not have all the carcinogens that cigarettes have. It does not have thousands of different chemicals that enter your body when you inhale smoke by burning tobacco," he said.

Five from Dave Cross, Planet of the Vapes:
"The Coronavirus (COVID-19) has impacted all of us around the world", writes The Foundation for a Smoke-free World (FSFW). It is the latest vape-related organisation to step up with advice regarding the current pandemic, following yesterday's announcement by the Independent British Vape Trade Association, only this is aimed at the general public.

"In this challenging time, it is important to remember that we are in this together and must all do our part to stop the spread of this virus. To that end, our staff will work remotely and will eliminate all business travel until this immediate crisis is over," FSFW says.
A new report from The Freedom Association's 'Freedom to Vape' campaign highlights the shocking ignorance in town halls across the UK. Almost two thirds of councils are ignoring government advice and have refused to review their e-cigarette policies.

The Freedom Association says: "A clear majority of councils refuse to listen to advice issued from Public Health England, repeated in the Department of Health's Tobacco Control Plan, which recommends that e-cigarette use is not covered by smokefree legislation and should not routinely be included in the requirements of an organisation's smokefree policy."
The Foundation for a Smoke-Free World (FSFW) has released its Global State of Smoking Poll for 2019. Last year, the FSFW conducted a comprehensive survey that explored the habits and perceptions of tobacco users. It hopes the poll's findings will help health care professionals and researchers incorporate user perceptions into the development of future smoking cessation programs.

The poll looked at the current smoking behaviours and use of alternative nicotine products of 54,341 adults. It also assessed their beliefs and perceptions regarding the harmfulness and addictiveness of various nicotine products. The survey was conducted across seven countries.
The Estonian government is to make a decision on alternative nicotine products this week. Despite allowing menthol eliquids to be sold again, debate is set to rage over all other smokeless, reduced harm nicotine products. The Social Affairs committee is recommending that new tobacco products are allowed onto the market.

It is reported that the number of people using heated tobacco products has "swelled" in Estonia, despite there not being "a proper name" to describe them. It is all the more surprising as sales in Estonian shops is banned. Philip Morris International has been directing potential users to stores in nearby Latvia.
Coronavirus-impacted businesses face consultation squeeze, according to the Vaping Trade Association of New Zealand (VTANZ). It says the Kiwi Government's decision to rush the bill to regulate vaping is unfair on local businesses now dealing with the impacts of the global coronavirus pandemic. Advocacy group Aotearoa Vapers Community Advocacy (AVCA) says vapers deserve to be heard.

The Smokefree Environments and Regulated Products (Vaping) Amendment Bill had its first reading in Parliament this week, with Associate Health Minister Jenny Salesa pushing for and getting a fast-tracked process.
---

---
Into Advocating for the Florida Flavor Ban – Jim McDonald
While Florida vaping advocates are fighting to save flavored products and the vape shops that sell them, JUUL Labs is quietly encouraging its customers to ask the governor to sign a bill that will ban flavors—without explaining to them exactly what the law would do. Hundreds of independent vaping businesses in Florida will be destroyed if the bill is signed, and that's what JUUL is hoping for.

The state legislature passed SB 810 last week. The bill brings the state into compliance with the new federal restriction on tobacco and vapor product sales to people under 21, and also bans sales of vaping products in flavors other than tobacco and menthol. The bill is now on the governor's desk, waiting for him to either sign it into law or veto it.
Mitch Zeller, CTP
Like all of government, private companies and organizations, protecting the health and safety of our staff and their families is of paramount concern.

In keeping with the White House Coronavirus Task Force and cross-government guidance, this week FDA directed all eligible employees to begin teleworking. While this does not apply to those carrying out non-portable activities, such as certain lab activities or the monitoring of imported products, FDA will continue to adjust its approach to a number of activities, including facility inspections for all FDA-regulated products such as food, animal feed, drugs, biological products, devices and tobacco.

To WHO revealed
The position the Government will take on smoke-free nicotine products, such as vaping, at a key World Health Organisation meeting later this year, needs to be publicly known now, says the Aotearoa Vapers Community Advocacy (AVCA).

In a letter to Associate Minister of Health Jenny Salesa, AVCA has sought the Ministry of Health's official position on electronic nicotine delivery systems (ENDS) that they will present on behalf of New Zealand. The meeting of the Ninth Session of Parties (COP9) of WHO's Framework Convention on Tobacco Control (FCTC) will take place at The Hague in November.
C.D. Howe Institute
Experts in both the public and private sectors met at a C.D. Howe Institute conference in Ottawa to discuss the recent outbreak of vaping-related illnesses and approaches to the regulation of e-cigarette and vaping products in Canada.

Presenters and participants explored how to balance the possible health risks posed by vaping and e-cigarette products and the benefits of smoking cessation through practical approaches to regulation.
---
A look back at how things have moved on or otherwise….
Carrie Wade, Chelsea Boyd, RStreet
Chronic Obstructive Pulmonary Disease (COPD) is a group of inflammatory lung diseases that causes diminished lung function and results in difficulty breathing. There is no cure; the progression of the disease can only be slowed and the symptoms improved. In developed countries, the primary cause of COPD is smoking and patients are therefore advised to quit in order to slow the disease process. COPD significantly decreases life span and quality of life, which taken together, account for 30.2 million years lost due to early death or disability worldwide.
Fergus Mason, Vaping Post
A US politician's attempts to scaremonger about vaping went spectacularly wrong last week, when a state senator made a series of transparently silly claims about "popcorn lung" and was immediately blasted by harm reduction advocates. Meanwhile the FDA looks set to drive most e-liquid flavours off the market with a series of new restrictions. Any e-liquid that doesn't taste like a cigarette will be facing tough new point of sale laws as well as a shortened deadline to submit expensive approval paperwork. Two new studies are also provoking opposition; one says vapers are more likely to suffer heart attacks, while a leading doctor claims e-cigs cause breast cancer.
Dave Cross, Planet Of The Vapes
Five hundred and eighty three people are diagnosed with cancer in Yorkshire every week, a toll exacted across the United Kingdom, and yet half of all the country's smokers would not try swapping from tobacco to vaping. A paper in the International Journal of Environmental Research (IJER) says "public health institutions must develop truth telling relationships with the communities they serve".
---
Visit Nicotine Science & Policy for more News from around the World

---