Vaping Digest 16th March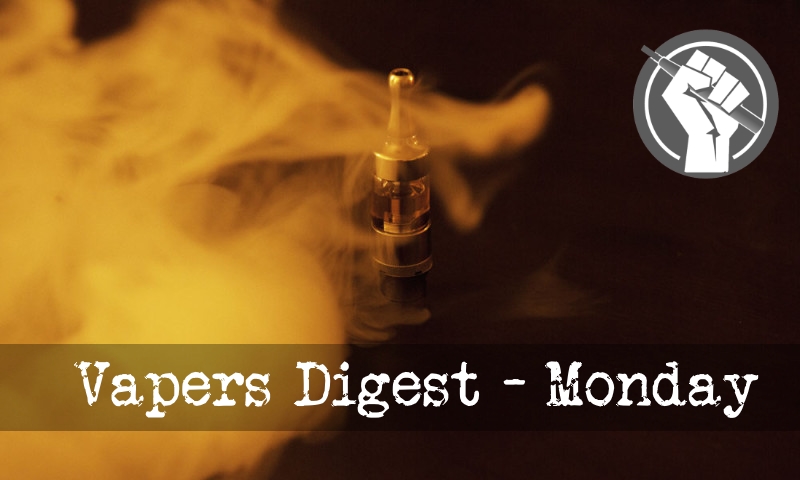 Monday's News at a glance:
Coronavirus and vaping: Can e-cigarette clouds pass on Covid-19? – Vaping In The News – March 14th – Scotland pushes Restrictions and Fines – Electronic Cigarette Research Briefing – Free Kit Scheme Evaluated – Last Chance in Florida: – CDC's Shift From Vaping to COVID-19 – Study: French Teen Vapers Were Less Likely to Smoke Than Non-Vapers – Who is misinforming Melbourne City Council on vaping? – Nicotine events still on the calendar – Nicotine Science and Policy Daily Digest
Can e-cigarette clouds pass on Covid-19?
There is "currently no evidence" that the coronavirus can be transmitted by inhaling someone else's vape cloud, according to experts at Public Health England.

Among the global pandemic of Covid-19, there is a race to understand how infections can happen.

Amid the outbreak it is understandable that people are trying to keep their lungs clean and puffs of vapour exhaled by users of e-cigarettes may raise questions of if they could carry the microscopic pathogens through the air.

The Standard put this question to Public Health England about the dangers of vaping with regards to the coronavirus outbreak.
Kevin Crowley, Vaping Links
Michael McGrady: Lessons on COVID-19 Hysteria and Public Health Panics ~ Vaping and Coronavirus: What We Know and What We Don't ~ Astroturfing is hard ~ Keep Smoking We Need The Money ~ Speaking of black markets ~ High School Seniors Keep Drinking, Toking and Vaping, Especially Marijuana ~ The American Consumer Institute Releases a Study on the Health Impact of E-Cigarettes and Their Regulations ~ Adults, Not Just Teens, Like Dessert-Flavored E-Cigs: Study
---

---
Dave Cross, Planet of the Vapes
The Royal College of Physicians of Edinburgh has vocally supported the Scottish government's plans to fine members of the public and NHS staff. The College wants vaping banned as part of the no-smoking measures. Not content with that, a Conservative MSP also wants to see vaping banned from public spaces.

The proposal laid down includes provisions to fine members of the public up to £1,000 if they smoke within 15m of an NHS entrance. In addition, any NHS staff who fail to enforce the no-smoking policy could be fined twice up to £2,000.

Derek Bell, president of The Royal College of Physicians of Edinburgh, said he is: "In strong support of a ban on smoking around hospital buildings.
Dave Cross, Planet of the Vapes
The UK E-Cigarette Research Forum (UKECRF) is an initiative developed by Cancer Research UK in partnership with Public Health England (PHE) and the UK Centre for Tobacco and Alcohol Studies (UKCTAS). Among other things, it brings together genuine experts to look at research related to vaping. UKECRF has released its latest vape research briefing, thanks to funding by Cancer Research UK (CRUK).

The research briefing is part of a series of monthly updates aiming to provide an overview of new studies on electronic cigarettes. The briefings are intended for researchers, policy makers, health professionals and others who may not have time to keep up to date with new findings and would like to access a summary that goes beyond the study abstract.
---
---
Dave Cross, Planet of the Vapes
Researchers at the University of East Anglia (UEA) are evaluating a new free vape kit scheme in Great Yarmouth, to help find out whether the initiative helps people to quit smoking tobacco for good.

The innovative scheme which is provided by Smokefree Norfolk, offers a vape voucher to people in the Great Yarmouth area who are struggling to quit smoking. Around 21% of people who live in Great Yarmouth smoke tobacco, compared to 14% of people in the rest of Norfolk, and 15% as a national average.

The evaluation was announced during National No Smoking Day (Wednesday 11 March) which is intended to help those who want to quit smoking. The vape shop voucher scheme, which has been running since December 2019, is a pilot project to help those who would like to try to quit smoking using an e-cigarette, and there are a number of similar projects across the UK.
Tell Gov. DeSantis to Veto the Flavor Ban! – Jim McDonald
The Florida legislature passed a flavor ban late last week, and now vapers and vape businesses are pulling out all the stops to convince Gov. Ron DeSantis to veto the bill. There are calls to action from CASAA (below) and the Florida Smoke Free Association, urging vapers and their families and friends to email and call DeSantis, and engage him on social media.

If DeSantis signs SB 810 into law, it will ban sales of all vaping products, including bottled e-liquid, in flavors other than tobacco and menthol. There is a clause that allows sales of products that receive PMTA approval from the FDA—but there are currently no FDA-approved vaping products. The bill also imposes restrictions on online sales, bans vaping within 1,000 feet of a school, and changes the legal age to buy tobacco and vaping products in Florida to 21.

Jacob Sullum, Reason
The U.S. Centers for Disease Control and Prevention (CDC), an agency that is currently focusing on the core mission reflected in its name, until recently was darkly warning us about a very different kind of "epidemic": an increase in e-cigarette use by teenagers, coupled with an outbreak of vaping-related lung injuries. The first concern did not involve any sort of disease; the latter did, but unlike COVID-19, the condition that the CDC dubbed "e-cigarette, or vaping, product use-associated lung injury" (EVALI) was not a contagious illness caused by a micoorganism. And contrary to the CDC's misleading nomenclature and dangerously misguided initial advice, the two developments appear to be completely unrelated.
---
---
Were Less Likely to Smoke Than Non-Vapers – Diane Caruana
Daily smoking has always been very popular amongst French teens. The study titled, "Does e-cigarette experimentation increase the transition to daily smoking among young ever-smokers in France?" looks at whether e-cig experimentation, which is also very common, increases the likelihood of smoking.

Using retrospective data from a 2017 French national representative survey of almost 40,000 participants, the researchers analyzed the link between vaping and smoking. The number of participants who had ever smoked was 21,401, and within this group, adolescents who reported having ever used e-cigarettes, were less likely than those who did not to transition to daily smoking at 17: RR = 0.62 95 %CI [0.60 – 0.64].
---

---
City Council on vaping? – ATHRA
THE PLAN by Melbourne City Council to extend its ban on vaping in the central business district is based on fear and misinformation, not on scientific evidence, and will do more harm than good.

The Councillors appear to have been been misled by organisations with an anti-vaping agenda and will be voting for this motion on Tuesday 17 March 2020. Although vaping is currently banned in smoke-free areas, "vaping bans don't apply due to a legal technicality".

Tobacco Intelligence
Organisers of Next Generation Nicotine Delivery USA 2020 are still expecting the event to take place as scheduled on 29th-30th April at the JW Marriott Los Angeles, despite rising fears over the COVID-19 coronavirus outbreak and official restrictions imposed in response.

The Global Forum on Nicotine is still scheduled to go ahead on 11th-13th June in Warsaw, Poland too – though it may become a virtual event.

"At present, we are planning that the GFN conference will take place in Warsaw, or as an online event with video streaming and live Q&A audience participation," a spokesperson for the conference told TobaccoIntelligence.
Found to interfere with implantable cardioverter-defibrillator function
Philadelphia, March 16, 2020 – An e-cigarette carried in the left breast shirt pocket of a patient with an implantable cardioverter-defibrillator (ICD) caused magnetic reversion, interrupting the ICD's ability to detect and treat dangerous heart rhythm problems, clinicians report in HeartRhythm Case Reports, published by Elsevier. The patient was not aware that the e-cigarette has an integrated magnetic component, and it had suspended detection of heart rhythm problems by the ICD four times before he reported it to his healthcare team.
---
A look back at how things have moved on or otherwise…
Dave Cross, Planet of the Vapes
A report was released by the government last August and declared to be "a beacon of enlightenment". Part of this document highlighted the woeful manner in which NHS patients were being treated, particularly in mental health settings. The New Nicotine Alliance (NNA) believes that, six months later, NHS Trusts are still to act on the recommendations.

The report stated: "NHS England should set a clear central NHS policy on e-cigarettes in mental health facilities which establishes a default of allowing e-cigarette use by patients unless an NHS trust can show reasons for not doing so which are demonstrably evidence-based."
Lee Johnson, Ashtray Blog
"There is an epidemic of youth vaping!" They say, showing a picture of a JUUL or pod-style device in the hands of someone too young to legally buy it.

They release ominous videos telling us that vaping "reprograms your brain" and warn of the spectre of a gateway to smoking at every opportunity.

They want parents to be scared, and they apparently don't want teens vaping under any circumstances.
---
Visit Nicotine Science & Policy for more News from around the World

---