Vaping Digest 13th March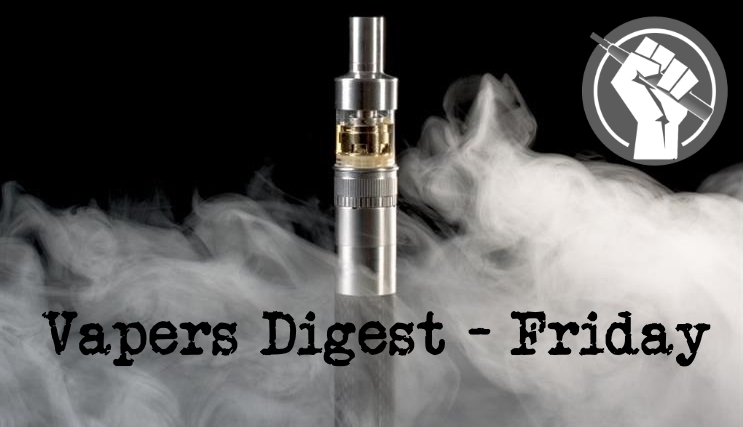 Friday's News at a glance:
Vaping and Coronavirus: What We Know and What We Don't – Does Vaping Increase Your Risk of Getting Coronavirus? – Riccardo Polosa talks about smoking, vaping and COVID-19 – High School Seniors Keep Drinking – How anti-vaping ads market vaping to teens – Another Panic-Fueling Vaping Study – Samsung Sing A Song Sung Blue – Celebration and Sadness in New Zealand – Vape Bans Don't Work – Advice Update to Mental Health Organisations – Scotland pushes Restrictions and Fines – Florida Flavor Ban Would Not Curb Youth Vaping Use – Juul Cofounder James Monsees Is Stepping Down – Confusion about Quitting Options – Cigarette smoke and electronic cigarettes – Vaping policy collateral damage – Legislation The Worst Of Both Worlds – Tackle Pinoy vapers' rights in global confab – Vapers Deserve To Be Heard – New Zealand Vape Recycling Programme – Nicotine Science and Policy Daily Digest
What We Know and What We Don't – Jim McDonald
On March 8, as the American coronavirus story took over American TV screens and front pages, New York City Mayor Bill de Blasio took the stage to speak to city residents about the virus and the disease it causes, called COVID-19.

The people that are especially at risk, said the mayor, are those with lung disease, heart disease, cancer, compromised immune systems, or diabetes. Those conditions, he said, place people infected with coronavirus "in danger of a very bad medical outcome."

De Blasio then said that "we do know that smoking and vaping makes it easier for the disease to have more negative impact on a person's body. It's not the same as a pre-existing condition, but it is an important factor in the equation as well."
Of Getting Coronavirus? – Guy Bentley
Some politicians claim it does but "we have zero evidence on how e-cigarette use affects coronavirus infectivity and disease progression."

With governments and public health authorities scrambling to mount an effective response to the global pandemic of COVID-19, a few politicians have seen fit to use the crisis to demonize e-cigarettes.

On Monday, New York City Mayor Bill de Blasio claimed, "If you are a smoker or a vaper that does make you more vulnerable."

He added, "If you are a smoker or a vaper this is a very good time to stop that habit and we will help you."
---

---
Vaping and COVID-19 – Coehar
Due to the spread of COVID-19, the Italian Government has decided to close all the non-essential shops in Italy, vapeshops included.

Riccardo Polosa, Professor of Internal Medicine of the University of Catania and founder of the COEHAR, Center of Excellence for the Acceleration of Harm Reduction of the University of Catania, speaks out about the situation:

"I don't agree with the government solution: millions of smokers are forced to stay at home with their beloved ones, exposed to secondhand smoke.
Toking and Vaping, Especially Marijuana – Brad Rodu
The 2019 Monitoring the Future (MTF) survey results, released in December (here), confirm the sharp decline in high school cigarette smoking that I reported in my recent analysis of the 2019 National Youth Tobacco Survey (NYTS) (here).  The decline in smoking in both surveys coincides with increased vaping.

The rates of current (in the past 30 days) use of various drugs among high school seniors are seen in the chart.  The MTF recently added vaping categories (labeled on the right) to those for conventional agents like cigarettes, alcohol and marijuana (labeled on the left).
---
---
James Dunworth
My daughter is a teenager, and I hear all sorts of stories about the antics of her peers. They include teenagers smoking in the school yard, drinking alcohol until they collapse and doing drugs on the school bus. Crucially, they are not doing these things because they think they are safe.

They are well aware that these things are forbidden and unhealthy. They do them because it is 'cool', rebellious and – yes – dangerous. And that psychology is key to understanding why a campaign to stop children from vaping has backfired.
Needs to Be Retracted – Alex Norcia
Three weeks after the American Heart Association's journal retracted a vaping study that led to heightened panic last summer, academics and health experts are pushing for another influential peer-reviewed medical journal to retract a vaping report of its own.

The collection of concerned scholars and scientists think that a paper published in Pediatrics in 2018 incorrectly and dangerously argued that people who vape are more likely to become smokers. The Pediatrics research pulls from the "gateway" theory, a once-popular and now oft-lambasted idea that smoking cannabis could lead to more serious and potentially addictive substance use.

Five from Dave Cross, Planet of the Vapes
Battery giant Samsung has followed up writing to a number of vape retailers by pleading with the American Vaping Association (AVA) that it should spend time and money telling vapers not to buy or use Samsung's products. With many vapers pledging to stop buying all Samsung products, this could prove to be a detrimental move by the company.

In a letter addressed to AVA's president, Greg Conley, lawyers for Samsung write to tell him that they act on behalf of Samsung in "the defense of product liability lawsuits involving the unauthorised use of lithium-ion batteries in vaping devices".
The Vaping Trade Association of New Zealand (VTANZ) has celebrated the Attorney-General's announcement that the current vaping ad ban is "too much". Meanwhile, Coalition of Asia-Pacific Tobacco Harm Reduction Advocates (CAPHRA) Executive Director Nancy Loucas and New Zealand vaping advocate is bemoaning the World Health Organisation's (WHO) stance on tobacco harm reduction.

Kiwi Attorney-General, David Parker, stated to Parliament that parts of the Smokefree Environments and Regulated Products (Vaping) Amendment Bill banning the advertising or promotion of vaping products were "inconsistent with the right to freedom of expression" under the Bill of Rights Act.
Researchers at Rice University have produced a document highlighting that outright bans are the wrong tool for controlling unwanted vaping behaviour in teen populations. Unintentionally, they also pour cold water on any notion of a gateway from vaping to smoking. The Heartland Institute agrees and says that bans are misguided, especially when the problem has been exaggerated in the first place.

The report "Vaping: Clearing The Air" notes that, despite some claiming vaping is a gateway to smoking, "Cigarette smoking has been steadily declining among middle and high school students for over two decades".
Through Public Health England, the UK government has released an advice update about the use of vaping in mental health settings. The guidelines for mental health organisations were released in conjunction with the latest government update on vaping last week. The advice mirrors a lot of that already given by The Mental Health and Smoking Partnership.

PHE says: "E-cigarettes are effective in helping smokers to quit, especially when combined with behavioural support. E-cigarettes are not covered by smokefree legislation and there is no evidence that passive exposure can cause harm other than to people with pre-existing respiratory conditions."
The Royal College of Physicians of Edinburgh has vocally supported the Scottish government's plans to fine members of the public and NHS staff. The College wants vaping banned as part of the no-smoking measures. Not content with that, a Conservative MSP also wants to see vaping banned from public spaces.

The proposal laid down includes provisions to fine members of the public up to £1,000 if they smoke within 15m of an NHS entrance. In addition, any NHS staff who fail to enforce the no-smoking policy could be fined twice up to £2,000.
---

---
Would Not Curb Youth Vaping Use, Will Hurt Businesses – Lindsey Stroud
A bill under consideration in the Florida Legislature would ban the sale of flavored nicotine products (not including tobacco-flavored) throughout the Sunshine State. If enacted, Florida's guidelines would be far stricter than federal standards set by the U.S. Food and Drug Administration (FDA) and would only allow the sale of products that pass FDA's Premarket Tobacco Product Applications process. According to the Consumer Advocates for Smoke Free Alternatives Association, this bill would ban the sale of "80%-90% of vapor products" and would therefore put at risk any vape shop or any other business that sells vaping products.
Juul cofounder James Monsees is leaving the startup he helped build into the biggest e-cigarette manufacturer in the country.

In a company-wide memo sent Thursday afternoon, obtained by BuzzFeed News, Monsees wrote, "After 15 years on this tremendous journey, it is with a great deal of thought and consideration that I have decided it is time for me to move on from JUUL Labs and step down from our Board. These many years have been incredible, and I did not make this decision lightly."
---
Pt 1: What the Public MUST Know – David Nazar
---
Impacts the Health of 1 Billion Smokers Globally
New Global Poll of Current and Former Tobacco Smokers and Harm Reduction Product Users Finds Broad Misperception of Nicotine as Potential Carcinogen, Expanding Gaps in Quit Attempts Across Countries NEW YORK, March 12, 2020 /PRNewswire/ — Among tobacco smokers around the world, there is a growing misperception that e-cigarettes are equally or more harmful than combustible cigarettes, according to the Global State of Smoking Poll released today by the Foundation for a Smoke-Free World (FSFW).
Differentially activate bronchial epithelial cells
The transcriptome patterns of host defense and inflammatory genes are significantly distinct between ECIG-exposed and TCIG-treated cells. The overall effects of ECIGs on epithelial cells are less in comparison to TCIG, and ECIG-vapor does not affect host defense. Nevertheless, although acute exposure to ECIG-vapor induces inflammation, and the expression of S100 proteins, long term in vivo data is needed to evaluate the chronic effects of ECIG use.

On e-cigarette taxation – Cape Town
The National Treasury will later this month kick off a consultative process on the taxation of electronic cigarettes from 2021. This comes after Finance Minister made the announcement in the 2020 Budget.

In a statement, the Treasury said: "Government is concerned about the potential long term health harm related to the use of these products". In recent years, new generation products such as electronic nicotine delivery systems (ENDS) and electronic non-nicotine delivery systems (ENNDS) have been introduced in the market.
In rush to wrap up Nova Scotia legislative session – Jim Vibert
The spring session of the Nova Scotia legislature didn't even make it to spring. In fact, at 13 days, "session" seems a too weighty title for the latest, short gathering of Nova Scotia's legislators. It was more like a late-winter interlude, with all the substance that implies.

The government controls the legislative agenda and timetable, and it submits to very limited doses of accountability, when it takes the medicine at all. Holding the government to account is one essential function of the legislature — lawmaking being the other — and when the house sits for a couple of weeks, winter and fall, Nova Scotians get shortchanged on both.
ACT New Zealand
"By restricting adults from accessing vaping products and failing to stop children from doing so, the Government's vaping legislation represents the worst of both worlds", according to ACT Leader David Seymour.

"People will die as a result of this legislation. The ban on vaping flavours and advertising will kill off the best tool adults have to quit smoking and will condemn more people to cigarettes for longer. The Government is cracking down on an alternative that is 95 per cent safer than tobacco as if it was tobacco.
Not Disenfranchised – Aotearoa Vapers Community Advocacy
Aotearoa Vapers Community Advocacy (AVCA) is deeply concerned about the Government's truncated consultation process adopted for the Smokefree Environments and Regulated Products (Vaping) Amendment Bill.

Parliament's decision yesterday to shorten the standard parliamentary process from six months to three leaves people less than three weeks to make public submissions to the Health Select Committee reviewing the bill.

"AVCA and vapers around the country are now deeply concerned that with a shortened consultation period the select committee will mostly hear from groups vehemently opposed to vaping," said AVCA Director, Nancy Loucas.
New Zealanders who vape can now responsibly dispose of their e-cigarette waste in two ways: drop off at Vapo and Alt. stores or send their collected waste for free through the post.

Last December, leading vape suppliers, Vapo and Alt. New Zealand, partnered with global recycling pioneers, TerraCycle, to offer the first programme of its kind to recycle vaping devices and pods.
BusinessMirror
An Asian alliance of tobacco harm reduction advocacy organizations has asked the Department of Health (DOH) to bring up the rights of Filipino smokers who want to switch to safer alternatives during the Ninth Session of the Conference of the Parties (COP9) of the World Health Organization's Framework Convention on Tobacco Control (WHO-FCTC), which will be held in November 2020.

The Coalition of Asia Pacific Tobacco Harm Reduction Advocates (CAPHRA) also asked DOH to question the restrictive policy of WHO that tolerates the use of combustible cigarettes, while discouraging the use of 95 percent less harmful smoke-free Electronic Nicotine Delivery Systems (ENDS).
---
A look back at how things have moved on or otherwise….
New Nicotine Alliance
In August, the government's Science and Technology Committee produced a report detailing, amongst other recommendations, suggested policies on e-cigarette use on NHS property. Specifically dealing with mental health facilities, it stated:

NHS England should set a clear central NHS policy on e-cigarettes in mental health facilities which establishes a default of allowing e-cigarette use by patients unless an NHS trust can show reasons for not doing so which are demonstrably evidence-based.
Tackling Confusion Over Vaping – Yorkshire Cancer Research
E-cigarettes are now widely acknowledged by public health officials as a useful stop smoking method, but some people remain confused about their safety compared to tobacco.

To mark National No Smoking Day, we talked to Doncaster-born vaper Terry Walker about his switch to e-cigarettes after seven decades of smoking.
---
Visit Nicotine Science & Policy for more News from around the World

---