Vaping Digest March 11th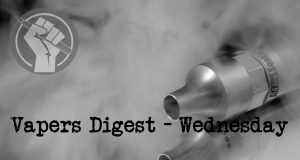 Wednesday's News at a glance:
Combining reduced-harm nicotine products may improve smoking cessation ~ More Consistency Needed in Application of Harm Reduction Principles in Australia ~ The American Consumer Institute Releases a Study on the Health Impact of E-Cigarettes and Their Regulations ~ NTRI files Citizens Petition with FDA March 6, 2020 ~ EXCLUSIVE | Linda Bauld Talks Public Health England 2020 Evidence Update ~ PHE Report – Further Reactions ~ 8 Things To Know About Vaping ~ UK Politics ~ By retiring Nanny we can make ourselves happier and (whisper it) healthier ~ Adults, Not Just Teens, Like Dessert-Flavored E-Cigs: Study ~ The CDC's coronavirus failure was predicted by its VAPI response ~ FDA Warns Retailers, Manufacturers to Remove Unauthorized E-Cigarette Products from Market ~ Flavored Tobacco Ban Is a Pandora's Box ~ Group says e-cig ideal cigarette alternative ~ Smokefree Norfolk vaping scheme evaluated by UEA researchers ~ Judge rules law does not cover e-cigarettes ~Tax cut for 'modified risk' tobacco added to Georgia House vape bill
Healio
Combining reduced-harm nicotine products can lead to improvement in smoking cessation without short-term harm, according to a study published in The Lancet Respiratory Medicine.

"When looking at continuous abstinence from smoking, provision of patches plus a nicotine e-cigarette resulted in three to seven more smokers per 100 quitting long term than with patches plus a nicotine-free e-cigarette," Natalie Walker, PhD, of the National Institute for Health Innovation at the School of Population Health in New Zealand, and colleagues wrote.
Frost & Sullivan, Cision
The lack of harm reduction principles for tobacco use in Australia is inconsistent with their implementation in many other areas of public policy. Alcohol restrictions, needle exchange programmes, legalisation of medicinal cannabis, free condom programmes, and even mandatory bike helmets are just some of the harm reduction measures that have been introduced by the Commonwealth and State/Territory governments in recent years. Although the use of harm reduction principles for illegal drugs has been a key part of national policy since the 1980s, they have not been applied to tobacco.
Business Wire
Today,the American Consumer Institute released a report – "Are E-Cigarette Regulations Jeopardizing the Public Health?" – that reviews the evidence from policy and health studies, as well as the impact of recent legislative and regulatory decisions to curtail, ban and tax e-cigarette products.

In merely a decade, e-cigarettes have gone from fringe novelties to mainstream products used by millions of Americans. In response to rising teen use and a rash of vaping deaths, many policymakers have been openly hostile to e-cigarettes, casting them as dangerous gateways to tobacco smoking, and imposing burdensome taxes, regulations and outright bans meant to mitigate this perceived public health threat.
National Tobacco Reform Initiative
The National Tobacco Reform Initiative (hereafter referred to as the NTRI) is an informal organization led by a small group of distinguished, seasoned and independent tobacco control leaders with decades of service fighting the tobacco epidemic. NTRI is a voluntary organization and receives no financial assistance from any organization or outside entities. We advocate for civil engagement with all interested stakeholders and for open evidenced based discussions about the most effective ways to accelerate a reduction in the current number of adult smokers and associated diseases and premature deaths caused by smoking. One of NTRIs major priority areas is to establish a more rational tobacco and nicotine products regulatory framework based on their relative risks and that is adaptable to the increased speed of innovation in new technology of products that have the potential to displace deadly and addictive combustible tobacco products.

NTRI Petition cover letter 3-6-2020
---
Brent Stafford, Regulator Watch
---

---
THREE from Dave Cross, Planet Of The Vapes
Public Health England (PHE) released the annual update to its 2015 vaping evidence review last week, as tasked by the government's Tobacco Control Plan for England. The sixth report was looked at the prevalence of vaping among young people and adults, reviewed research on vaping among pregnant women, and looked at vaping for people with mental health conditions. It was warmly welcomed; here we present further reactions to the document.
Professor John Newton is the Chief Knowledge Officer for Public Health England (PHE). While PHE has been incredibly supportive of vaping and the use of ecig to reduce tobacco-related harm, public confusion persists. Professor Newton believes there are eight key facts that everybody needs to understand about vaping.
Labour's Alex Cunningham wants a ban on vaping in enclosed public spaces and Tanmanjeet Singh Dhesi is back with worries over lung disease. In addition, MPs debated the forthcoming World Health Organisation (WHO) Framework Convention on Tobacco Control (FCTC).
---
Chris Snowdon, Brexit Watch
NOW WE HAVE our sovereignty back, what to do with it? My professional and personal interest is in fighting the fun sponges of the nanny state but, as I pointed out in the IEA monograph Breaking Up Is Hard To Do, most of Britain's woes on that front are self-inflicted. Plain packaging? That was us. Sugar tax? That was us. Minimum pricing? That was Scotland and Wales.

Most, but not all. If we left the EU so we could create our own laws based on liberal principles and sound evidence, one test is coming up on May 20th when the EU bans menthol cigarettes. Twelve per cent of British smokers consume menthol cigarettes. This is one of the highest rates in Europe. British women are particularly partial to menthols, with eighteen per cent of female smokers regularly buying them.
---
Kayla McKiski,

U.S. News & World Report
The U.S. Food and Drug Administration is enforcing a previously issued ban on sales of sweet-flavored e-cigarette cartridges — a move to fight the youth vaping epidemic that may have broader consequences.

But it turns out that adults like dessert-flavored e-cigarettes, too, researchers at Penn State College of Medicine found.
---
Bruce Barcott, Leafly
Americans woke up this week to the startling realization that the US Centers for Disease Control and Prevention, once the global gold standard in medical science, has been reduced to a gaggle of bungling bureaucrats.

The agency's glaring failures amid the novel coronavirus outbreak have been shocking. They're already resulting in needless suffering and death. The CDC, once a source of national pride, is now a late-night comedy punch line.
---
PR Newswire, Yahoo Finance
Today, the U.S. Food and Drug Administration issued 22 warning letters to online and brick-and-mortar e-cigarette product retailers and manufacturers across the country who sell flavored, cartridge-based electronic nicotine delivery system (ENDS) products advising them that selling these products, which lack marketing authorization, is illegal. The warning letters were sent to some establishments with well-known names such as 7-Eleven and Shell and are the first of what will be a series of ongoing actions consistent with the FDA's recently issued policy of enforcement priorities for e-cigarettes and other deemed products on the market.
---
The U.S. Government's 2019 Monitoring the Future survey shows that past-30-day marijuana marijuana almost doubled from 7% to 14% among high school seniors compared to 2018. Even worse, 29% currently used alcohol, 18% got drunk and 22% used marijuana https://t.co/M9uYto147x pic.twitter.com/wklU0xGMkf

— Brad Rodu (@BradRodu) March 11, 2020
---
Michael McGrady, Inside Sources
he U.S. House of Representatives recently passed a landmark flavored tobacco ban.

Despite the Trump administration wisely announcing its opposition to the bill, the "Protecting American Lungs and Reversing the Youth Tobacco Epidemic Act of 2020" is a legislative proposal that will drastically harm an entire industry and its consumers.

Rep. Frank Pallone (D-N.J.) should reconsider his position on e-cigarettes by recognizing that a total ban could open a Pandora's box that can't be contained by policymaking. Under the bill, most flavored tobacco and recreational nicotine products would be banned. This includes menthol flavoring.
---
Associated Press
Vaping groups in Asia-Pacific said the retraction of an "unreliable" study on electronic cigarettes (e-cigs) by a United States health publication validates their position that smoke-free nicotine products such as e-cigarettes, heat-not-burn tobacco products and snus are much less harmful alternatives to cigarette smoking.

Th Coalition of Asia Pacific Tobacco Harm Reduction Advocates (Caphra) was referring to the decision by the Journal of the American Heart Association (JAHA) on Feb. 18, 2020 to retract the publication of a study which implied that e-cigarette use is associated with increased risk of having had a heart attack.

North Norfolk Radio
The innovative scheme which is provided by Smokefree Norfolk, offers a vape voucher to people in the Great Yarmouth area who are struggling to quit smoking.

Around 21% of people who live in Great Yarmouth smoke tobacco, compared to 14% of people in the rest of Norfolk, and 15% as a national average.

This comes during National No Smoking Day (Wednesday 11 March) which is intended to help those who want to quit smoking.
Wang Ting-chuan, William Hetherington, Taipei Times
A New Taipei City man who challenged a fine he received for importing e-cigarettes won the suit, after a district court ruled that the products fell outside of the scope of current tobacco laws.

The man, surnamed Yang (楊), was fined NT$10,000 for contravening the Tobacco Hazards Prevention Act (菸害防制法) when he imported a case of e-cigarettes in May last year.
Amanda C. Coyne
, The Atlanta Journal-Constitution
A proposed tax on vaping and other nicotine products would also cut the tax rate for one type of smokeless tobacco in half.

The latest version of House Bill 864 says any products deemed "modified risk" by the U.S. Food and Drug Administration can be taxed at half the rate it would be if it did not have that designation. The FDA allows tobacco products to use the term "modified risk" once the agency finds the product has lower risks of disease and other adverse effects associated with tobacco.
---
A look back at how things have moved on or otherwise…
The vaping industry speaks up – Michael McGrady
Big tobacco companies have announced their support for raising the minimum age to purchase nicotine products in jurisdictions all over the United States. This creates a dangerous precedent as these large companies claim that they speak on behalf of the vaping industry regarding this issue. Now, the vaping industry speaks up.

Large tobacco companies have never been consistent when it comes to the acceptance of electronic nicotine delivery systems and other alternative nicotine products on the market. Corporate powerhouses like Altria and Reynolds American have all worked, in some capacity, against the rising consumer phenomenon that is vaping.
Diane Caruana, Vaping Post
Recent studies have documented cases of chronic respiratory bacterial infections being resolved via vaping.

A 2017 paper titled, "Resolution of recurrent tonsillitis in a non-smoker who became a vaper. A case study and new hypothesis", by Joanna Miler and Peter Hajek, had documented the case of a never-smoker who experienced a complete resolution of chronic tonsillitis and a marked improvement in tonsilloliths after taking up vaping.
The Truth About What It Is and What it Does – Carrie Wade
In July 2017, an announcement by the FDA declared that the agency "places nicotine, and the issue of addiction, at the center of the agency's tobacco regulation efforts."

It's no surprise that with this renewed focus on nicotine—and ensuing FDA-driven fear-mongering surrounding products that contain the substance, even if they don't involve combustion of tobacco—people are more confused than ever about what nicotine is and what it does.

Does it cause cancer? Will smoking a cigarette or vaping instantly make you addicted? Does it cause brain worms?
---
Visit Nicotine Science & Policy for more News from around the World

---