Vaping Digest 9th March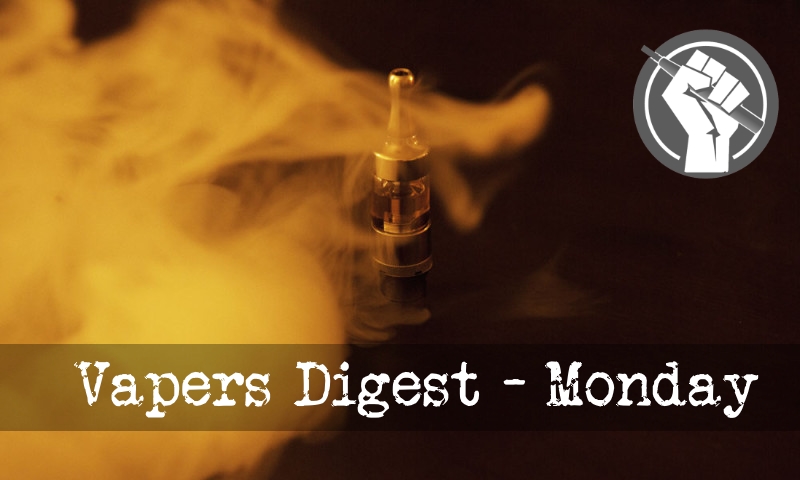 Monday's News at a glance:
Smoking, vaping and the coronavirus (COVID-19) epidemic: rumors vs. evidence – More COVID-19 Dishonesty – UKVIA demands end to vaping 'misinformation' – Michael Russel Orator Announced – Electronic Cigarettes: Public Places – UK: E-Cig Businesses Banned from Advertising on Instagram – Vaping In The News – March 7th – Vaping News  March 8th – Is Australia ready to rethink its approach – Engage with smokers, urges anti-smoking expert – Retracted study on e-cigs validates concerns – Vaping Policies Big Win for Big Tobacco – Nicotine Science and Policy Daily Digest
COVID-19 epidemic: rumors vs. evidence – Dr Farsalinos
One of the main issues that many people, especially vapers, are discussing concerning the coronavirus epidemic is about the effects of e-cigarette use (and smoking) on the vulnerability to, and severity of coronavirus infection. Recently, New York City (NYC) Mayor Bill de Blasio mentioned in a news briefing that smokers of vapers are at increased risk. Miraculously, this statement was even reported by Reuters.  I wonder, what is the reason for considering valid and reporting statements made by people who have zero background on public health issues?
Dave Cross, Planet of the Vapes
Last week, Planet of the Vapes reported how Chinese academics are lying by linking vaping to the COVID-19 outbreak. Shortly afterwards, Stanton Glantz, U.S. Mayor Bill de Blasio, and a World Health Organisation's Dr Alexey Kulikov jumped on the bandwagon to spread disinformation and fear.

A number of ardent anti-vape crusaders have been quick to try to profit from fear and misery, yet again ignoring evidence and facts as they seek to pursue their ideological agenda in their war against tobacco harm reduction.
Scottish Local Retailer Magazine
The UK Vaping Industry Association (UKVIA) has called for "the wave of misinformation over vaping to stop", given the latest findings in Public Health England's 'Vaping in England: 2020 Evidence Update Summary'.

In the document, PHE said that "increasingly incorrect perceptions among the public about the harms of vaping could prevent some smokers using vaping products to quit smoking". The report also highlighted that more former smokers have made the switch from cigarettes to vaping products, despite such perceptions, and that youth uptake remains relatively small scale. Its key findings include:
---

---
Dave Cross, Planet of the Vapes
The Michael Russell Oration is an annual event, established to honour the work and memory of Professor Michael Russell, a psychiatrist who pioneered the study of smoking behaviour, clinical interventions and public policy action. It takes place at the Global Forum for Nicotine (GFN) in Poland and this year will see the New Nicotine Alliance's Louise Ross champion the voice of the consumer.

Louise managed Leicester's Stop Smoking Service from 2004 to 2018. She was sceptical about vaping as it began to take off in the early days, but a chance meeting with vapers at the first E-Cigarette Summit led her to the conclusion that it offered a huge potential in reversing declining smoking quit rates.
Department of Health and Social Care written question – 6th March 2020
Alex Cunningham Labour, Stockton North

To ask the Secretary of State for Health and Social Care, if he will make an assessment of the potential merits of extending the ban on smoking in enclosed public spaces to include vaping.
Banned from Advertising on Instagram – Diane Caruana
In line with the EU Tobacco Products Directive (TPD), Rule 22.12 of the UK CAP Code forbids the promotion of unlicensed nicotine-containing e-cigarettes in newspapers, magazines, periodicals and online media. However, the regulation permits factual claims about products on a marketer's own websites, and in principle, this exception might be extended to social media activity.

To this effect, BAT, which is one of the manufacturers who had their adverts banned, argued that that their promotions fell within this exception. However, the ASA pointed out that the tobacco company used celebrities in its Instagram posts "clearly [going] beyond the provision of factual information and was promotional in nature".
---
---
Kevin Crowley, Vaping Links
This isn't over, it's happening again ~ What are you doing? ~ UVA SAVE THE VAPE RALLY! ~ Federal Funds Misspent on Anti-Vaping Research ~ Tweets of the week ~ If you can't attend ~ Rep. Barbieri tells House vaping isn't dangerous, even for youth ~ Health Insurance Companies Charge Vapers Up to 50% More ~ Study Finds Raising Taxes on Vaping Increases Smoking ~ The UK Government Says What the US Won't: Vaping Is Safer Than Cigarettes ~ No, You Won't Catch The New Coronavirus Via Packages Or Mail From China ~ Correlation Virus
Neil Humber
More Support For Vaping From UK Government – Big Tobacco Shut Out – India's Cancer Crisis – UK No Smoking Day Campaigns + More Vape News

Nearly All Patients With Lung Injuries Used Black-Market THC Products
Jacob Sullum, Reason
A new study of vaping-related lung injuries in California reinforces the evidence implicating black-market cannabis products, even in states that have legalized the production and distribution of marijuana for recreational use. In a sample of 160 patients, just 9 percent reported vaping only nicotine—a claim that is doubtful in the absence of blood or urine testing. Just 1 percent of the patients who reported vaping THC identified a state-licensed retailer as the source of the products they used.
Can't even recognize hypocrisy
We're fine with the state Legislature easing the rules on alcoholic ice cream — but wonder how lawmakers square that with their recent move to ban flavored vaping products and e-cigarettes.

The idea behind that ban was that sweet-tasting e-cigs will appeal to kids, potentially getting them hooked on nicotine. But won't liquor-infused frozen desserts also likely risk underage addiction?
---

---
Jeopardizing the Public Health? – A Review of the Evidence and Policy Missteps
In merely a decade, e-cigarettes have gone from fringe novelties to mainstream products used by millions of Americans. In response to rising teen use, policymakers in many jurisdictions have responded with burdensome taxes and regulations meant to mitigate this perceived public health threat. Yet, the reality is more nuanced. E-cigarettes are far less harmful than combustible cigarettes and constitute one of the most common — and effective — smoking cessation aids. Overzealous or poorly designed restrictions on vaping, combined with misleading information about e-cigarettes' true health risks, are deterring smokers from pursuing a potentially life-saving alternative.
To reduced-risk products? – TobaccoIntelligence
For several decades, Australia's political and medical establishments have taken a hard line against smoking. Until recently, it could be argued that making life difficult for nicotine consumers – think the world's highest cigarette prices, hefty fines for smoking in public places and a ban on the domestic sale of nicotine liquid for use in vapes – was yielding results. Only around 12% of Australians now smoke, down from 24% in 1991.

Yet the draconian approach may have outlived its usefulness. "Rates of smoking haven't declined for around six years," notes Joe Kosterich, chairman of the Australian Tobacco Harm Reduction Association (ATHRA).

Urges anti-smoking expert – Sachi Satapathy
Dr Ehsan Latif, vice-president for grant management and development at the Foundation for a Smoke-Free World, recently spoke to Asia Times about his work, and excerpts of that interview appear below. Dr Latif has more than 20 years of experience managing the development and implementation of cohesive strategies to achieve public health gains by linking global health priorities to the needs on the ground.

Previously, Dr Latif served as senior adviser for non-communicable diseases and was director of tobacco control at the International Union Against Tuberculosis and Lung Disease, managing global teams in India, China, Singapore, Mexico, Bangladesh, the Philippines, Vietnam, Pakistan, Brazil and Chad.
Vaping groups in the Philippines lauded the decision of the Journal of the American Heart Association to retract the publication of a study, which implied that e-cigarette use is associated with increased risk of having a heart attack. The JAHA editors said they were "concerned that the conclusion is unreliable."

"We believe that any study should be based on sound methodologies, validated equipment and internationally recognized practices. We are concerned by the growing number of studies that, like the Bhatta-Glantz study, do not meet these criteria, and whose communications may mislead smokers, vapers and the public in general. The retraction is a clear example of the validity of our concerns,"
Darryl Tempest – Canadian Vaping Association
Nova Scotia's vaping policies will actually help big tobacco's low volume – high nicotine, closed pod systems and does nothing to discourage youth nicotine use.

"Yesterday the Nova Scotia Law Amendments Committee heard from adult vapers, industry representatives and Nova Scotia shop owners and the message was clear," says Darryl Tempest, Executive Director, the Canadian Vaping Association. "Nova Scotia's policies are a disaster for ex-smokers and small non-tobacco retailers but a big win for Big Tobacco"
---
A look back at how things have moved on or otherwise…
Carl V. Phillips, Anti-THR Lies
Now that I have your attention, this long essay is my response to the frequent requests to summarize my analyses of the concept of addiction, particularly how it relates to tobacco product use. I should note that the headline is based on the most commonly-accepted definition of "addictive". I will work my way through that to other senses of the word under which smoking might be considered addictive.
Promote Misperceptions of Smoke-Free Tobacco Products
Brad Rodu, Tobacco Truth
In their recent journal article, "U.S. adult perceptions of the harmfulness of tobacco products" (abstract here), a group of researchers from the FDA, other federal agencies, Canadian and American universities suppress important information about safer tobacco products.

G.T. Fong and 11 co-authors used federal funds to analyze the FDA Population Assessment of Tobacco and Health (PATH) Survey with respect to perceptions of eight non-cigarette tobacco products' relative harms.
---
Visit Nicotine Science & Policy for more News from around the World

---