Vaping Digest 6th March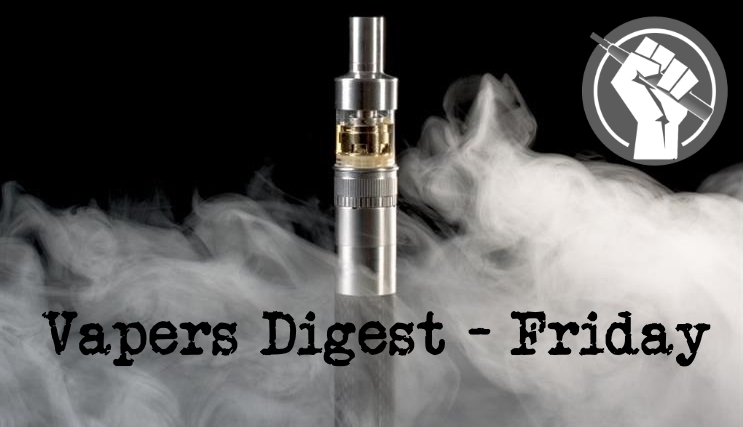 Friday's News at a glance:
New report from Public Health England on vaping is welcome and timely – Harry's blog 98: – PHE Update Vaping Evidence – Scaremongering Called Out – Lying Lung Foundation – Experts React to EVALI Correspondence – Parliamentary Questions – 8 things to know about e-cigarettes – Public misperceptions of vaping harm on the rise – America's Vaping Panic Is Spreading To the U.K. – Vaping Is Safer Than Cigarettes – New 6-Year Study – Vaping bans are ineffective, experts report – Risks Of Smoking When Pregnant – Vaping is a gateway OUT OF smoking for young people – Nicotine Science and Policy Daily Digest
On vaping is welcome and timely – New Nicotine Alliance
Today saw the publication of a report by Public Health England entitled Vaping in England: 2020 evidence update summary, which you can read in full here.

It "updates on the prevalence of vaping among young people and adults and reviews literature on vaping among people with mental health conditions and pregnant women" in this country, and – crucially – draws on the latest evidence to deliver its view of how the UK government should proceed in this policy area moving forward.

It concludes that the UK's current world-leading messaging on e-cigarettes remains valid, but it warns that misinformation is harming uptake of safer products amongst smokers and condemns the spread of doubt from outliers in the UK public health community who should behave better.
Science and Sense beat Smears and Propaganda 5-0 (after lots of extra time)
At the start of the year, the storm clouds of anti-tobacco harm reduction (THR) were darkening, threatening as ever the lives of smokers looking to switch or stop. But in the bleak mid-winter, rays of reason have shone a light on those that needed to be called to account.

In his book Velvet Glove, Iron Fist: A History of Anti-smoking (referring back to the time when life was so much easier for anti-tobacco activists – Goodies vs Baddies), Chris Snowdon quoted arch anti-tobacco nemesis Stanton Glantz at an anti-tobacco conference in 1992 about the way he conducted his research: "If it comes out the way I think, will it make a difference? And if the answer is 'yes' then we do it, and if the answer is 'I don't know' then we don't bother. Okay? And that's the criteria"
thatgotmethinkingblog
This week Public Health England issued their annual update to their position on e-cigarettes and vaping. This is the sixth in a series of independent reports to "summarise evidence on e-cigarettes to inform policies and regulations."
---

---
John Newton, Public Health England
Vaping is not risk free but is far less harmful than smoking. Our advice remains that people who smoke are better to switch completely to vaping but if you have never been a smoker, don't start to vape.

This blog, published to coincide with PHE's latest independent evidence report, looks at some of the most common misconceptions around e-cigarettes and provides the facts.
RSPH
The report highlights the growing perception among the public that e-cigarettes are as harmful as smoked tobacco, placing this in the context of the vaping-associated lung injury outbreak in the USA last year.

The report makes clear that, while all adverse reactions must and will continue to be assessed, the recent incidents in the US are not attributable to the regulated nicotine vaping products that are sold in England.
---
---
Is Spreading To the U.K., Experts Warn – Guy Bentley
A new report from the United Kingdom's top public health agency warns that misinformation about the risks of e-cigarettes is deterring smokers from switching to vaping.

Public Health England's (PHE) sixth independent report on e-cigarettes, released yesterday, shows more than half of U.K. smokers believe e-cigarettes are just as or more harmful than combustible cigarettes. The proportion of smokers who correctly believe e-cigarettes are safer than combustible cigarettes stands at less than a third.
The UK Government Says What the US Won't: – Alex Norcia
Amid rising fears around the world that e-cigarettes and vaping products could be just as harmful as cigarettes, England's leading health agency has released its annual report on vaping, which argues that vaping nicotine is indeed a safer alternative to smoking.

Though not completely safe, "vaping regulated nicotine products has a small fraction of the risks of smoking," the authors of the report state. The report, which was released Wednesday by Public Health England (PHE), reiterates the harm-reduction argument that public health officials in England have been making for years. It's a claim that the Centers for Disease Control and Prevention in the U.S. has not yet made.

Five from Dave Cross, Planet of the Vapes
The government's Tobacco Control Plan for England tasked Public Health England (PHE) to update its 2015 vaping evidence review every year until 2022. The sixth report was released on Thursday and looks at the prevalence of vaping among young people and adults. It also reviews research literature on vaping among pregnant women and people with mental health conditions.

The standout fact that the government has taken from the report is that over half of smokers believe nicotine vaping products are equally or more harmful than smoking despite US vaping deaths being caused by substances banned in UK. PHE says: "This is out of line with expert reviews from the UK and US concluding that using regulated nicotine vaping products is far less harmful than smoking."
The Lancet published an editorial attacking vaping which included multiple examples of errors and misdirection. Thirty-eight harm reduction experts have submitted a response calling out the inaccuracies and misinformation and calling for a more dispassionate approach to the science surrounding electronic cigarettes.

Last October, The Lancet carried an editorial titled, "E-cigarettes: time to realign our approach?" It focussed on 1080 lung injuries and 18 deaths, attributing it all to vaping, because "all report[ed] using e-cigarettes".

The anonymous author or authors claimed, "e-cigarettes have an uncertain provenance, containing a mix of ingredients," and even stretched to asking, "how different are e-cigarettes from combustible cigarettes?"
Lung Foundation Australia has been accused of propagating "disgraceful misinformation" about vaping with its comments in a newspaper article. The organisation is displaying "breath-taking ignorance" according to a well-respected scientist and harm reduction

An editorial titled "Talking Point: Vaping can hook a new generation", in Australia's Mercury newspaper, was written by Lung Foundation Australia's chief executive, Mark Brooke. In it, he made the plea that "Australia's health should not be influenced by the billion-dollar vaping industry".
A correspondence piece, published in the New England Journal of Medicine (NEJM), discuses an animal model of inhaled vitamin E acetate and EVALI-like lung injury. Experts have responded to the findings and the CDC now accepts that Vitamin E Acetate is the primary cause of EVALI.

The letter "An Animal Model of Inhaled Vitamin E Acetate and EVALI-like Lung Injury" was submitted to the NEMJ by:
Labour's Barry Sheerman was keen to discover the Department of Health and Social Care's position on the health risks posed by vaping, teenage use of ecigs and the marketing of vape products to young people. Given he cited a study by the University of Texas, and the MP for Huddersfield East hasn't any connection to committees that discuss tobacco harm reduction, many may wonder what instigated this flurry of hysterical inquiry.

Sheerman asked: "What assessment has [the Secretary of State] made of the health risks of vaping and e-cigarettes?" He followed this up with: "What steps he is taking to reduce the uptake of vaping and e-cigarettes by (a) young people and children and (b) other non-smokers?"
---

---
Will Track 800 Vapers' Health Markers – Jim McDonald
Researchers are preparing to launch a study that will measure the health effects of vaping over a six-year period on vapers who have smoked very little. The team running the study—called VERITAS—is looking for "ambassadors" who will recruit and manage about 800 participants divided between 20 locations around the world.

If the study sounds familiar, that's because it's based on a similar study published in 2017 by Dr. Riccardo Polosa, who followed a cohort (group) of nine vapers (who had never smoked) for 3.5 years, measuring heart and lung functions, and other vital signs.
That really is putting lives at risk – Daniel Pryor
Forget chlorinated chicken, if you want an example of a US import that actually presents a health threat, look no further than the spread of anti-vaping hysteria.

According to a frustratingly popular narrative, e-cigarettes have caused an outbreak of lung injuries and deaths across the pond, so we Brits should be worried. Certainly, if you followed the story on the news, you would be forgiven for thinking vaping isn't as safe as we thought.
Collected During Buy-Back Program Were Unfit for Consumption
An illicit-market vape cartridge buy-back program set in motion by Platinum and Miramar, Calif.'s Mankind Dispensary has revealed that the majority of unregulated vapes collected are unfit for consumption.

During the month of September, Mankind's customers were invited to turn in vape cartridges that had been purchased from sources other than a legal cannabis dispensary in exchange for a Platinum vape cartridge.

Shows What Actually Works – Vaping Trade Association of New Zealand
With Parliament's first reading of the bill to regulate vaping underway, the Vaping Trade Association of New Zealand (VTANZ) says MPs set to scrutinise the legislation should review Public Health England's latest report.

Released this week, the report concludes vaping in the UK is almost exclusively confined to smokers and ex-smokers, and any fears about vaping have not been realised.
For young people – Dr Colin Mendelsohn
VAPING is likely to be diverting young people from smoking, rather than being a gateway to the deadly habit, according to new research. There is also scant evidence of a so-called "youth vaping epidemic".

These were the findings in a new review published this week in the International Journal of Drug Policy by Australian academics Colin Mendelsohn and Wayne Hall.

The research debunks one of the major arguments used to justify Australia's ban on nicotine vaping products: that vaping is a gateway to regular smoking for young people who would otherwise not have smoked cigarettes

Although teen vaping is associated with later trying smoking, this does not prove that vaping has CAUSED the smoking.
---
Bote Pronto con Carlos Puig
---
Rice University
Vaping products have contributed to a decline in cigarette smoking but have increased the number of middle and high school students who are addicted to nicotine—a problem that can only be effectively addressed through regulation of advertising—according to drug policy experts at Rice University's Baker Institute for Public Policy.

Katharine Neill Harris, the Alfred C. Glassell, III, Fellow in Drug Policy at the institute, and William Martin, the Harry and Hazel Chavanne Senior Fellow in Religion and Public Policy at the institute and director of its Drug Policy Program, outline their insights in a new report, "Vaping: Clearing the Air."
Greater Than Risks Of Using Smoke-free Products – Dr. Marewa Glover
A review of studies on the effects of nicotine on pregnancy outcomes concluded that there is no reason to doubt that switching to smoke-free tobacco and nicotine products is better than continuing to smoke.

The paper, published in the international Harm Reduction Journal found some studies suggest that using non-smoked products containing nicotine during pregnancy is associated with an increased risk of some negative birth outcomes, but it remains clear the effect is less than that from smoking.
---
A look back at how things have moved on or otherwise….
Jim McDonald, Vaping 360
FDA Commissioner Scott Gottlieb resigned yesterday after less than two years on the job, and will leave office next month. In January, Gottlieb denied that he was quitting the job, telling his Twitter followers, "I want to be very clear – I'm not leaving. We've got a lot important policy we'll advance this year. I look forward to sharing my 2019 strategic roadmap soon."
Harry Shapiro, Nicotine Science and Policy
This blog unashamedly takes its title from a very interesting article by Ronald Dworkin who is an American anaesthesiologist, teaches political philosophy at George Washington University and is a Senior Fellow at the Hudson Institute, where he heads up its Medicine, Society, and Culture project.

In this article Dworkin compares the parallel histories of medicine and public health. His main point is that the origins of public health were science-based, for example trying to isolate the causes of cholera and determining that it was a water-borne disease and so you install or improve the sewerage and the quality of the water.
James Dunworth, Ashtray Blog
In the run up to new vaping regulations, the infamous Article 20 of the Tobacco Products Directive, many vapers and vape businesses were in panic mode.

The regulations was the result of a messy compromise between those who wanted an effective ban on vaping and those who were determined to protect smoker's right to safer alternative.

Retailers were particularly worried about the impact of testing regulations and warning labels, while vapers were infuriated at limitations on nicotine strengths, tank sizes and more.
---
Visit Nicotine Science & Policy for more News from around the World

---