Vapers Digest March 4th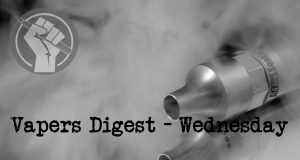 Wednesday's News at a glance:
Potential effects of using non-combustible tobacco and nicotine products during pregnancy ~ Vaping in England: 2020 evidence update summary ~ False fears preventing smokers from using e-cigarettes to quit ~ Expert reaction to Public Health England's latest e-cigarette report ~ Lung Foundation Australia claims vaping as harmful as smoking ~ Feedback from: Konstantinos FARSALINOS ~ BAT study shows new vaping technology significantly reduces exposure to toxicants ~ BAT Uganda wants ban on e-cigarettes lifted ~ Asia-wide movement to support 'safer' nicotine products launched ~ Kiwi vaping advocate takes on WHO's tobacco stance ~ Attorney-General Agrees Vaping Ad Ban Too Much ~ The Great Vape Debate – understanding e-cigarettes ~ Trump To Ban The Ban Bill ~ Vaping and heart disease ~ Chinese Coronavirus Chicanery ~ Call For A Rational Approach ~ Letter: UCP vaping tax won't slow black market or keep smokers from dying ~ The Best Articles on Vaping in February 2020 ~ A Tax Increase on Vape Products Would Be Bad Tax and Bad Health Policy for Kentucky
Marewa Glover, Carl V Phillips, Harm Reduction Journal

The range of risk reduced alternatives to smoking tobacco is increasing and so is use among pregnant women. The substantial harms of smoking during pregnancy are well established and there is reason to believe that nicotine alone is somewhat harmful. Differences in the exposure chemistry strongly suggest that the effects of using smoke-free nicotine products (including pharmaceutical nicotine products, smokeless tobacco, and electronic cigarettes containing nicotine) fall somewhere in the range between zero risk to the risk from smoking. How much lower risk these consumption choices are in terms of pregnancy outcomes, however, remains uncertain.
Carl V Phillips, AntiTHRLies

This new paper, by Marewa Glover and me, is just out in Harm Reduction Journal. In it, we review the available epidemiology evidence about the effects of nicotine-sans-smoke (NRT, snus, vape) on pregnancy outcomes. It was a bit of a challenge to get it published because we wrote the paper we needed to, rather than a "typical review". As you might know, the journal publication process is rather …well, let's just say conservative.
---
gov.uk
Aim of the report: This is the sixth report in a series of independent reports commissioned by Public Health England (PHE) to summarise evidence on e-cigarettes to inform policies and regulations.
Despite reductions in smoking prevalence, smoking remains the biggest single cause of preventable death and disease and a leading cause of health inequalities. So, alternative nicotine delivery devices that are less harmful could play a crucial role in reducing this health burden.

This report presents updates on the prevalence of vaping among young people and adults and reviews literature on vaping among people with mental health conditions and pregnant women.

A comprehensive e-cigarette safety review will be the focus of a future report.
gov.uk
Over half of smokers believe nicotine vaping products are equally or more harmful than smoking despite US vaping deaths being caused by substances banned in UK.

Public Health England's (PHE) sixth independent e-cigarette report, commissioned from researchers at King's College London, is published today (Wednesday 4 March 2020) alongside new PHE advice on vaping in NHS mental health trusts.
Science Media Centre
Prof Jamie Brown, Professor of Behavioural Science & Health at University College London, said:

"E-cigarettes have helped many thousands of smokers to quit in the UK and have an important role to play in reducing the enormous burden of smoking.

Prof John Britton, Director of the UK Centre for Tobacco & Alcohol Studies and Consultant in Respiratory Medicine, University of Nottingham, said:

"Smoking remains the biggest avoidable cause of death and disability in the UK, and using electronic cigarettes is an effective means of quitting smoking.
---

---
Australian Tobacco Harm Reduction Association (ATHRA),
The CEO of Lung Foundation Australia recently made the alarming claim that vaping nicotine is at least as harmful as smoking cigarettes, if not more so.

In an opinion piece in The Mercury on 29 February 2020, chief executive Mark Brookes wrote

"there is strong, credible evidence that both nicotine and flavoured vaping products are just as harmful, if not more harmful, than conventional cigarettes"
European Commission
I have attached a pdf file with a 23-page report titled: "Electronic cigarettes as part of a comprehensive plan to reduce the cancer burden in the European Union." The conclusions of the report are the following:

Smoking is the most important, preventable risk factor for cancer. Any strategy to combat cancer should address smoking as a priority. Currently available evidence is compelling in supporting the vastly lower cancer risk of electronic cigarettes compared to tobacco cigarettes, the efficacy of electronic cigarettes as smoking substitutes and the large benefits expected in the health of smokers who switch to electronic cigarette use.
R&D at British American Tobacco
A vapour product that contains new-to-world technology has significantly fewer and lower levels of certain toxicants compared to cigarette smoke*, a study has shown.

Scientists at British American Tobacco (BAT) performed a series of chemistry tests designed to look for specific compounds in the vapour from iSwitch, BAT's new vapour product which uses a stainless-steel blade to heat e-liquid. The emissions from iSwitch were compared to those from a reference cigarette (1R6F).
Kabona Esiara, The East African
British American Tobacco Uganda has asked the government to lift a ban on e-cigarettes as it seeks growth opportunities in a tough business environment.

"We are in talks with the regulator of the tobacco industry to see if the law can be reviewed," Mathu Kiunjuri, the managing director of BAT Uganda, said at a briefing at the Uganda Securities Exchange on Tuesday.
---
Business Mirror
Tobacco harm reduction advocates gathered in Makati City last Friday, February 28, 2020, to launch the Asia- wide education and information campaign#SmokeFree4Life and urged the World Health Organization (WHO) and the Department of Health (DOH) to respect the rights of smokers who want to switch to safer smoke-free alternatives.
Caphra, Scoop Health
A well-known New Zealand vaping advocate has returned from the Philippines resolute that the World Health Organisation's (WHO) steadfast position of tobacco control, not harm reduction, is costing considerable lives globally.

Nancy Loucas, Executive Director for CAPHRA (Coalition of Asia-Pacific Tobacco Harm Reduction Advocates), says tobacco use causes one million deaths a year in the Asia-Pacific region alone, and the rights of consumers using smoke-free alternatives need to be respected.
Scoop Politics
Moves to ban vaping advertising not only go against freedoms of expression but will reduce the chance of adult smokers being free of deadly tobacco, says Jonathan Devery, spokesperson for the Vaping Trade Association of New Zealand (VTANZ).

His comments follow the release of a report by Attorney-General, David Parker, to Parliament that states parts of the Smokefree Environments and Regulated Products (Vaping) Amendment Bill banning the advertising or promotion of vaping products were 'inconsistent with the right to freedom of expression' under the Bill of Rights Act.
---
St George's University of London
In our most recent Spotlight on Science event, a St George's audience heard from experts and advocates on the evidence behind vaping, in a bid to understand the impact these products might have on people's health.

Chaired by St George's Professor Deborah Baines, presenters including Dr Lion Shahab from UCL, Professor Robert Tarran from the University of North Carolina and Martin Cullip, Chair of the New Nicotine Alliance, were all invited to speak.
---
FOUR from Dave Cross, Planet Of The Vapes
The US House of Representatives, dominated by the Democrat party, voted in favour of legislating against the sale of all flavoured vape products (they don't consider tobacco flavouring to be a flavour). The Bill is set to go to the Senate for its next step – but a statement from the Executive Office of the President says the President's senior advisors would recommend that the bill is vetoed.
The University of Oxford's Jamie Hartmann-Boyce wants to set the record straight about vaping and heart disease. In his piece, Jamie discusses what we know and the lasting impact of Stanton Glantz's work – despite it being retracted.
"The Chinese public is not satisfied with old orthodoxies and stale stories, and neither is the Global Times," says the Chinese English language newspaper Global Times. So, it appears, it is making up stories that aren't stale at all – and one tries to link the COVID-19 (coronavirus) outbreak with "mysterious" American lung diseases.
Experts have written to the European Respiratory Journal (ERS), challenging the ERS policy on vaping and tobacco harm reduction and calling for it to adopt a rational approach. The ERS has recently declared that tobacco harm reduction is a failing strategy and "lacks evidence to justify the approach".
---
Thomas Kirsop, The Morinville News
Show me a single historical example of when applying a tax to a legitimate market had a restrictive effect upon a parallel black market.

While I am waiting, let's talk about the UCP government's plan to reward Alberta smokers who after being hounded, shunned, ostracized, and belittled for well over two decades, stumbled upon vaping, and finally did what governments, health bodies, and their busy body neighbors had been demanding.
---
Saddle Horse Blues
February may have been a short month but it was a wild one. We've gathered up some of the top articles and news events and posted links to them, along with short excerpts for your convenience. Although we've focused on North American news, we also have news from around the world. It's a mixed bag. There has been some good news (see New Zealand's "key messages" on vaping from the Ministry of Health, for example) but the anti-vape movement has not lost any steam and many of the articles highlight the challenges we're facing. We've also included a couple of articles on the challenge that smokers face. Smokers are part of our community who just haven't made the choice to join us yet and it's important to lend our support where we can and to be mindful of the challenges that they face as well.

---
Jared Crawford, Pegasus Blog
As both state and federal lawmakers consider increased regulation and taxation of vapor and e-cigarette products, Pegasus Institute has compiled research and data relevant to the discussion. Below, we have a breakdown of some important and often overlooked aspects of vaping policy and taxation.

At the Federal level, HR 2339 passed the U.S. House of Representatives with broad support from Democrats and five yes votes from Republicans. The Trump Administration opposed the measure, and the Republican members of the House Ways and Means Committee tweeted, "If there were an award for 'legislative false advertising,' H.R. 2339 would win the prize.
---
Visit Nicotine Science & Policy for more News from around the World

---