Vaping Digest 2nd March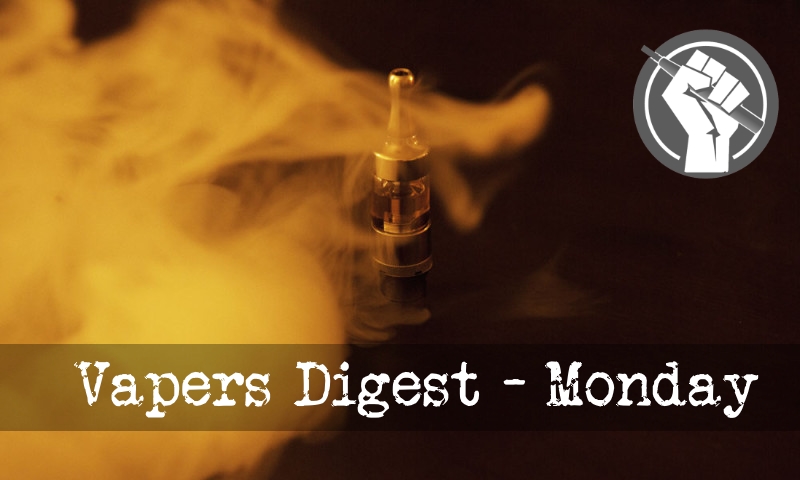 Monday's News at a glance:
Hopes that US flavour ban may be vetoed but Mexico imposes import shutdown – Vaping in The News – March 1st – Free e-cigs given out – CoEHAR against the increase in excise duties – Health Insurance Companies Charge Vapers Up to 50% More – UCL Repeat Research Call – Parliamentary Questions – Toxic chemicals in the e-cigarette vapour – Pelosi Has to "Whip" Votes to Pass Flavor Ban – Advertising ban 'goes against freedom of expression' – The Politics of Vaping – Juul Plans To Include Bluetooth – Vapers rebuff 'smokers' tag – Study Finds Raising Taxes on Vaping Increases Smoking – Nicotine Science and Policy Daily Digest
But Mexico imposes import shutdown – Fergus Mason
A draconian new flavour ban has made it through the US House of Representatives, but faces two massive roadblocks – the Senate will probably vote it down, and if it makes it past that hurdle President Trump will probably veto it. There was also bad news for notorious anti-vaping crank Stanton Glantz, as one of his key papers on e-cigs was deemed "unreliable" and pulled by a major medical journal.

The United States House of Representatives narrowly approved a draconian anti-vaping bill on Thursday afternoon – but the White House has already indicated that President Trump is likely to veto it if it reaches his desk.
Kevin Crowley, Vaping Links
Pallone thinks you're stupid ~ House Democrats go full nanny state and pass overkill vape flavor ban ~ How 'Trickle-Down Justice' Adds More Hurdles for Returning Citizens ~ STATEMENT OF ADMINISTRATION POLICY ~ Call For Another Retraction ~ The Politics of Vaping ~ Congress' Proposed Tobacco Ban Would Represent Most Far-Reaching Prohibition Bill Since Ban on Alcohol ~ Do Anti-Vaping Ads and Media Actually Encourage Youth Vaping? ~ Would the PG mist from vaping help to reduce, deactivate, or kill some degree of airborne coronavirus? ~ The 'Big Kill'
---

---
In battle to get 87,000 Northamptonshire smokers to trash the ash
Health officials are stepping their bid to get Northamptonshire's smokers to trash the ash before the decade is out.

The county's Stop Smoking Service are offering free e-cigarettes to pregnant women and anyone who wants to quit and signs up for a 12-week programme.

They will also be hitting the road with a series of workplace interventions providing e-cigarettes and voucher incentives to those looking to quit.
Increases Smoking – Lee Johnson
Cigarettes are a substantial source of income for governments around the world. With such a large percentage of each pack coming from the "sin tax" applied to cigarettes and still-substantial numbers of smokers in most countries, it's no surprise the money adds up. And in a sense, it's also not much of a surprise that state governments and the federal government have been considering taxes on vaping for some time now. In fact, 20 states currently have some form of e-cigarette tax already in place and there is a federal-level bill proposing a nationwide vaping tax.
---
---
On e-cigarette liquids in Poland
Costanza Nicolosi, international regulatory expert for both LIAF and CoEHAR has participated in a press conference promoted by the Vaping Association Polska (VAP) on February 26th, held at the Centrum PAP in Warsaw, Poland to talk about the exponential increase in taxes on e-cigarette liquids that the Polish government wants to impose on producers.

To explain what is happening and to understand the extent of the Polish phenomenon, it suffices to walk through the streets of the Old Town in Warsaw, from the Palace of Culture to the Royal Route.
Charge Vapers Up to 50% More – Diane Caruana
Despite the fact that most e-cigarette users have turned to vaping in order to quit smoking, in the US they are being lumped in with smokers when it comes to health insurance penalties.

Normally, non-smokers including vapers, are charged up to 50% less a year on their life insurance. This could equate to paying between $350 to $800 less a year, depending on other health related factors. However, health insurers in the United States, are following the Food and Drug Administration (FDA), in not considering e-cigarettes or vapes as cessation or harm-reduction tools, and insuring vapers as they would smokers.

Two from Dave Cross, Planet of the Vapes
Researchers at University College London (UCL) were delighted with the response from POTV in November, but still have space for more vapers to help with a new project involving nicotine, e-cigarettes and heated tobacco products. Sceptics can be assured that the research will place emphasis on scientific rigour as the principal investigator is Dr Lion Shahab.
They are looking for:

Ex-smokers who now use an e-cigarette (with nicotine)
Live in London (as they need to commute to UCL) – for us to compensate £5 travel expense
If it's a female participant, to ensure they are not pregnant

Dr Shahab has extensive expertise in the field of tobacco control and is trained in epidemiology, neuroscience and health psychology. He has worked on numerous studies looking at the impact of vaping and frequently provides comment debunking some of the flawed studies originating from America.
Baroness Redfern wanted assurance that vapers are given the same access to stop smoking services as smokers. Mark Hendrick MP wanted to probe into how many young people are vaping in the United Kingdom. Gregory Campbell MP was concerned about the rates of smoking and whether the Tobacco Control Plan is working.

Conservative member Baroness Redfern asked in the House of Lords: "[Are] people who vape are given the same access to NHS services as people who smoke who are seeking to quit; and if not, why not?"
---

---
Is substantially less: Prof Robert West
Shahid Akhter, editor, ETHealthworld spoke to Prof Robert West, professor of health psychology at the department of behavioural sciences and health at University Law College, London, to know more about the research behind e-cigarettes and if it can help one in quitting smoking.

Can e-cigarettes help you quit smoking? – There is a lot of noise going around e-cigarettes but the evidence that is emerging now is very clear that it helps people to stop smoking. The only question is 'how much does it help?' So we have evidence from randomised controlled trails, showing the e-cigarettes were more effective than licensed nicotine products in helping people to stop smoking in a clinic.
Jim McDonald, Vaping 360
After a few twists and turns, House Democratic leaders finally got their caucus together enough to pass a bill that would, if it becomes law, destroy the independent vaping industry. The Protecting American Lungs and Reversing the Youth Tobacco Epidemic Act is not, however, expected to pass in the Senate—and it may not even get a vote.

Before it was debated, HR 2339 had been combined with another bill—HR 4742—which proposes taxing e-liquid nicotine content. Combined, the two bills would:
Amy Lauren Fairchild
As public health leaders, we have been deeply troubled by an alarmist turn in the tone of the electronic cigarette debate and calls for wide-reaching bans that could keep an important tool out of the hands of smokers who want to quit.

The Food and Drug Administration's recent plan to crack down on underaged sales and impose a temporary ban on all but tobacco and menthol flavors in cartridge-style vape products appears to be an attempt to find balance between protecting youth and maintaining the availability of products with the power to save adult lives

Advertising ban 'goes against freedom of expression'
A proposed law change prohibiting ads for vaping products and e-cigarettes is "inconsistent" with the right to freedom of expression, the Attorney-General states.

The Smokefree Environments and Regulated Products (Vaping) Bill was introduced to Parliament last week, including a complete ban on the sale of vaping and smokeless tobacco products to anyone under 18.

Under the bill, the advertising of vaping products and smokeless tobacco was also banned, e-liquid flavours would be restricted and vapers can no longer light up in smoke-free areas.
Angel Abcede and Hannah Prokop
114 DAYS. In this amount of time, President Donald Trump triggered a temporary removal of ­flavored vaping cartridges and increased the federal minimum age to buy tobacco from 18 to 21, and the first statewide ban on menthol-flavored tobacco products became law.

While vaping grabbed most of the headlines, the action on menthol-flavored tobacco and nicotine products in Massachusetts and the increase in the minimum buying age may prove to be more consequential for convenience retailers and businesses all along the tobacco supply chain.
On Their New Devices To Discourage Underage Use
Juul recently released its plan to include Bluetooth features on future vaping devices to help prevent them from getting into the hands of young users.

Essentially, the Juul would have to be in close enough proximity to a smartphone so that it could sync up to Bluetooth and users can take a hit. The vaping giant claims that the device would lock automatically if not in use or out of reach of a connected smartphone, according to the Richmond Times-Dispatch.
---
Vaping Suffers Most, Find Out Why – Regulator Watch
---
Roderick T. dela Cruz
"We are not smokers." Vapers and tobacco harm reduction advocates delivered this message in a gathering in Makati City on Feb. 28 to launch the Asia-wide education and information campaign #SmokeFree4Life that urges the World Health Organization and the Department of Health to respect the rights of consumers of smoke-free alternatives to combustible cigarettes.

The regional movement, spearheaded by the Coalition of Asia Pacific Tobacco Harm Reduction Advocates, was launched in the Philippines on the same day the government announced President Rodrigo Duterte's issuance of Executive No. 106 that regulates vaping in the same category as smoking.
Ben O. de Vera
With President Rodrigo Duterte's Executive Order (EO) No. 160 in place, registered imported e-cigarettes can enter the country without a hitch.

Finance Secretary Carlos G. Dominguez III on Friday (Feb. 27) said EO 160 did not ban e-cigarettes per se, but prohibited the manufacture and sale of unregistered heated tobacco and vaping products.
---
A look back at how things have moved on or otherwise…
Incoming From The Telegraph? – Dick Puddlecote
Like Clive Bates who has blogged about this today in an article entitled "Anti-vaping activists pitch unscientific fringe positions to a national newspaper", I also saw an email detailing how the Telegraph is planning on publishing a massive load of bullshit about vaping tomorrow (Feb 29th apparently) in one of "a series of articles".

"We have spoken to the experts listed below and sought their views on the following topics: the medical concerns surrounding e-cigarettes despite them being promoted as a reduced risk alternative to traditional cigarettes; the marketing of e-cigarettes; the risk to young people of becoming addicted to nicotine via the use of e-cigarettes:"

The first thing that sprung to mind when I read this was what could have prompted it?
Pitch unscientific fringe positions to a national newspaper
Clive Bates, The Counterfactual
An email originating from a senior journalist at a national newspaper reached me indirectly this morning. The newspaper had sent position statements from nine anti-vaping 'experts' asking someone (not visible to me) for a reaction to twelve 'observations and opinions' advanced by members of this group. The newspaper proposed to publish these in an article soon after. I thought it may help readers if I provided some responses to these twelve points myself.

I will refer to the nine activists mentioned in the email as 'experts' or the 'expert group', though not because I think they are experts. They are the following:
Have your say – Louise Ross
I knew that retirement wouldn't mean the ending of work, or indeed the end of my interest in tobacco harm reduction. Since leaving Leicester City Council, I've been keeping busy in many different ways (see below).

One new group I've joined is the James Lind Alliance Priority Setting Partnership.

I'd never heard of the Alliance or the Partnership until about six months ago and you may not have either. The task of the group – and there are many similar groups looking at medical conditions such as heart failure, hyperacusis and dementia for example – is to find out what a wide range of stakeholders want to know about a given topic: what are the research priorities? The group I'm a member of was set up to look at the research priorities for electronic cigarettes.
---
Visit Nicotine Science & Policy for more News from around the World

---