Vaping Digest March 1st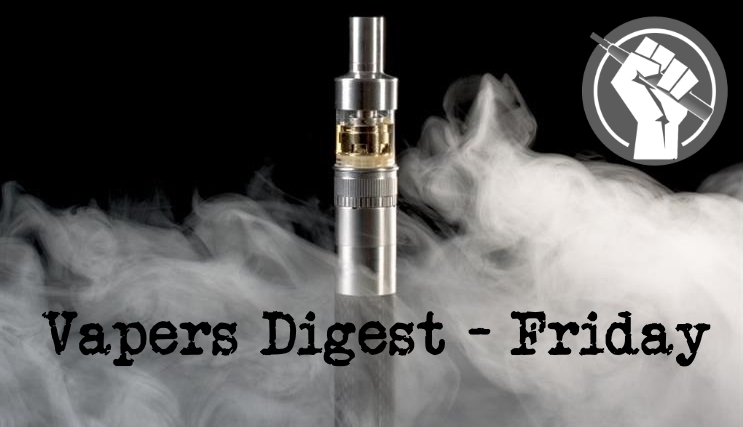 Friday's News at a glance:
Laughable Bullshit Tsunami Incoming From The Telegraph? – Anti-vaping activists pitch unscientific fringe positions – What are the vaping research priorities? – PHE report reveals mixed results – Update from NNA Smoke Free Estonia – UK Teen Vaping – Homeless Harm Reduction – New PHE Vaping Report – Lung Damage Idiocy – Switching from Smoking to Juul Reduces Toxic Chemical Biomarkers – Fined, Jailed and Deported for Vaping – Swedish Snus Is Safer than Smoking – ATHRA no longer accepts vape industry donations – Letter: Tobacco in Hong Kong – Cannabis advocates wary – Philip Morris fights to lift WA's 'nanny-state' ban on vaping – Nicotine Science and Policy Daily Digest
Incoming From The Telegraph? – Dick Puddlecote
Like Clive Bates who has blogged about this today in an article entitled "Anti-vaping activists pitch unscientific fringe positions to a national newspaper", I also saw an email detailing how the Telegraph is planning on publishing a massive load of bullshit about vaping tomorrow (Feb 29th apparently) in one of "a series of articles".

"We have spoken to the experts listed below and sought their views on the following topics: the medical concerns surrounding e-cigarettes despite them being promoted as a reduced risk alternative to traditional cigarettes; the marketing of e-cigarettes; the risk to young people of becoming addicted to nicotine via the use of e-cigarettes:"

The first thing that sprung to mind when I read this was what could have prompted it?
Pitch unscientific fringe positions to a national newspaper
Clive Bates, The Counterfactual
An email originating from a senior journalist at a national newspaper reached me indirectly this morning. The newspaper had sent position statements from nine anti-vaping 'experts' asking someone (not visible to me) for a reaction to twelve 'observations and opinions' advanced by members of this group. The newspaper proposed to publish these in an article soon after. I thought it may help readers if I provided some responses to these twelve points myself.

I will refer to the nine activists mentioned in the email as 'experts' or the 'expert group', though not because I think they are experts. They are the following:
Have your say – Louise Ross
I knew that retirement wouldn't mean the ending of work, or indeed the end of my interest in tobacco harm reduction. Since leaving Leicester City Council, I've been keeping busy in many different ways (see below).

One new group I've joined is the James Lind Alliance Priority Setting Partnership.

I'd never heard of the Alliance or the Partnership until about six months ago and you may not have either. The task of the group – and there are many similar groups looking at medical conditions such as heart failure, hyperacusis and dementia for example – is to find out what a wide range of stakeholders want to know about a given topic: what are the research priorities? The group I'm a member of was set up to look at the research priorities for electronic cigarettes.
---

---
New Nicotine Alliance
This week, Public Health England released the first of three reports it had commissioned as part of the government's Tobacco Control Plan for England. This particular report focussed on how e-cigarettes are being used by the public and revealed some mixed results.

Its main findings were that:

Regular vaping in under-18s remains low at 1.7%
Regular e-cigarette use among adults has plateaued and a third of adult smokers have never tried one
Only 4% of quit attempts made through Stop Smoking Services use an e-cigarette, despite this being an effective approach
New Nicotine Alliance
At a session in the Parliament of Estonia (Riigikogu) on the 13th February, members gave overwhelming support to major reforms of current Estonian tobacco legislation. Proposed amendments included limiting e-cigarette restrictions (July 2019 flavour ban, e-liquid excise tax and domestic online sales ban). The Parliament also overwhelmingly supported to correct the long term failure of Estonian Government to regulate novel smokeless products to enter the Estonian market. The amendments were supported by almost all political parties – 'Conservatives', 'Centrists' and 'Liberals' – only the Social Democrats voted against policies which supported tobacco harm reduction.
---
"Some media coverage suggested that vaping in young people has doubled over the past five years, but in truth the rate has hardly changed in the last few years"https://t.co/hlxJQav6ZX

— NNAlliance (@NNAlliance) March 1, 2019
Thema der Woche:
Public Health England hat die neusten Erkenntnisse in ihrer Reihe "E-Cigarette: an evidence review" veröffentlicht. Schwerpunkt ist E-Dampfen und Jugendliche.

weiterlesen:… https://t.co/xc71DEgpny

— IG-ED (@ig_ed) March 1, 2019
---
Five from Dave Cross, Planet of the Vapes:
The Daily Telegraph has published an article claiming the numbers of teens vaping has doubled since 2014, and cites Martin McKee and Simon Chapman's opinions. Meanwhile, British American Tobacco (BAT) announces its plan to prevent young people from using its electronic cigarette products.
The newspaper says teen vape rates have doubled in five years, in a study conducted by researchers at King's College London – but surreptitiously confuse figures with ones obtained from a small Coventry University study. It states that 1.6% of teens were vaping in 2014, but this has risen to 3.4% in the latest report.
The Addictive Behaviours journal carries a new piece of research conducted by Lynne Dawkins, Allison Ford, Linda Bauld, Sema Balaban, Allan Tyler, and Sharon Cox. The cross sectional survey aimed to identify smoking characteristics and quitting behaviour within a sample of the homeless community. Despite a high number having tried vaping, the team found barriers to people being able to switch permanently.
Regular vaping among young people remains low in Britain and has plateaued among adults, an independent report led by researchers at King's College London and commissioned by Public Health England (PHE) has found.
The report is the first in a new set of 3, commissioned by PHE under the Government's Tobacco Control Plan for England. It looks specifically at the use of e-cigarettes rather than health impacts, which will be the subject of a future report.
Sukhwinder Singh Sohal, Mathew Suji Eapen, Vegi Naidu and Pawan Sharma have written to the editor of the European Respiratory Journal (ERJ) to claim that vaping and heat-not-burn (HNB) devices are no safer than smoking tobacco.
The letter opens by stating: "eCig vaping is comparatively new but its use is increasing at an alarming rate."

By stating that reducing the harm caused by burning tobacco is "alarming" displays a criminal level of ignorance or disregard for the lives of smokers, and parades their bias writ large.
Juul UK is stepping up its push to capture market share by expanding to new outlets and investing in a field resource team. Calls have gone out for Ireland to be more pro-vaping. Ecigs are to become legal for sale in the United Arab Emirates (UAE) but the lies continue in Singapore.
Juul Labs might have pulled most of its flavoured products from the shelves in America, but it still predicts that 2019 is going to be a massive year. It forecasts an income of $3.4 billion, three times the amount it achieved in 2018.
---

---
Reduces Toxic Chemical Biomarkers to the Same Degree as Quitting Cold Turkey
The Rest of the Story, Michael Siegel
According to a study conducted by Juul and presented Saturday at the Big-Pharma funded SRNT annual meeting, there is no difference between switching from smoking to Juul and quitting smoking cold turkey in terms of the reduction in biomarkers of toxic chemicals.

In the study, a group of 90 adult smokers were randomized to either: (1) continue to smoke as usual; (2) stop smoking cold turkey; or (3) switch completely from smoking to Juul. After five days, the researchers measured the change in the level of nine different biomarkers for toxic chemicals, which indicates the level of exposure to these chemicals.
Fined, Jailed and Deported for Vaping – Jim McDonald
A French tourist says police in Thailand first tried to extort money from her, and then arrested and charged her for possessing a vape. After that, things got much worse.

Cecilia Cornu was on vacation in Phuket when four Karon police officers stopped her on Jan. 30 for holding an e-cigarette, according to the Phuket News. Cornu had been riding a scooter with her fiance. Karon is a resort town on Phuket Island, a popular tourist area on the Indian Ocean. Cornu, 31, was there with several family members.
Michael McGrady
In 2016, the Food and Drug Administration (FDA) denied an application from Swedish Match North America to classify their snus oral tobacco product as a "modified risk tobacco product" (MRTP). According to federal law, the purveyors of tobacco products that seek to amend and market their tobacco product differently from standard regulatory controls must seek approval from the FDA. Swedish Match followed this process and submitted an MRTP application for eight general snus products to the agency's Tobacco Products Scientific Advisory Committee.
ATHRA is a registered health promotion charity established by an independent group of doctors and a consumer to reduce the devastating health burden from smoking in Australia. Smoking is still the leading preventable cause of death and illness in Australia and kills 19,000 people every year.

ATHRA believes that Australian smokers should be accurately informed about less harmful alternative products to smoking so they can make informed choices.
Carrie Wade
We write to you out of concern regarding the proposed complete ban on e-cigarette, heated tobacco products and other reduced risk tobacco product sales. We can find no credible evidence that suggests this ban will meet its stated objective, and its proponents have not presented any, either. On the contrary, a policy of denying smokers access to much safer products and new ways to quit smoking carries obvious dangers that have not been recognized. We cannot see any ethical or scientific reason why a government would ban products with much lower risk than cigarettes, while cigarettes remain available everywhere in Hong Kong.
Julie Gunlock
Public health officials' goal should always be to build awareness of the risks associated with smoking and educate the public on the products that can help smokers quit. Yet the public health community has failed to build awareness of how switching to e-cigarettes can reduce the harm associated with smoking by as much as 95 percent, according to the Public Health England and multiple independent reviews.

As Colorado considers e-cig limits
Cannabis advocates are watching closely as Colorado lawmakers consider limits on where e-cigarettes can be used in an effort to combat rising teen use of nicotine-containing vaping devices.

A bipartisan bill getting its first hearing Wednesday would add electronic cigarettes and other vaping devices to the Colorado Clean Indoor Air Act, which restricts tobacco use at the workplace and in many public spaces. E-cigarettes heat a nicotine solution into a vapor that's inhaled.
Stephen Wade
Despite tougher laws enacted last year, smokers can light up in some restaurants and bars. Tobacco advertising is allowed on television, cigarette packages don't contain graphic health warnings, and tobacco is cheap compared to other major cities.

However, don't expect to puff away at next year's Tokyo Olympics. Organizers on Thursday announced a stringent ban on all tobacco products and vaping devices. Smoking will be banned at all indoor and outdoor Olympic and Paralympic venues, plus within all perimeter areas of the Tokyo Games.
Heavyweights from big tobacco will front a WA parliamentary committee today to plead the case to end the ban on vaping products.

Philip Morris Australia executives say they will come armed with an "overwhelming body of scientific evidence that clearly shows smoke-free products, such as e-cigarettes and heat-not-burn products, are a much better choice for adult smokers than continuing to smoke cigarettes".
On Hamilton's vaping ban – Tom Rowland
A planned vaping ban in Hamilton's CBD has drawn the attention of the chairman of Action for Smokefree (ASH) 2025, Emeritus Professor Robert Beaglehole, who says the ban will cause more harm than good.

At last month's community and environmental services committee meeting, city councillors voted to reduce smoking and vaping in public places.
Industry bodies oppose proposal to ban vape content
More than 30 organisations and industry bodies, including Ficci, CII and the Cellular Operators Association of India, have written to the Electronics and IT Ministry (MeitY), urging it not to ban online content related to the Electronic Nicotine Delivery Systems (ENDS)

Other major organisations supporting this include Asia Internet Coalition, Broadband India Forum, Internet Freedom Foundation, Data Security Council of India, Heart Care Foundation of India, and The Centre for Internet and Society.
---
A look back at how things have moved on or otherwise….
Wales Online, Megan Griffiths
A ban on electronic cigarettes and vaping products has been introduced at a shopping centre in Swansea. The Quadrant shopping centre put the ban into effect on Monday. Lisa Hartley, centre manager, confirmed the decision, and said: "Smoking has not been permitted in the centre for a number of years now, and with the growth in popularity of vaping and e-cigs, we thought it was important that we introduce the policy for the comfort of our shoppers.
Parliment.UK, Science and Technology Committee (Commons)
Evidence given by Professor Peter Hajek, Professor of Clinical Psychology, Queen Mary University of London, Professor Mark Conner, Professor in Applied Social Psychology, University of Leeds, and Professor Riccardo Polosa, Professor of Internal Medicine, University of Catania; Dr Lion Shahab, Senior Lecturer Health Psychology, University College London, Dr Jamie Brown, Deputy Director, Tobacco and Alcohol Research Group University College London, and Professor Paul Aveyard, Co-ordinating Editor, The Cochrane Tobacco Addiction Group
---
Visit Nicotine Science & Policy for more News from around the World

---