Vaping Digest March 4th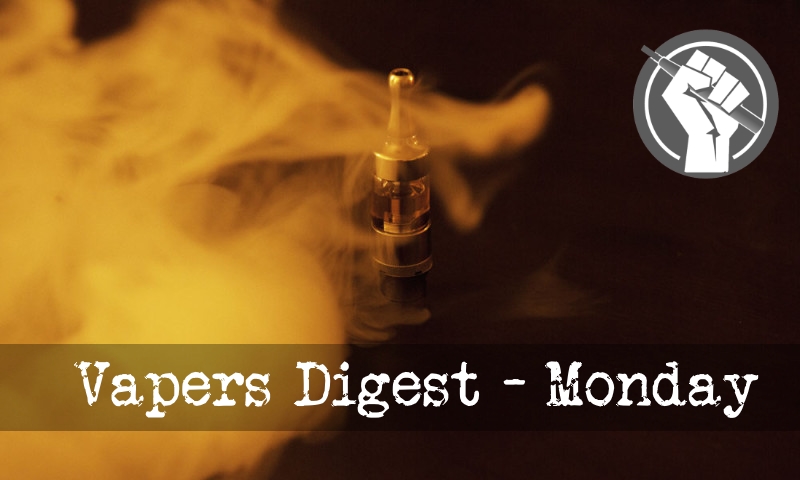 Monday's News at a glance:
Voices in the calm, NNA February newsletter – Vape hysteria keeps growing – Vaping research priorities – Farsalinos Attacks Proposed Law – Telegraphing Ignorance – Vaping In The News – March 2nd – Study After Study Shows That Vaping Does Help Smokers Quit – E-cigs better – landmark study – Vaping Is Saving Lives – Smokers given free 'vape' kits – Tobacco harm reduction: a global health coup – Councillors Display Zero Empathy – Smoking and vaping at Wellington beaches – Almost Half of Juul Starter Kit Buyers Quit Within 3 Months – Vaping tax – E-cigarette users urge quick solution – Smoking kills thousands of Malawians every year – Nicotine Science and Policy Daily Digest
NNA February newsletter
While there has been a frenzy of irrational panic in the USA of late, February has been a comparatively slow month for tobacco harm reduction this side of the pond. Things picked up in the last week with a report by Public Health England into general use of e-cigarettes which we blogged about here but mostly things have been quite calm. NNA trustees were still active in some areas though, so here is an update.
Despite evidence – Fergus Mason
As American fear of harm reduction comes to resemble the "Satanic panic" of the 1980s, some Texas schools have begun banning long sleeves in case students are hiding e-cigs inside them. However, a major UK study found no evidence of a teen vaping epidemic, with rates of use among young people low and stable. Meanwhile a French tourist has been deported from Thailand for vaping, in a move that's likely to make many tourists think twice about visiting the country.
Clive Bates, The Counterfactual
Following up on the guest post by Louise Ross: What are the vaping research priorities? Have your say… I have now had my say and wanted to share my top 10 priorities.

Here is a link to the vaping research priorities survey If you have ideas, please respond by 20 March 2019.

Here are the 10 ideas I have submitted…
---

---
Dave Cross, Planet of the Vapes
The Ministry of Health has placed a draft law before the Greek Parliament for discussion. It includes proposals for the regulation of non-nicotine electronic cigarettes. Dr. Konstantinos Farsalinos has made representations to the government, informing them of the major flaws in the proposed legislation.

Dr. Konstantinos Farsalinos, in conjunction with Dr. Konstantinos Poulas, stated: "While it is obvious that the Ministry of Health's goal is to defend Public Health, legislation has the exact opposite effect, creating a problem in Public Health without protecting anyone. Most of the measures proposed are scientifically inappropriate, paradoxical, incomprehensible, inapplicable and in stark contrast to the research findings to date."
Q & A with Dr Farsalinos
Dave Cross, Planet of the Vapes
Last week an email circulated from The Daily Telegraph, seeking responses to the 12-point position statement taken by nine anti-vaping "experts" in advance of an article published on March 2nd. A second article was also sneaked into the paywalled section of the site, slamming Instagram for promoting vaping to 13-yr olds – wrapped up as a piece of investigative journalism. On Sunday, Camilla Turner wrote about vapers making "death threats" to these academics.
The collection of "experts" include:
---
If you've stopped smoking by #vaping, please please tell your doctor so they can record you as an ex-smoker. Then tell me what they said to you (pleased/congratulations/dismissive/critical)
It all helps to educate GPs

— Louise (@grannylouisa) March 4, 2019
Anyone wishing to come along to the Global State of Tobacco Harm Reduction https://t.co/Ff4TrBkgKo 'The Right to Choose' events in Melbourne (tomorrow) and Sydney (Thursday 7 March) with @ColinMendelsohn @AlexWodak @Shapiroharry please message me for details. Free to attend.

— Paddy Costall (@paddyc1702) March 3, 2019
---
Kevin Crowley, Vaping Links
Can Nicotine Actually Have A Good Side? ~ Snus and Parkinson's ~ Swedish Snus Is Safer than Smoking ~ An Upside to Nicotine ~ Switching from Smoking to Juul ~ Anti-vaping activists pitch unscientific fringe ~ FDA chief hands the WH his plan to restrict flavored e-cigs ~ A Moose poking a bear ~ Buffalo, New York
That Vaping Does Help Smokers Quit – Lee Johnson
To say that vaping has been controversial would be a massive understatement. Ever since they hit the market, anti-smoking groups and many others have been touting over-exaggerated risks and downplaying some fairly obvious benefits. Along with things like the formaldehyde scare and overblown concerns about vaping serving as a gateway to smoking, you see a surprising number of people claiming that vaping actually doesn't help smokers quit, or even that it actually makes it harder to quit.
Dennis F. Fetalino
New findings validate the greater efficacy of the highly popular tobacco transitioning devices, debunking cynics and detractors who claimed they were dangerous, counterproductive, and even more harmful than actual cigarettes smoking.

By making these outrageous and faulty statements, these parties and personalities are betraying the lack of sound science to back their pronouncements. In their haste to defend the status quo in the industry entering its twilight years these shady characters are slipping tumbling, and falling over the wobbly tracks of their arguments.
Veronique de Rugy
Tobacco kills half a million people a year. Talking about the impact of smokers' switching from cigarettes to vaping in a recent interview with Medscape, Dr. Scott Gottlieb, the head of the Food and Drug Administration (FDA) said this:

At face value, we believe that these products pose less risk than combusting tobacco. If you can fully switch every currently addicted adult smoker who is using combustible tobacco products onto e-cigarettes, you will have a profound impact on public health. And some people are able to switch completely. We think that is a public health benefit.

Back in November, he told CNBC: "If we can switch every adult smoker fully to e-cigarettes, it would have a huge public health impact."
Charlotte Dobson
Smokers will be given free 'vaping' kits to help them quit tobacco for good as part of a new trial. Pharmacies will be handing out e-cigarette starter kits to anyone who signs up to the latest smoking cessation pilot in Trafford.

People who enrol at a pharmacy will be given a four week 'e-cig' starter kit and a consultation with a stop-smoking advisor. Health commissioners behind the scheme hope it will improve residents' health and save them money.
Quit Within 3 Months – Jacob Sullum
A new study, based on a survey of about 7,700 Juul users, found that nearly half had quit smoking within three months of buying a starter kit, while the rest had reduced their cigarette consumption by an average of 52 percent. The survey results, reported in the Journal of Pulmonary and Respiratory Medicine, provide further evidence that e-cigarettes help smokers dramatically reduce their exposure to the toxins and carcinogens produced by tobacco combustion.
To restrict flavored e-cigs
Food and Drug Administration Commissioner Scott Gottlieb has presented senior White House staff with his plan to effectively ban the sale of flavored e-cigarettes in convenience stores throughout the United States, according to two sources familiar with the meeting.

Behind the scenes: Gottlieb met this afternoon in the West Wing with officials from the Domestic Policy Council, the White House counsel's office and the National Economic Council. Joe Grogan, the director of the Domestic Policy Council, arranged the meeting.
A Qualitative study of Youth and Young adults in California
Existing research on youth's adoption of alternative nicotine delivery systems (ANDS) has focused on identifying pathways of nicotine product use, specifically examining whether vaping encourages progression to smoking. Few studies have considered other pathways of initiation. Qualitative studies suggest that meanings of vaping vary significantly, suggestive of the need for a more nuanced understanding of the role of vaping for youth with different pathways into vaping and smoking.
---

---
Pacific Institute for Research and Evaluation
Debate among public health professionals over approaches to tobacco and nicotine regulation has intensified with the rise of vaping in the form of electronic cigarettes (or e-cigarettes) and tobacco heat-not-burn products.

A new article from researchers at the Prevention Research Center of the Pacific Institute for Research and Evaluation explores the contours of the debate and the need for public health professionals to include the concerns and voices of the affected public when crafting and disseminating messages about the relative effects of use of these products.
A global health coup…except in Australia – ATHRA
ATHRA is proud to support the Australian launch of 'No Fire, No Smoke, the Global State of Tobacco Harm Reduction', which is being held this week.

ATHRA director Dr Joe Kosterich is speaking at the launch event on Tuesday 5 March at Parliament House in Melbourne and Colin Mendelsohn is addressing the Sydney meeting at NSW Parliament House on Thursday 7 March. Also speaking will be Harry Shapiro, the report author, and Dr Marewa Glover, a leading tobacco harm reduction advocate from New Zealand.
Toward Smokers/Vapers Transitioning With Effective Harm Reduction Methods
Steve Dohmen, AVCA
As an advocate, I'm quite perplexed at what justifies some of these myopic councillors decision making toward banning vaping? just as the SF2025 initiative is starting to gain traction amongst alleviating smoking uptake in NZ whereas the fact of the matter remains is that they can no longer avoid emerging scientific evidence around the beneficence of tobacco harm reduction devices such as ELVs  (electronic liquid vapourisers) and other alternative risk reduction products. As vapers, we are well aware that vaping is not 100% safe but then again what is?
Could soon be off-limits
Wellington's beaches and a well-known gathering place for smokers may soon be off-limits to smokers and vapers. The city's councillors are voting on a proposed plan to make all beaches along the coast from Oriental Bay to Owhiro Bay smokefree areas.

The same would apply to the Grey Street pedestrian area in the CBD. Councillor Brian Dawson said the plan was part of the council's commitment to having no more than 5 percent of people smoking by 2025.

One can only imagine the number of new taxes that the government will have to think up in the short term to boost its depleted coffers. Is Treasury going to punish South Africans in the pocket for enjoying the odd oily meal or salty chips, asks Thembinkosi Gcoyi.

Tito Mboweni has spoken. Most of us are still trying to figure out what it all means. What we do know is that our economic situation is a mess because of the litany of wrongs visited on our country by a band of thieves, thugs, and gangsters masquerading as our public representatives.
After tourist's bribery accusation
A NETWORK of e-cigarette users has called on the authorities to quickly come up with appropriate solutions to regulate e-cigarettes in order to protect the country's image among foreign tourists.

They also plan to submit suggestions to Prime Minister Prayut Chan-o-cha. The suggestion was in response to a news report on French online media outlet Var-matin, which reported that Thai authorities had demanded a Bt40,000 bribe from a Frenchwoman to free her after she was arrested for possessing an e-cigarette.
There is a deadly public health crisis in Malawi which kills over 5,700 people every year. It is smoking. There are over one million adult daily smokers in Malawi (source: 2018 GSTHR report). We know that tobacco is extremely harmful: there are more than 4,000 chemical compounds in tobacco smoke; 250 of these are known to be harmful and more than 50 are known to cause various cancers.
---
A look back at how things have moved on or otherwise….
E-Cigarette Vapor Has Only Trace Amounts of Metals
Brad Rodu, Tobacco Truth
The American media have been obsessed with a new study (here) claiming that "e-cigarettes are a potential source of exposure to toxic metals (chromium, nickel, and lead), and to metals that are toxic when inhaled (manganese and zinc)."

The headlines misrepresent or overdramatize the facts:

"E-Cig Vapors May Contain Brain-Damaging Toxic Metals, Says New Study" Tech Times

"E-Cigarette Vapor Filled With Dangerous Toxins Like Lead, Study Finds" Newsweek

"E-cigarettes leak toxic metals, study finds" Medical News Today

"Are E-Cigarettes Safe? Alarming Levels Of Metal Found In Its Heating Coils" International Business Times
In Drastically Reducing Number Of Smokers In Iceland
Paul Fontaine, Grapevine
An Icelandic doctor credits vaping with contributing to the dramatic decline in smokers in Iceland, calling it "a great blessing" for Icelanders' health.

In 2014, 35,000 Icelanders self-identified as smokers, comprising 14% of the population. In 2017, only 9% of Icelanders smoked, or about 22,000 people, Vísir reports. This decrease of about 40% is attributable in part to an increasing in vaping, doctor Guðmundur Karl Snæbjörnsson told reporters.

Not only have cigarette sales themselves dropped by 50% from 2008 to 2017, but vaping has been on the rise. In total, some 20,000 Icelanders vape daily or less.
---
Visit Nicotine Science & Policy for more News from around the World

---