Vapers Digest March 2nd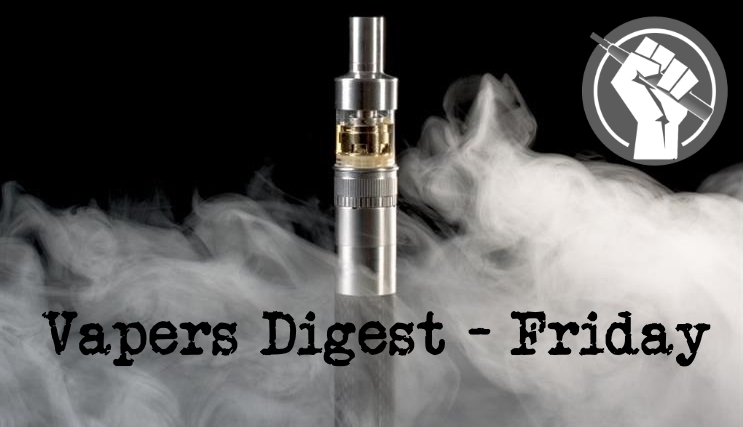 Friday's News at a glance:
Beyond the Headlines, E-Cigarette Vapor Has Only Trace Amounts of Metals – Vaping "A Blessing"  – Current Smokers Ecig Use Research – Can Cole-Bishop Still Save the Vaping Industry? – Its Time To Embrace Vaping To Avoid Carnage From Cigarettes – Health leaders should embrace innovation to end smoking – Career Civil Servants Illegitimately Rule America – Tory heated tobacco pleas go up in smoke – Cops nab 'big supplier' of baraku, e-cigarettes – Nicotine Science and Policy Daily Digest
E-Cigarette Vapor Has Only Trace Amounts of Metals
Brad Rodu, Tobacco Truth
The American media have been obsessed with a new study (here) claiming that "e-cigarettes are a potential source of exposure to toxic metals (chromium, nickel, and lead), and to metals that are toxic when inhaled (manganese and zinc)."

The headlines misrepresent or overdramatize the facts:

"E-Cig Vapors May Contain Brain-Damaging Toxic Metals, Says New Study" Tech Times

"E-Cigarette Vapor Filled With Dangerous Toxins Like Lead, Study Finds" Newsweek

"E-cigarettes leak toxic metals, study finds" Medical News Today

"Are E-Cigarettes Safe? Alarming Levels Of Metal Found In Its Heating Coils" International Business Times
In Drastically Reducing Number Of Smokers In Iceland
Paul Fontaine, Grapevine
An Icelandic doctor credits vaping with contributing to the dramatic decline in smokers in Iceland, calling it "a great blessing" for Icelanders' health.

In 2014, 35,000 Icelanders self-identified as smokers, comprising 14% of the population. In 2017, only 9% of Icelanders smoked, or about 22,000 people, Vísir reports. This decrease of about 40% is attributable in part to an increasing in vaping, doctor Guðmundur Karl Snæbjörnsson told reporters.

Not only have cigarette sales themselves dropped by 50% from 2008 to 2017, but vaping has been on the rise. In total, some 20,000 Icelanders vape daily or less.
---

---
Mawsley, Planet of the Vapes
A team from the Department of Addictions, at King's College London, and Action on Smoking and Health (ASHUK) have looked at why smokers use vape products – and why they sometimes stop using them. The results have been published in this month's journal Drug and Alcohol Dependence.

In "What factors are associated with current smokers using or stopping e-cigarette use", Erikas Simonavicius, Ann McNeill, Deborah Arnott, Leonie S. Brose have set about trying to find answers to how vaping works and where it falls short.
---
---
Jim McDonald, Vaping 360
Once again, Congress is negotiating the final appropriations bills that will fund the government for fiscal year 2018. And once again, the Cole-Bishop Amendment is in the mix.

The Cole-Bishop is a version of the bill introduced last year by Reps. Tom Cole of Oklahoma and Sanford Bishop of Georgia. It's a bipartisan effort that has plenty for both Republicans and Democrats to support. And it's backed by all the major vaping advocacy groups, including CASAA, SFATA, VTA, and the American Vaping Association.
---

---
Gregory Conley
Next week, health leaders from around the world will converge on Cape Town for three days of dialogue about how to reduce the death toll caused by cigarettes.

It's appropriate that the 17th World Conference on Tobacco or Health will be held in Africa because according to the World Health Organisation (WHO), many African nations have smoking rates far higher than the worldwide average. And unlike the West, where smoking rates are declining, smoking in many nations in the developing world is on the rise.
To Avoid Carnage From Cigarettes – Steve Birr
The National Tobacco Reform Initiative (NTRI) released a Jan. 30 statement supporting differential taxes and regulations for vapor products that acknowledge to consumers the reduced-risk profile of the devices. They argue policies need to be constructed in a way that encourages smokers to make the transition to vapor products instead of pursuing rules that reduce access to the harm reduction products, Churn Mag reported.

Illegitimately Rule America
Todd Gaziano and Tommy Berry
After Kimberly Manor lost her husband to lung cancer, she was inspired to make a dramatic career change. Kimberly now owns and operates Moose Jooce in Lake, Mich., a "vape shop" that sells various electronic nicotine devices. These products use battery-powered coils to vaporize liquids, with differing levels of nicotine or none at all. Thus, vapers may inhale nicotine without the tar or other harmful chemicals in tobacco smoke, since there is no tobacco and no combustion…
---

---
Kyle Duggan, iPolitics
A Conservative move that would have changed advertising rules to allow for relative-harm comparisons of cigarettes and tobacco "heat sticks" went up in smoke Wednesday, shot down as the Liberal-dominated House of Commons health committee went clause-by-clause through Bill S-5, which revamps the federal Tobacco Act.
Maha Sarakham: Police have arrested an e-cigarette and baraku seller believed to be a major supplier of illegal smoking devices to university students and tourists.

The suspect, identified as Thotsaphon Khongkham, 27, allegedly defied the law openly by running his shop close to a local university in Kantharawichai district. The shop also serves customers from nearby provinces, said Pol Lt Col Thanathat Siphiphat, police inspector of Tourist Police Bureau's sub-division 2. The seller was packing up the products for mail delivery when the officers, led by Pol Lt Col Thanathat's team, raided the premises
---
A look back at how things have moved on or otherwise….
Fergus Mason, Vapers in Power
Vapers in Power notes with concern – and disapproval – that Action on Smoking and Health continues to oppose the replacement of the EU's inappropriate rules on electronic cigarettes with a new regulatory framework that's actually fit for purpose. Despite repeated attempts to explain to ASH exactly why the TPD and its UK implementation are ill-advised and harmful restrictions based on misrepresented science, they persist in their support for it.
Six Year Long Senior Moment – Dick Puddlecote
I suppose we should expect it from a tobacco control industry which despises comments sections so either doesn't have them or censors the fuck out of them, but it's a common occurrence that they often get quite incredibly confused about which person outside of their echo chamber said what.

Take, for example, my Tobacco Tactics page which attributes me as calling Debs Arnott a "wanker". I'm extremely proud of that page – hilariously inaccurate as it is –
Paul Barnes, Facts Do Matter
This is one of those topics that you just know. One of those that you yourself understand, but find it somewhat tricky to put into some semblance of coherent speech. We all, to varying degrees, know what pleasure is. We all know what we enjoy, and we can all express; to an extent, why we enjoy something.

This is also one of those posts that's taken far too long to write.
---
Visit Nicotine Science & Policy for more News from around the World

---