Vaping Digest 28th February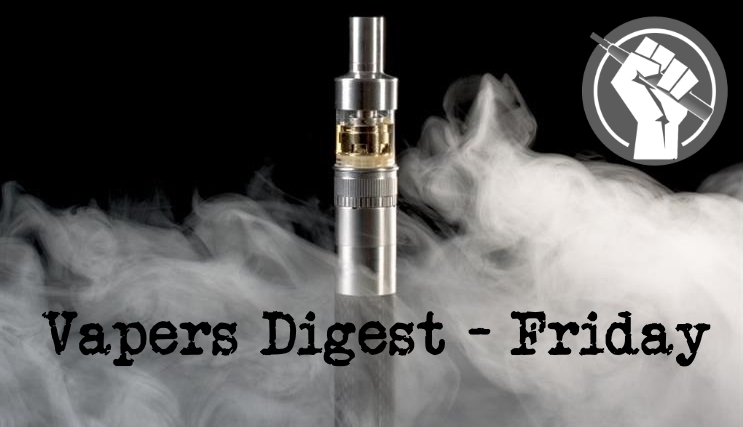 Friday's News at a glance:
Could new EU law be nail in coffin for vaping? – Trump promises to veto flavours ban – Do Anti-Vaping Ads and Media Actually Encourage Youth Vaping? – Coronavirus and Vaping – Call For Another Retraction – Cold Bath For Foundation – Brits Worried By Vape News – Media Coverage – CDC Closes the Books on "EVALI" – The need for an evidence-based and rational debate on e-cigarettes – Norway and Denmark turn to snus – Smoking ban now covers vape – Government launches border crackdown – Media Vapors Over Vaping Cloud – Do Iowa lawmakers care about vaping facts? – Throwing the Baby Out With the Bathwater – Government Taxes an Industry It Has Already Wiped Out – Nicotine Science and Policy Daily Digest
James Dunworth, Ashtray Blog
A few years ago, vaping was very nearly banned in Europe. The European Commission and the majority of the Member States planned to medicinalise electronic cigarettes. As it can take 10-20 years to get a medical licence for a product, that would have essentially outlawed vaping.

At the time, vapers across the UK and Europe mobilised, with thousands writing letters to their MEPs to tell them how vaping had changed their lives. Their heartfelt stories won the day, with vaping winning enough support to scupper ban plans and ending in the compromise that saw vaping covered under the Tobacco Products Directive II.
Christopher Snowdon, Velvet Glove Iron Fist
Banning flavours in vape cartridges was never going to satisfy America's anti-nicotine fanatics and so HR 2339 was drawn up to ban flavours in e-cigarette fluids altogether. That includes mentyhol and it includes all tobacco products too.

As Guy Bentley says, if this law is introduced it would be the most far-reaching prohibition since the Volstead Act 100 years ago.

Fortunately, however, the Donald has stepped up to the plate to put an end to it. Yesterday, he put out a Statement of Administration Policy saying…
---

---
Jim McDonald, Vaping 360
Since last fall, the Centers for Disease Control and Prevention has issued a bi-weekly update on the spread of the vaping-related lung injuries it calls "EVALI." Now the agency has announced it will end its regular announcements.

"Due to continued declines in new EVALI cases since September 2019, and the identification of vitamin E acetate as a primary cause of EVALI, today's release is the final biweekly CDC update on the number of hospitalized EVALI cases and deaths nationally," said the agency's media statement. CDC will continue to update the situation "as needed" at—believe it or not—its e-cigarette information page.
Actually Encourage Youth Vaping? – Michael McGrady
In the wake of last year's EVALI lung injury outbreak and a raft of legislative and media reactions to perceived threats to youth, an intriguing question is being asked about one potential cause of the exaggerated-but-real rise in nicotine vaping among teens who don't smoke.

Are anti-vaping advertisements inadvertently promoting product recognition and uptake among youth?

In a December report for the Competitive Enterprise Institute, Senior Fellow Michelle Minton argued that anti-vaping campaigns portraying e-cigarettes as a deadly youth epidemic have the opposite effect to that intended.
---
The UK government's position on e-cigs. "These regulations aim … to provide assurance on relative safety for users."

The government gets it – vaping isn't absolutely safe but it is 'relatively' safe compared to smoking.#VapingSavesLives pic.twitter.com/jsnDJvH0bM

— David Newell (@dnglos) February 27, 2020
---
We Talk To China's Vape Companies – Neil Humber
Coronavirus and vaping – so what is the impact this deadly disease is having on an all ready under pressure vape industry? I've held off looking at this – one because in the scheme of things, and given the cost of many lives, vaping manufacture and distribution seemed a little insignificant given the tragic human side of the outbreak.

And two – as with all major incidents, things tend to move very fast indeed. However, we have reached out to a number of China's leading vape companies and it seems that whilst the outbreak is as close to a pandemic as you can get, the situation at the time of writing, is, according to the staff we've spoken to, improving daily.
Help to reduce, deactivate, or kill some degree of airborne coronavirus?
Chris Price, Quora
PG (propylene glycol) has been used and researched as an antimicrobial for 70+ years, since the 1940s. It has been well-demonstrated to be among the most effective airborne pathogen killers in existence, when dispersed as an aerosol. Note that it is an effective antibacterial and antiviral, when aerosolised (in mist form so to speak).

This is one of the 3 reasons it was used for decades as the water treatment agent in large buildings' air-conditioning plant: (1) It kills airborne pathogens better than almost any other mist agent. (2) It has a very low freezing point, and therefore qualifies as an antifreeze agent in the water (thus, a typical glycol). (3) It is one of the non-toxic glycols: some are harmless (PG, PEG for example); some are toxic (e.g. DEG). PG and PEG have been used in medicines for decades; you will find PEG in many preparations, currently.
And rational debate on e-cigarettes – Lancet
The inaccuracies and misinformation in the Editorial about e-cigarettes1 do a major disservice to evidence-based public health.

The latest evidence from the USA indicates that the outbreak of acute lung injury is strongly linked to the vaping of contaminated illicit marijuana products.2 Although a small minority of affected individuals had not reported using cartridges containing cannabis oil, it is possible that they did not wish to reveal such information or had been using other illicit contaminated products.

Four from Dave Cross, Planet of the Vapes
Last week, Stanton Glantz received a massive slap in the face when one of his research papers was retracted by a journal. Now harm reduction expert Clive Bates is calling for a second Glantz study, this one claiming to have found a gateway effect from vaping to smoking, to be withdrawn.

In "Electronic Cigarette Use and Progression From Experimentation to Established Smoking", Chaffee, Watkins and Glantz wrote: "In previous studies of youth who have never smoked cigarettes, those who tried electronic cigarettes (e-cigarettes) were more likely to initiate conventional cigarette smoking compared with e-cigarette never users. In cross-sectional studies, e-cigarette use is associated with established youth smoking."
Stopping Tobacco Organisations and Products (STOP) is a global tobacco industry watchdog based partly in Bath which says it "works to accelerate tobacco control and expose tobacco industry tactics." The attack on the Foundation for a Smokefree World (FSFW) should come as no surprise given that one of the STOP Partners is Vital Strategies, a billionaire Bloomberg-funded organisation.

"Addiction At Any Cost" is ostensibly an attack on tobacco giant Philip Morris International (PMI) but, like many in tobacco control, it ignores the systems put in place to prevent PMI from exerting influence over FSFW to pursue an attack based on slurs and innuendo.
Despite the British vaping boom, a study conducted by British vaping retailer Electric Tobacconist has found that the smoking and vaping public is put off using electronic cigarettes due to its negative portrayal in the media. Over a third of respondents are worried and two-fifths are unsure about the relative safety of vaping.

Google Surveys sought the UK public's views on using e-cigarettes as a smoking-cessation tool, and if they believe the devices have a public-health benefit for Electric Tobacconist. The company says: "It comes at a time of intense focus on e-cigarettes in the United States, with ongoing negative news about vaping in the American media and, this month, a ban on most flavoured e-liquids by the Trump administration."
Vaping has featured in a number of media stories this last week, and there has been an emphasis on supposed negative aspects. The Mirror focussed on exploding mods, The Guardian balanced facts with nonsense from New York Governor Andrew Cuomo.

The Daily Mirror leapt on an announcement from The Office for Product Safety and Standards, demonstrating that nobody in the news office knew how to spell "cinnamon", because of "devices exploding or causing fires".
---

---
David Palacios Rubio
Snus is booming in popularity in Norway and Denmark – especially among the young – while cigarette-smoking appears to be losing its appeal fast. Official figures from Norway show daily snus users now substantially outnumbering those who smoke every day.

They show a drop in the number of daily smokers in the country in 2019, along with an increase in those using snus every day as a means to quit combustible tobacco.
---
Glantz Study Scandal & Truth Behind Smoking Death Rates – RegWatch
---
CNN Philippines
President Rodrigo Duterte is now banning the use of unregistered vape in public and enclosed places nationwide.

Duterte signed Executive Order 106, amending EO 26 that prohibits smoking of cigarettes in enclosed areas such as schools, elevators and stairwells, fire hazard locations, medical facilities.

Vaping is no longer allowed except in designated smoking areas, which may be an open space or area with proper ventilation, the order read.

On illegal vaping imports – Dana McCauley
A crackdown is coming on Australians who illegally import nicotine vaping products online, in a move set to reignite debate over whether e-cigarettes are helpful for smokers who need help to quit.

The Sydney Morning Herald and The Age can reveal federal health minister Greg Hunt has directed the Therapeutic Goods Administration to work with the Department of Home Affairs to consider a new approach to policing and regulating e-cigarettes.
Teddy Ostrow
There's been a moralist war on nicotine vaping for years, despite the scientific near-consensus that it is far safer than conventional cigarettes, which kill 480,000 Americans a year. Flame-fanning, ill-informed media coverage hypes concerns from some sectors into dangerous misinformation, and does little to improve public or personal health.

Take the flurry of reports last summer warning of a "mysterious lung disease," confirmed as of December to be injuries stemming from vaping black-market THC oil contaminated with vitamin E acetate.
Adam Sullivan
The initial deception almost always gets more attention than the subsequent correction. As the often-misattributed quip puts it, "A lie gets halfway around the world before the truth has a chance to get its pants on."

This especially holds true for potential public health threats, which are ripe for spreading misinformation and causing panic. A case in point is the latest development in the anti-vaping movement: the retraction of a key paper in the case against e-cigarettes, which should give Iowa legislators something to think about on their bipartisan march toward overregulation.
In the Debate Over Vaping – Jason Pye
The rise of the scourge that is youth e-cigarette use in America is certainly something that cannot go unnoticed or unaddressed. However, instead of approaching the problem rationally and carefully — as we should approach all areas of national policy — it seems that all too many in Washington are more than willing to rush the deliberative process for the sake of moral panic and, in so doing, will end up throwing the baby out with the bathwater.
It Has Already Wiped Out – Canadian Vaping Association
The government of Nova Scotia released their 2020 budget today which includes a new tax on vaping e-liquids. This comes after the government banned all flavoured e-liquids effective April 1, 2020, effectively wiping out the vaping industry in the province.

"The irony is that there will be virtually no e-liquids sold in the province after April 1 because the province has banned all flavoured e-liquids," says Darryl Tempest, Executive Director, The Canadian Vaping Association. "They have regulated adult vaping out of business and now they want to tax the corpse."
---
A look back at how things have moved on or otherwise….
Public Health England
Smoking prevalence is at an all-time low in England, but over six million people are still smoking. The recently published NHS Long Term Plan hails prevention as a way to save over 500,000 lives across the next ten years, and helping smokers to quit is a key part of the plan.
Public Health England
Annual update of Public Health England's e-cigarette evidence review by leading independent tobacco experts.
Public Health England
Regular vaping among young people remains low in Britain and has plateaued among adults, an independent report led by researchers at King's College London and commissioned by Public Health England (PHE) has found.

The report is the first in a new set of 3, commissioned by PHE under the Government's Tobacco Control Plan for England. It looks specifically at the use of e-cigarettes rather than health impacts, which will be the subject of a future report.
---
Visit Nicotine Science & Policy for more News from around the World

---