Vapers Digest February 26th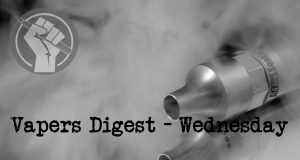 Wednesday's News at a glance:
Federal Funds Misspent on Anti-Vaping Research ~ Do Anti-Vaping Ads and Media Actually Encourage Youth Vaping? ~ What schools SHOULD do about teen vaping ~ E-Cigarette Opponents Do More Harm by Snubbing Big Tobacco ~ Coronavirus in China may mean global shortages for vaping manufacturers ~ Coronavirus Impacting Iceland's Stocks Of Vape Supplies ~ Two thirds of UK vape stores fail test purchases, study shows ~ Taxes raised on all tobacco products in Egypt ~ Mexico Bans Import of All Vaping Products, Cites WHO Guidance ~ Exclusive: Juul halts Indonesia e-cigarette sales, throwing Asia expansion in doubt ~ Philip Morris are right and the EU is wrong ~ Review – Dispatches: The Secrets Of Big Tobacco ~ Whanganui business and agency to talk about vaping to help quit smoking ~ Northamptonshire To Promote Vaping ~ NZ Hits Flavour Availability ~ Congress' Proposed Tobacco Ban Would Represent Most Far-Reaching Prohibition Bill Since Ban on Alcohol ~ Vaping battle heats up as FDA deadline looms ~ Juul to introduce new type of vaporizer after FDA crackdown
Brad Rodu, Tobacco Truth
The Journal of the American Heart Association on February 18 retracted an article by Dharma Bhatta and Stanton Glantz.  As I documented earlier, Bhatta and Glantz published demonstrably false findings.  Details of the retraction were reported by USA Today's Jayne O'Donnell, Ivan Oransky at Retraction Watch and Alex Norcia of Vice, among others.
Michael McGrady, Filter
In the wake of last year's EVALI lung injury outbreak and a raft of legislative and media reactions to perceived threats to youth, an intriguing question is being asked about one potential cause of the exaggerated-but-real rise in nicotine vaping among teens who don't smoke.

Are anti-vaping advertisements inadvertently promoting product recognition and uptake among youth?
, School News
In December, Nelson school principals called for vaping regulations after they claimed primary school children were found experimenting with a vape. Principals told Stuff at the time: "The message about cigarettes has been heard fairly loud and clear, but vaping is not seen in the same light at all at this point." Auckland Grammar School principal Tim O'Connor told Newshub in August that half his junior students had either owned a vape or experimented with one.
---
Joe Nocera, Yahoo
A quarter century ago, a man named Steve Parrish was the ugly voice of the tobacco industry. The tobacco wars were raging: States were suing the cigarette companies, whistle-blowers were leaking damning documents to the media and David Kessler, the commissioner of the Food and Drug Administration, was trying to regulate tobacco products.
ECigIntelligence
The novel coronavirus (COVID-19) that has so far killed more than 2600 people in China has had limited impact up to now in the vaping industry around the world, but severe movement restrictions have led to fears of disruption.

Dimitris Agrafiotis, executive director of the Tennessee Smoke-Free Association and chief executive of Global eVapor Consulting, has found cause to worry about supply chain disruptions.
Andie Sophia Fontaine, Reykjavik Grapevine
One of the unforeseen consequences of 2019-nCoV, better known as the coronavirus, is that Iceland is fast running out of stocks of vape supplies, such as coils and machines. A vape shop worker that the Grapevine spoke with says that the most popular products will be sold out within two weeks time if the situation does not change.
---

---
More than two thirds of vape retailers failed test purchases undertaken by JTI as part of a scheme to identify retailers at risk of selling vaping products to minors.

The tobacco supplier undertook the tests as part of the IDentify programme, part of its "continued commitment to supporting retailers and preventing minors having access to vaping products".

The test purchasing at 344 stores in Cardiff, Manchester, Edinburgh, Glasgow, London and the West Midlands also discovered that 53% of businesses are not carrying out any test purchasing checks to understand if their own systems are working.
---
Doaa A.Moneim, Ahram Online
Tobacco and cigarette prices will increase at different rates as of Tuesday after parliament's approval on Monday of new amendments to the VAT tax law no.67 for 2016.

The prices have been raised by 50 piasters for each unit, and the raised tax will be applied as soon as the new law is published in the official state gazette.
---
Vaping 360, Jim McDonald
Mexico has banned the import of all vaping products by presidential decree. The new law, which took effect on Feb. 20, bans all products, including zero-nicotine e-liquid and even hardware sold without e-juice.

Ironically, one of the positions that helped President Andrés Manuel Lopez Obrador earn a landslide victory in the 2018 election was his opposition to the prohibitionist war on drugs and support for legalizing cannabis.
Chris Kirkham, Fanny Potkin, Neil Jerome Morales, Reuters
Juul Labs Inc is halting sales in Indonesia, citing concerns that it can't stop retailers from selling its high-nicotine e-cigarettes to young people in a largely unregulated tobacco market. Juul disclosed its Indonesia plans to Reuters as the news organization was inquiring about the company's marketing to younger customers there and in the other two Asian countries where it operates – the Philippines and South Korea.
Christopher Snowdon, Velvet Glove, Iron Fist
Philip Morris has been getting grief from the pompously named 'Bureau of Investigative Journalism' and Channel 4's Dispatches. I haven't watched the Dispatches episode yet, but judging from the press coverage it's very thin gruel.

TV producers seem to think that they can get a scandalous exposé out of any old leaked e-mail. In this instance, the story is that…
---
Fergus M, Heat Not Burn
I've been interested in Heat not Burn products for a few years now, as you probably guessed if you've been keeping up to date with this blog, so if there's anything about them in the media I tend to check it out just to see what's being said. This is why I ended up watching Channel 4's Dispatches last night.

I'd been tipped off by an article in The Guardian that Dispatches was planning a programme on HnB – more specifically, on Philip Morris International and their goal of moving smokers onto safer alternatives.
, NZ Herald
A Whanganui business and the local quit smoking service want to "clear the air" on vaping and show the possible benefits in using vaping as a way to quit smoking.

Dr John McMenamin, the Whanganui Stop Smoking Service and Quit Clinic coaches invite people to meet at The Mushroom Cloud store today from 7pm learn more about vaping as a way to quit smoking.
---
TWO from Dave Cross, Planet Of The Vapes
Northamptonshire never strikes people as a remarkable county, yet it has given the world famous writers, sports stars, musicians, actors, and a guy who discovered the structure of DNA. Northamptonshire is now one of the world leaders as its Stop Smoking Service has embraced vaping as a means to switch away from smoking.
Associate Health Minister Jenny Salesa has dithered making changes that the vape industry was crying out for and was frequently accused of not understanding the role harm reduction products could play. Now she has announced a restrictive approach to controlling access to eliquids and is being condemned by trade body VTANZ.
---
Guy Bentley, Reason Foundation
Congress is expected to vote on whether to ban the sale of all flavored tobacco products. Should the current text of H.R. 2339 be enacted into law, it would be the most far-reaching prohibition since the ban on alcohol. Flavored e-cigarettes, menthol cigarettes, smokeless tobacco, and cigars, would all be made illegal. Despite its massive implications for public health, the economy, and law enforcement, the proposed federal law has received little scrutiny.
---
, The Washington Post

Robert Arnold has spent years building his company, Saffire Vapor, which cranks out 5,000 bottles of nicotine e-liquid a week including Red October (banana nut bread and strawberries), Naughty or Nice (sugar cookie) and Engineer (buttery cinnamon toast). He sells the "vape juice," worth about $65,000, at his 24 vape shops in Tennessee and Kentucky, as well as online.

---
Fox Business
Juul Labs Inc. plans to present to federal regulators a new version of its vaporizer designed to unlock only for users at least 21 years old as part of an application the controversial e-cigarette maker must file to keep its products in the U.S. market.

All manufacturers must submit their vaping products for Food and Drug Administration review by May 12 to continue selling them in the U.S. after that date.
---
Visit Nicotine Science & Policy for more News from around the World

---