Vaping Digest 24th February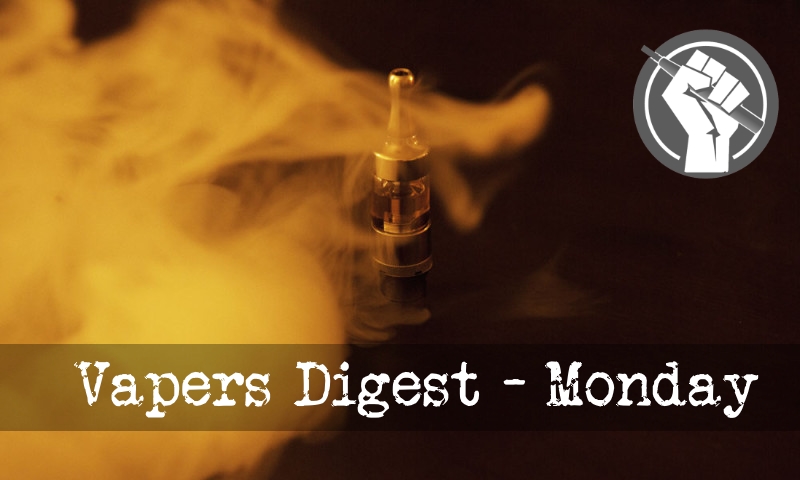 Monday's News at a glance:
Vaping and heart disease: setting the record straight – Envi, the green monster – Canadian Constitution Foundation –  Australia Running Low on E-Cig – ANESVAP Plea – Vaping In The News – February 22nd – EU ENVI Committee exchange of views – Plans for tobacco-free vaping areas – House Will Vote Feb. 27th – The American vaping crackdown: – Bill to restrict vaping and e-cigarette sales – Vaping ad and flavour bans slammed – Vaping law welcomed – A clouded future for e-cigarettes in Myanmar – Caution in reporting researches on vaping – Nicotine Science and Policy Daily Digest
Setting the record straight – Jamie Hartmann-Boyce
In June 2019, a paper by prominent US academics found that people who used e-cigarettes were at greater risk of a heart attack. The authors concluded that e-cigarettes were just as risky as tobacco in provoking heart attacks, and that using e-cigarettes and traditional cigarettes at the same time was even riskier. Unsurprisingly, this caused a stir in the media – in the form of 35 news stories, to be exact. Also unsurprisingly, it provoked vigorous scientific debate. Eight months later, the paper was retracted.

When a paper is retracted it means we can't trust its results. It's like being unpublished. The problem is, the paper still exists – it's in news stories, it's on social media, it's in documentaries. Smokers see these stories and increasingly think e-cigarettes are as harmful as smoking. That's a problem because smoking is deadly.
thatgotmethinkingblog
Ever wondered how the EU does business? Ever wanted to see how our elected MEP's present themselves on a day to day basis? You can, you know. Because the EU being a transparent democratic institution, broadcasts its goings on on the web. https://multimedia.europarl.europa.eu/en/home That's nice of them. It's not exactly riveting viewing, in fact it counts as a sedative or possibly tranquilizer if consumed in large enough doses. Better to stick to small pieces at a time.

This week one of the highlights for me was the ENVI Committee Meeting, specifically item 16. Yes, we have a exciting life here in our house. No Netflix needed when the EU committees are available.
---

---
Dave Cross, Planet of the Vapes
The Canadian Constitution Foundation has released an executive statement from a report looking at possible avenues for a constitutional challenge to current and proposed vaping legislation in Canada by Dr Leonid Sirota, professor of law at the Auckland University of Technology Law School.

The Canadian Constitution Foundation ("Freedom's Defence Team") is a registered charity, independent and non-partisan, whose mission is to defend the constitutional freedoms of Canadians through education, communication and litigation. It has been quiet for a while but makes a welcome return with this release.
Due to Coronavirus Shut Downs –  Diane Caruana
Due to the quarantines set in place in China as a result of the infamous Coronavirus outbreak, Australian stockpiles of vaping products such as replaceable coils and pods, are dwindling at a rapid rate.

With 90% of the world's vaping hardware produced in China, Australian stockpiles are dwindling and retailers and distributors alike are concerned. While some have already run out of certain items, others are fearing that they only have enough supplies to last a few weeks. "We're feeling the pinch on our more popular devices," said Chris Monchgesang, the chief operating officer for Vape Traders, a major distributor. "It hasn't been the most enjoyable time."
Dave Cross, Planet of the Vapes
ETHRA member ANESVAP warns that the Spanish Health Minister is releasing an anti-vape position statement later today. It says that nobody who should have been consulted has been and is asking vapers to join it in voicing the opinions of vapers on social media. ANESVAP says:

"El próximo lunes 24 de Febrero de 10 a 11 de la mañana en el Ministerio de Sanidad se realizará el acto de presentación del documento de posicionamiento de la SEPAR sobre cigarrillos electrónicos y tabaco calentado. Por supuesto, ni la Plataforma Médica ni las otras Asociaciones civiles por la Reducción de Daños por Tabaquismo hemos sido informadas, ni tenemos acceso, ni se nos ha invitado a asistir"
---
You got Glantzed: Snookered, see lied to

Glantzified: It was glantzified on the news

To Glantz: To not see what is real, make things up, fail

Glantzian: Retracted, unreliable, research written in glantzian tone of faux authority

I crack me up.

— VapingIT, SPE, EEI (@Vapingit) February 23, 2020
---
Kevin Crowley, Vaping Links
Vaping Prohibition is On the Table in Congress ~ I dare you to click on this ~ Nicotine science and policy Q & A ~ Virus hammers vape producers – and taxes boost smoking ~ Flavored tobacco bans lead to unintended consequences ~ Professor Puff-N-Stuff is a retracted idiot ~ Trump's Good Idea: Get Drug Regulators Out Of Vaping ~ Did Somebody Leave the Gaslight On? ~ IQOS Heat-Not-Burn Products Are Drawing Smokers Away from Cigarettes ~ Did FDA Create a Regulatory Loophole for Puff Bars? ~ Did the government just contract Disney to advertise to children? ~ When a politician's lips are moving:
---
Thanks as always to @dnglos for the YouTubage
---
And a non-alcohol drink on draft in every Bristol pub – Adam Postans
Pubs in Bristol could be forced to serve zero-alcohol draught beer and tobacco-free vaping areas could be introduced under radical plans by health chiefs to tackle problem drinking and smoking. The two-pronged attack, to be considered by the city's health and wellbeing board on Thursday (February 27), aims to "nudge" residents' habits and reduce associated deaths and serious illnesses.

A report to the committee, which includes Bristol City Council cabinet members and directors, bosses from Bristol, North Somerset and South Gloucestershire CCG and health trusts and voluntary sector representatives, says the alcohol-free trial could begin as a pilot project at larger establishments in the city centre.

On a Nationwide Flavor Ban – Jim McDonald
A bill that would ban flavored vaping products and online sales in all 50 states will come to the House floor for a vote on Thursday, Feb. 27. House bill HR 2339—the Reversing the Youth Tobacco Epidemic Act— was introduced almost a year ago by Democratic representatives Frank Pallone of New Jersey and Donna Shalala of Florida.

When Vaping360 described HR 2339 last April, we called it "a bill designed to destroy the vaping industry." While it would leave some vapor products made by tobacco companies and JUUL on convenience stores shelves, very few independent vaping businesses will be able to survive if the bill becomes law. It is hard to overstate how devastating it would be.
Why is it happening?
To many outsiders, vaping mainly looks like a way for hipsters to blow obnoxious clouds into the air while bragging about how delicious their new almond biscotti e-liquid is. For those who vape, though, it isn't just a hobby or source of camaraderie; it's the thing that has made it possible for them to quit smoking – sometimes after many failed attempts to quit by other means.

Regardless of how you might feel about the vaping culture, you know that virtually every adult using a vape from a company like V2 E-Cigarettes UK is a former smoker no longer making the world stinky and no longer puffing his or her way to an early grave.
Would Create a Dangerous Black Market – Elizabeth Wright
Within the next two weeks, the House of Representatives is likely to consider H.R. 2339, the Reversing the Youth Tobacco Epidemic Act of 2019. This legislation would make it illegal to sell any flavored electronic nicotine delivery system (ENDS) product, or e-cigarette. It would also ban flavors in other tobacco products, including menthol, mint, and spice flavors found in combustible cigarettes and cigars and non-combustible products like chewing tobacco. Only natural tobacco flavor would be allowed
---

---
The government will introduce laws to further regulate vaping and e-cigarettes, including tightening age restrictions, barring advertising, and regulating where they can be sold and used.

"This is the most significant change to New Zealand's smokefree laws since they were introduced 30 years ago," Associate Health Minister Jenny Salesa said.

"The Bill aims to strike the right balance between making sure vaping is available for smokers who want to use it as a quit tool for cigarettes while ensuring vaping products are not marketed or sold to children and young people," Salesa said.
But concern limiting flavours will not help smokers quit – Collette Devlin
The ACT Party has slammed the Government's plan to regulate vaping, labelling it the most damaging public health policy in a generation.

Meanwhile, Action on Smoking and Health (ASH) said there may be some unintended consequences of treating vaping harshly, in line with cigarettes.

Vaping laws will be brought closer to tobacco laws under the proposed law change, including a prohibition on advertising and sponsorship of vaping products and e-cigarettes.
Dan Satherley
Health advocates and the vaping industry are calling on the Government to back down on a planned marketing and advertising ban.

The Smokefree Environments and Regulated Products (Vaping) Amendment Bill, which will be introduced to Parliament on Monday, includes a prohibition on advertising vaping products.

But the evidence suggests they're an effective tool to help smokers quit.

Ye Mon & Eaint Thet Su
The law is vague on the status of vaping in Myanmar, and the Ministry of Health and Sports may ban e-cigarettes before changes can be made to the relevant legislation.

THE camera pans along a row of single-use Flow e-cigarettes, each in a different coloured box to denote a certain flavor, before cutting to a wider shot of actress Thin Zar Wint Kyaw, who spends the next minute puffing suggestively and blowing smoke towards the camera. The caption under the Facebook video reads "Let's flow with me", together with a link to the Flow Myanmar page.
To request public hearing to legalise vaping in Thailand
The Tobacco Control Research and Knowledge Management Center (TRC) revealed results from the meeting of the Ministry of Commerce's review panel on e-cigarette import control measures on January 23 stating that the ministry has decided to continue with the ban without any change.

Mr. Maris Karanyawat, a representative of an e-cigarette user group known as 'End Cigarette Smoke Thailand (ECST)' comments:

"The panel did not listen to public opinion or the research from other countries that we submitted to them so their decision lacks of transparency, righteousness and the engagement of the people affected by the ban.
Islamabad
The Pakistan Alliance for Nicotine and Tobacco Harm Reduction (PANTHR) has called for cautiously reviewing and reporting research on vaping (activity of using electronic cigarettes).

The Journal of American Heart Association (JAHA) has recently retracted a widely circulated study claiming e-cigarettes use increased the likelihood of having a heart attack.

Stanton Glantz and Dharma Bhatta of the University of California San Francisco said in the original study that vaping and smoking cigarettes posed a similar risk, while doing both at the same time was an even more dangerous option.
---
A look back at how things have moved on or otherwise…
Of Government Propaganda About Smokeless Tobacco?
Jacob Sullum, Reason
As you probably did not know, this is Threw With Chew Week, an annual outburst of propaganda aimed at scaring people away from smokeless tobacco with warnings that are exaggerated, misleading, and in some cases simply false. Last week the Department of Defense anticipated the occasion by tweeting that "smokeless tobacco users are 50x more likely to get cheek, gum & mouth cancer vs. nonusers." That 50-times factoid, which dates back to a frequently misrepresented subanalysis in a 38-year-old study, lives on the border between highly misleading and flatly untrue. In this formulation it crosses that border.
But clearly fact-checking isn't – Harry Shapiro
I am a big fan of The Guardian; its editorial positioning lines up with my left-liberal views and I have been a regular reader of its articles for many years. Recently it has taken up the cudgels against Big Tobacco, which at one level is strange because in most of the countries where the paper is read, smoking has been in steep decline with the companies on the legal backfoot time and again, for instance, regarding new legislation about plain packaging. More generally, the long and tawdry history of tobacco company deceit is hardly news.
Less than 3 days left ….
It was a caring community of passionate leaders from around the world that brought A Billion Lives (our last movie) to over 4,000,000 people. To make an even bigger impact this time, we'll need your help.

Now that we've reached our initial goal, we need you to fuel the energy and keep this trending as the most popular documentary currently on Kickstarter. That's vital to reaching the public.

We also need to reach additional stretch goals (see below) to create a better movie (more talented team members), reach more people (publicity), and make a bigger impact.
---
Visit Nicotine Science & Policy for more News from around the World

---