Vaping Digest February 22nd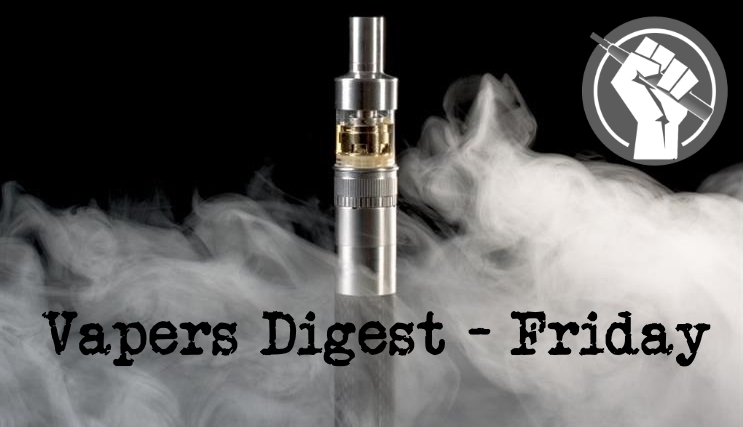 Friday's News at a glance:
Did Twitter Punish Criticism of Government Propaganda? – Comment is free, but clearly fact-checking isn't – You Don't Know Nicotine – $9.3M Worth Of Nicotine Seized – Does Vaping Increase the Risk of Stroke – Teen Smoking-to-Vaping Is More Frequent – Landmark Study Fails To Find Gateway – New Study Casts Doubt – THR Advocate Destroys Juul Study – Shadow Banned – A tale of bootleggers and Baptists – SRNT Under Fire – The Feds Don't Have A Role To Play – The Arrogance of Public Health Advocacy – Vaping ban proposed for Hamilton CBD – NYC Poised for Key Decision – Brides and Grooms Are Saying 'I Juul'  – Nicotine Science and Policy Daily Digest
Of Government Propaganda About Smokeless Tobacco?
Jacob Sullum, Reason
As you probably did not know, this is Threw With Chew Week, an annual outburst of propaganda aimed at scaring people away from smokeless tobacco with warnings that are exaggerated, misleading, and in some cases simply false. Last week the Department of Defense anticipated the occasion by tweeting that "smokeless tobacco users are 50x more likely to get cheek, gum & mouth cancer vs. nonusers." That 50-times factoid, which dates back to a frequently misrepresented subanalysis in a 38-year-old study, lives on the border between highly misleading and flatly untrue. In this formulation it crosses that border.
But clearly fact-checking isn't – Harry Shapiro
I am a big fan of The Guardian; its editorial positioning lines up with my left-liberal views and I have been a regular reader of its articles for many years. Recently it has taken up the cudgels against Big Tobacco, which at one level is strange because in most of the countries where the paper is read, smoking has been in steep decline with the companies on the legal backfoot time and again, for instance, regarding new legislation about plain packaging. More generally, the long and tawdry history of tobacco company deceit is hardly news.
Less than 3 days left ….
It was a caring community of passionate leaders from around the world that brought A Billion Lives (our last movie) to over 4,000,000 people. To make an even bigger impact this time, we'll need your help.

Now that we've reached our initial goal, we need you to fuel the energy and keep this trending as the most popular documentary currently on Kickstarter. That's vital to reaching the public.

We also need to reach additional stretch goals (see below) to create a better movie (more talented team members), reach more people (publicity), and make a bigger impact.
---

---
Kevin Crowley, Vaping Links
After months of multiple undercover investigations between the Bureau of Alcohol, Tobacco, and Firearms (ATF), Drug Enforcement Agency (DEA), and the Food and Drug Administration (FDA), authorities announced they have seized 372,000 pounds of pure nicotine with a street value of over 9.3 Million dollars in one of the largest busts of its kind. Ever.

Agents took 19 adults and 487 children into custody. One agent claimed "they were living in deplorable conditions", while another said this bust was "the beginning of the end of the nicotine trafficking underground- wait, one of 'em's getting away…" Wait, what?
A recently published study and conference abstract released earlier this month concluded that "Daily e-cigarette use, adjusted for smoking conventional cigarettes as well as other risk factors, is associated with increased risk of myocardial infarction." Similarly the media coverage of the conference abstract stated that "E-cigarettes linked to higher risk of stroke, heart attack, diseased arteries."

Renowned cardiologist and well published tobacco harm reduction researcher Dr. Konstantinos Farsalinos, responded to these allegations saying that both conclusions are wrong and "constitute epidemiological malpractice and misinformation."
Than Vaping-to-Smoking – Brad Rodu
FDA Commissioner Gottlieb on February 10 tweeted, "Now, a new study, published in the Journal of the American Medical Association (JAMA), further demonstrates what we've seen from other data: Teens who vape are more likely to start smoking cigarettes." (Tweet here)  The study (here), by Kaitlyn Berry at Boston University and colleagues there and at the Universities of Louisville and Southern California, appeared in JAMA Network Open.

Berry et al. examined the FDA Population Assessment of Tobacco and Health (PATH) survey involving youth, which started in 2013-14 and had two follow-ups, one and two years later.
---
Thema der Woche:
Der EU-Kommissar für Gesundheit findet E-Dampfprodukte zwar weniger schädlich als Tabakzigaretten, aber dennoch seien sie "giftig". Anerkannte Wissenschaftler kritisieren diese Aussage…. https://t.co/9rhcUtIgj7

— IG-ED (@ig_ed) February 22, 2019
What if you just gave smokers e cigs and waited to see what happened? Those with the best devices were more likely to quit smoking spontaneously. #srnt19 pic.twitter.com/1R8qd9hUrS

— Martin Dockrell (@SwitchFinder) February 22, 2019
---
Dave Cross, Planet of the Vapes
The Journal of the National Cancer Institute has published a huge study looking at youth vaping and how this is a predictor for later cigarette smoking behaviour – otherwise known as the 'gateway effect'. Despite claiming that ever-vaping predicts future smoking, people have been quick to point out that absolutely no evidence has been provided.
Researchers from the Food and Drug Administration, Roswell Park Cancer Centre, National Institutes for Health, the Truth Initiative, and the John Hopkins Bloomberg School of Public Health combined to produce the study.
On the Claim That Vaping Causes Smoking – Jacob Sullum, Reason
A recent study confirms that teenagers who try e-cigarettes are more likely than those who don't to subsequently try conventional cigarettes, which is consistent with the hypothesis that vaping is a gateway to smoking. But this association is also consistent with the hypothesis that pre-existing differences make some teenagers more likely to experiment with both products, and a closer look at the data casts doubt on the idea that vaping causes smoking.

The study, reported last month in the Journal of the National Cancer Institute, is based on the Population Assessment of Tobacco and Health, which includes a sample of about 12,000 12-to-17-year-olds.
---

---
Triplet  from Dave Cross – Planet of the Vapes
Robert Jackler and Divya Ramamurthi have had a paper published in the British Medical Journal which was seized upon by many news outlets. It is essentially a hatchet job on Juul, attempting to whip up fears over nicotine levels. Harm reduction advocate Amelia Howard ripped it to pieces.
"Nicotine arms race: JUUL and the high-nicotine product market" concluded:
Brad Rodu, a Professor of Medicine and Endowed Chair of Tobacco Harm Reduction Research at the University of Louisville, responded to an erroneous statement on the Twitter platform. The error was made by Quit Tobacco/UCanQuit2, a U.S. Department of Defence program. Everybody liking or Retweeting Rodu's response has been shadow banned or had their accounts locked. Is there something nefarious going on?
UCanQuit2 is an educational campaign for the U.S. military, giving service people "the opportunity to learn more about tobacco cessation, develop a plan for quitting, and get help around the clock."
Dr. Lion Shahab recently spoke about the truth behind vaping, essential given some of the things happening globally. India faces a proposal to ban online vape information, Shenzhen has banned vaping in public spaces and Hong Kong proposes fines for vendors. Despite this, tobacco-harm reduction is working in Japan and vaping helps US military personnel quit smoking.

For Accepting Sponsorship Money from E-Cigarette Company
The Rest of the Story, Michael Siegel
Controversy is brewing in San Francisco this week as it was revealed that the Society for Research on Nicotine and Tobacco (SRNT) accepted money from an e-cigarette company to sponsor its annual meeting which is being held this week.

It was reported this morning that SRNT accepted funding from GreenSmokeKloud, an e-liquid distributor whose products are competing with nicotine replacement therapy and Chantix for a share of the smoking cessation market.
Michael McGrady, Vaping Post
Economist Bruce Yandle defined the theory of the "Bootlegger-Baptist" coalition. This theory is an economic term used to refer to the analysis and observation of specific regulatory actions supported by groups who advocate such a policy and others that could profit from undermining said policy. Utilizing the examples of prohibition from the 1920s and 1930s, the theory comments on how morally differentiated classes of individuals and organizations can find common interests in the most bizarre ways.
In Stifling E-Cigarette Advertising – Carrie Wade, R Street Institute
A federal regulator on the Federal Communications Commission has weighed in on e-cigarettes, proposing significant federal overreach.

E-cigarettes are the public-health crisis du jour, and FCC Commissioner Jessica Rosenworcel has vowed to take action by banishing e-cigarette advertising from radio and television airwaves. Yet by leveling the marketing playing field between cigarettes and e-cigarettes, the proposed ban not only represents agency overreach, it will likely hurt public health.
Ronald W. Dworkin
Early in my anesthesiology career, I took care of an elderly man who needed knee surgery but who smoked like a chimney. The surgical team feared he would suffer the usual smoker's complications, so we told him to stop smoking a week before his operation. He refused. In the end we reached a compromise: On the day before surgery he would get by with nicotine patches.

After surgery we noticed him moving all around in bed, craving nicotine, as he had yet to receive his patch that morning. This was actually a good thing, as he risked forming blood clots if he remained immobile.
Tom Rowland
Vapers have joined smokers in being blown out of parts of Hamilton's CBD as council tightens up its Smokefree Policy. At Tuesday's community and environmental services committee meeting, councillors voted to reduce smoking and vaping in public places.

A council staff report says: "Since 2015, vaping has become increasingly popular, both as a tool for smokers transitioning into quitting, but also as a recreational activity. The amount of harm caused by vaping is inconclusive, but research suggests that the same rules that apply to smokefree areas should also extend to vaping."
On Banning Sales of Flavored Vapes – Helen Redmond
"Vaping has reached epidemic levels among teens, with life-long implications for young people who become addicted to nicotine," said Levine. "One of the tools the industry has used to draw in teenagers is candy flavors like chocolate mint, blueberry, or cherry crush. These flavored smoking products disproportionally attract younger consumers, which is why New York City long-ago banned flavored tobacco. It's time we did the same for e-cigarettes."
Admits to forging superintendent's signature in e-cigarette letter
An East Brunswick High School student has admitted to forging the school superintendent's signature in a letter announcing a change in the district's e-cigarette policy.

"Forgery is a crime and we will apply the district's discipline — at least a suspension," Superintendent of Schools Victor Valeski said in an email.
Chloe Hall, Elle
In news that cool teens will probably love, wedding vaping photos are now a thing. No, no this isn't a special wedding episode of Entourage: Turtle's Shotgun Wedding. This is a real trend, at least according to a recent viral tweet.

While this whole thing may seem new to many of us, it's been around for awhile: the Reddit page r/trashy has a whole thread appreciating the tradition. A quick Google Photo search of vaping wedding photos also shows a plethora of couples lighting up on their big day.
---
A look back at how things have moved on or otherwise….
And other "supporters" of ecigs and TRR
Dave Dorn, The Sun Also Rises
You complain that public perception of ecigs is horrendously bad, but do you know whose fault that is?
Dear sirs, madams and those whose gender identity I've just offended,

You claim to be supporters of ecigs, but every statement you make is caveated. How? here's a non-exhaustive list:
Paul Barnes, Facts Do Matter
In somewhat of a surprising move, the American Cancer Society has quietly updated its position statement on electronic cigarettes. I say quietly because there is no mention of this update on any of the social media channels, nor was there any special press release or blog post on their website.

Naturally, doing that makes me a tad suspicious.
Dick Puddlecote
While in Scotland a few weeks ago for the Glasgow School of Vape event, I met up with Dave Dorn, canny lad from the north east who formerly fronted the vaping online show, Vapour Trails TV. I mentioned that I had an article in my head that he wouldn't like – what with him being an avowed fan of cloud-chasing and something of a celebrity amongst those who like to use high-powered equipment (in fact, as we spoke he was approached by quite a few Scots clutching very specialist devices) about the practical problems that big clouds could present.
---
Visit Nicotine Science & Policy for more News from around the World

---