Vapers Digest February 21st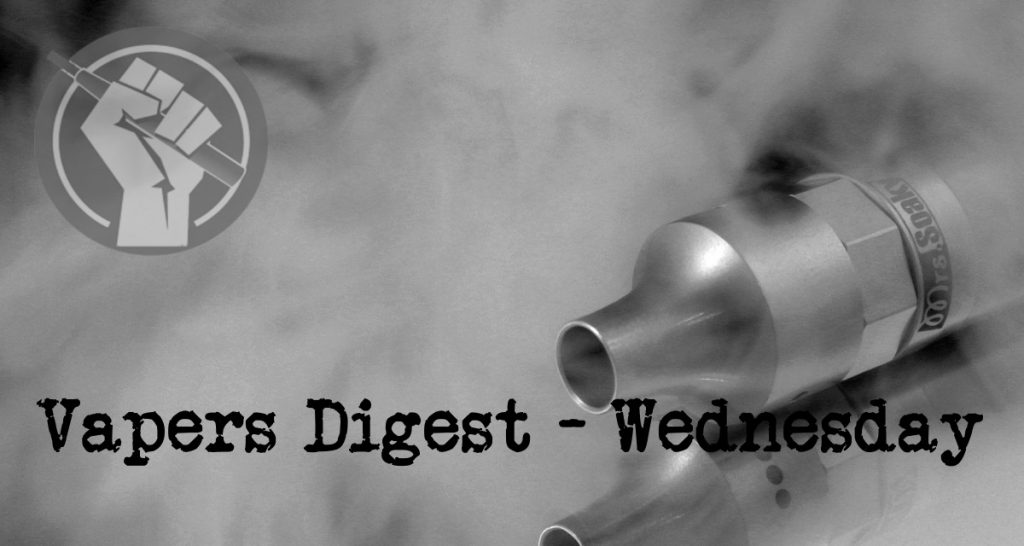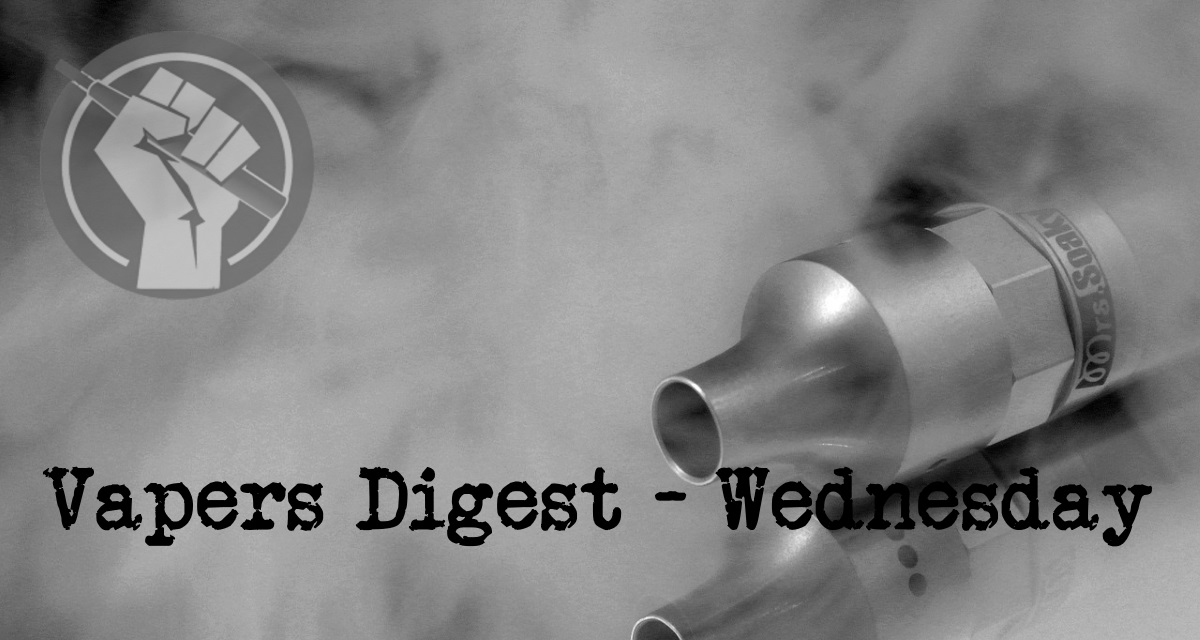 Wednesday's News at a glance:
An Open Letter to PHE and other "supporters" of ecigs and TRR – American Cancer Society's Confused Position – Let's Talk About Cloud-Chasing – 'Huge reduction' in smoking – Clearing up some myths around e-cigarettes – Could the goalposts shift? – E-Cigarettes Are Not Gateway Products – Vaping behind the wheel – FDA Panel Findings Pivotal – Vaping helps tobacco smokers quit – I'll never light up another cigarette – Vendors to be added to undercover checks – Kids Should Be Told The Truth – Nicotine Science and Policy Daily Digest
And other "supporters" of ecigs and TRR
Dave Dorn, The Sun Also Rises
You complain that public perception of ecigs is horrendously bad, but do you know whose fault that is?
Dear sirs, madams and those whose gender identity I've just offended,

You claim to be supporters of ecigs, but every statement you make is caveated. How? here's a non-exhaustive list:
Paul Barnes, Facts Do Matter
In somewhat of a surprising move, the American Cancer Society has quietly updated its position statement on electronic cigarettes. I say quietly because there is no mention of this update on any of the social media channels, nor was there any special press release or blog post on their website.

Naturally, doing that makes me a tad suspicious.
Dick Puddlecote
While in Scotland a few weeks ago for the Glasgow School of Vape event, I met up with Dave Dorn, canny lad from the north east who formerly fronted the vaping online show, Vapour Trails TV. I mentioned that I had an article in my head that he wouldn't like – what with him being an avowed fan of cloud-chasing and something of a celebrity amongst those who like to use high-powered equipment (in fact, as we spoke he was approached by quite a few Scots clutching very specialist devices) about the practical problems that big clouds could present.
---

---
Martin Dockrell
No doubt you will have seen some of the stories in the media recently following the publication of PHE's latest update of the evidence on e-cigarettes . E-cigarettes do seem to be a bit like Marmite, courting controversy among the public and media alike.

Not surprisingly, there are lots of inaccuracies and misconceptions about e-cigarettes and vaping. This blog looks at the most common myths and provides the facts.
At Ipswich and Colchester hospital sites thanks to vaping areas
Markedly fewer people are smoking within the grounds of Ipswich and Colchester hospitals since vaping zones were introduced, bosses have said.

This month Public Health England (PHE) released new evidence that showed e-cigarettes are at least 95% less harmful than tobacco alternatives and should be promoted as a safe way to quit smoking.

Within the report, PHE urges NHS trusts to introduce vaping policies that help smokers give up for good.
---
---
Harry Shapiro
This week's must-read cones from the ever-insightful Carl Phillips who has written a superb demolition of the latest piece of suspect science from the parallel universe of Planet Glantz. The Prof attempted to show that vaping isn't all its cracked up to be as an aid to quitting and in the process, made some basic methodological howlers. It is hard to believe that he isn't aware of these, so the conclusion must be an attempt to muddy the waters of tobacco harm reduction, to cause confusion and doubt among regulators and the wider public – an accusation, traditionally lobbed at the tobacco industry.
Brad Rodu, Tobacco Truth
I noted in 2013 that the CDC director's claim – that "many kids are starting out with e-cigarettes and then going on to smoke conventional cigarettes" – was pure gateway speculation (here).  Youth surveys had just started collecting information that teens were using e-cigarettes, but there was zero evidence that they were "going on to smoke."
Could lose their licence – Harley Tamplin
While using an e-cigarette behind the wheel is not illegal, breathing thick clouds of vapour into your car can obscure your vision. Police may decide the act is potentially dangerous, and drivers could be prosecuted for driving without due care and attention. Penalties for the charge include a ban from the roads, points on licence, or a fine of up to £2,500.
---

---
Dimitris Agrafiotis
This is make it or break it time for New Year's resolutions. A large percentage of us have resolved to focus on our health: eat better, work out more. For some of the one million-plus adults in Tennessee who smoke cigarettes, that means taking a very big step towards finally quit smoking. An estimated seven out of ten smokers want to quit, but it is a hard resolution to keep.
To Future of Tobacco Market – Kimberly Evans
Last month, Philip Morris (PMI), the tobacco giant responsible for the Marlboro cigarettes, received their response from an independent panel of experts at the Food and Drug Administration (FDA). The panel rejected PMI's request to promote their heat-not-burn product, IQOS, as a 'modified risk' product. But this is only the first step of the process. Many experts believe that the best way to tackle the enormous global tobacco problem is with new, lower risk products.

Lynn Moore
Vaping is becoming increasingly popular among young people, but in Muskegon County it's illegal for minors to possess e-cigarettes and other vapor products.

Beginning in March, the Muskegon County Sheriff's Office will begin sweeps of retailers to make sure they are not violating the county ordinance that prohibits vapor product sales to minors.
David Marcus, The Federalist
The Food and Drug Administration chairman, Dr. Scott Gottlieb, took aim at the increasing use of e-cigarettes among minors in the United states on Twitter last week.

A few things stand out here. First, as many people noticed, e-cigs currently sold in the United States do not contain any tobacco. It's possible that Gottlieb was referring to a new generation "Heat Not Burn" technology that does use actual tobacco in creating a vapor without combustion.
---

---
Nick Evans – The West Australian
I haven't had a cigarette in two years. That's the longest I've been off them since I took up the cursed habit.

I tried to quit smoking pretty regularly. I tried the the pills, the patches, went cold turkey — once on purpose, once by accident. But the habit of lighting up was as much the problem as the nicotine. When the world got stressful, I always went back. Swapping to vaping has kept me off the smokes longer than anything else.
Mawsley, Planet of the Vapes
Universities have banded together to say that they will refuse money from the new Derek Yach harm reduction foundation. Vapers numbered among the 5,000 people arrested in the Philippines, and a couple were nicked for breaking Thailand's new vape ban. Another vaper is dead after police confused his mod with a gun, the UK is investigating vape shop roles in helping smokers quit, and Ducati might be linked with smokeless products in MotoGP
---
A look back at how things have moved on or otherwise….
Michael Siegel, Tobacco Analysis
In a revelation of the religious-like character of the modern-day tobacco control movement, the journal Tobacco Control has suggested that there can be no legitimate discussion about articles it publishes without its permission; that is, on the Rapid Response forum at the journal's own web site. All other discussion of the scientific validity of journal articles is apparently illegitimate and inappropriate.

In an unprecedented editorial (I've never before seen a journal argue that the only legitimate forum for discussion of its articles is in the journal itself), the journal writes
Carl V. Phillips, Anti-THR Lies
Ok, that is not exactly what they said. But it was seriously so damn close to that it is not really an exaggeration. This appears in today's editorial by the journal's editors, Richard O'Connor, Coral Gartner, Lisa Henriksen, Sarah Hill, Joaquin Barnoya, Joanna Cohen, and Ruth E Malone, with the bizarre title, "Blog fog? Using rapid response to advance science and promote debate".

There has already been a fair bit written about this today, but there is oh so much more to say. The basic upshot, and what has been getting the most attention, is the declaration that all debate about the papers in Tobacco Control must take place in the pages of Tobacco Control, specifically the publisher's (BMJ's) "rapid response" system.
Dick Puddlecote
In an unintentionally amusing article yesterday, the Editor of the BMJ's Tobacco Control Comic Journal, Ruth Malone, along with no fewer than six co-authors has expressed irritation at their policy-driven rag being criticised.

As editors of Tobacco Control we are always pleased to see readers thinking critically about what they read in this journal and using the 'Rapid Response' forum to engage in constructive academic debate.

However, the growing use of personal blogs to criticise published articles has led us to reflect on appropriate ways of engaging in such debate and how we as editors should respond to comments made outside the 'Rapid Response' forum.
---
Visit Nicotine Science & Policy for more News from around the World

---