Vapers Digest February 23rd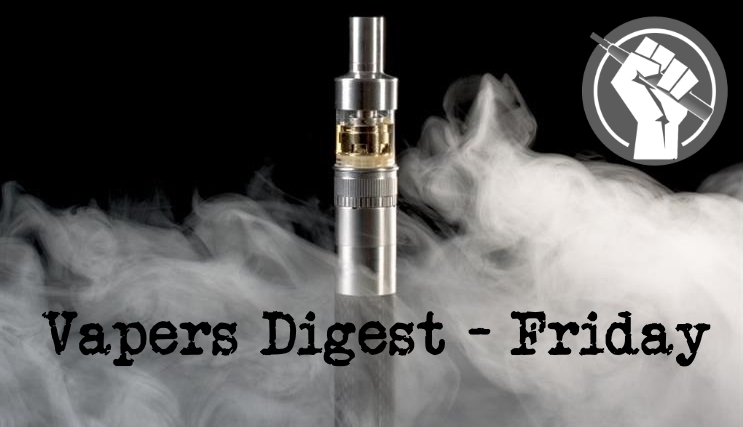 Friday's News at a glance:
Even more bad news for Australia, but US coalition launches fresh Deeming challenge – Vapour Trails – Have your say – Health chiefs could lift vaping ban at North-east hospitals – A New Confidence Trick – IBVTA response to sensationalist vaping while driving articles – Immortal Person-Time Error – The Future of E-Cigarettes – What is Vaping? – Briefs Filed in Support of Deeming Rule Appeal – Vaping Is the New Chewing Gum – Smokers preferred to Vapers on Tinder – E-cigarettes could have a positive impact – FDA e-cigarette rules unfair to small businesses – IOM Prison Vape Trial A Success – Nicotine Science and Policy Daily Digest
But US coalition launches fresh Deeming challenge
Fergus Mason, Vaping Post
Australian vapers face a fresh blow as a state government plans to force them into smoking areas or face staggering fines. There are also moves to target vape shops in a Michigan country, and UK police have threatened to arrest anyone who blows clouds in the car. On the bright side, a trial of designated vaping areas by two British hospital trusts has come to a totally unsurprising conclusion – if you let people vape, they're less likely to smoke.
Simon Thurlow, Midnight Musings
I read, with interest, the article over on @Dick_Puddlecote's page discussing 'Vaping Etiquette'. On the one side, we had Dick's view that 'cloud-chasers' are ruining the vaping scene and handing ammunition to the prohibitionists. Giving the opposing view was Dave Dorn's opinion in the defence of 'cloud-chasers'.

What struck me about this 'conversation' on vaping etiquette was how the vaping community is being split on such a polarising viewpoint. I would think that any of the puritans reading the article would be delighted to be reading such a thing. I have little doubt that already such people are excitedly sending emails and memos to other in their clique on ways they can exploit the situation to drive a further wedge between vapers. 'Divide & Conquer' is the phrase we are discussing here.
---

---
Should e-cigarette use (vaping) be allowed within NHS Grampian Grounds?
The current NHS Grampian Tobacco Policy does not allow the use of tobacco cigarettes or e-cigarette/vaping products within NHS Grampian Grounds. The harm caused by tobacco is well known, however NHS Health Scotland recently released a consensus statement to clarify perceptions on the harms and benefits of using an e-cigarette, recognising that they are definitely less harmful than smoking tobacco and that they are a potential route towards stopping smoking. NHS Grampian would like to gather people's views on whether they think that e-cigarette use/ vaping should be allowed within NHS Grampian Grounds.
Paul Barnes, Facts Do Matter
As noted in 2006, ahead of the free vote to ban smoking in public spaces:

It is essential that campaigners create the impression of inevitable success. Campaigning of this kind is literally a confidence trick: the appearance of confidence both creates confidence and demoralises the opposition.

They "knew" they were going to win, and thus were confident in securing the votes for their "next logical step" in the war on smokers.
Jodie Molyneux
Ahead of a policy review, NHS Grampian is asking the public if the use of the devices should be permitted across its facilities.

The current NHS Grampian Tobacco Policy does not allow the use of tobacco or e-cigarette products within its grounds.

Chris Littlejohn, deputy director of public health, said recent studies have suggested that vaping can be a useful aid to giving up smoking.
---
---
The Independent British Vape Trade Association
This week has seen a number of sensational headlines, warning that vaping while driving could land you a £2,500 fine and a driving ban. It could therefore be sensible to conclude that some new legislation has been passed banning vaping whilst driving, but this is not the case.

The reality is that no new laws have been passed. Sergeant Carl Knapp of the Sussex Roads Policing Unit said this week: "There are no laws prohibiting vaping, however, you need to be in full and proper control of your vehicle at all times. If you are going to vape, I advise that you open your windows and blow the vapour directly out, just ensure that you are in full control of your vehicle before doing so."
And Stock Vs. Flow Errors – Carl V. Phillips
"Immortal person-time" is a favorite topic in epidemiology courses, even though most students might never encounter this error in practice. By contrast, the critical difference between stock and flow is almost never taught, though it has similar implications that arise more frequently. Both are technical points about research methods that will probably make some readers' eyes glaze over. But it happens that both are critical to understanding some recent errors in anti-vaping junk science.
---

---
Amber-Leigh Woolf
Electronic cigarettes could help recovering alcoholics and other patients, new research has found.

Researchers say the use of e-cigarettes in hospitals should be given more thought, as they could lessen the stress of patients' treatment.

Dr Penelope Truman from Massey University's School of Health Sciences said their research found e-cigarettes could aid patients battling alcohol addiction and patients admitted to psychiatric units.

More than 40 patients at Kenepuru Hospital in Porirua were studied in two cohorts between 2013 and 2016.
Joe Baba
Under the existing FDA rule, called the "deeming rule," any new vapor products — including e-cigarettes and e-liquids — that entered the market after 2007 would need to go through a long, expensive reauthorization process. The FDA estimates this will cost $350,000 to $500,000 for each product. Simply put, this will force most small vape businesses to close.
Violate The First Amendment? – Carl V. Phillips
Nicopure Labs, LLC, maker of Halo and eVo vapor products, filed a lawsuitagainst the FDA over the deeming regulation in 2016, on First Amendment, jurisdictional and administrative procedural grounds. Last year, a federal district court ruled in favor of the FDA, but Nicopure announced its intention to appeal. This month, Nicopure — now joined by a coalition of organizations as co-plaintiff — filed an opening brief in the appeal.
Azim Chowdhury
On February 20, 2018 several organizations filed amicus("friend of the court") briefs in support of Plaintiff-Appellants Nicopure Labs' and the Right to be Smoke-Free Coalition's appeal in the Deeming Rule challenge now pending in the U.S. Court of Appeals for the D.C. Circuit.

The Washington Legal Foundation (WLF) is a nonprofit, public-interest law firm and policy center dedicated to defending and promoting free enterprise, individual rights, limited government, and the rule of law.

Andy Mukherjee – Bloomberg
Back in 1992, Singapore feared that its gleaming new subway would be wrecked by people using something sticky to disable automatic train doors — so it banned chewing gum.

Twenty-six years later, the prohibition on the import, manufacture and sale of gum is still in place, even though the utility of that harsh curb has never really been proved: Hong Kong's MTR Corp. hasn't seen the need to restrict mastication to run a rail network many times more reliable than Singapore's.
TheFutureOfThings.com
As the years go by, the popularity of e-cigarettes continues to grow. Their popularity may be attributed to the fact that they are a healthier option to traditional cigarettes. E-cigarettes are a viable option to those looking for an alternative to smoking. People are now talking about vaping instead of smoking. However, those who vape need to be aware of the trends affecting e-cigarettes, and where the future of vaping lies. Lately, the electronic cigarettes industry has taken a turn, and there are a number of issues coming up. Experts from the public health sector have different opinions concerning e-cigarettes and their future.
Mawsley, Planet of the Vapes
The Isle of Man has been ahead of the curve for many years when it comes to smoking in prison. The Jurby prison implemented the first smoke ban of its type in Europe and has conducted the most comprehensive testing of electronic cigarettes. The results are in and it looks to have been a huge success.

Mawsley, Planet of the Vapes
In a recent study by GoSmokeFree, Tinder users demonstrated a clear preference for smokers over vapers. It contradicts an older yet similar experiment conducted by Vice magazine.

Despite years of graphic anti-tobacco campaigns and government support for vaping, Tinder users are more likely to "like" (or swipe right) a smoker than a vaper, new research reveals, according to a press release from GoSmokeFree.
Selling vape juice and mods – Jane Matthews
This ambulance may not be taking you to hospital, but its owner hopes you'll walk away from it relatively healthier.

The 1987 Bedford ambulance, better known as the Naki Nekta vape rescue vehicle (VRV), used to service Waikato Hospital and now it's being used to educate smokers around Taranaki on vaping.

Vaping is the act of inhaling and exhaling the vapour produced by an electronic cigarette or similar device. It is marketed as an alternative to smoking and there are claims it is a healthier option, which is why Graham Peters set up the VRV.
I've heard of vaping, but I don't really know how it works. Is it much different from smoking cigarettes? Is it healthier? What exactly is going on when somebody vapes, and what's the difference between vapor and smoke? While I don't personally vape or smoke, I know some people who do one or both, so I'm curious about what the deal is.
---
A look back at how things have moved on or otherwise….
David Sweanor
The regulation of tobacco and nicotine products has become less straightforward. Historically, high taxation and restrictions were aimed at achieving total nicotine abstinence. But product innovation now means that there are increasing numbers of products that allow users to satisfy their need for nicotine at a fraction of the risk.
About Tobacco Taxes – Bloomberg
Tobacco use is the leading cause of non-communicable diseases like cancer, heart disease, and stroke. Every year, about six million people worldwide die from tobacco use, with the vast majority of deaths in low- and middle-income countries. We also know that tobacco use costs the world's economies over US $1.4 trillion annually in healthcare expenditures and lost productivity.
Brad Rodu, Tobacco Truth
A man with Tourette Syndrome, a nerve disorder developing in childhood and involving muscle tics (repetitive involuntary movement) and voice problems (here), recently posted online his experience with smokeless tobacco.  Diagnosed at age six, he was treated unsuccessfully with numerous drugs.  At ten, he experimented with dipping and discovered that it controlled his symptoms.
---
Visit Nicotine Science & Policy for more News from around the World

---