Vapers Digest February 26th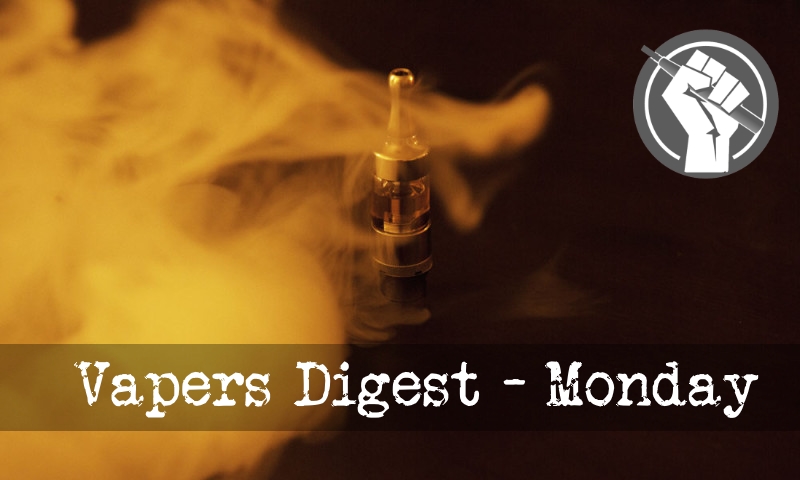 Monday's News at a glance:
Incoming! F1 Enters Alternative Nicotine Debate – Dual Usage and Advertising Studies – Quashing the Quandary of Quibble – E-cigarette feedback sought – Making sense of E-cigarettes – U.K. Newspaper: PHE is A Vape Industry Puppet – Wrigley Wrecks Another Juice Company – Scientists Aim To Pull Peer Review Out Of The 17th Century – Are health advocates finally wising up – Cancer Group Tells Smokers To Ignore Research  – Nicotine Science and Policy Daily Digest
Dick Puddlecote
Oh boy, this might irritate some but I have to say it. The influx of new nicotine devices is making so many look naive, and not all of them are tobacco controllers.

For example, isn't this divine?

Philip Morris International and Scuderia Ferrari have announced they have extended their partnership until 2021 and will focus on advancing the cause for "a smoke free world".
Mawsley, Planet of the Vapes
A team from the University of Otago in New Zealand have looked at dual use where smokers continue to use cigarettes after adopting vaping. Another group, representing the National Bureau of Economic Research (NBER), asked whether electronic cigarette adverts actually encourage smokers to quit the habit.

"E-cigarettes have been aggressively promoted, and use is increasing rapidly among both adults and youths," goes the introduction to NBER's paper. Given that the organisation has published papers calling for the regulation and banning of flavours, its conclusion is quite surprising.
---

---
On your Quest to Quit – Steve Dohmen – AVCA
It's certainly refreshing to finally see an SSS provider such as Quitline collaborating the issues with the vaping consumers over a topic that's integral to all smokers on their path to cessation Tobacco Harm Reduction! https://quit.org.nz/en

However, its still disconcerting to see that a few naysayers and anti-vapers/smokers that are strewn across the vaping forums exerting their cynicism among the threads toward smokers switching to vaping or vapers in general, its tedious enough deconstructing a cynics ingrained mentality around the smoking/vaping narrative when trying to attempt dialogue.
Do you have any feedback on the draft RACP Policy Document on E-cigarettes prior to its release?

Please send your feedback to racpconsult@racp.edu.au by Monday, 19 March 2018


This document provides the position of the RACP on e-cigarettes, with an overview of four key areas: current use, evidence on potential risks and benefits, existing regulatory frameworks, and positions of other health organisations.
---
---
"I switched over to vaping but someone told me they were just as bad as cigarettes so I went back to smoking again."

A depressing thing to hear in a COPD clinic, but unfortunately not that uncommon. Worryingly, the proportion of the population with the erroneous belief that vaping is as hazardous as, or more hazardous than, smoking has risen from 7% in 2013 to more than 25% last year. There is a need for clear thinking and clear guidance in this area.
To Ignore Research Showing Vaping Is A Healthier Choice
Steve Birr, Daily Vaper
Cancer Council Australia said there is "convincing evidence" that using a nicotine vape leads to the use of combustible cigarettes, warning smokers in the country to be be wary of the devices if they are trying to quit. Paul Grogan, director of advocacy for Cancer Council Australia, says their organization advocates waiting for further research into nicotine vapes before legalizing the products, reports The Daily Advertiser.
---

---
Jim McDonald, Vaping 360
After Public Health England (PHE) updated its review of the evidence on e-cigarettes and even recommended that the National Health Service (NHS) make them available on prescription, the backlash was really inevitable.

"Why is the NHS listening to the siren voices of the vape manufacturers?" asks Victoria Coren-Mitchell in the Guardian. "It's appalling that a state-funded, state-sanctioned public health body should recommend vapes to people who want to stop smoking," she complained.
Mawsley, Planet of the Vapes
The WM Wrigley Jr Company is currently taking down its third juice maker in the space of six months. The Wrigley Company was founded in 1891 and made its name selling a range of chewing gum. The Mars Incorporated subsidiary has made a point of protecting its brands and has all but closed Get Wrecked Juices after they piggybacked on its Starburst and Skittles trademarks.

Out Of The 17th Century – Richard Harris
The technology that drives science forward is forever accelerating, but the same can't be said for science communication. The basic process still holds many vestiges from its early days — that is the 17th century.

Some scientists are pressing to change that critical part of the scientific enterprise.

Here's what they're confronting: When researchers studying the biology of disease make a discovery, it typically takes nine months for them to get their results published in a journal.
An inquiry has been formed to quiz scientists, doctors and the manufacturers themselves, in an attempt to decide whether the growing popularity of e-cigarettes, also known as vaping, should be welcomed or not.

For some experts, the answer is obvious. Smoking kills 80,000 people a year in England and Scotland, and it is estimated that 474,000 hospital admissions a year in England are directly attributable to smoking.
---

---
Steven Greenhut
Not to be outdone by a friend who is having his mid-life crisis, I've been going through my own way-past-mid-life crisis. So I've been looking into motorcycle riding as a way to spark a little everyday excitement, which has naturally led to some reading and research about risk — and the amount of it that people are willing to endure.
Neil H
Calling Vaping Healthier Is 'Absurd' – New Zealand Vape Talks – American Cancer Society U-Turn – UK Vaping and Driving – Smokers Preferred Over Vapers on Tinder!
---
A look back at how things have moved on or otherwise….
Dick Puddlecote
Last week I advised anyone able to do so that they should consider attending the IEA yesterday for Forest's Pleasure Zone event. I knew it was going to be an enjoyable evening – these things invariably are – but this one exceeded even my optimistic expectations.

I met up for drinks beforehand with good friends including the affable and always entertaining multi-culti mish-mash Afghan Dave, but there were so many excellent people there when we arrived that it would take a few hundred words to name check them all…
Bolton Smokers Club
I have often wondered what CRUK (Cancer Research UK) is for. I understand that CRUK and similar organisations get loads-a-money from wills, which I suspect are the major source of their funding. But what do they do with the money? I should imagine that they used to a fund actual physical research, and I suppose that they still do, but time and again we see their major efforts going into behavioural control…
---
Visit Nicotine Science & Policy for more News from around the World

---