Vapers Digest 24th Feb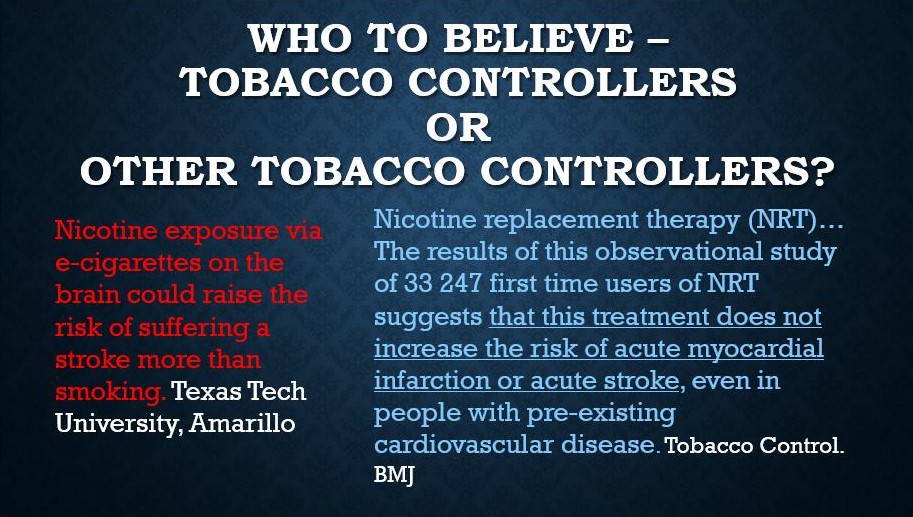 Friday's News at a glance:
A Night At The Pleasure Zone (part 1) – Are Charities Like CRUK 'Fit For Purpose'? – Selling smoking cessation – British American Tobacco is pinning its hopes on vaping – E-cigarettes to be regulated on Czech market – E-Cigarettes and "Dripping" – Advice on e-cigarettes is falling behind – E-cigarette growing in popularity – Can we have courage in our tobacco policy-making? – Why a 'smoking age' of 21 is a bad idea – Nicotine Science and Policy Daily Digest – Friday, 24 February 2017
Dick Puddlecote
Last week I advised anyone able to do so that they should consider attending the IEA yesterday for Forest's Pleasure Zone event. I knew it was going to be an enjoyable evening – these things invariably are – but this one exceeded even my optimistic expectations.

I met up for drinks beforehand with good friends including the affable and always entertaining multi-culti mish-mash Afghan Dave, but there were so many excellent people there when we arrived that it would take a few hundred words to name check them all…
Bolton Smokers Club
I have often wondered what CRUK (Cancer Research UK) is for. I understand that CRUK and similar organisations get loads-a-money from wills, which I suspect are the major source of their funding. But what do they do with the money? I should imagine that they used to a fund actual physical research, and I suppose that they still do, but time and again we see their major efforts going into behavioural control…
---

---
K Michael Cummings, Matthew J Carpenter – The Lancet
Most people who have smoked for any significant length of time would like to stop smoking. Findings from prospective studies examining the natural history of efforts to stop smoking show that smokers often make frequent efforts to stop smoking or reduce their consumption, with little long-term success. Findings also show that most attempts to stop smoking are unplanned and are typically made without any professional assistance..
---
---
Nick Webster
Regulations and the most updated advice on e-cigarettes is falling behind as researchers struggle to keep pace with the latest technology used to deliver a nicotine hit, doctors claim.

Experts in cardiovascular disease prevention from the American College of Cardiology were speaking at the launch of a year-long programme to help educate the UAE's doctors on the latest advice to give patients to help reduce their risk of heart attack and stroke.
Cigarette maker British American Tobacco is hoping to push up the number of vaping products it sells as tobacco sales drop.
And the tobacco giant, which makes Lucky Strike and Dunhill, wants to double the number of countries where it sells vaping products.
Yesterday it announced a 9.8 per cent rise in profits, from £4.9million to £5.2million, with its takeover of Reynolds American due this year.
---

---
Riccardo Polosa, Amelia Howard
The results of the recent cross-sectional survey by Krishnan-Sarin et al.1 should not be interpreted as evidence that youth are "dripping" in high numbers. The concept is inadequately defined and it's likely that many or most respondents misunderstood a poorly constructed questionnaire item.

"Dripping" is conceptualized as "directly dripping e-liquids onto heated coils" and "vaporizing… e-liquid at high temperatures and then immediately inhaling the vapor that is produced." This is wholly inconsistent with what "dripping" refers to in e-cigarette use.
Czech News Agency
The sales of e-cigarettes will be regulated in the Czech Republic for this first time as from March according to a directive of the Health Ministry, based on the European tobacco directive and the Czech law on food, daily Lidove noviny (LN) writes yesterday.

The directive introduces the duty to place health warning on tobacco products, it limits the content of nicotine in liquid refills and the size of their packages and it bans the use of raw materials that could contain carcinogenic substances.
---

---
Michael Dorfling
Gary de Schande, the owner of a Vape shop in Port Elizabeth, says many of his customers are long-term smokers.

"Every single day we're seeing new customers. Some of them are non-smokers, which I don't really enjoy, but most of them are smokers. And it's not just young people. We get very much the older generation. I've got an 80-year-old lady on my books that says she can walk to my store, where she couldn't before, smoking for 50 years now she can actually walk."
In our tobacco policy-making? – Daniel Yap
TWO op-eds on tobacco in the run-up to Budget 2017 caught my eye. The first is one by the economist Mr Donald Low in the Business Times on Feb 17, calling for a "grand bargain" – an exchange of cigarettes for reduced-risk tobacco products.

The second is by Dr Chia Kee Seng, professor and dean at the Saw Swee Hock School of Public Health, National University of Singapore, and Dr Kenneth Warner, Avedis Donabedian Distinguished University Professor of Public Health at the Michigan School of Public Health, University of Michigan, published in Straits Times (ST) on Feb 18.
Mike Males
When California lawmakers voted last week to raise the smoking age from 18 to 21, the debate featured optimistic rhetoric that fines and bans would sharply reduce the number of young adults buying or using tobacco.

This seemingly common-sense approach, however, doesn't work. There is virtually no systematic research showing that increasing the smoking age prevents a teen from picking up the habit.
---
A look back at how things have moved on or otherwise…
Fergus Mason
In this post I'd like to make two suggestions to all vape vendors. This isn't something I really want to do, because many of you are doing a great job for the vaping community, but right now I feel I have to raise both these points. What you do with them is up to you, but I hope you'll at least consider them.

Exploding batteries: It's not your fault, but it is your problem
Dick Puddlecote
Back in August, Public Health England (PHE) produced a ground-breaking report on e-cigs which sent chills down the spines of bigoted old tobacco control industry farts the world over.

After years of hating e-cigs because of blind prejudice and ignorance …
A briefing for stop smoking services
National Centre for Smoking Cessation and Training
This briefing makes recommendations for stop smoking practitioners and services, provides common questions and suggested answers about e-cigarettes, and summarises the evidence upon which these recommendations are drawn.
---
Visit Nicotine Science & Policy for more News from around the World

---