Vapers Digest 27th Feb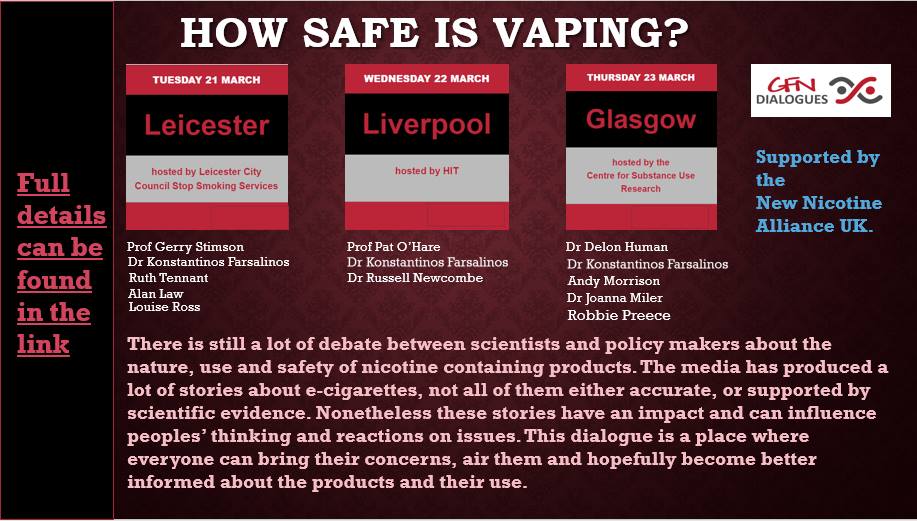 Monday's News at a glance:
Are e-liquid flavours really – Of Mice and Men Right Enough – The Denormalisation Fallacy – Health "experts" on Harm Reduction – Do not use the lifeboat – Irish prisons will soon have access to e-cigs – Iceland: Drafting a bill – Patients with lung cancer – Vaping, E-Cigarettes, and Public Policy – Certified Reference Material – Health Canada Considers Ban – Insane dripping study called out  – Nicotine Science and Policy Daily Digest – Monday, 27 February 2017
"hooking another generation of kids"?
Clive Bates, The Counterfactual
Predictably, depressingly, the US anti-vaping lobby has mobilised against a new Cole-Bishop Bill, HR 1136 that would hold off near complete destruction of the industry by grossly disproportionate FDA deeming regulation and implement the first steps in a sensible reshaping of American tobacco policy. But look at the argument they used.
Robert Innes, Vaping Post
First, we had UK Tabloids screaming that e-cigarettes could increase the risk of stroke more than that of cigarette smoking. Never mind the fact that this defies common sense. The Sun and the Mirror ran with this story. The article in the Mirror stated: "The vapours also caused damage to a chemical vital for clotting, making a devastating brain haemorrhage more likely… As far as brain health goes, scientists warned the electronic devices was not safer than smoking and may pose a similar, if not bigger, risk for stroke severity."
And why it's a waste of our time – RaithTech
Something that has seen a rise in public health policy lately is the concept of denormalisation.

Denormalistaion doesn't actually have a specific definition in public health/public policy terms (it actually originates to management of data in relational databases to improve read performance at the expense of write performance, effectively) as it is, in that context, a made up word, but the meaning is quite clear – to make something appear to not be normal.
---

---
Mawsley, Planet of the Vapes
Martin McKee was a self-declared ecig ignoramus in 2013. Since then he has made it a mission to fight vaping at every opportunity and has made some outlandish statements. Now he teams up with a pair of Australian public health busy bodies to attack the science underlying harm reduction.
Head Rambles
Just imagine the scenario… There you are having the holiday of a lifetime on board a cruise liner somewhere in the Caribbean, or maybe the Mediterranean or even off the beach at Blackpool [choose your own favourite spot].

Anyhows, there you are enjoying the sea air and trying to ignore the other tedious passengers when the ship hits a rock. Or maybe an iceberg, though that's rather unlikely in the Caribbean, or the Mediterranean?
---
Marco, Dave & Matt are joined by Professor Robert West
---
Michelle Hennessy
In a recent court case, the barrister for a defendant complained to the judge that the man had been advised for health reasons to stop smoking, but e-cigarettes could not be sent in because of a "procurement problem".
A spokesperson for the Irish Prison Service told TheJournal.ie that these devices are not currently available at present, but their availability does form part of a new smoking policy that is being finalised.
Iceland Minister of Health Óttarr Proppé announced a bill is being drafted to compensate for the absence of regulatory framework around e-cigarette use and e-liquids. The proposition that is made by Minister Proppé is, among others, to assimilate vaping in public places as smoking and to ban the use of e-cigarettes in bars, restaurants, workplaces and schools as of June 2007 for smoking.
Toward Alternatives to Smoking – Brad Rodu
Policymakers should be mindful of the extensive research that supports tobacco harm reduction and understand that bans, excessive regulations, or high taxes on e-cigarettes could encourage smokers to stay with more-harmful traditional cigarettes.

For decades, lawmakers and regulators have used taxes, bans, and strong regulations in an attempt to reduce the negative health effects of smoking. Recently, some have sought to extend those policies to electronic cigarettes. This booklet urges policymakers to re-think that tax-and-regulate strategy.
---

---
Are electronic cigarettes harmful or useful?
Bertrand Dautzenberg, Daniel Garelik
E-cigarettes remain controversial because the scientific evidence of short term and long term effects on tolerance and the health value of a switch from tobacco to e-cigarettes is contested and controversial. Nevertheless the quality of e-cigarettes and e-liquids has improved. The main ingredients, propylene glycol, vegetable glycerine and nicotine are pharmaceutical-grade quality in most e-liquids. Flavors are almost all food grade. The high quality of ingredients has decreased the presence of impurities in e-liquids.
To test and improve the quality of e-liquids – Jérôme Harlay
How to solve issues related to e-liquid safety? This question is crucial since anyone who vapes expects that his/her liquid is of the best quality. However, several independent quality checks of e-liquids confirm that what is written on labels does not always correspond to what is in samples. Researchers have answers to better constrain the issue in the future.
On Smoking And Vaping In Apartments – Bill Taylor
If you happen to live and smoke in an apartment in Canada, your smoking and vaping days may soon be coming to an abrupt end. Health Canada is considering new anti-tobacco guidelines that could see a ban on smoking and vaping inside apartments, on post-secondary campuses and in public parks.
---

---
Kevin Crowley, Vaping Links
This weeks collection of Vaping In The News includes Tobacco Control BMJ, Censorship, Steve Forbes, Refreshing Journalism, CASAA / HR1136, Bill Godshall, Cole-Bishop HR1136 Canada and Vlad The Vaper.

I won't bore you with my usual (insert witty and thought-provoking editorial comment here) views on it all, so let us get straight to Vaping In The News:
Jim McDonald, Vaping 360
One of the worst vaping studies ever published has drawn some big league academic criticism. The study, "E-Cigarettes and "Dripping" Among High-School Youth," was done by authors from Yale University and Oberlin College, and published in the journal Pediatrics. It claimed to have discovered a scary new trend in teen vaping: dripping.
---
A look back at how things have moved on or otherwise…
Dave Dorn – The Sun Also Rises
The year I was born – 1955 – the smoking prevalence in the UK was, reportedly, over 80%. Basically every adult, pretty much, smoked. Hardly surprising given the hardships of recovering from WWII, rebuilding businesses, homes, families and so on.

By 1973, when I was eighteen, that figure was closer to 40%. And 1973 is a bit of a flagship year. It is the year when NRT was introduced, the very first, ever, licensed medicinal stop smoking therapy.
ECITA
The batteries in electronic cigarettes have a chemistry that is known as Lithium-ion (Li-ion). Li-ion batteries offer extremely high energy density (they store a lot of power in a small space), which is why they have been adopted for use in small, power-hungry devices such as mobile phones, laptops and electronic cigarettes. The high energy density enables a small battery to provide a useful amount of power, but if something causes the battery to fail in a way that releases this power quickly, the results can be dramatic, and dangerous.
How vaping evolved from a smoking-cessation aid into a lifestyle
It jarred against his crisp tux and stylish stubble, but there was no mistaking the object in Leonardo DiCaprio's hand at the SAG Awards in January. That was a vape pen, which turns liquid nicotine into vapour.

When photos of the incongruous image began to emerge, the mockery was swift and slightly delirious.
There's Light in the Darkness – Gil Ross – ACSH
I haven't written on tobacco harm reduction in quite a while, so catching up for lost time now is no longer possible, too much water has flowed under the bridge. But among the ongoing, pervasive campaigns of deception and misleading assertions coming from all the official policy makers and "public health" authorities trying to dissuade smokers from switching to safer reduced-harm products
---
Visit Nicotine Science & Policy for more News from around the World

---