Vapers Digest February 19th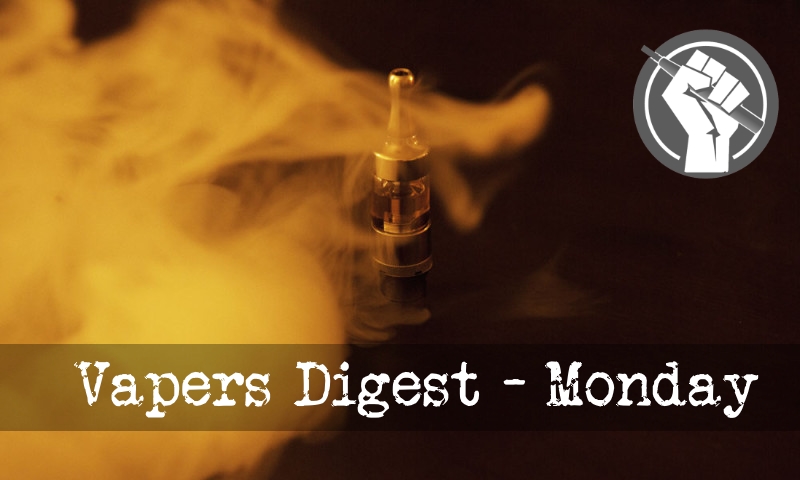 Monday's News at a glance:
March of the Puritans – 400 Tobacco Shills Due In Warsaw In June – More scaremongering in USA, but UK study supports vape shops – Smokefree Bexleyheath – Told You So – Make Kids Stop Vaping, Or Else! – Further restrictions on e-cig ads – American Cancer Society changes its position – Nicotine Normalizes Brain Activity – Talks begin on e-cigarettes and vaping advice – Real World Evidence – NSW vaping ban a bad idea – DOH urged: Endorse vaping – How vaping might save smokers – Vapers risk hefty fines – Minnesota laments about e-cigs' rise – Nicotine Science and Policy Daily Digest
Paul Barnes, Facts Do Matter
To borrow from Andrew Allison, once upon a time private property rights were highly valued. As long as it was legal, what consenting adults did was no-one else's business. With the March of the Puritans, however, there are umpteen state-funded Quangos, sock-puppets and Government busybodies poking their noses in where it is decidedly unwelcome.

As reported by the Halifax Courier last week:
Dick Puddlecote
Only the other day I said that tobacco control had jumped the shark, but they just heroically leaped an even bigger one. Try not to laugh too much – because I think they are actually serious about this?

Many will remember us having fun with my page at the Tobacco Tactics website a few years ago. I was and am immensely proud to have been included (a screenshot of it is my Twitter banner) because if a bunch of routinely mendacious gutter-dwellers scratching around for pathetic smears see fit to fling a few at me, I must be doing something right.
But UK study supports vape shops – Fergus Mason
American military doctors are blaming vaping for the hospitalisation of dozens of soldiers, despite there being no evidence the alarming symptoms are caused by e-cigarettes; meanwhile the real culprit is right under their noses. Opposition to Australia's strict anti-vaping laws continues to grow, with a senator giving support to a pro-vaping campaign. A new study by a British university has found that the advice given by vape shops can play an important role in helping smokers quit, and supporting them in staying smoke-free.
---

---
Mawsley, Planet of the Vapes
Bexleyheath aims to become the first borough to implement a total smoke-free zone, and vapers need to share their opinions urgently. The council has proposed that the town centre's pedestrian area has a smoking ban implemented – and vapers can help prevent it being extended to electronic cigarettes.
The aim of the proposal is to "protect young people from the influence of visible smoking and second-hand smoke". This in itself excludes vaping, but not that this would prevent officious politicians from overextending themselves.
---
---
Paul Barnes, Facts Do Matter
This week saw another release of the CDC Morbidity and Mortality Weekly Report (MMWR) with more information on 'Reasons for Electronic Cigarette Use Among Middle and High School Students'.

Given the Scott Gottlieb made a big thing in his speech about youth, it is hardly surprising the route that this is going to take.
Open to further restrictions on e-cig ads – Diane Caruana
Canada's Minister of Health Ginette Petitpas Taylor is in agreement with certain anti-tobacco groups in wanting to have further restrictions imposed on e-cigarette adverts.

Last week, two Canadian anti-tobacco groups said they will not support the Liberal government's Bill S-5, unless it is amended to put the same restrictions on e-cigarette advertising, as imposed on other tobacco products.
---

---
Carl V. Phillips, The Daily Vaper
In a recent tweet, FDA Commissioner Scott Gottlieb wrote the following:

Adults can't favor preserving properly regulated e-cigarettes as an alternative for smokers who quit combustible tobacco, and not at same time vigorously oppose child access to e-cigs. The industry isn't sustainable if it leads to a whole generation of youth initiation on tobacco

— Scott Gottlieb, M.D. (@SGottliebFDA) February 17, 2018

This 43-word statement offers remarkable insight into the mindset of FDA officials. It is one of the most disturbing statements the FDA has ever made about tobacco product regulation.
Changes its position on e-cigarettes – Diane Caruana
Some positive news from the US, as the American Cancer Society (ACS) released a statement indicating a change in attitude towards electronic cigarettes. The organization finally recognizes the research in favour of e-cigarette use for smoking cessation, and recommends that physicians support smokers who choose the devices as their preferred cessation aids.
Asthma and Respiratory Foundation of New Zealand
Ministry of Health (MoH) and Asthma and Respiratory Foundation NZ (ARFNZ) met to discuss the future advice on e-cigarettes and vaping to the New Zealand general public.

There was common ground between the two parties around the need for regulation and education to the general public. The meeting included Letitia O'Dwyer, Chief Executive of Asthma and Respiratory Foundation NZ (ARFNZ), members of the scientific advisory board from ARFNZ and representatives from the Ministry of Health.

Jim McDonald, Vaping 360
Almost 90 percent of people suffering from schizophrenia smoke cigarettes. That's a smoking rate about six times higher than the general population. Scientists have long assumed that this is an example of self-medication.

Now a study in the journal Nature Medicine describes why those with schizophrenia smoke so much, and suggests that nicotine could be used to treat schizophrenia. The authors hope that in the future effective nicotine-based treatments will be available.
Doesn't Support Pneumonia Concern – CASAA
While the research suggests that vaping might increase the risk of pneumonia-related bacteria "sticking" to human and mouse cells, this is speculation and not real evidence. Even senior author Jonathan Grigg, MD, of Queen Mary University of London, admitted that the bacteria that causes pneumonia can be present in airways without causing illness. Curiously, researchers didn't report whether or not the mice exposed to both vapor and the bacteria actually became sick with pneumonia more often than the mice that weren't exposed to vapor.
Global Forum on Nicotine
The BC Centre for Disease Control and the Canadian Drug Policy Coalition in partnership with the Global Forum on Nicotine invite you to take part in this free to attend event, which will be held on 9th April, at Morris J Wosk Centre for Dialogue. It will run from 0900 to 1630.

Attendance at the dialogues is free, but you will need to register by completing the simple form: https://gfn.net.co/dialogues/register.
---

---
Dr Colin Mendelsohn
State Health Minister Brad Hazzard intends to protect bystanders from passive exposure to vapour. But a comprehensive review by British government body Public Health England last week concluded that "to date there have been no identified health risks of passive vaping to bystanders". This is not surprising as most of the 7000 chemicals and toxins in tobacco smoke are released by burning tobacco and are absent from vapour. Those present in vapour are mostly at levels less than 1 per cent of those in tobacco smoke.
As WA considers new vaping laws
Thousands of West Australians are risking hefty fines by using nicotine electronic cigarettes as the State Government moves to tighten laws that could outlaw vaping as much as smoking.

Inquiries by The West Australian have found widespread use of liquid nicotine, despite its supply and use being banned in Australia.
Throat hits, unicorn milk and clouds of vapour billowing in the streets. E-cigarettes are changing the face of smoking, but vapers are trapped in a curious legal limbo, writes Lee Umbers.

Throat hits, vaper's tongue and unicorn milk.

Welcome to the world of vaping, the e-cigarette phenomenon rising as rapidly as the clouds of vapour billowing out of the mouths of users throughout New Zealand. Vaping is the use of a battery operated device to heat a liquid into an aerosol then inhaled as mist.
Philippine Daily Inquirer
"Listen to the experts," said Tom Pinlac, head of The Vapers Philippines. He said it was "time for the Department of Health to look into this report so they can recommend e-cigarettes and heated-tobacco products to smokers who want to quit."

Edward Gatchalian, president of Philippine E-Liquid Manufacturers Association, said more than 17 million Filipinos could benefit from vaping.
Last Thursday, the Minnesota Health Department stated that for first time since 2000, tobacco use is on the rise. Wrong: The only rise recorded is in vaping and e-cigarettes are not tobacco products, despite the fact that the US insists on regulating them as such.
---
A look back at how things have moved on or otherwise….
But Scotland disrupts new advertising rules – Fergus Mason
Pro-vaping campaign group the New Nicotine Alliance has founded a new Swedish branch, which is likely to be a valuable asset in opposing the EU's continuing war against vaping and snus. Meanwhile a study in Wales has found that vaping remains rare among non-smoking youth. The UK's new TPD-compliant advertising rules for vapour products have been thrown into confusion thanks to the Scottish Government's intransigence; regulators admitted this week that the legislation still hasn't been finalised, with just three months to go until it comes into effect.
IBVTA
Every four years the European Commission (DG TAXUD) reviews the European Directive on the structure and rates of excise duty applied to manufactured tobacco (Directive 2011/64/EU). This review is currently taking place and for the first time the inclusion of vape products within the Directive is being considered. In practice this would see the Commission setting a common excise regime for vaping across all 28 Member States…
---
Visit Nicotine Science & Policy for more News from around the World

---