Vapers Digest February 16th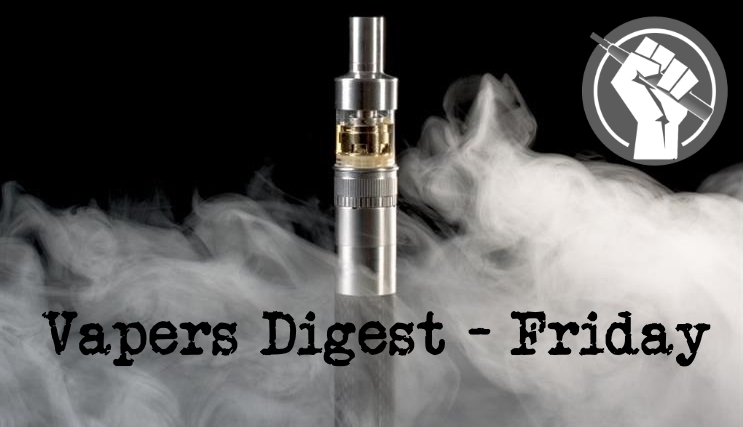 Friday's News at a glance:
Reintroducing Liberty – Terminal Stubbornness – Vaping and harm reduction – E-cigarettes and the burning issues around vaping – School Toilet Ban – Positive results from an e-cigarette trial – Research & Funding Draw Ad Hominem Attack – Anti-Vaping Policies Are Misguided – 'Now is the time to act' – Opening Brief Filed in Deeming Rule Appeal – Another Smoking Cessation Study Fails To Understand Smoking Cessation – Australia's vaping restrictions labelled as 'outrageous' – County bans e-cigs use indoors – Liberals banning cannabis-flavoured vaping – 14 Common Objections to Vaping – Nicotine Science and Policy Daily Digest
Paul Barnes, Facts Do Matter
Two surprising pieces of news appeared in my timeline this week. First, the Czech Republic are planning to reverse parts, if not all of the smoking ban. Secondly, Austria are planning to do the exact same thing.

Naturally, this has prompted a lot of screaming from the usual suspects, labelling the proposed reversals as "a public health disaster".

Well, yes. As with the UK smoking ban, it went too far. Remember, it was only meant to be in certain places – such as those places serving food. Initially, there weren't any plans to have a wide-scale ban on all 'indoor public places'. Exemptions were discarded almost as soon as they were proposed. Now, at least two countries have decided that enough is enough.
Andy Morrison – New Nicotine Alliance
On 28th January, I was delighted to welcome friends up to Scotland to attend the Glasgow School of Vape in my home city. It was a lively event which attracted many keen vapers along with fellow NNA trustees, associates and supporters, plus a delegation from Cancer Research UK recruiting e-cigarette users for a study. However, the weekend was soured on hearing from those who flew in that Glasgow Airport has installed poor and misleading signage outside the arrivals terminal.
---

---
Ian Sample asks: how safe is vaping? – The Guardian
If you're not a smoker, it may be hard to imagine the appeal of cigarettes. The idea of inhaling thousands of chemicals into your body just doesn't seem that tempting. It's hard to wrap your head around the addiction if you haven't experienced it and even more difficult to appreciate how hard it is to quit. But according to a new report released by Public Health England (PHE) electronic cigarettes are significantly safer than smoking and can offer a potential aid for smoking cessation. But how much do we really know about vaping and its risks?
Mawsley, Planet of the Vapes
While the highest levels of American administration are considering relaxing the regulations applicable to vaping (and have delayed the implementation of a costly measure), school administrators are continuing to wage a war against vaping. Jonathan Law High School, located in Milford, Connecticut, has taken measures to a ridiculous level by closing bathrooms to students.
---
---
In March last year, a six month pilot involving the use of e-cigarettes as alternatives to regular cigarettes, at the Isle of Man jail was announced. The aim of this trial was to reduce the dangers caused by inmates lighting up and smoking "illicit materials" such as tea bags and banana skins, to substitute cigarettes following the implementation of a smoking ban in 2008.
Michael Kenneally, Irish Times
Sir, – A review published by Public Health England on February 6th recommended that health bodies and the NHS in the UK should make vaping products (or e-cigarettes) available in hospital shops alongside nicotine replacement therapies. This is a ground-breaking, forward-thinking piece of research by a public health body which has the potential to help thousands of smokers move to non-tobacco products.
---

---
Brad Rodu, Tobacco Truth
The influential journal Science recently posted on its website an article (here) on the Foundation for a Smoke-Free World, an organization funded by a pledge of almost $1 billion from Philip Morris International. The Foundation supports tobacco harm reduction research with a stated goal of "end[ing] the production and use of combustible cigarettes and help[ing] smokers switch to less dangerous alternatives."  Asking, should scientists take the funding, the article clearly leans toward "no".
Azim Chowdhury & Eric Gotting
On February 12, 2018, Nicopure Labs, LLCand the Right to be Smoke-Free Coalition[i] (the Appellants) filed their opening brief in the appeal of last year's decision from the U.S. District Court for the District of Columbia, which ruled in favor of FDA in the first lawsuit challenging aspects of the Tobacco Control Act (TCA) and the Food and Drug Administration's (FDA's) Deeming Rule as they are being applied to the vapor industry. In the brief, the Appellants respectfully disagree with the lower court's conclusions and believe that both the law and the facts compel a different result.
Carl V. Phillips, Daily Vaper
A new report from CDC about middle- and high-school students' motivations for vaping contains some interesting results, as well as one meaningless result that will be used in attacks on vaping. The study, which included coauthors from the FDA, reported results from from the 2016 National Youth Tobacco Survey. As with most CDC reports, the new report is potentially informative so long as one only looks at the tables of results and is not distracted by the accompanying propaganda in the prose.
Tobacco Reporter
The National Tobacco Reform Initiative (NTRI) is urging US health care professionals to embrace the concept of relative risk.

The NTRI said in a press note today that a recent report by the US' National Academies of Sciences, Engineering, and Medicine (NASEM) had lessons also for public health advocates and officials outside the Food and Drug Administration.

Fails To Understand Smoking Cessation
Carl V. Phillips, Daily Vaper
Given how much time and money they spend on it, tobacco controllers understand remarkably little about smoking cessation. The latest example is a study by serial junk scientist and alleged sexual harasserStanton Glantz and colleagues, in which they claim to show that vaping hinders smoking cessation. In his broadside about the study, Glantz tries to spin it as a rebuke to recent pro-vaping messaging from the UK government and its quangos. In reality, it serves only as a good teaching exercise in identifying what researchers did wrong.
Labelled as 'outrageous' 
E-cigarettes could save thousands of lives but the government isn't getting on board.

Vaping is used around the world to reduce smoking deaths but it is illegal to smoke them without a prescription in Australia.

NSW Liberal MP Peter Phelps tells Ben Fordham his fellow politicians are being cowardly by refusing to legalise the safer alternative.
Kyle Duggan
Health Minister Ginette Petitpas Taylor says she's "open" to amending the government's tobacco reform bill so that it clamps down harder on advertising for e-cigarettes and vape products, banning any kind of "lifestyle" advertisement.

"I share some of the concerns expressed by the Quebec Coalition for Tobacco Control and others," she said. "We do not allow the lifestyle promotion for tobacco products… and we do not allow it for cannabis products."
Conservative MP Dan Albas says it "makes absolutely no sense" the Liberal government is planning to ban the sale of cannabis-flavoured vaping fluid while at the same time it legalizes the real thing.

But Health Minister Ginette Petitpas Taylor says the government is concerned that cannabis-flavoured e-cigarette products could be a gateway that leads youth into smoking actual cannabis.
---

---
Vaping continues to suffer from an exceptionally poor perception among the general public, with some polls finding that less than 15% of adults believe vaping is much safer than smoking. But lots of peer-reviewed research now shows that e-cigarettes are both the most popular and most successful smoking cessation tool on the market. A study published last year by the CDC found that over 60% of smokers had used vaping to help them quit.
The Lake County Board of Commissioners unanimously approved a resolution that banned the use of e-cigarettes in bars and restaurants throughout the county during its meeting Tuesday in Two Harbors.

The resolution, which amended the county's previous "Smoke-free Public Places and Places of Work Ordinance" banned smoking in restaurants, bars and places of work, banned the use of e-cigarettes
And Why They`re Wrong – Ashtray Blog
An Interview with Karen House – Leicester City Stop Smoking Service

Listening to Louise Ross from the Leicester City Stop Smoking Service last year I was astonished by some of the reasons smokers are continuing to smoke.

For example, some people are still smoking because they fear popcorn lung (very rare, and zero established cases from vaping) more than lung cancer (1.6 million deaths per year, with an estimated 80% coming from smoking.)

The Leicester Stop Smoking service deal with objections to vaping all the time.
Documentary films about vaping is not a topic covered all that well. Did you even know that vaping related movies or documentaries existed? As vaping is expanding, so is the culture, such as vape tricks and vaping events – which has evolved some people into what you can consider vaping celebs.
---
A look back at how things have moved on or otherwise….
Clive Bates, The Counterfactual
Once again the Mayo Clinic indulges in unethical and misleading risk communications in the form of a new article on e-cigarettes,  promoting fear and confusion and dissuading smokers from trying them.

Mayo clinic: Electronic cigarettes: Not a safe way to light up 

This seems like a good moment to mention the recent Kozlowski-Sweanor theme on ethics of risk communication in a series of excellent papers:
HeadRambles
I was looking through an old piece of "research" the other day. It got me thinking.

I have always had a very low regard for any "research" that is based on statistics and in particular where those statistics are based on questionnaires.  The example I was reading cites a perfect demonstration of where a vital piece of information is omitted giving a wholly false impression –
New Nicotine Alliance
New Nicotine Alliance Sweden (NNA Sweden) is a brand new Swedish Tobacco Harm Reduction promoting civil society, started early in 2017. NNA Sweden is an affiliate of NNA UK and NNA AU, as well as a member organisation of the global network of consumer advocacy organisations for safer nicotine products, INNCO.org.
---
Visit Nicotine Science & Policy for more News from around the World

---