Vaping Digest February 25th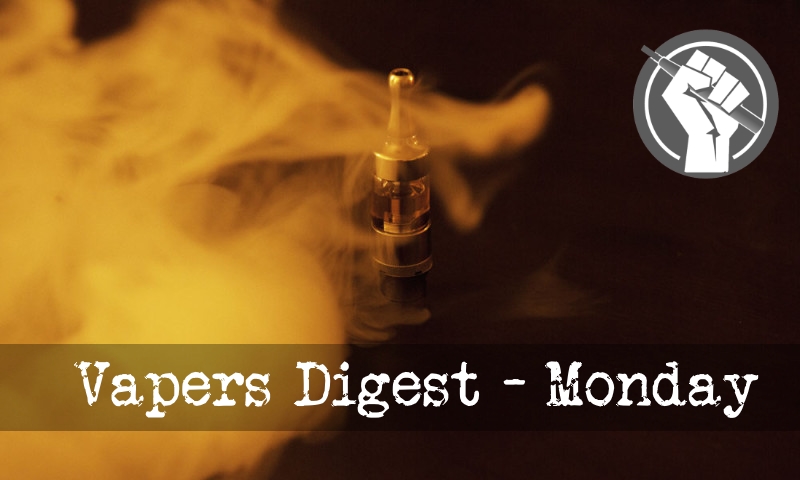 Monday's News at a glance:
Vape Madness – Vaping In The News – February 23rd – Hibs Sponsored By VPZ – How Bad is Nicotine Really? – Nicotine: The Helpful Drug With the Bad Reputation – Pennsylvania Department of Health – Vaping Reduces 8 Biomarkers of Smoking – Consumers importing more snus than cigarettes – Vaping: no moral panic, please, just evidence – Pritzker pitches new 36 percent tax on e-cigarettes – BAT pushes for e-cigarette regulations – Nicotine Science and Policy Daily Digest
Dave Cross, Planet of the Vapes
Vape Madness is an epidemic; tobacco controllers are succumbing at an alarming rate. An example of how this ailment impacts on reasoning can be found in a recent Guardian story. The fictional disease of the mind is powering the United States to "a historic mistake" according to a piece in the Washington Examiner.
"We ignored the evidence linking cigarettes to cancer. Let's not do that with vaping," write Dr Brendon Stiles and Steve Alperin in The Guardian. "Not enough is known about e-cigarettes and vaping to know their effect on lung health and cancer."
Kevin Crowley, Vaping Links
E-cigarettes: What Consumers Need To Know ~ Health Groups Question Raising Tobacco Age to 21 ~ Apples & Oranges ~ Is FDA Poised To Hand Vaping Industry To Big Tobacco? ~ Society for Research on Nicotine and Tobacco: #srnt2019 ~ You Still Don't Know Nicotine ~ Vaping in Pregnancy ~ Does Vaping Increase the Risk of Stroke and Heart Attacks? ~ $9.3M Worth Of Nicotine Seized ~ #SGWatch
Dave Cross, Planet of the Vapes
Hibernian Football Club currently sits 6th in the Scottish Premiership, but they are proving themselves to be champions at fighting tobacco-related harm. The Edinburgh side announced a new partnership with local vaping specialists VPZ, much to the disappointment of some shortsighted health organisations.
Last week, Hibs announced: "Hibernian FC have agreed a partnership with Edinburgh-based vaping specialist VPZ. Born in Leith in 2012 and recently ranked as Scotland's fastest growing company, VPZ is now our official vaping partner. The partnership has been announced as mounting evidence shows that vaping could become a key weapon in the NHS's stop smoking strategy."
---

---
Joseph Magero, Medium
Thanks to misinformation spread by tobacco control control advocates here (probably due to ignorance),majority of people in Africa assume that it's the nicotine that makes cigarette smoking harmful. When anti-tobacco campaigns began across our continent, nicotine was not separated from harmful tobacco smoke, but rather grouped together with it in a way that caused a significant number of people (including educators & legislators) to believe that nicotine was in itself a scourge on health.In fact,if you ask any random person on the street if nicotine is bad,most will say yes.
Jim McDonald – July 2018
Perhaps no commonly used drug is more misunderstood than nicotine. Because of its presence in tobacco, its effects are frequently confused with the effects and dangers of smoking. But the truth is that nicotine by itself, assuming a reasonable dose, is a largely benign — and even beneficial — substance. New nicotine studies are coming up with exciting applications for the oft-maligned drug.

If it weren't typically being delivered in the unhealthiest way possible — in smoke produced by burning dead plant matter — it's questionable whether anyone would pay much attention to such a lightweight stimulant. But because the most popular way of consuming it is in cigarettes, it will be forever tied to the damage they cause.
---
---
Urges Parents to Lie to their Kids About the Dangers of E-Cigarettes
Michael Siegel, The Rest Of The Story
A basic principle of public health ethics is that we don't lie to people. Telling the truth is a critical component of the public health code of ethics. It is important not only because it is unethical to lie, but also because we greatly risk losing credibility and the public's trust if we are found to be lying. And once that public trust is lost, it is extremely difficult, if not impossible, to gain back.

Therefore, it pains me today to have to report that the Pennsylvania Department of Health is urging parents to lie to their kids about e-cigarettes in order to dissuade them from vaping. In addition, the Pennsylvania Department of Health is lying to the public about the dangers of e-cigarettes and tobacco cigarettes as well.
---

---
Of Smoking As Much As Abstinence – Jacob Sullum
A randomized clinical study that was discussed at a conference on Saturday found that smokers who switch to Juul e-cigarettes see the same reductions in biomarkers of exposure to hazardous chemicals as smokers who quit without vaping. The study, sponsored by Juul Labs as part of the documentation it will need for the Food and Drug Administration's approval to keep its products on the market, provides further evidence that vaping dramatically reduces the health risks that smokers face.
Passenger imports of snus, an orally ingested tobacco product, increased by 23 percent last year compared with 2017.

According to a survey by the Finance Ministry, passengers imported about 17.5 million snus packages to Finland. In contrast, the import of cigarettes dropped by 30 percent to 351 million.

The number of imported cigarettes has fallen considerably in the past decade. At its highest, the travelers brought 800 million cigarettes into Finland in 2008, the ministry said.

Just evidence – Jane McCredie
IN the film, 99 Homes, Mike Carver is a Florida real estate broker intent on doing the next big deal and evicting loan defaulters against the backdrop of America's 2008 housing crisis. An empty shell of a man, without moral compass or much in the way of human connection, Carver constantly sucks on an e-cigarette, its barrel glowing blue with each inhalation.

When the film was released 5 years ago, that e-cigarette seemed to me emblematic of the character's hollowness, his lack of authenticity. I mean, he couldn't even smoke a real cigarette for goodness' sake. I'm not sure anybody would read the film the same way now. Somehow, over the past decade, e-cigarettes have transmuted from products with all the glamour of a nicotine patch to hip millennial accessory.
Gov. JB Pritzker is looking to begin taxing e-cigarettes across Illinois, as well as hiking the existing tax on regular cigarettes. The Centers for Disease Control reports 10.3 percent of adults between 18 and 24 have used e-cigarettes, while overall adult use hovers around 4.4 percent.

"The longterm health consequences of e-cigarettes are not yet understood; however, the potential for long-term negative impacts cannot go unacknowledged. The aggressive and effective marketing to younger consumers is troubling," said the governor's budget proposal.
One of the world's biggest tobacco companies wants Western Australia to pave the way for nation-wide e-cigarette regulations.

British American Tobacco Australia (BATA) has fronted WA's Parliamentary Select Committee on Personal Choice and Community Safety, which is assessing whether the use of electronic cigarettes should be made legal in the state.

It is part of a broader review of so-called "nanny state" laws brought on by committee chair Aaron Stonehouse, who previously said his goal was to reduce regulation in people's lives.
Near Bengaluru Air Show, Cigarette Could Be Cause
Nearly 300 vehicles have been destroyed in a big fire at the parking lot of the venue of the air show in Bengaluru this afternoon. Officials say the cause of the fire could be a lit cigarette that was disposed on the grass in the open field.

Huge plumes of thick black smoke could be seen in the sky near the Yelahanka air base in north Bengaluru, where about a hundred aircraft are parked for the biennial Aero India 2019 event.
---
A look back at how things have moved on or otherwise….
But US coalition launches fresh Deeming challenge
Fergus Mason, Vaping Post
Australian vapers face a fresh blow as a state government plans to force them into smoking areas or face staggering fines. There are also moves to target vape shops in a Michigan country, and UK police have threatened to arrest anyone who blows clouds in the car. On the bright side, a trial of designated vaping areas by two British hospital trusts has come to a totally unsurprising conclusion – if you let people vape, they're less likely to smoke.
Simon Thurlow, Midnight Musings
I read, with interest, the article over on @Dick_Puddlecote's page discussing 'Vaping Etiquette'. On the one side, we had Dick's view that 'cloud-chasers' are ruining the vaping scene and handing ammunition to the prohibitionists. Giving the opposing view was Dave Dorn's opinion in the defence of 'cloud-chasers'.

What struck me about this 'conversation' on vaping etiquette was how the vaping community is being split on such a polarising viewpoint. I would think that any of the puritans reading the article would be delighted to be reading such a thing. I have little doubt that already such people are excitedly sending emails and memos to other in their clique on ways they can exploit the situation to drive a further wedge between vapers. 'Divide & Conquer' is the phrase we are discussing here.
---
Visit Nicotine Science & Policy for more News from around the World

---