Vaping Digest 21st February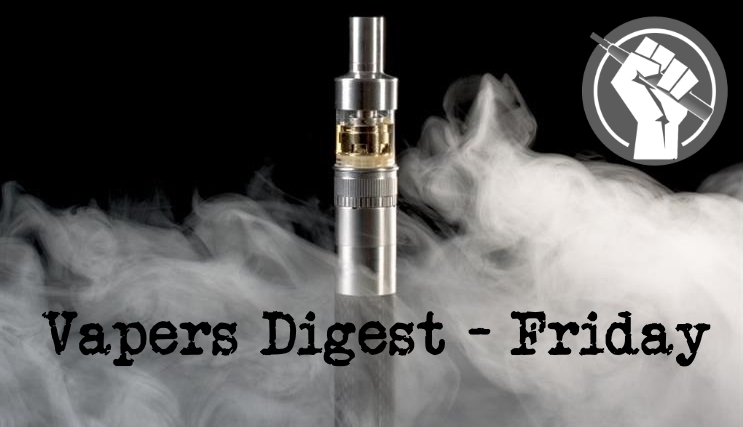 Friday's News at a glance:
Most Brits Are Put Off Vaping – EU states give a big thumbs up to tax harmony – IQOS Heat-Not-Burn Products – Channel 4 Dispatches Heat Not Burn special – Norway Says No – Import Ban For Mexico – NNA Warns Tourists – Glantz Study Retracted – Anti-vaping researchers caught red-handed – Journal Retracts "Unreliable" Glantz Study – Acute vs. chronic effects of e-cigarettes – Efforts to Combat E-Cigarette Misuse Could Backfire – Did FDA Create a Regulatory Loophole – Vape Shops Face a Choice: – Flavor prohibitions – Support grows for vaping nicotine – Nicotine Science and Policy Daily Digest
By Negative Media Coverage
Vaping has exploded in popularity in the United Kingdom in recent years, as more vape shops open and growing numbers of people use e-cigarettes instead of smoking, but many questions remain about the activity, the results of a survey show.

The survey, which was carried out by Google Surveys for British vaping retailer Electric Tobacconist, sought the UK public's views on using e-cigarettes as a smoking-cessation tool, and if they believe the devices have a public-health benefit.
To tax harmony on e-cigs and heated tobacco – Barnaby Page
The European Union's member states overwhelmingly want harmonised tax policies across the EU for both e-cigarettes and heated tobacco.

A new study from the European Commission, published this week, shows that 15 out of 24 member states responding to questions about taxation of heated tobacco products would like the EU to designate a specific tax category in which they should be placed, and set a minimum rate. Member states would be permitted to tax higher than that minimum if they wished.
---

---
Are Drawing Smokers Away from Cigarettes – Brad Rodu
Tobacco prohibitionists offer a plethora of reasons why harm reduction won't work for smokers. One last-gasp argument is that tobacco companies will never sacrifice cigarette sales by selling less harmful substitutes. A recent report from Philip Morris International (PMI), however, provides substantial evidence that a transition from combustibles to smoke-free products is already happening across the globe.
The PMI chart at left shows that its iQOS heat-not-burn products accounted for 19% (about $5.6 billion) of the company's 2019 revenues. As recently as 2015, iQOS revenue was essentially zero.
Heat Not Burn
Next week on Monday evening at 8PM UK time UK terrestrial TV broadcaster Channel 4 is featuring Heat Not Burn in one of its popular "dispatches" style of television program. The full title of the program is: The Secrets of Big Tobacco: Has Philip Morris International Really Given Up Smoking? It is billed as an "investigative" type of program though that can be applied in the loosest sense of the word.

The summary from the Radio Times website is as follows:
---
---
Four from Dave Cross, Planet of the Vapes
Norwegian national newspaper 'Dagens Næringsliv' published a 14-page article about vaping that, according to ETHRA member Nikan and Dr Karl Erik Lund, was "unbalanced and exaggerated information". The piece contained a quote from one vaper who said vaping had "f*****" their lungs.

Nikan (Nicotine Alliance Norway) is a non-profit organisation that works to promote alternative nicotine products (such as snus and vaping) as less harmful alternatives to smoking. The ETHRA member believes these products work as part of smoking cessation that there is a need for accurate information.
The Mexican government has announced a ban on the importation of vape products to accompany its 2008 ban on the sale of devices and equipment. It relies on THC-related problems in the USA and statements from the World Health Organisation to justify the move, but isn't doing anything about tobacco consumption or the corruption surrounding it.

El Universal reports: "By presidential decree published in the Official Gazette of the Federation as of this Thursday, February 20, the importation of electronic cigarettes is prohibited in order to protect the Mexican population from heavy metals and other substances contained therein, as reported by the Secretariats of Health and Economy."
The New Nicotine Alliance (NNA) has written to the UK Government about a situation in India. The country that receives over three quarters of a million UK visitors every year has taken to confiscating legal vaping equipment. Despite a ban on the sale of vape equipment, the act of vaping remains legal – but Indian officials are not following the legislation.

The NNA is a registered UK charity staffed by consumer volunteers, formed to increase understanding about the benefits of "new" risk-reduced nicotine products and a better recognition of long-term recreational use of nicotine as a powerful incentive for smoking cessation. It has noted:
POTV reported last week that the Journal of the American Heart Association (JAHA) was resolutely refusing to retract a study by Stanton Glantz, where he claimed vaping caused heart attacks in people who had yet to vape. Finally, it has seen sense and withdrawn the exercise in academic malfeasance. Glantz has responded in a particularly salty fashion.

Despite the glaring errors and clear fraudulent nature of the paper, the Journal of the American Heart Association responded to criticism by ignoring it for eight months. As the organisation dragged its feet, Clive Bates said: "The Journal of the American Heart Association risks becoming the object of satire over its failure to address the fatal flaws in this paper."

Caught red-handed as vaping study is retracted – Jonny Eccles
A study, co-authored by a well-known opponent of vaping has been retracted due to unreliable research methodology.

A forced retraction by the journal is an absolute rarity. This action only occurs when an entry is fundamentally flawed, as it can severely affect the authors' credibility and reputation. This is therefore very important news for the vaping industry as it could put down a marker for agenda-driven scientists, thinking of publishing misleading research.
---
Retraction of highly influential paper claiming falsely to provide strong evidence that #ecigs cause heart attacks. @WHO have no choice but to stop using the senior author as a key advisor and there must now be an investigation into his other papers. https://t.co/LPLiFtIZKL

— Robert West (@robertjwest) February 19, 2020
We just pulled preliminary list of media publications that referenced the now retracted Bhatta & @ProfGlantz paper. Looks like:

-780+ pieces of coverage
-99M+ impressions

Imagine the damage that has been done with that coverage.

Will try to publish the list if we can. https://t.co/YzBxUSbGz3

— Dr. Moira Gilchrist (@DrGilchrist) February 19, 2020
---
Jim McDonald, Vaping 360
A study claiming that vaping increases the chance of having a heart attack has been retracted by the Journal of the American Heart Association after nearly a year. The retracted paper was co-authored by Stanton Glantz, the University of California-San Francisco medical professor who runs that school's Center for Tobacco Research Control and Education. He oversees a five-year, $20 million federal grant as principal investigator at the center.

Glantz is best known for his decades-long battle against smoking and the tobacco industry. He has also fought to restrict and ban vaping for a decade, and has written some of the most famous and most regularly debunked papers on e-cigarettes during that time.
That Falsely Associated E-Cigs With Heart Attacks – Alexander Lekhtman
A peer-reviewed scientific journal has retracted a study, published last year, which claimed that e-cigarette users were significantly more likely to have had heart attacks. The move comes months after researchers first pointed out inconsistencies in the original study, including its failure to fully include survey data about nicotine use and health outcomes.

"Given these issues, the editors are concerned that the study conclusion is unreliable," stated the Journal of the American Heart Association (JAHA) in a notice published on February 18. "The editors hereby retract the article from publication."
---

---
On vascular function – Dr. Konstantinos Farsalinos
This commentary refers to 'Short-term e-cigarette vapour exposure causes vascular oxidative stress and dysfunction: evidence for a close connection to brain damage and a key role of the phagocytic NADPH oxidase (NOX-2)', by M. Kuntic et al., doi: 10.1093/eurheartj/ehz772.

I read with particular interest the study by Kuntic et al. who reported the acute adverse effects of e-cigarette use on endothelial function and arterial stiffness.1 The authors concluded that e-cigarettes have the potential to induce marked adverse cardiovascular, pulmonary, and cerebrovascular consequences. However, I am concerned that their findings have questionable clinical relevance for long-term cardiovascular risk.
---
Have normal sized babies, RTÉ Radio 1.
Thanks as always to @dnglos for the YouTubage
---
Alex Brill
Recent news about e-cigarette misuse has fueled both public misperception and policy responses that are likely to have unintended consequences. As the US vaping market continues to evolve, policymakers face the tricky challenge of safeguarding the potential for positive public health outcomes from e-cigarettes, which offer a lower-risk alternative to traditional cigarettes, while ensuring reasonable protections against youth use.

Jim McDonald, Vaping 360
When the FDA issued new guidance defining current Deeming Rule enforcement priorities on Jan. 2, it exempted disposable e-cigarettes in flavors other than tobacco and menthol. As we explained at the time, that was intended to allow cigalike products like the NJOY Daily and blu disposables to remain available for sale. The new guidance went into effect on Feb. 6.

However, although the FDA specifically excluded disposables from its prohibition on sales of flavored pod- and cartridge-based vapes, the guidance did not exempt any products introduced after Aug. 8, 2016. Unless manufacturers have an approved Premarket Tobacco Application (PMTA) in hand first, they are not legally able to introduce new products to the market. That applies to pods, mods, atomizers, e-liquids—and newly popular disposable e-cigs like the Puff Bar.
Close or Rebrand?
Adam Mitrani opened his first Darth Vapor e-cigarette shop six years ago after his carwash business collapsed. Before long, Mr. Mitrani, 48, had a second store in New Jersey and one in New York. Business was brisk, he said, and he was optimistic that offering smokers an alternative to tobacco would help him coast into retirement within 10 years.

Instead, he is shutting down one of his New Jersey stores at the end of the month and preparing to stock the very item he has spent years helping customers quit — tobacco — in the other.
Anti-Vaping Ads Create Youth 'Epidemic' – RegWatch (Live)
Most vapers know it to be true because they saw it: public health propaganda—intended to combat the so-called 'epidemic' of teen vaping—actually fuelled youth interest instead. There's a clear and obvious connection, and now we have the proof!
In a bombshell new report by Michelle Minton, Senior Fellow at the Competitive Enterprise Institute titled "Perverse Psychology: How Anti-Vaping Campaigners Created the Youth Vaping Epidemic," Minton argues it was not the vaping industry that "reignited youth interest in vaping—it was anti-vaping advocacy."
Will leave bad taste in states' mouths
In recent months, several states have considered bans on flavored cigarettes and vaping products. Most of the serious proposals are in the Northeast, though they've appeared in Virginia and Michigan, too. Outright prohibitions — especially on popular menthol cigarettes — probably will do more harm than good, as will unusually high excise taxes. Research and experience show that when cigarettes and other products are heavily taxed, the consequences mimic America's failed experiment with alcohol Prohibition.
Releases constitutional analysis of Canadian vaping laws
The Canadian Constitution Foundation today released a report by Dr. Leonid Sirota, professor of law at the Auckland University of Technology Law School, that outlines possible avenues for a constitutional challenge to current and proposed vaping legislation in Canada. The report highlights the rights of a specific but important—and vulnerable— group: current smokers who are looking to quit.

"While current and proposed legislation (especially at the federal level) sometimes distinguishes between vaping and smoking, it often fails to do so. Vaping is, according to the best available scientific data, much less dangerous than smoking, because it does not involve combustion or the generation of smoke," says Dr. Sirota in his report.
Would allow new tobacco products to market
The long-standing dispute over new smokeless tobacco products is set to return to the Riigikogu on Thursday next. The Riigikogu Social Affairs Committee recommends allowing such products as well as menthol-flavored e-cigarettes.

New heated tobacco products appeared a few years ago, and while they still do not have a proper name in Estonian, user figures are swelling. Because primary manufacturer Philip Morris claims their invention does not produce smoke, selling them in Estonian shops is prohibited. Estonia only allows smoking tobacco products. The company's website directs clients to Latvia.
As a quitting aid for smokers – Colin Mendelsohn
Last month the Royal Australian College of General Practitioners (RACGP) announced their support for vaping nicotine as a quitting aid for smokers.

This endorsement is a game-changer for smokers wanting to quit and vaping is a welcome tool for GPs and other health professionals, especially in regional Australia where smoking rates are highest.

Under the new guidelines, GPs and other health professionals can recommend vaping for smokers who have failed to quit smoking with the available treatments when patients raise the subject with their doctor or health professional.
---
A look back at how things have moved on or otherwise….
Michael Siegel, Inside Sources
By now, we are all aware that the use of flavored e-cigarettes and vaping products is running rampant in this country. A recent survey of one particular age group of electronic cigarette users (vapers) revealed that 85 percent prefer flavored e-cigarettes, including 74 percent who use fruit flavors and 66 percent who use dessert or pastry flavors. Nearly half (49 percent) of these vapers regularly used candy, chocolate or other sweet-flavored e-liquids.
Jan Walsh, Aotearoa Vape Community Advocacy (AVCA)
On February 13 Nancy and I attended a public health summer school session put on by Otago University "Regulating the retail supply of tobacco: Moving research toward practice". We were particulary interested in a presentation given by Janet Hoek "ENDS availability – analysing some options". The focus of Professor Hoek's presentation appeared to be that vaping was a really difficult, technical, activity and most people required expert help to have any chance of success in what she believed should be their journey from smoking to exclusive vaping to total absinence from vaping.
---
Visit Nicotine Science & Policy for more News from around the World

---